Earlier this week I shared a bracelet I made that was inspired by a piece I found in my latest Sundance Catalog.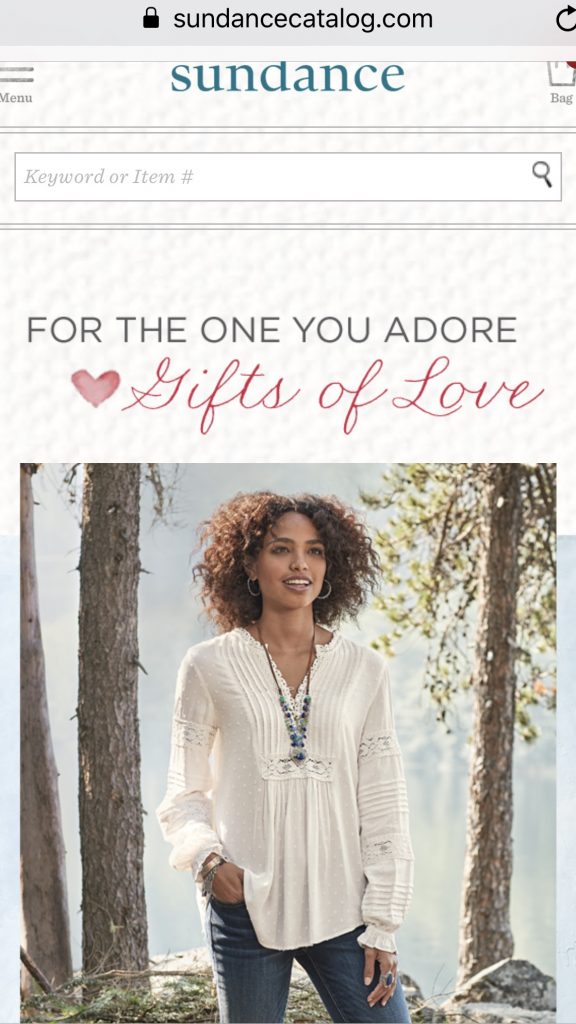 Today I want to share another piece that I made that goes with that bracelet but was inspired by a totally different item from that same catalog using the same Aqua Terra Jasper Southwest inspired palette.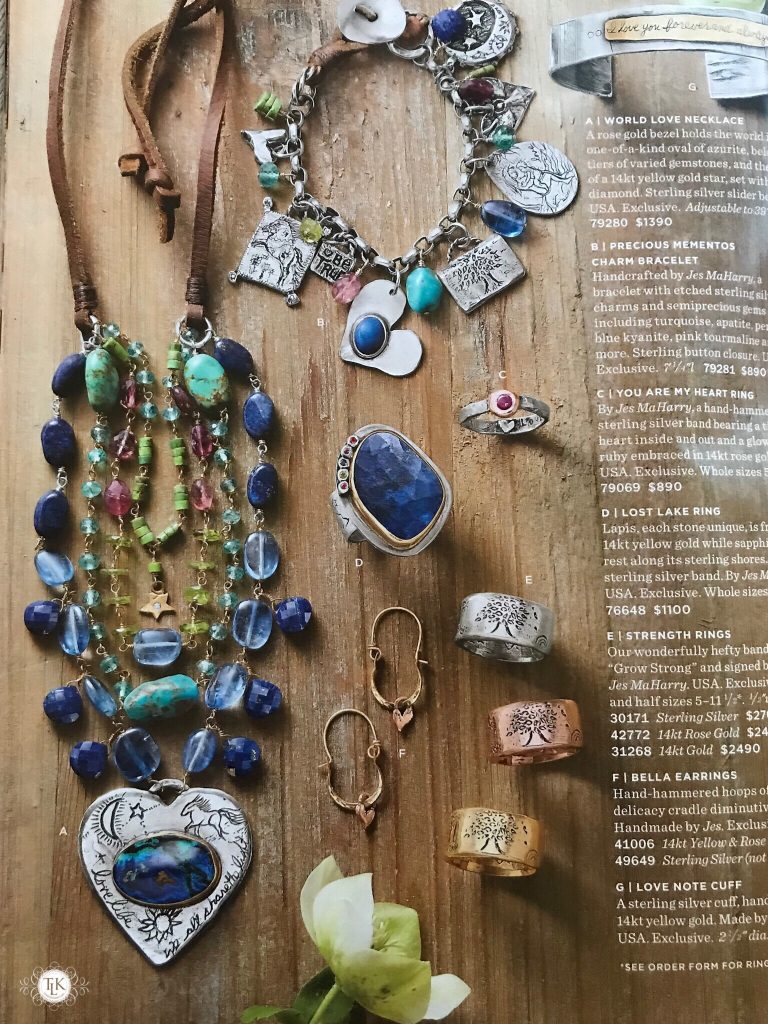 The necklace on the left side of the page above was my inspiration for the piece I am going to share today.  It is amazing, isn't it?  I love the necklace as it is and there is no way I could duplicate such an unique piece.  But, following the same thought process as I did with my bracelet, I could use the design elements to create something similar.  These are the elements I chose to focus on:
Using multiple strands to make a faux multi-strand necklace
Using a silver or metal element for the main focal point of the design
Adding dangly drops to one of the stands to incorporate extra movement
Adding a second, smaller focal point drop (like the tiny gold star) to one of the strands
Using different and contrasting stones and styles
So, once again, with ALL of those design elements to inspire me, this is what I came up with.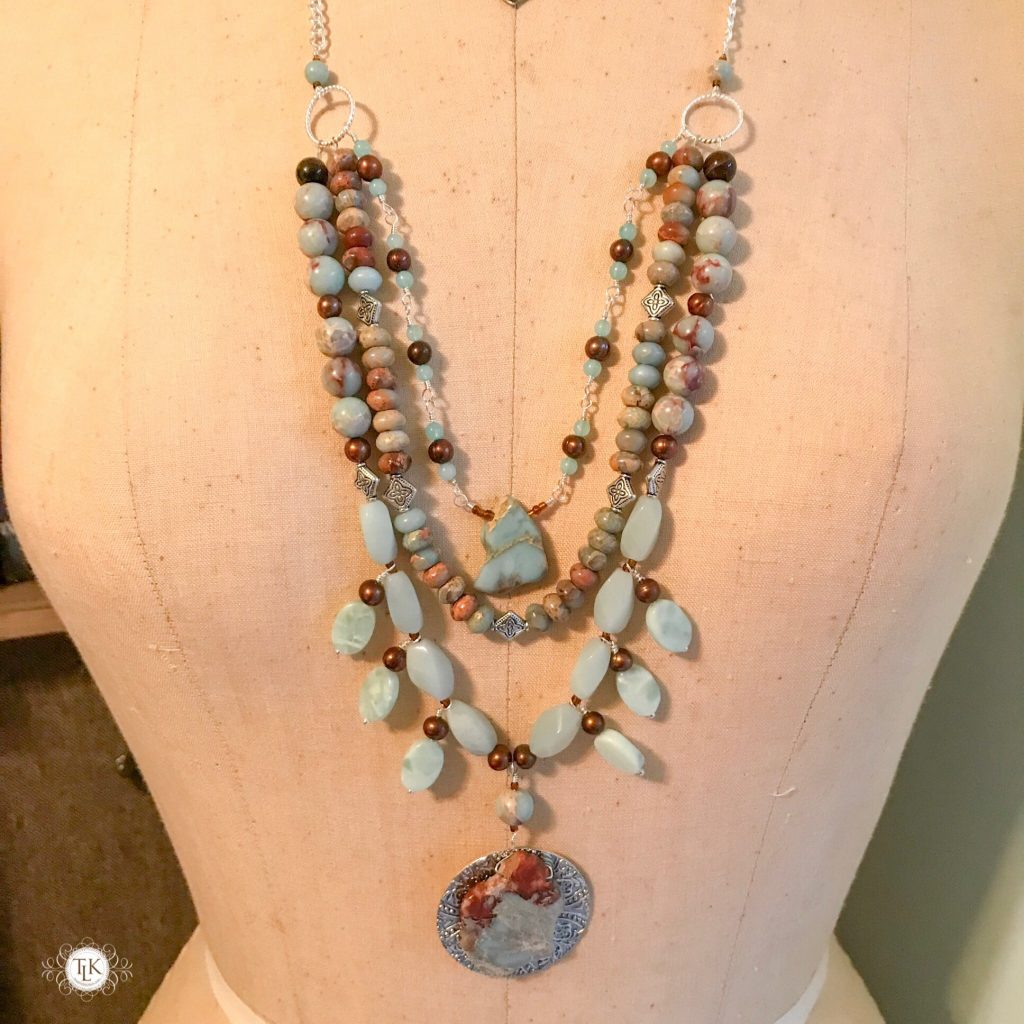 And once again, my necklace looks nothing like the one on Sundance.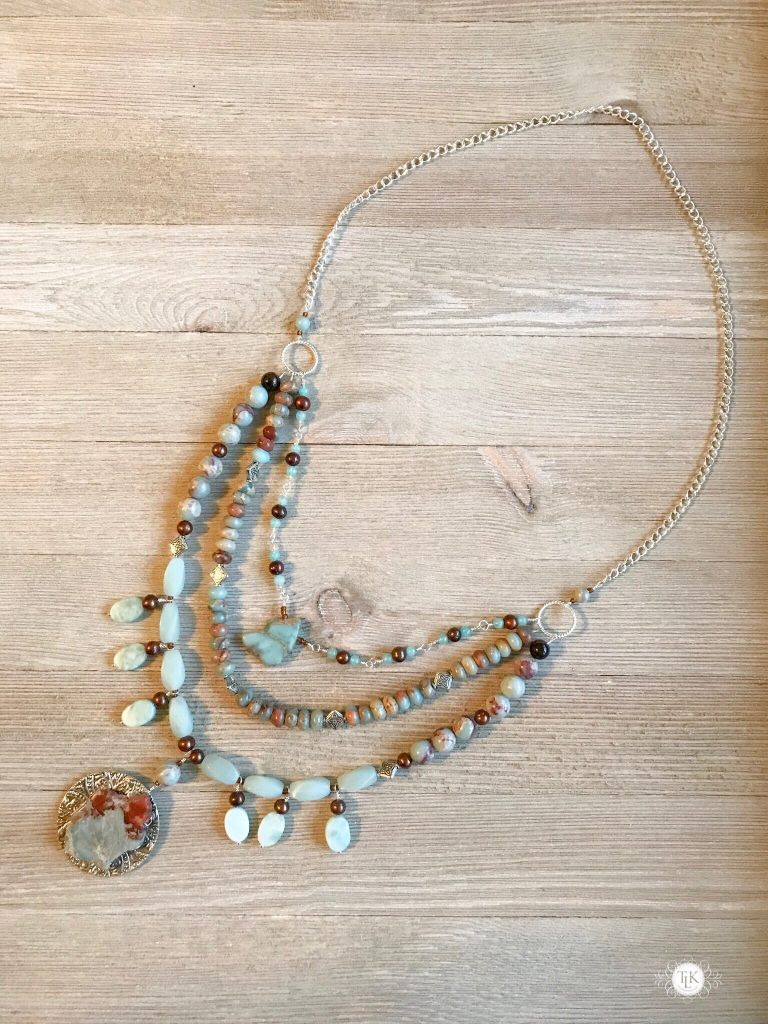 In keeping with the Southwest Tucson theme, I used the same kinds of gemstones, pearls and metals to create my version of the Sundance necklace.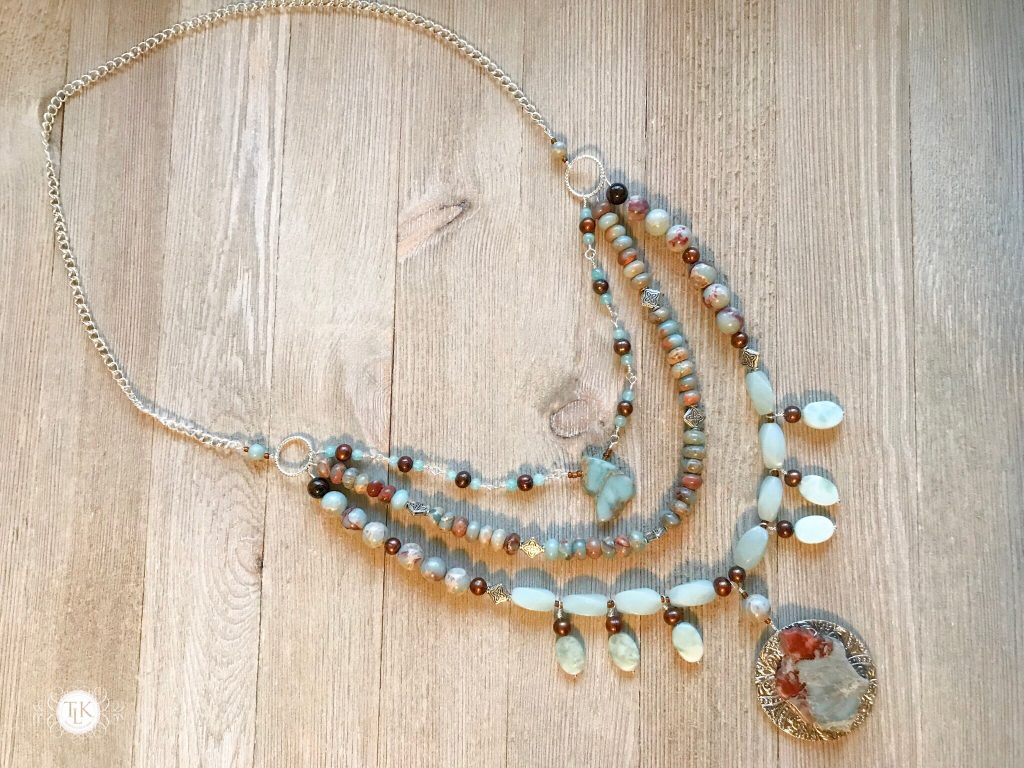 The main design element was creating a faux multi-strand necklace.  I did that by creating a triple strand necklace.  The inspiration necklace had more strands but that's okay, this is my version.  And instead of using leather, I used a long length of silver plate link chain so that you can just drop this on over your head without worrying about a clasp.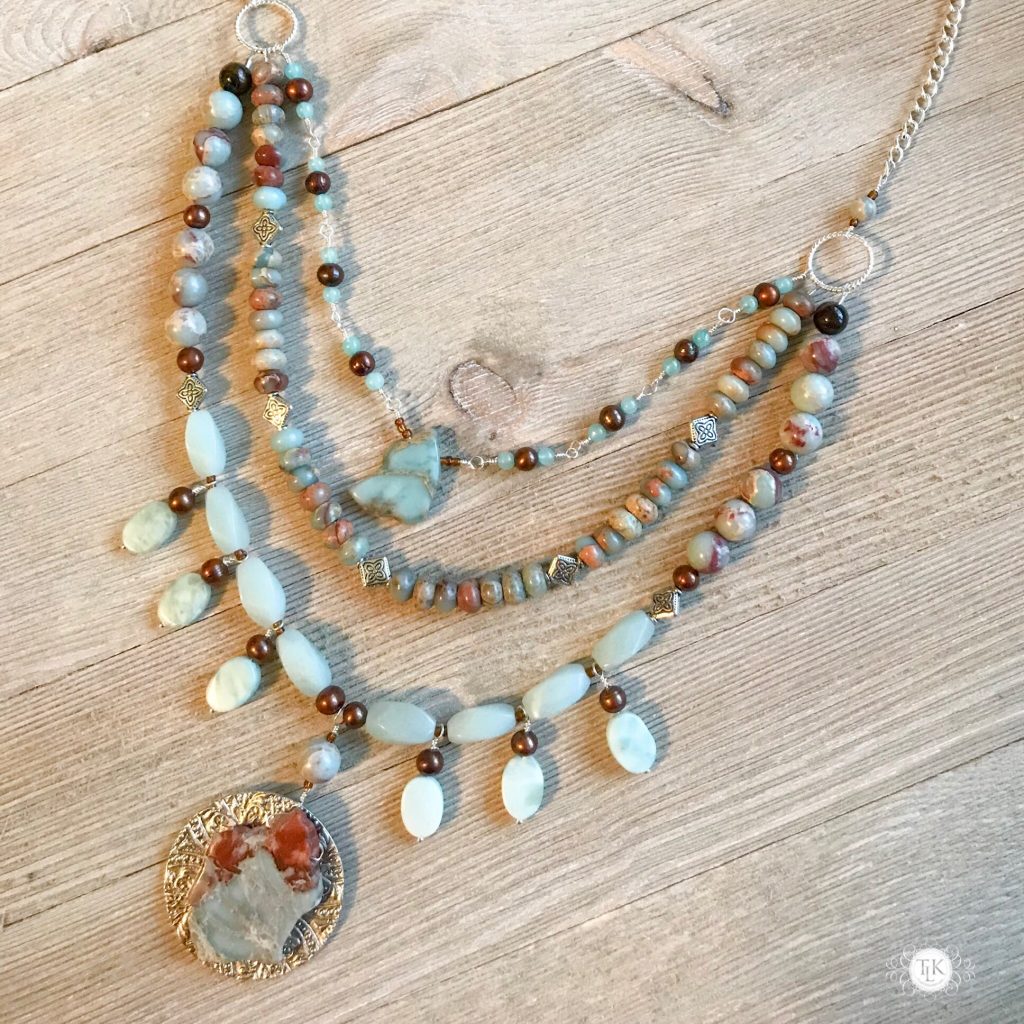 I used the same twisted metal connectors as the one I used in the bracelet to connect the necklace strands to the chain.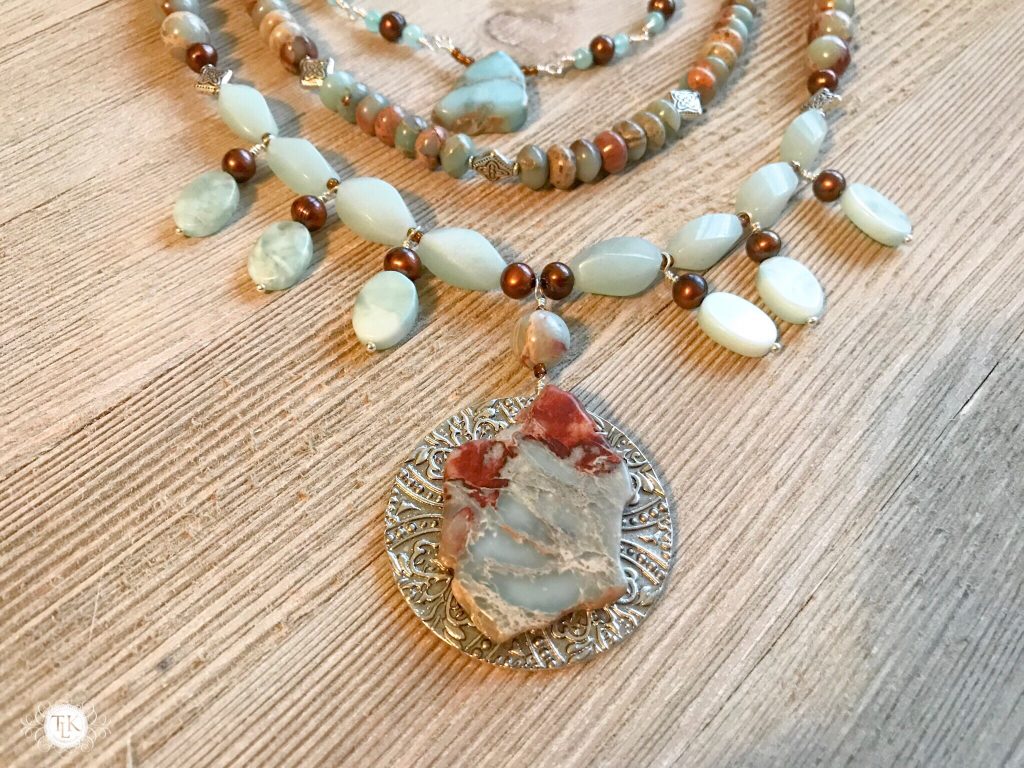 For my large silver / metal focal point I used this round stamped pewter disc and added an Aqua Terra Jasper Slab. I made it into a pendant by attaching with wire and adding a large Aqua Terra Jasper round bead and some tiny chocolate glass seed beads.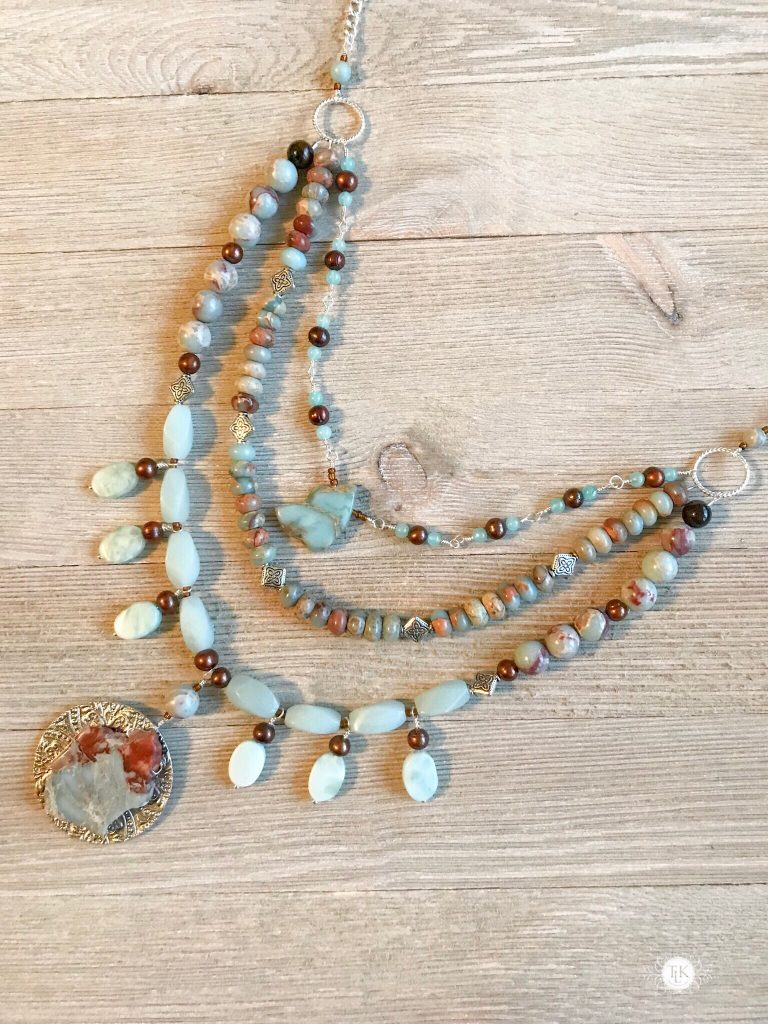 I used a smaller slab of Aqua Terra Jasper to make another focal pendant on the upper strand of the necklace.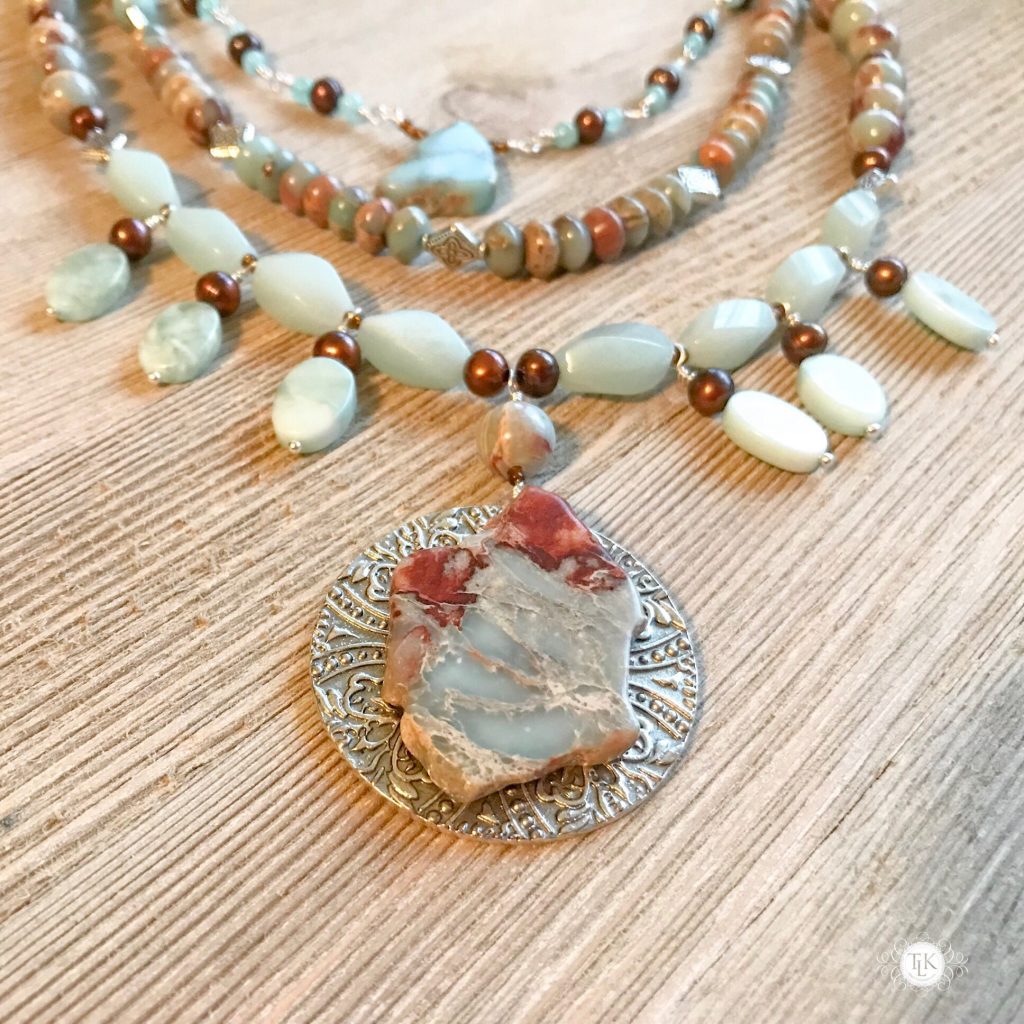 I like how the large focal pendant turned out. I did not have a pendant similar to the one used in the catalog but I was able to make something with metal and stone to mimic the element I wanted in my design.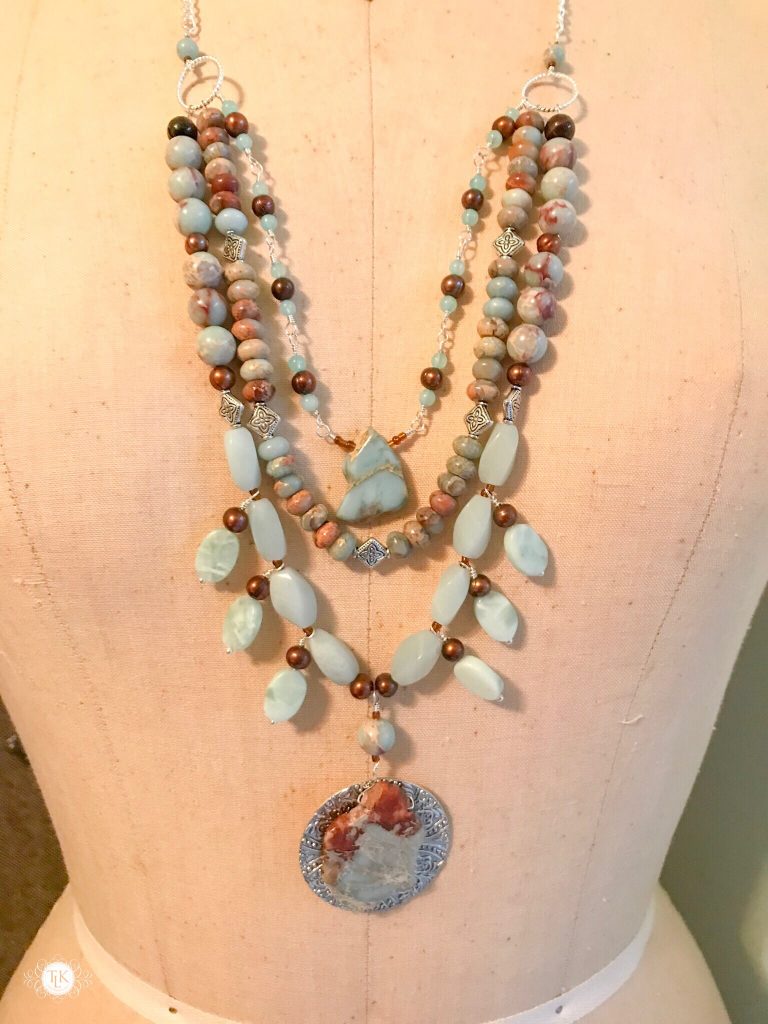 The inspiration design had multiple strands so I created multiple strands.  The longest strand uses large Aqua Terra Jasper round beads, Tibetan Silver stamped trapezoid beads, a few Chocolate Freshwater Pearls, a few of the dark brown round agate beads and a quite a few Amazonite beads.  The shortest strand uses wire wrapped sections of Amozonite round beads and more of the Chocolate Pearls with the smaller Aqua Terra Jasper slab pendant.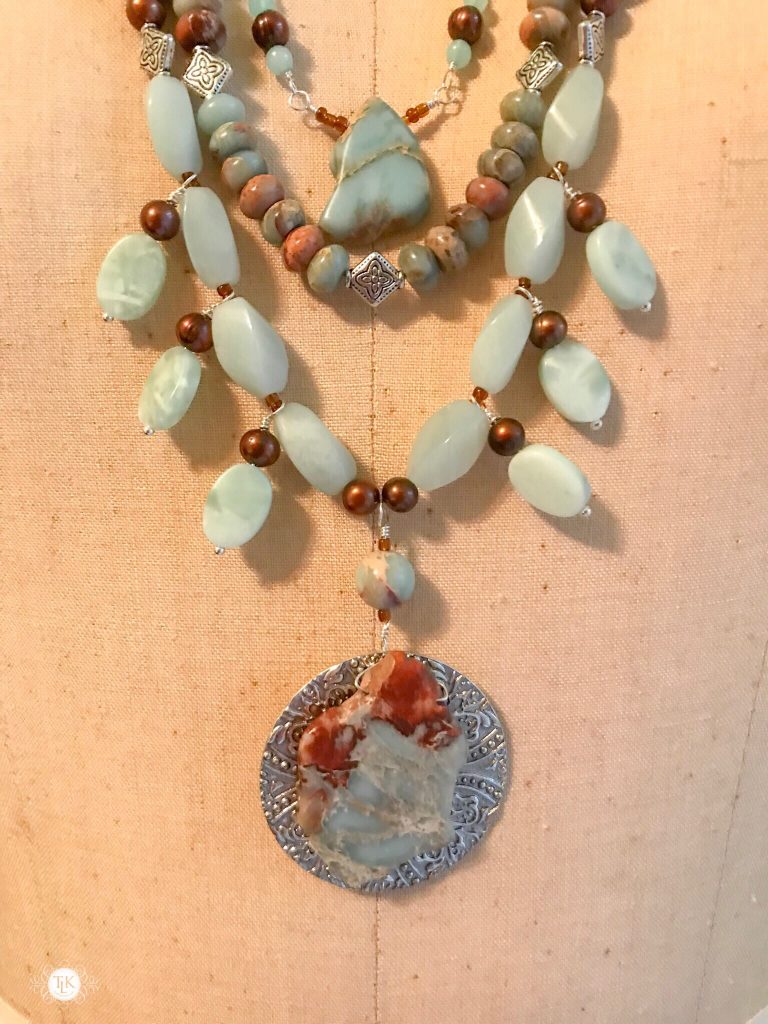 I used twisted Amazonite tube beads separated by more of the chocolate glass seed beads so I could add my dangly drop elements.  I used Amazonite flat oval beads and Chocolate Freshwater Pearls for those.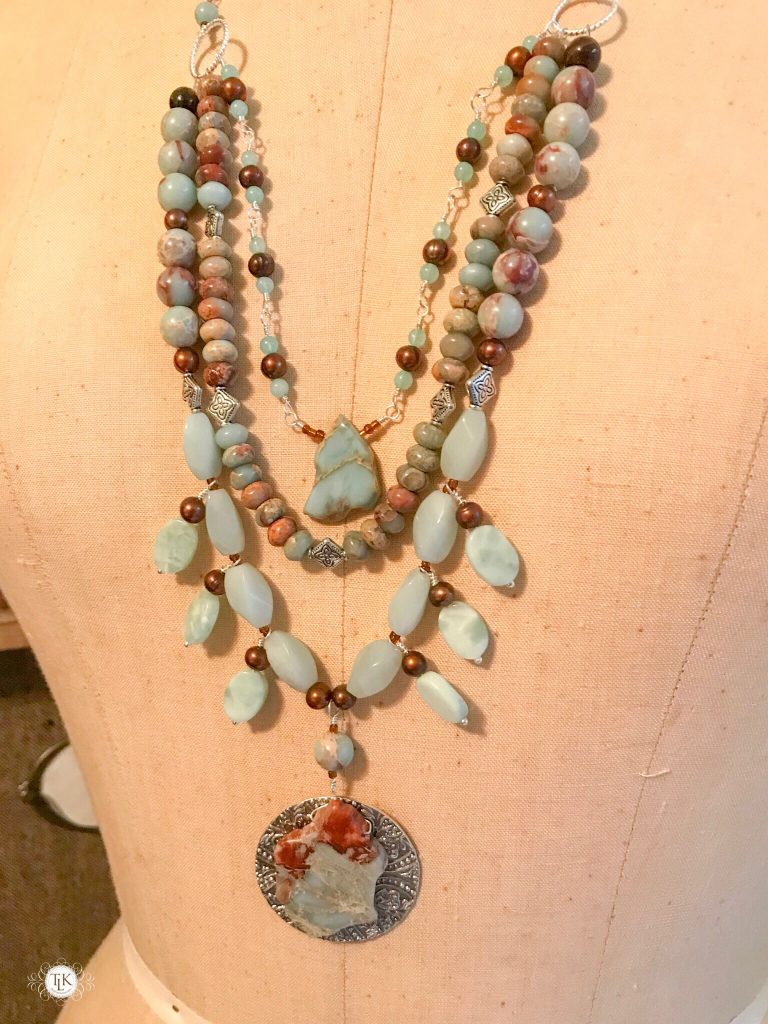 For the middle strand I used Aqua Terra Jasper roundels and Tibetan Silver trapezoid stamped beads.  I was able to incorporate all of the design elements that I wanted from my Sundance inspiration piece and make a beautiful necklace using the same color palette as before with a definite Southwest, Tucson vibe.  I really love the light turquoise color of the Aqua Terra Jasper and Amazonite together.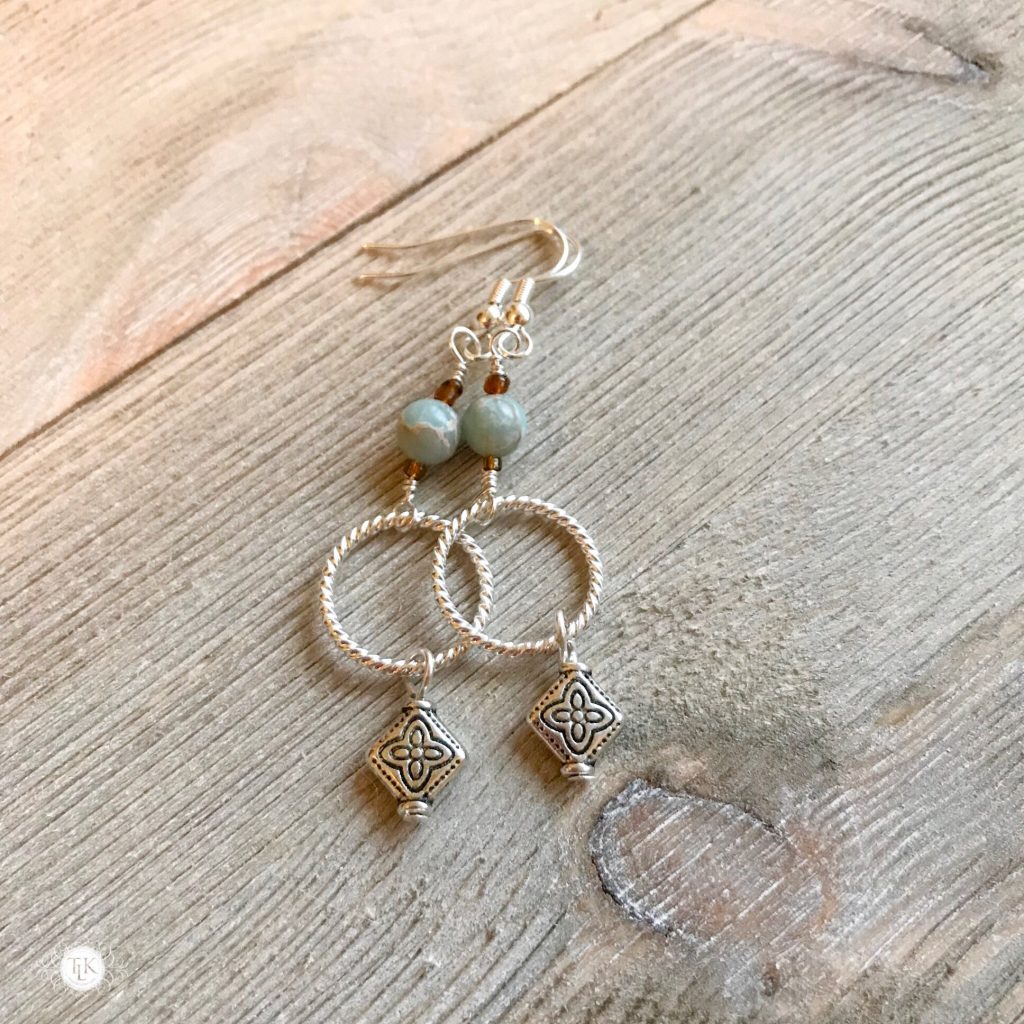 And of course, I had to make earrings to complete my set. I didn't have any inspiration photos for these – I just used elements from the necklace and bracelet to make a simple pair of earrings.
These use the twisted metal connectors to dangle the Tibetan Silver trapezoid stamped beads.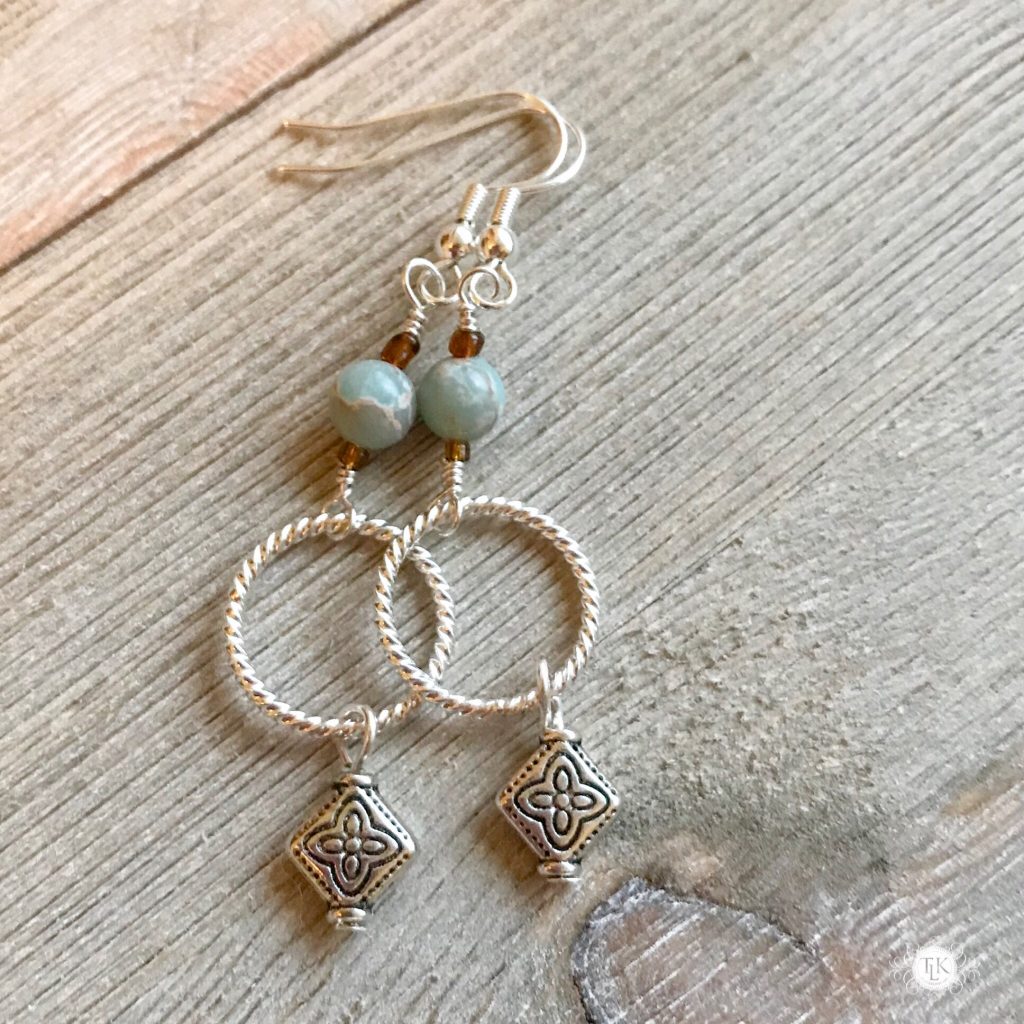 I used Aqua Terra Jasper roundels and a few chocolate glass seed beads so that I had a bit of that deep brown color incorporated.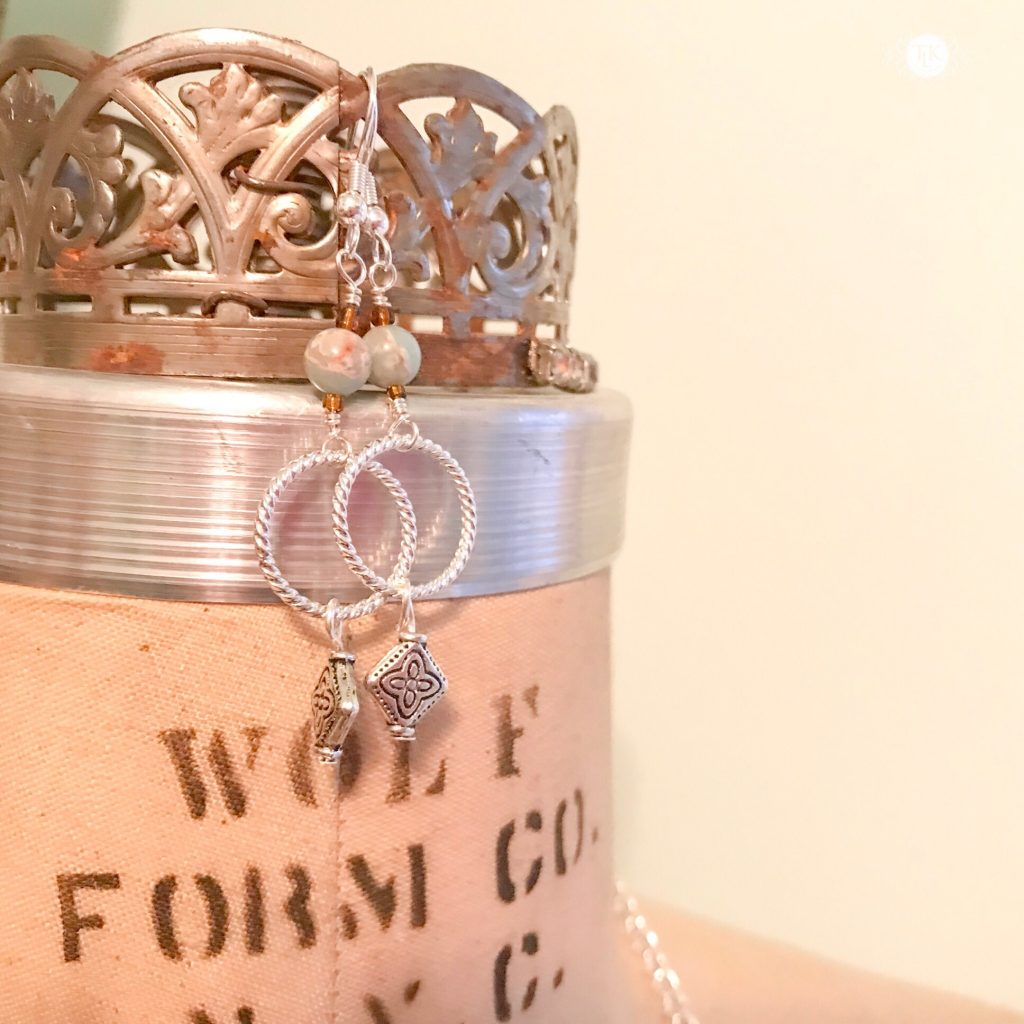 They are on silver plated ear wires.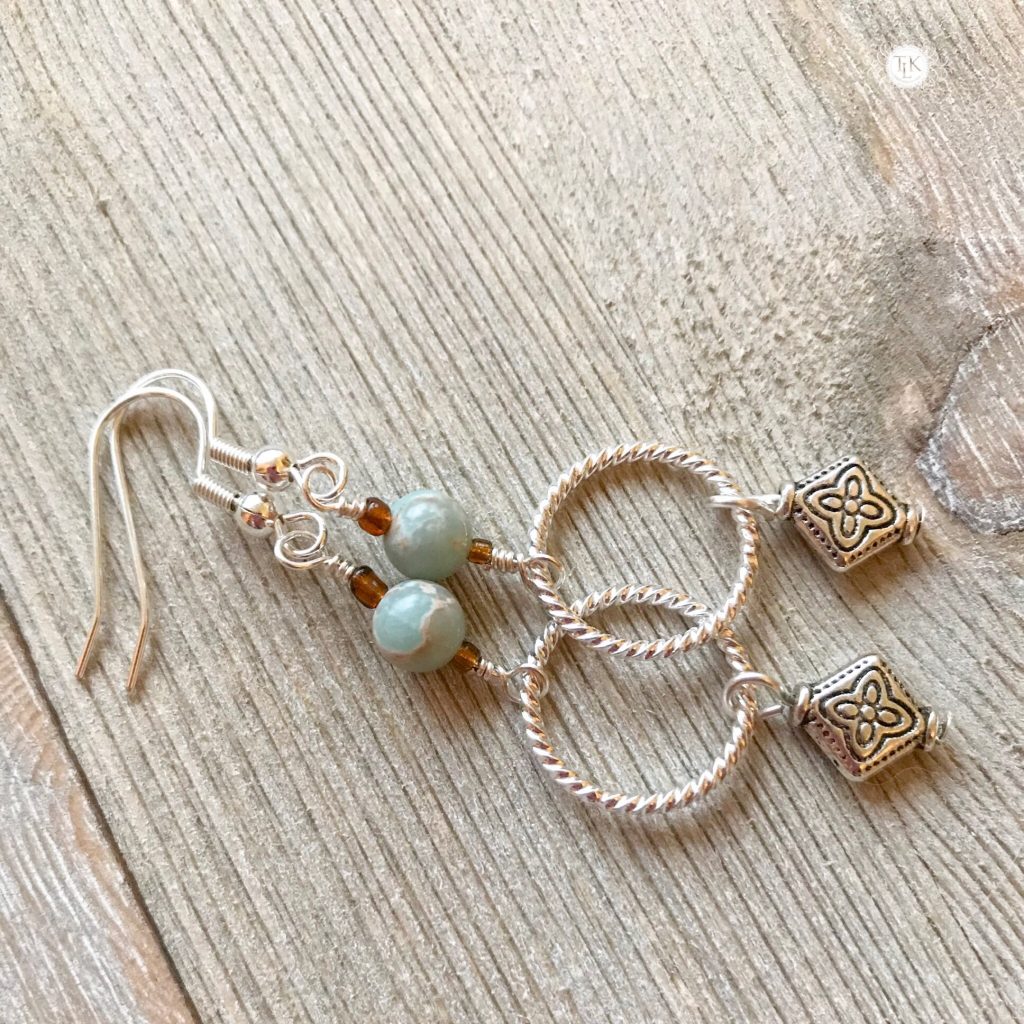 I am really happy with how everything turned out.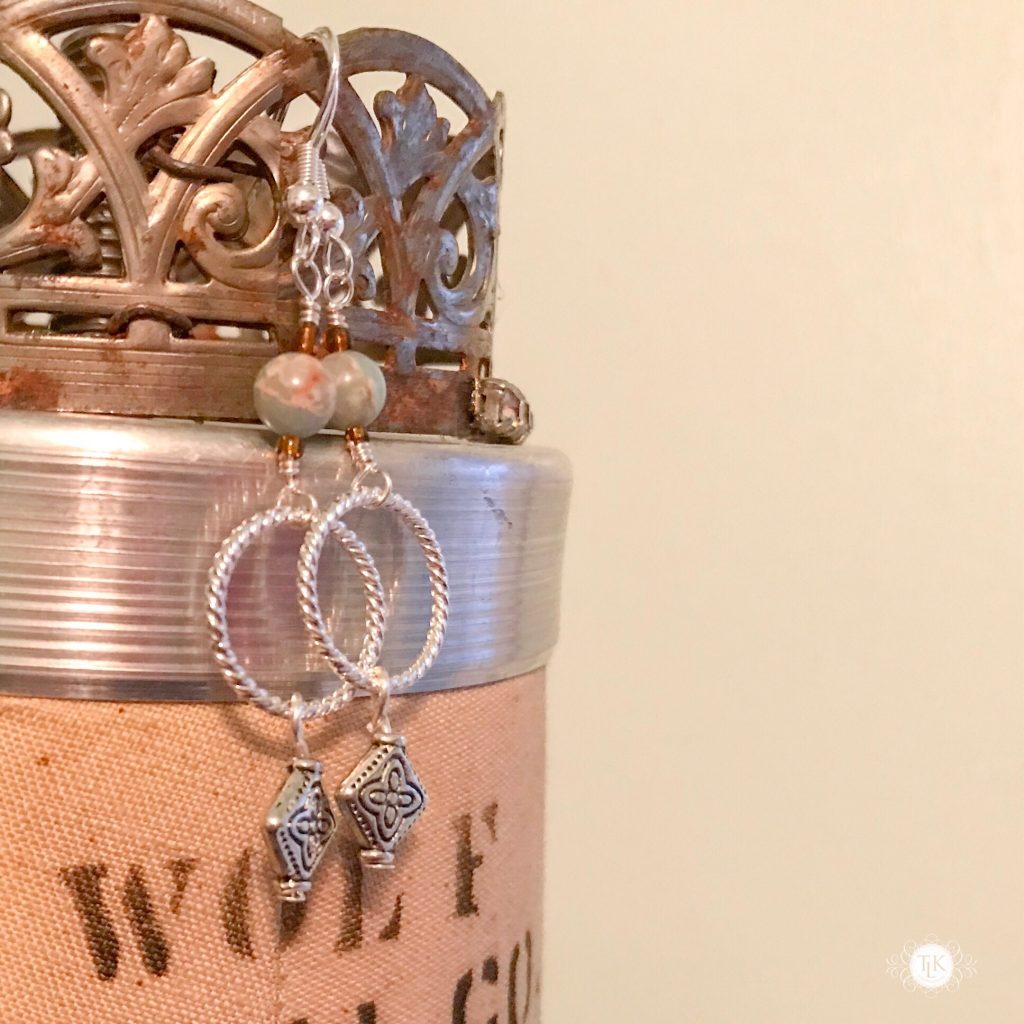 I was inspired by a few designs from Sundance and created a new coordinated set to add to my ever growing collection of handmade jewelry!  These are staying with me for a while…not sure if they will make it to my shop any time soon!
---
Links to supplies in this post are affiliate links for similar
supplies on eBay.  
This post is not sponsored by Sundance or affiliated with them.
The products in their catalog were merely inspiration for my designs.
SaveSave
SaveSave