I love looking at jewelry designs on Pinterest.  I have an entire board just for designs that I like.  I often use that board to get ideas for pieces when I make jewelry.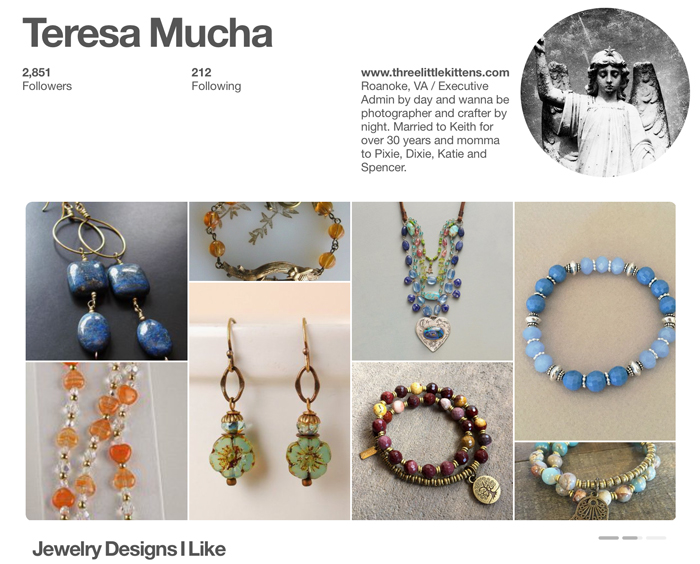 And I find inspiration in other places too, like catalogs.  My mom will sometimes send me pages from catalogs with pretty designs and recently I received a Sundance catalog in the mail out of the blue.  I fell in love with the beautiful jewelry from the pages of that catalog.  The artists they share create beautiful pieces with gemstones and precious metals. Oh, I wish I could buy one of everything.
When I get a new catalog I can spend quite a bit of time pouring over all the jewelry pieces, studying what they are made of and how they are made. I have pinned a lot of them to my Pinterest board, too. Well, this past week I decided to see if I could use that inspiration to create some jewelry pieces of my own.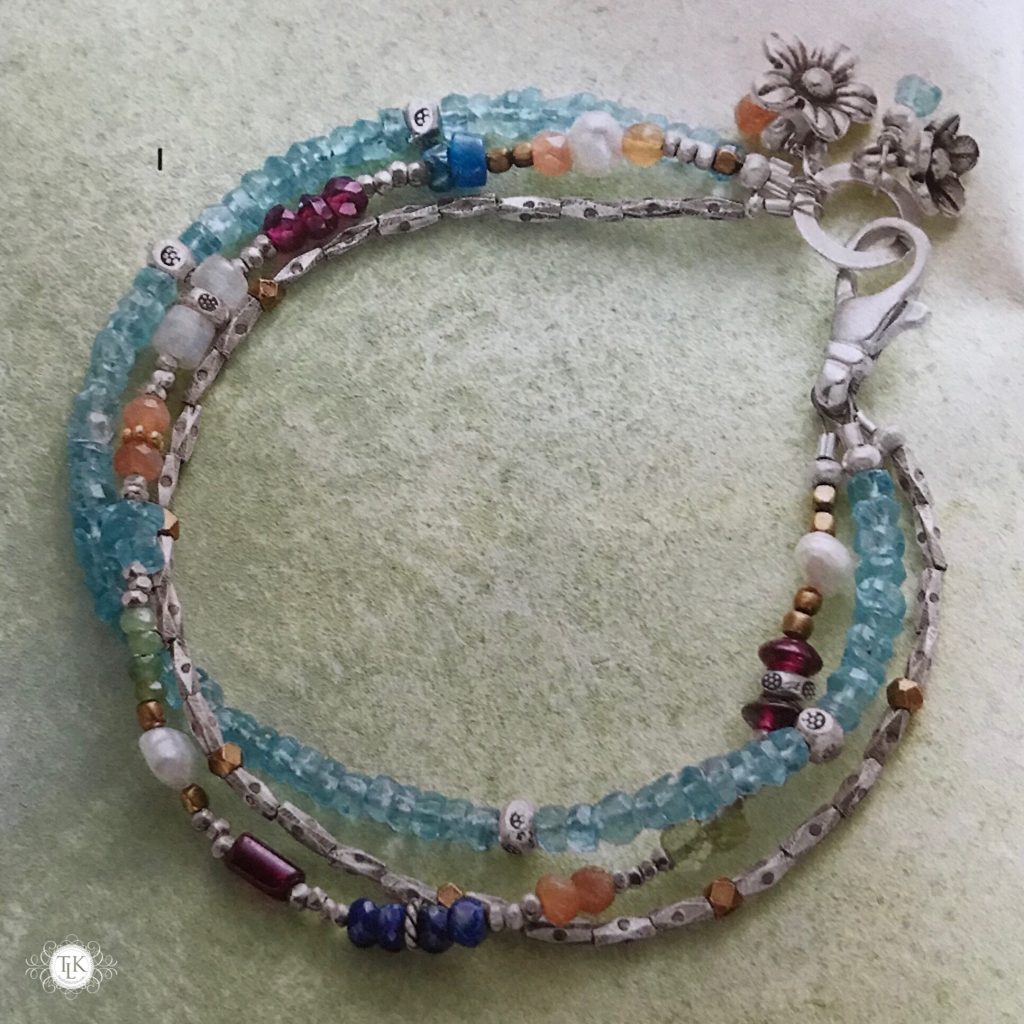 There were so many designs to choose from, but I finally decided on this bracelet.  This is a picture of the bracelet in the actual catalog above.  I did not have the stones used in this design so I decided I would use elements of the design to create my bracelet.  Elements like:
Three strands for a triple strand bracelet
Using silver beads for one of the strands, accented by a contrasting bead
Using one kind of bead with silver accents for one of the strands
Having one of the strands use a multitude of different beads with a challenge to make it have contrasting colors or elements
Adding dangles to the clasp and using a lobster claw with a large ring instead of the normal small jump ring for the clasp
So, with ALL of those design elements to inspire me, this is what I came up with.
My bracelet at first glance looks nothing like the one on Sundance.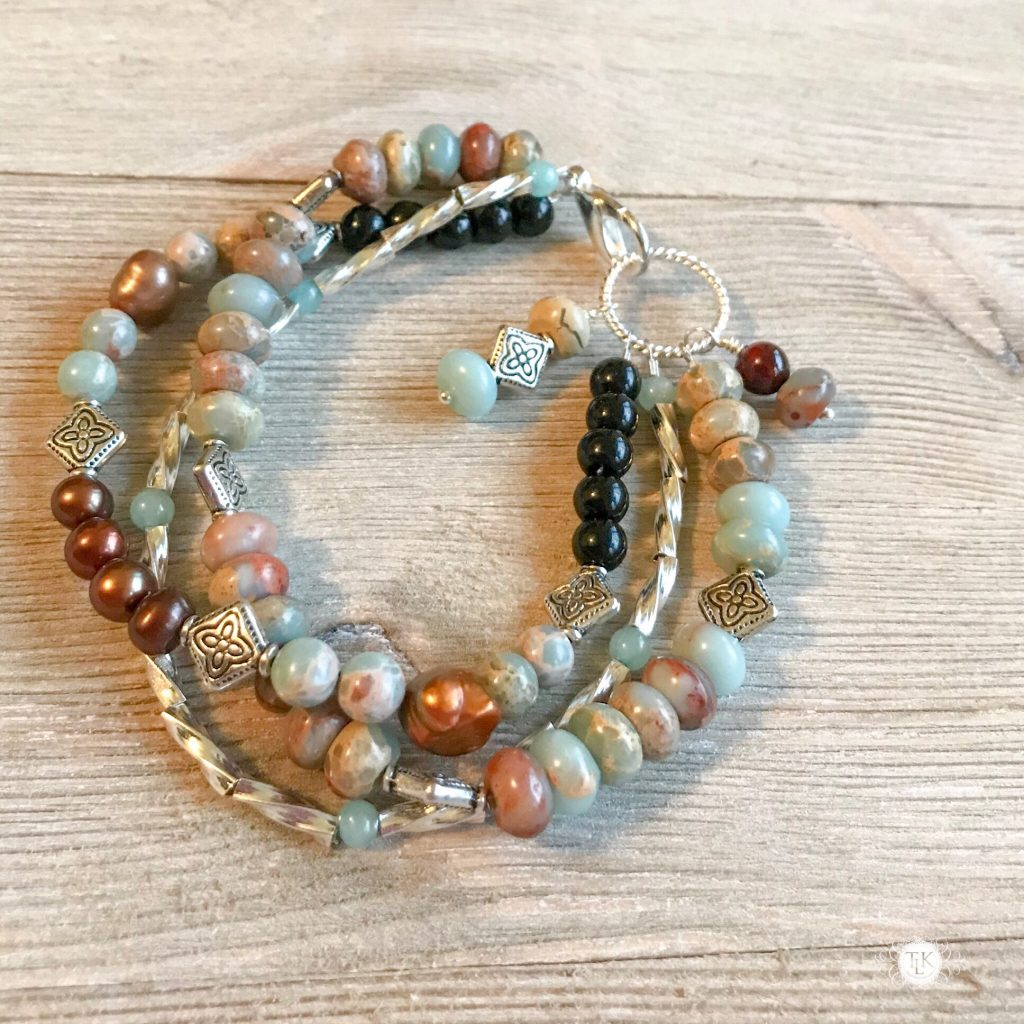 But, I think I did accomplish most of the design elements I wanted to incorporate.  I did have a large lobster claw clasp, but did not have a large jump ring.  Instead I found this twisted metal connector to use.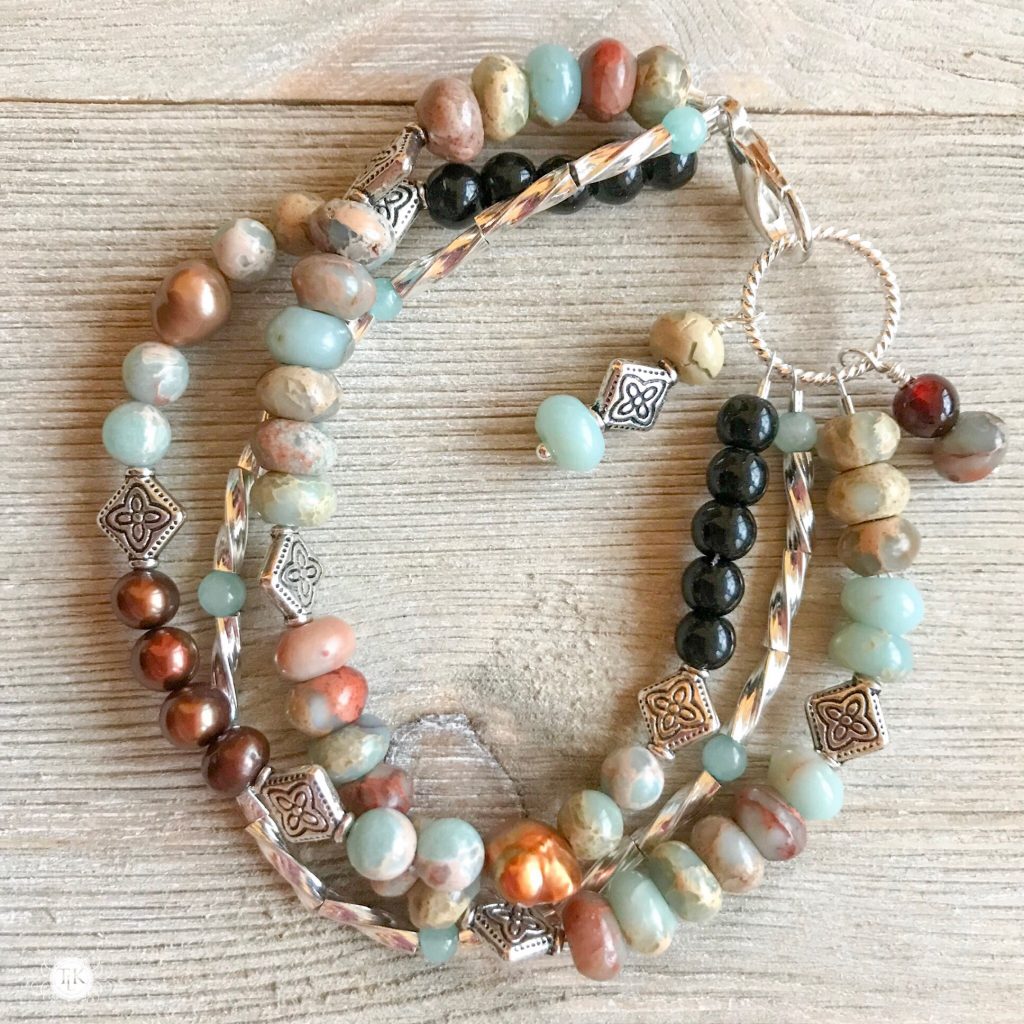 For the strand with all of the same type of bead with silver accents I used Aqua Terra Jasper roundels and Tibetan Silver trapezoid stamped beads.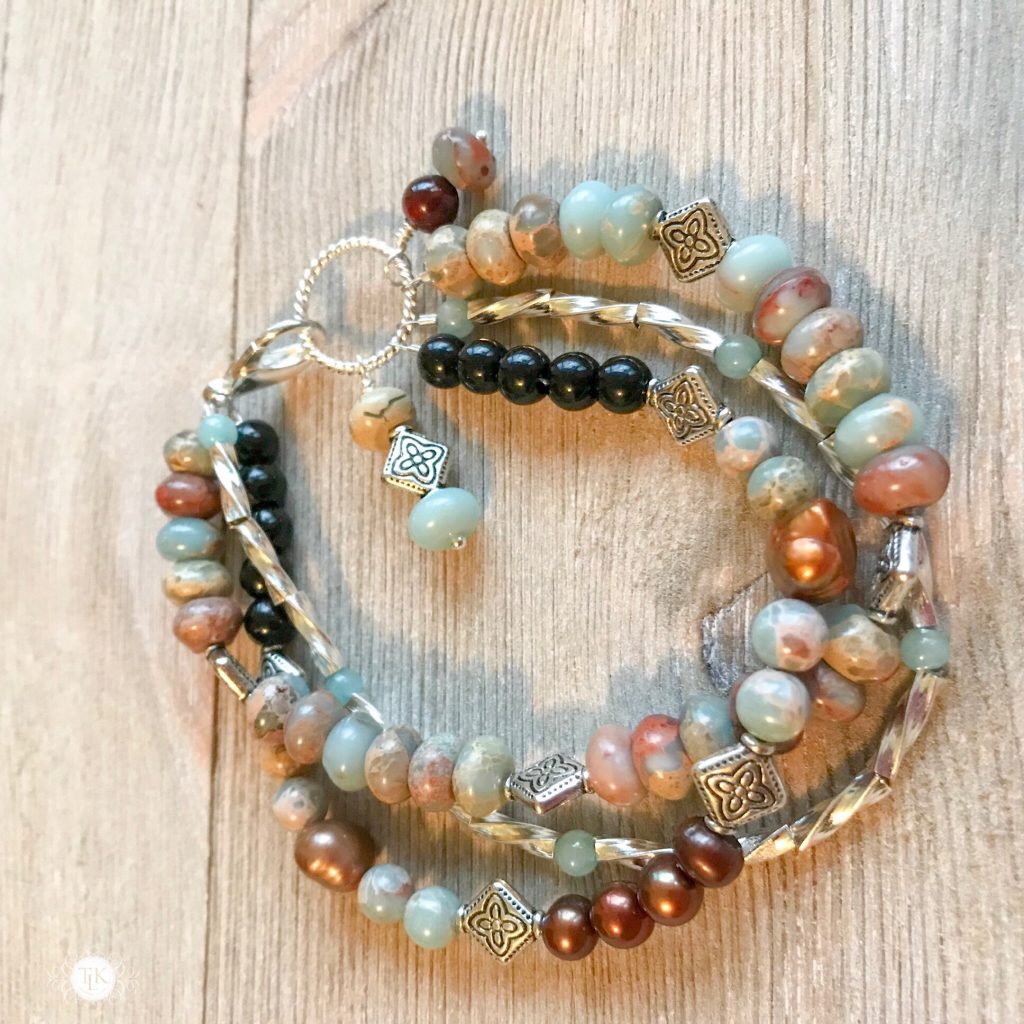 For the strand that was supposed to have a lot of different beads that contrasted the rest I used more Aqua Terra Jasper round beads, the Tibetan Silver stamped trapezoid beads and added Chocolate Freshwater Pearls, a couple of large Gold Nugget Freshwater Pearls and some dark brown round agate beads.  The colors in the Freshwater Pearls are found in the Jasper beads and the turquoise and brown colors go well with the silver accents.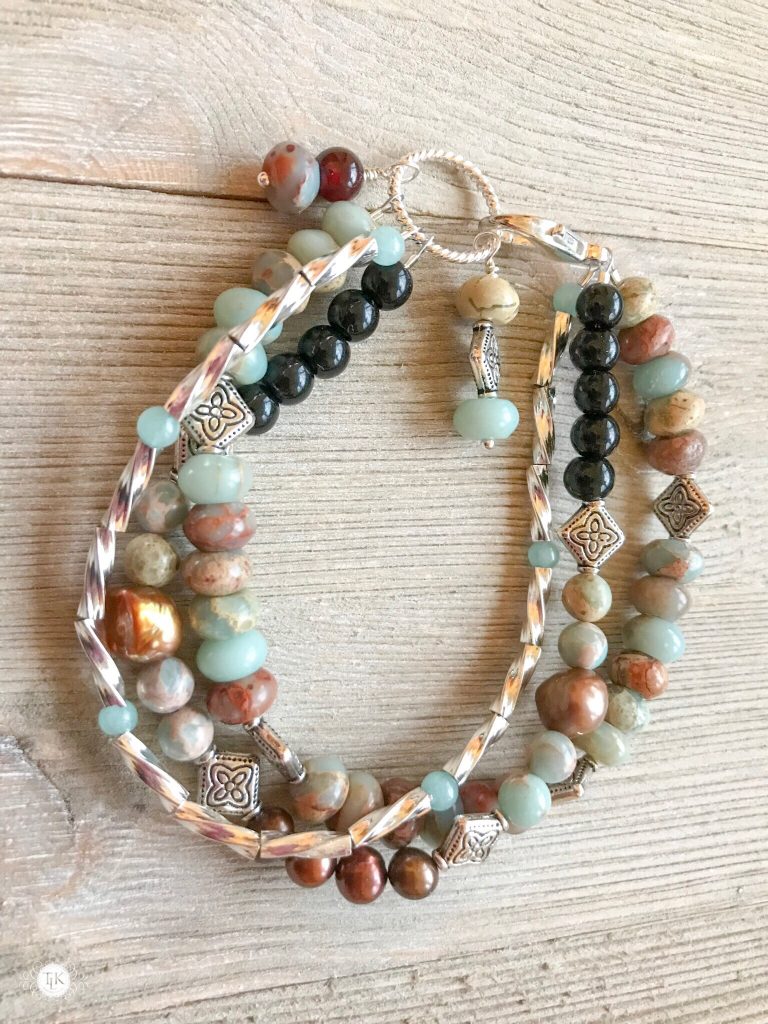 I added a few dangles to the connector using beads already incorporated in the design.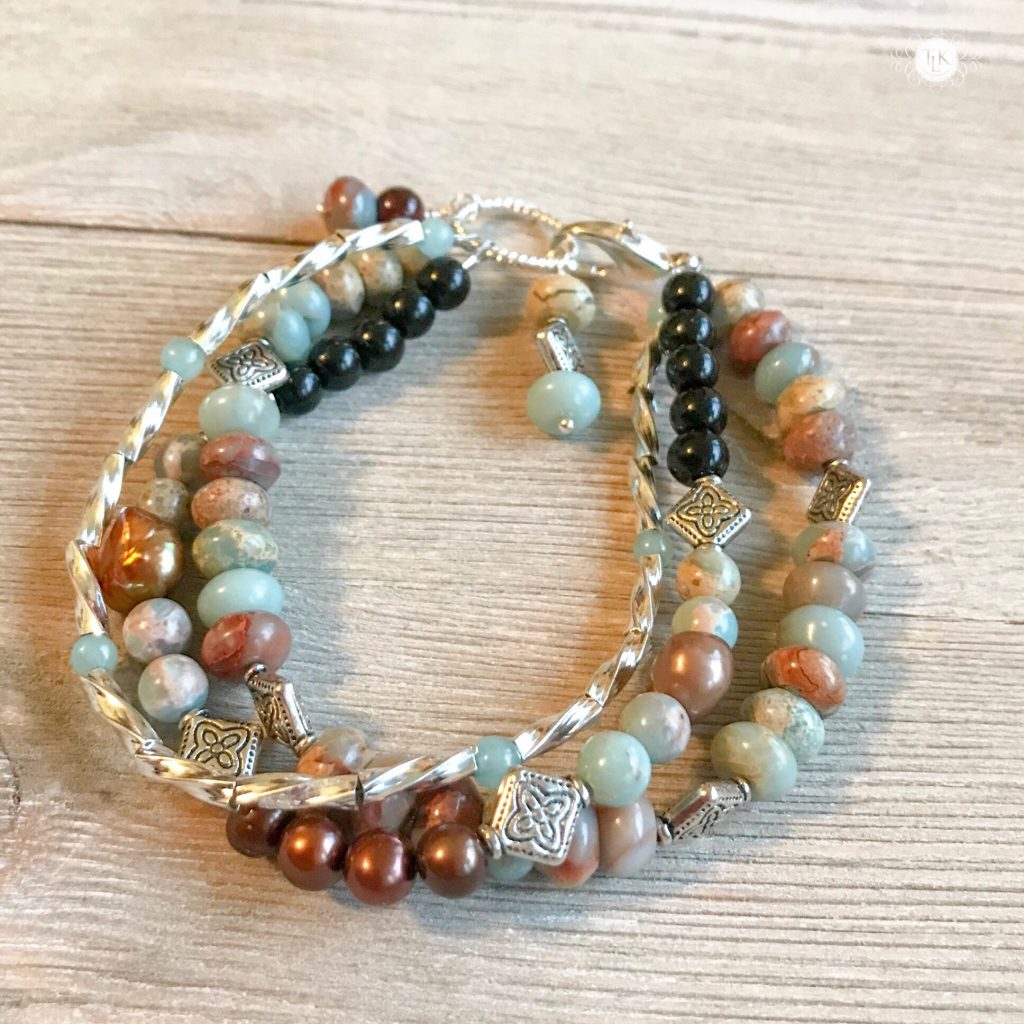 And for the last strand with the silver beads, I used these silver plate twisted tube beads and added some small Amozonite round beads for contrast.  The Amazonite pairs well with the Aqua Terra Jasper!  When I looked at the finished piece, I was reminded of the Southwest, so I am calling this piece Tucson.
Later this week I will share another Sundance inspired piece to go with this bracelet using beautiful Aqua Terra Jasper Slabs. Stay tuned!
---
Links to supplies in this post are affiliate links for similar
supplies on eBay.  
This post is not sponsored by Sundance or affiliated with them.
The products in their catalog were merely inspiration for my designs.
SaveSave
SaveSave
SaveSave
SaveSave
SaveSave