Have you ever been involved in something that kind of got out of hand in a hurry?  And maybe ended up causing more "damage" in the end?  Well, this is kind of like that.  Do you remember a while back when I found a few Treasures at and estate sale; one of which ended up being a pretty blue rhinestone bracelet?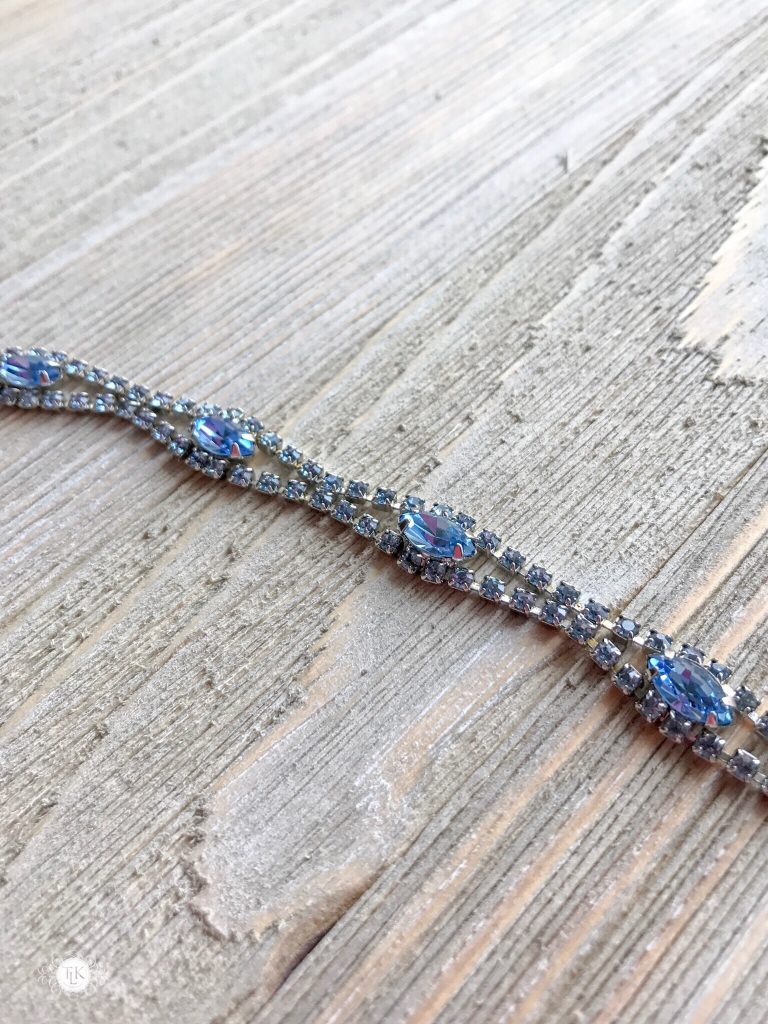 Well, that was back in March and let me tell you, I sure have enjoyed wearing that bracelet.  It is sooo pretty and makes me feel pretty when I wear it.  So much so that I thought it would be nice to make a necklace that kind of matched so I could adorn not just my wrist, but my neck, too!  So, Memorial Day Weekend, when my Mom came to visit, we hit the Gem Show at our local civic center. I was hunting for something blue that I could use to make into a necklace to wear with my sparkly, blingy bracelet.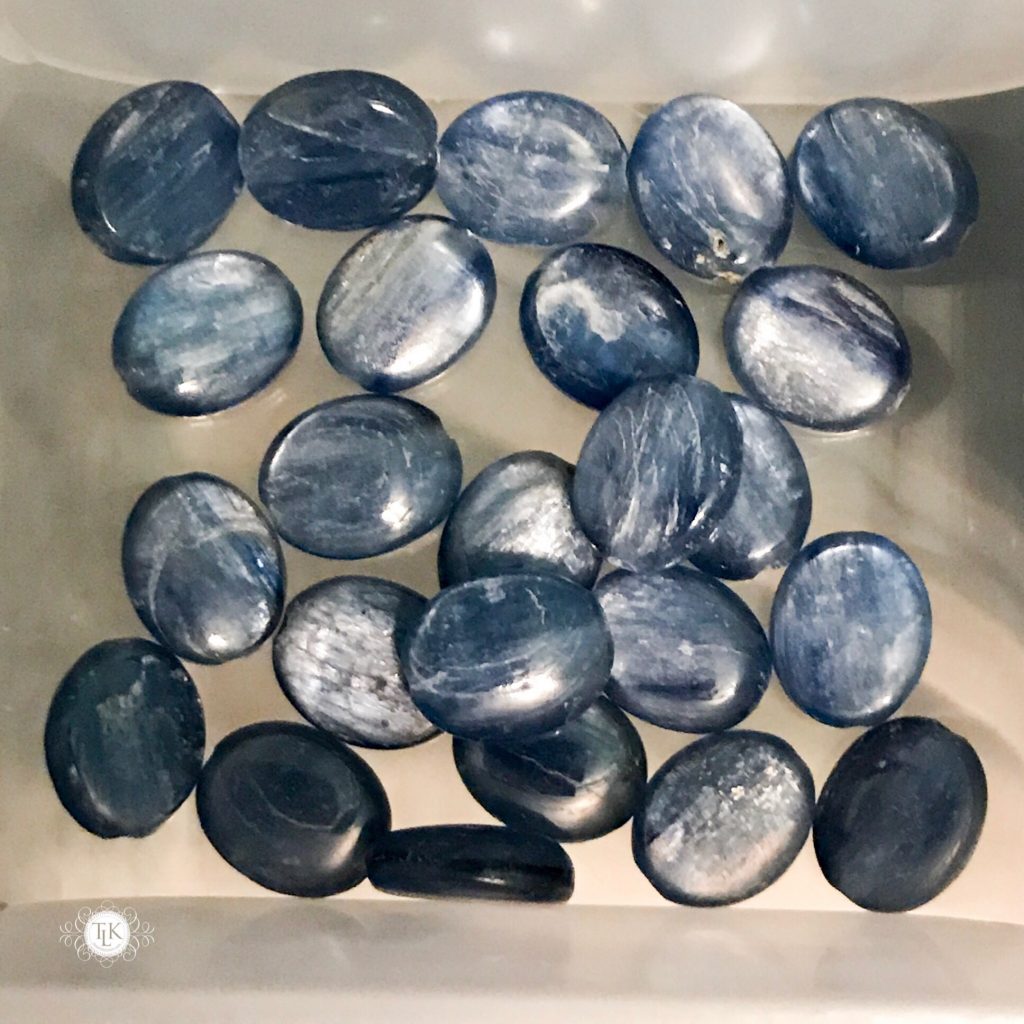 And yes, I did find the perfect blue beads to make into a necklace.  But they came with a price.  The beads I found were Kyanite and they were some of the most expensive beads I have ever purchased.  I am not sure what I was thinking but they were just so amazing.  It's hard to tell in this picture but they are a blue that is indescribable – they kind of have properties like Tiger Eye or Cat's Eye – they change color in the light, depending on how you look at them.  Anyway, they were THE beads that would make a necklace special enough to wear with my estate sale Treasure.  Mind you, I could have bought 20 more of those bracelets just for the price of two little strands of Kyanite beads.
So the beads came home with me and have been sitting in my jewelry supply cupboard all summer long, just waiting to be made into a necklace.  And not that I haven't wanted to make that necklace before now – really, I have!  For whatever reason, this or that, it just had not happened.  But I still kept thinking about my pretty Kyanite beads, knowing I had to do something amazing to go with my $3 Rhinestone bracelet.  I started scouring Pinterest, looking for inspiration.  I wanted to see what others had done with their precious Kyanite beads.  And I found a lot of beautiful ideas.
One combination that kept coming back again and again was Kyanite with Pearls.  It was a beautiful, classic look and I thought that might work.  I knew I had Pearls, so it was just a matter of getting out the supplies and putting the two together to see what I would come up with.  Seemed pretty simple,right?  Well, as I said at the beginning, sometimes things can get out of hand.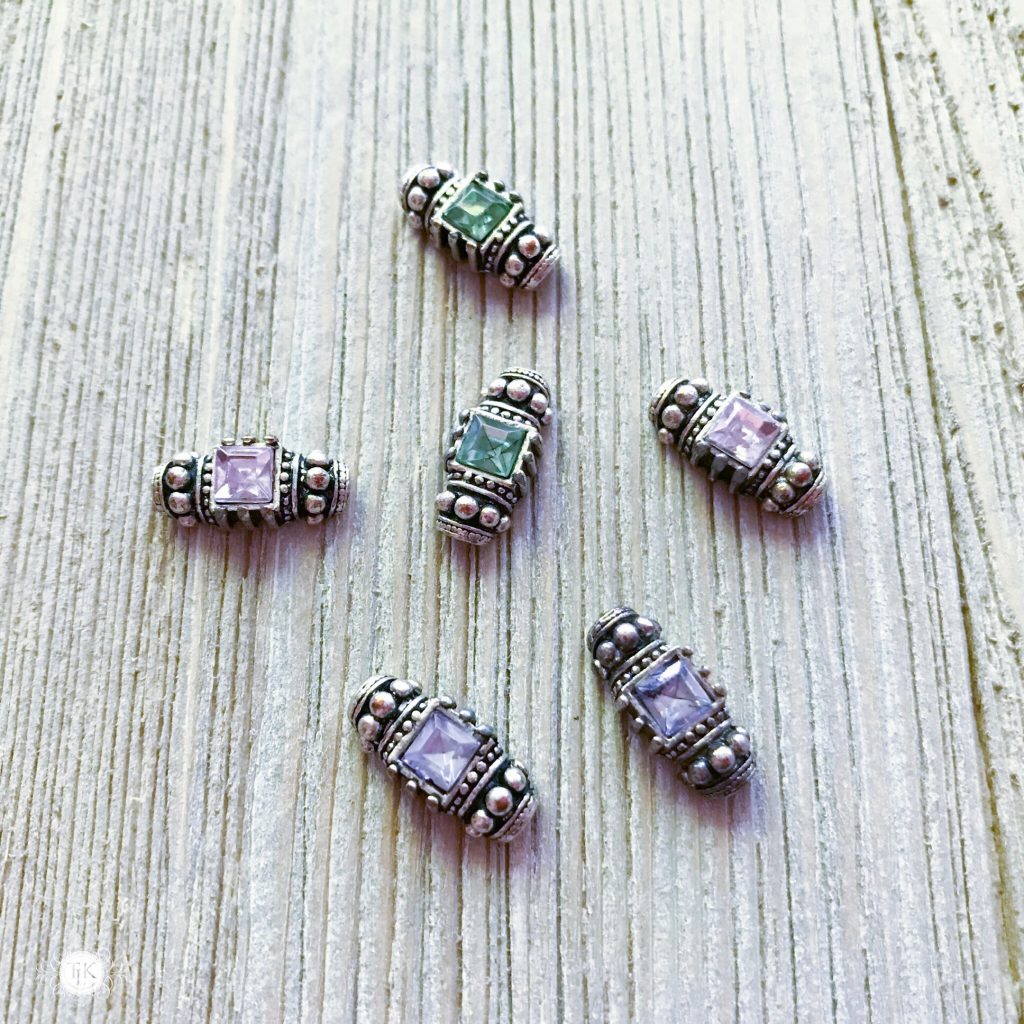 This past weekend I decided I was ready to create a necklace finally using those Kyanite beads.  So, I opened my cupboard but instead of making any progress on a necklace, I decided I needed to do a little organizing on my supplies.  A while back I organized the bulk of my beads by placing them by color into plastic compartmentalized containers.  But I had accumulated more beads that had not been put away, including a few more Treasures found at yard sales this summer.  So, several hours later, I had most everything organized and even found a few surprises that I forgot I had!
I found a few bracelets here and there at yard sales this summer that were in pieces and even restrung one.  These little Swarovski Crystal connectors above were part of a bracelet that needed to be restrung.  They had tiny little silver beads in between them and there were two green, two pink, two lavender and three blue connectors when I took the bracelet apart.  I didn't take a before picture because I had no clue this little bracelet would end up as part of this story.  This bracelet along with a few others were in a grab bag for $1 so I knew I had to scoop them up.  Also in the bag was a Pearl bracelet (pretty little Freshwater Pearls and purple seed beads) that needed to be restrung so I pulled out the Pearls and wanted to see if maybe I could use them somehow in my project.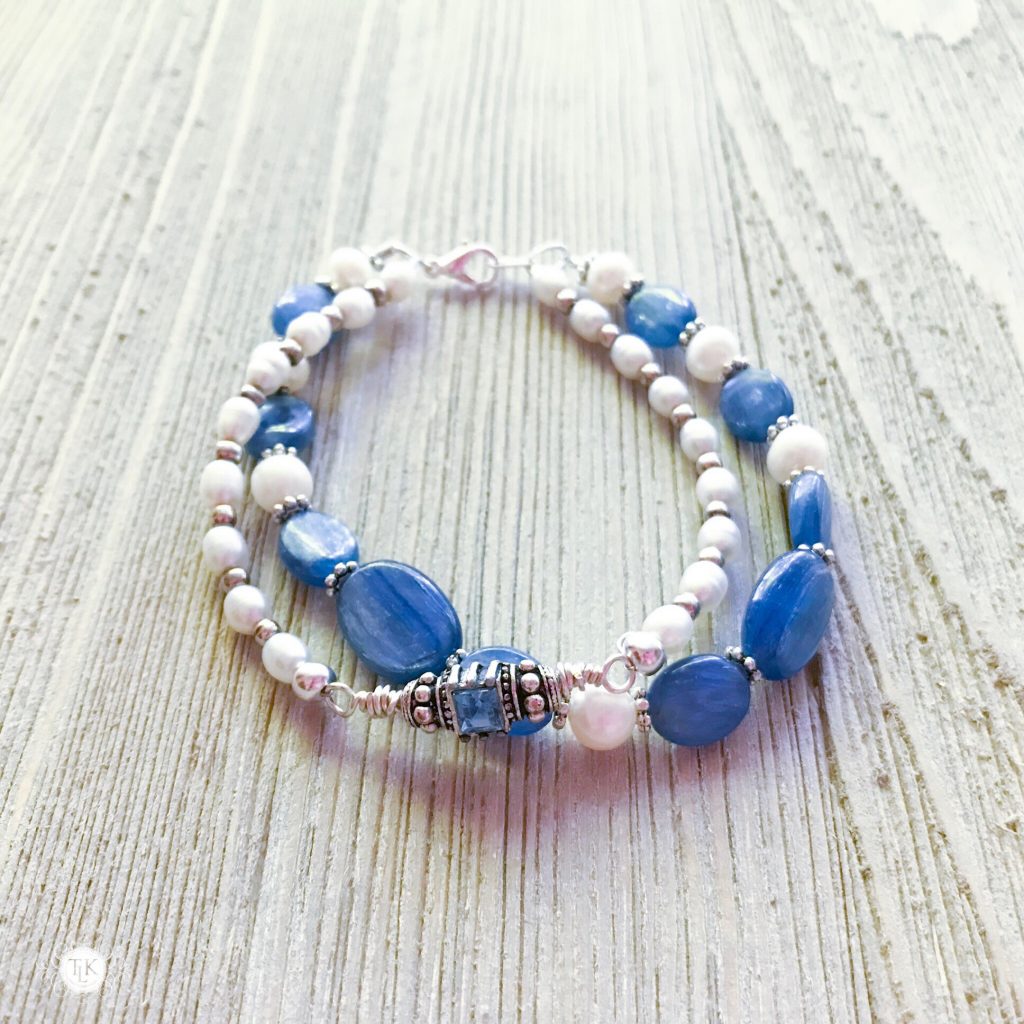 Now remember, all of this started because I wanted to make a necklace to go with that $3 Rhinestone bracelet, right?  Well, I got out the Kyanite, the blue Swarovski connectors and those little Freshwater Pearls from the other bracelet that needed to be restrung.  And then I got the little silver beads that were part of the crystal bracelet and started playing with them to see what I liked.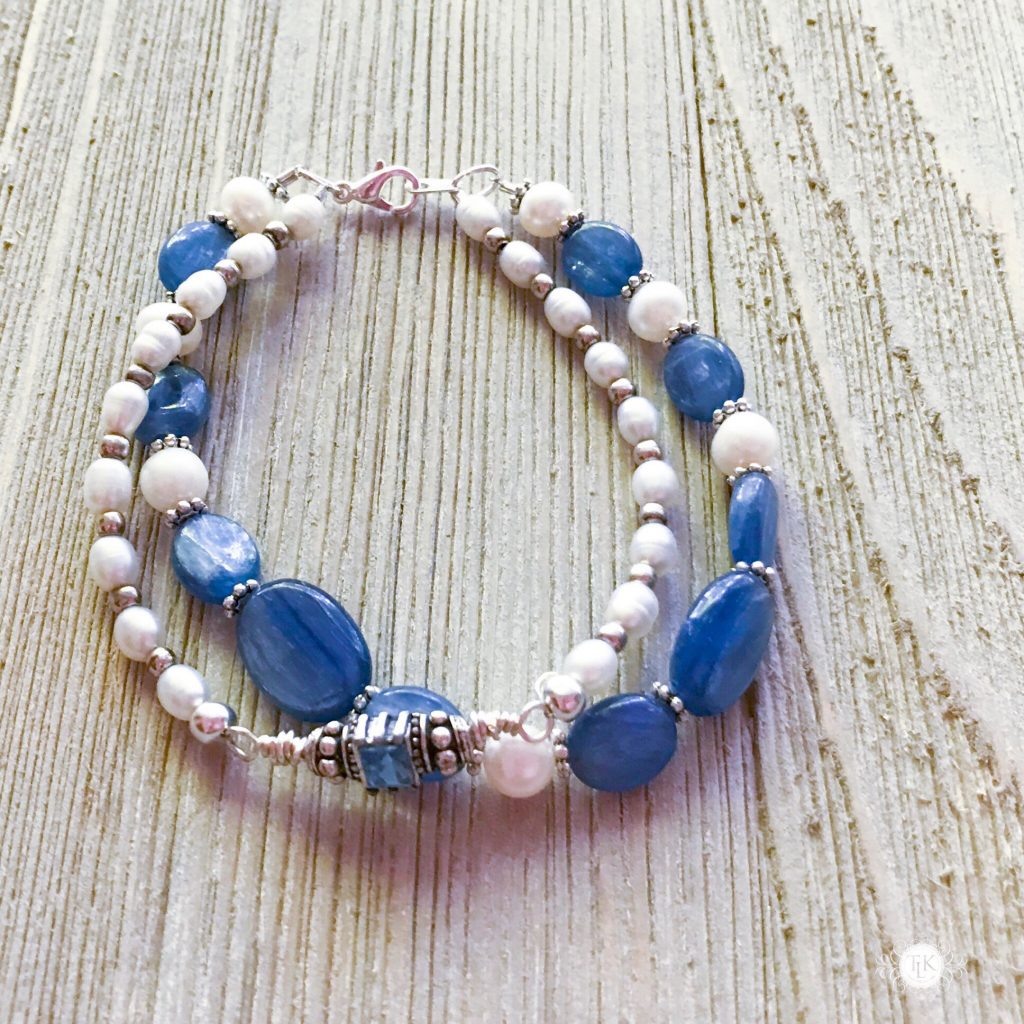 The blue Swarovski Crystal is the same color blue as that Rhinestone bracelet so that was a win.  But, since it was a connector bead, it had double sets of holes on each end, not single holes like normal beads.  I didn't want to make a double strand bracelet with the Pearls and if you have ever worked with Pearls before, you know that they have tiny drill holes which means you cannot always run double wires through them, sometimes just a single wire can be tricky.  And if you don't use all the holes in those connector beads, they will now lay right when made into jewelry – they will flip, lay cockeyed or be off center.  So I used wire and ran it through the backs of the connectors making loops on each end.  Then I strung the little Freshwater Peals and the tiny silver beads to make a single bracelet.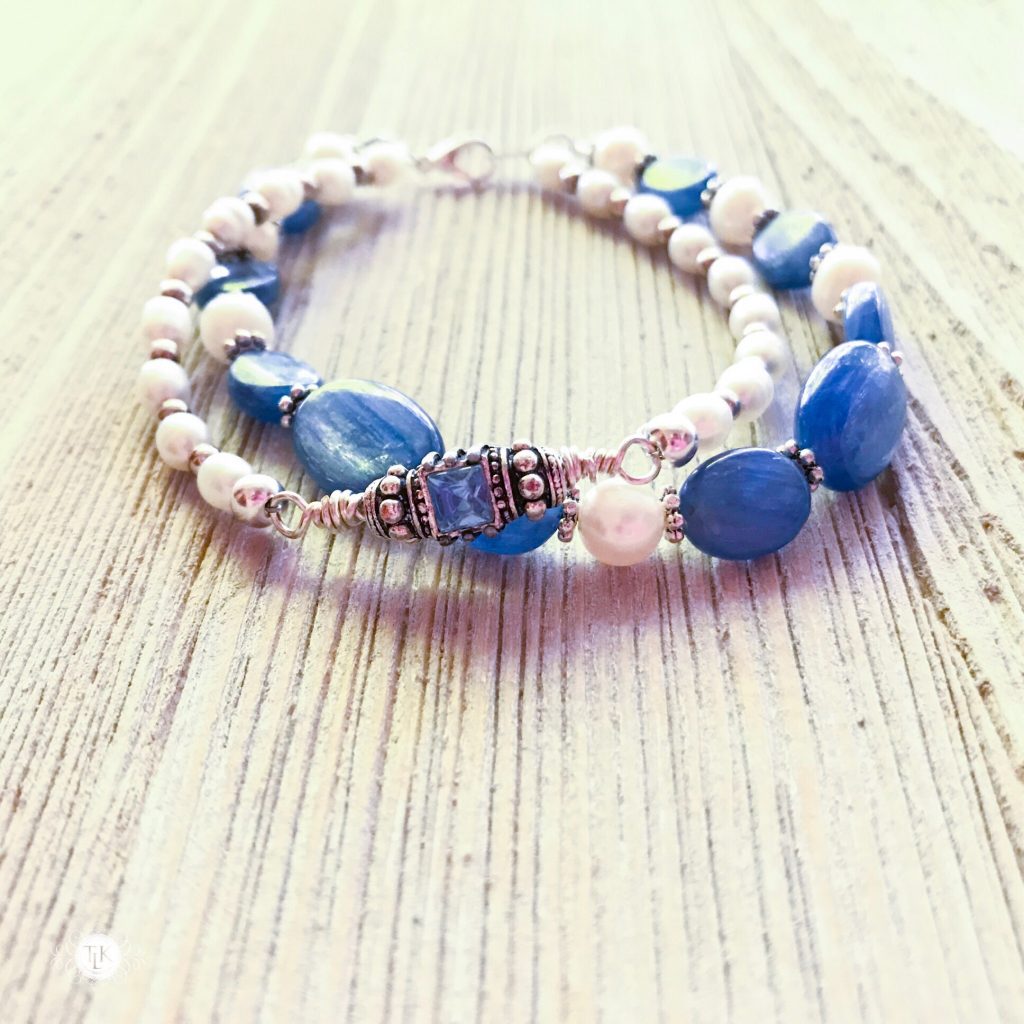 It was beautiful, but I completely overlooked using any of the Kyanite.  So, I got out some larger Freshwater Pearls and Tibetan Silver Spacers and strung them with the Kyanite beads and attached them to the completed bracelet.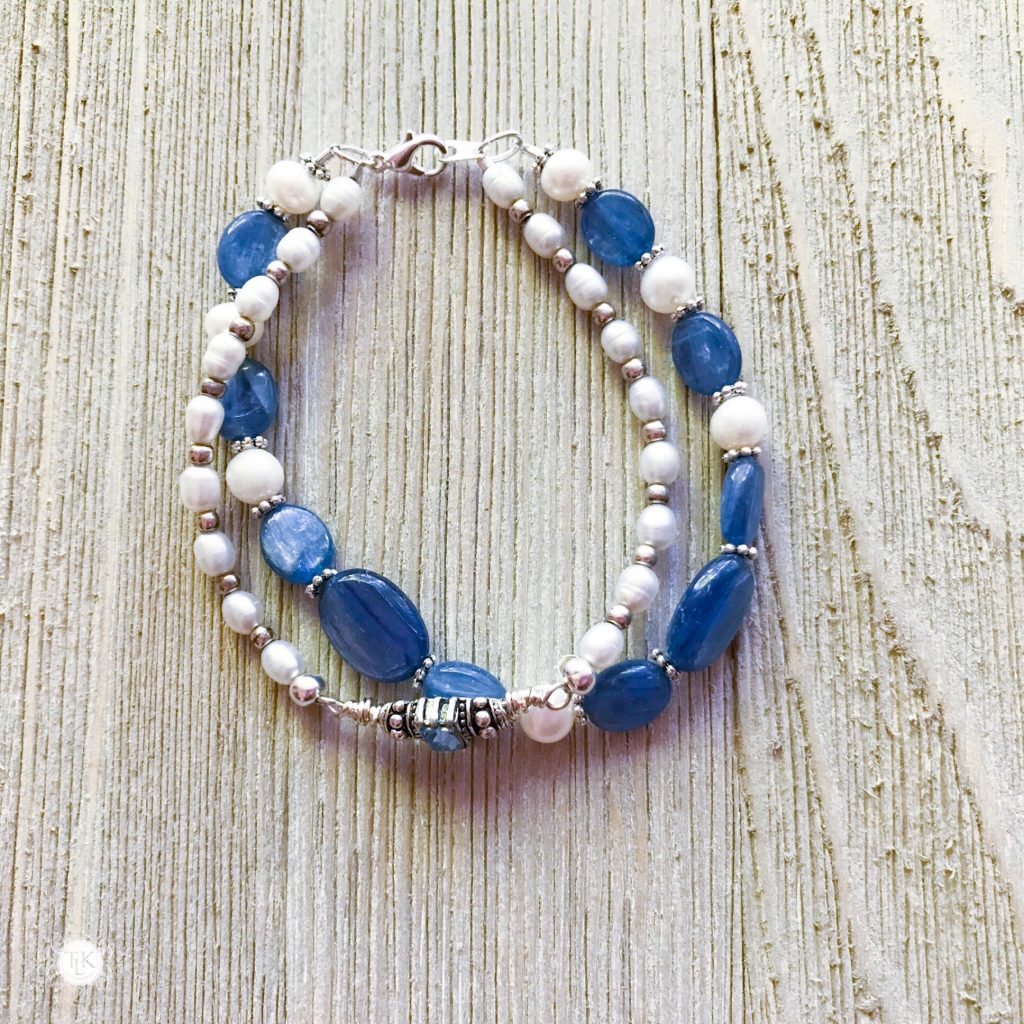 I loved how it turned out!  And you can see in these pictures what I mean about the Kyanite.  It changes color depending on how the light hits the stone.  It really is a beautiful stone.  But, I still had not accomplished what I originally set out to do – make a necklace!  As these bracelets came together though, I realized I had a roadmap for a necklace. I didn't have any more of the tiny Freshwater Pearls from that bracelet, but I had lots more of the larger Pearls, so I could do something similar for a necklace using the other two crystal connectors.
I started on the inner necklace first.  I laid out one of the Swarovski Crystal connectors and started alternating Pearls and spacers.  Then I took two Pearls near the connector away and added two Kyanite beads.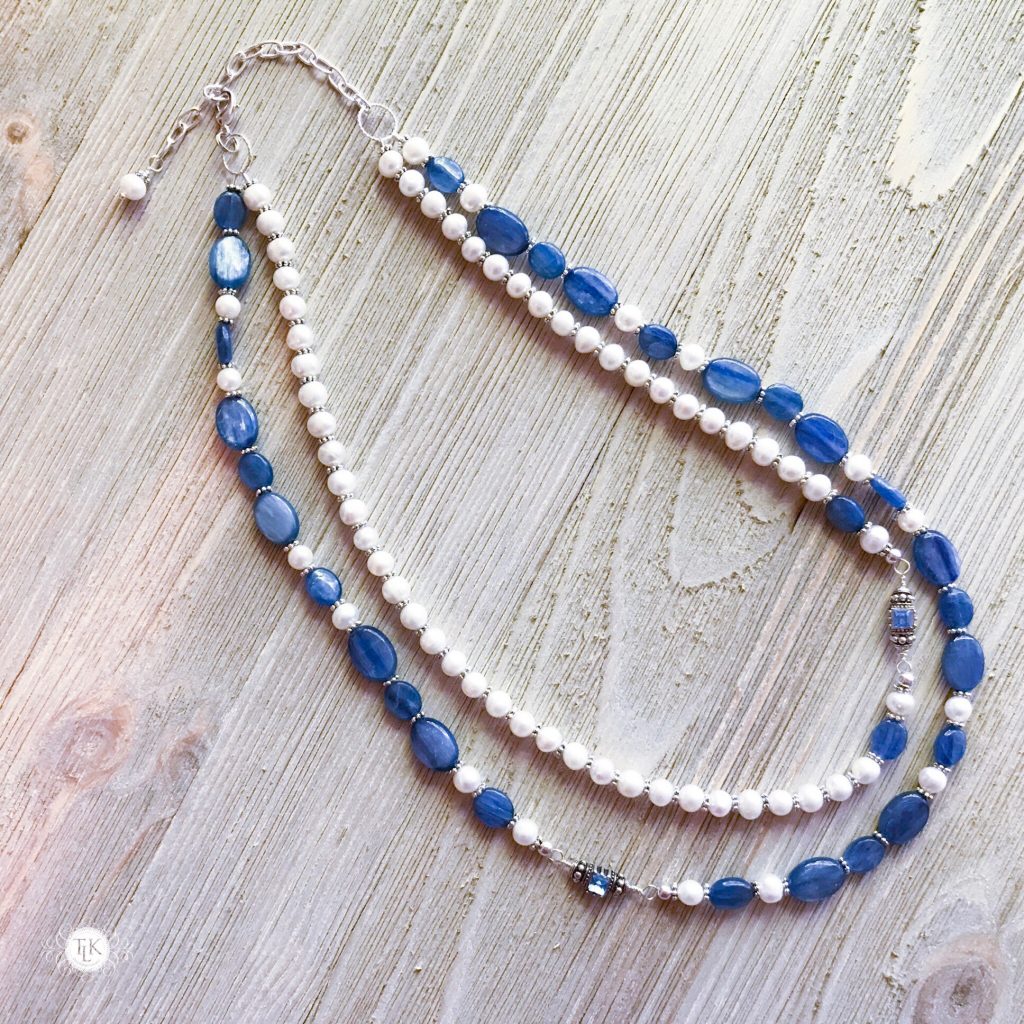 I loved how that looked.  And since the second bracelet I made used the Kyanite beads I did the same thing for the outer necklace, but threw in a few Pearls here and there.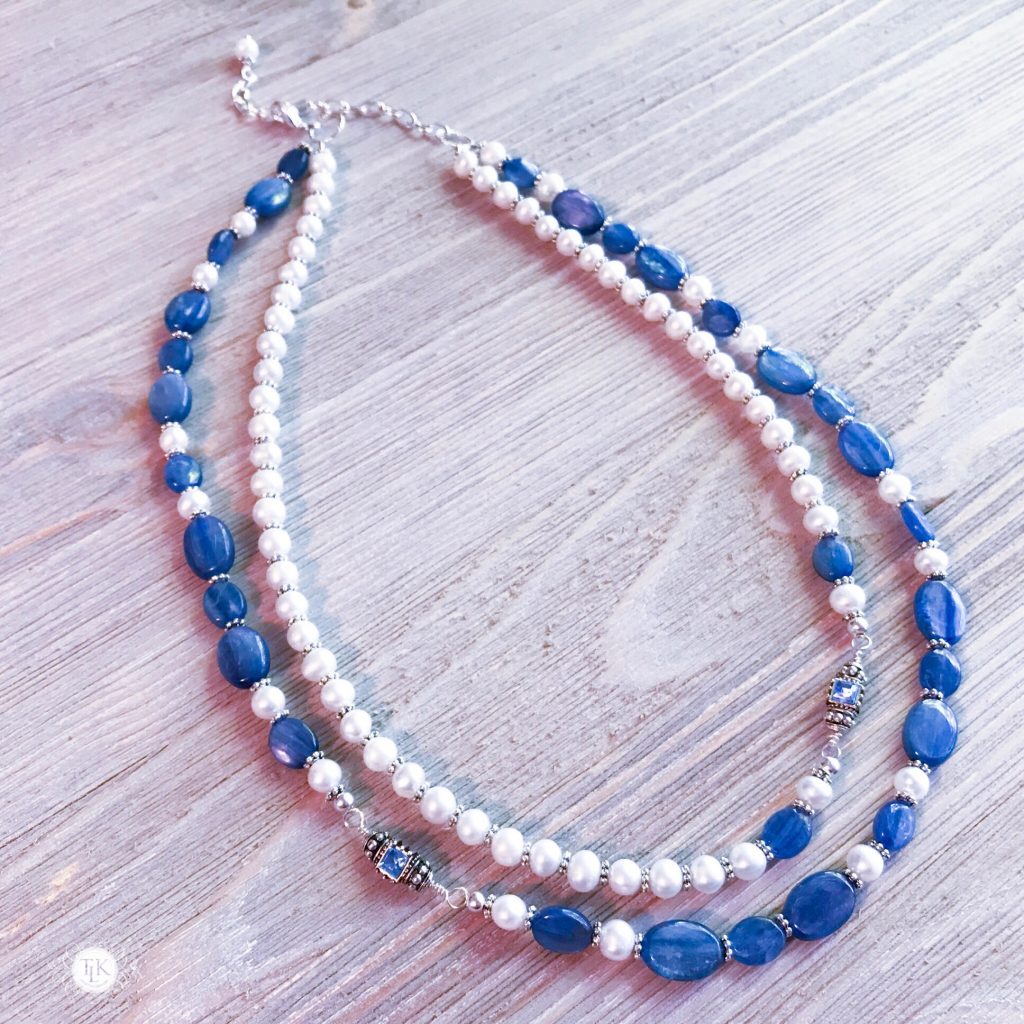 And I used the connectors in different locations to keep the necklaces asymmetrical.  I didn't want them right on top of each other and by doing it this way they balance each other out, too.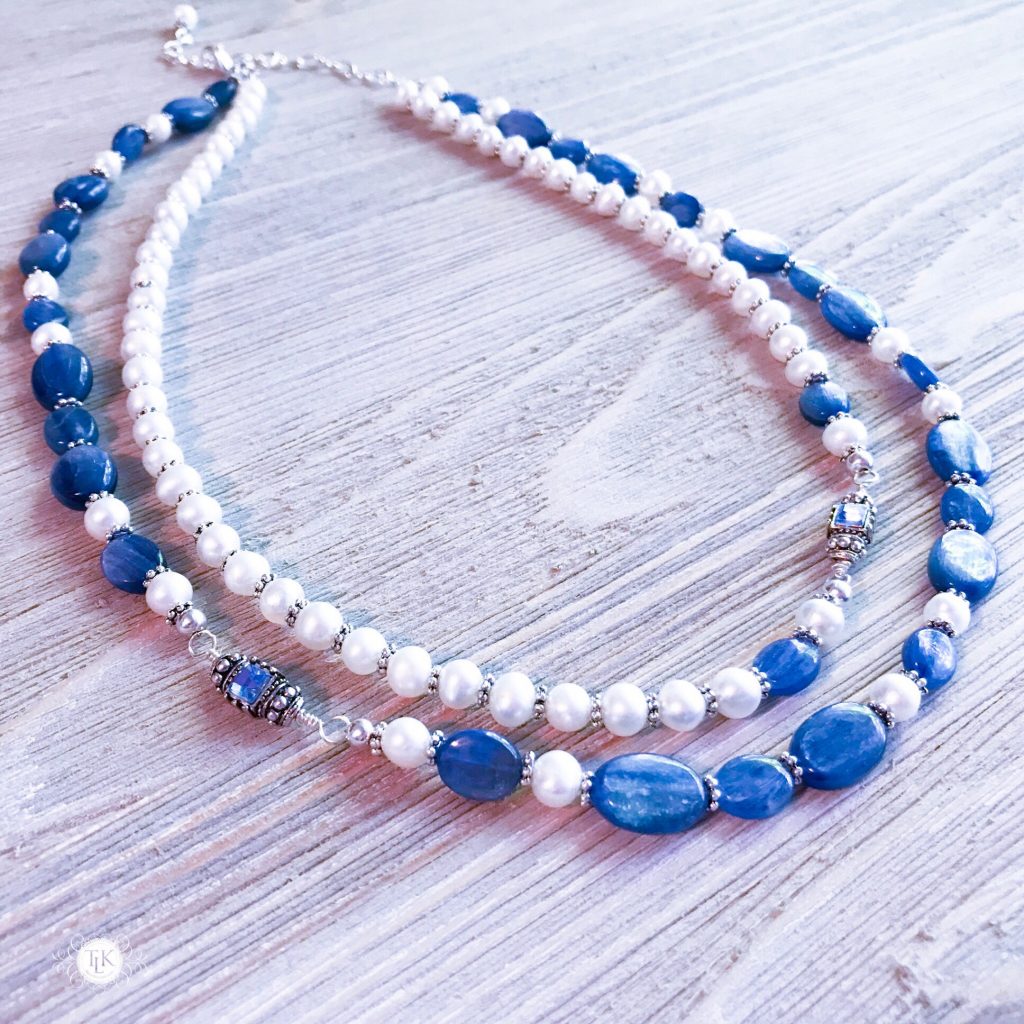 I also added a piece of silver chain so that I can adjust the length of the necklace, depending on my outfit or my mood.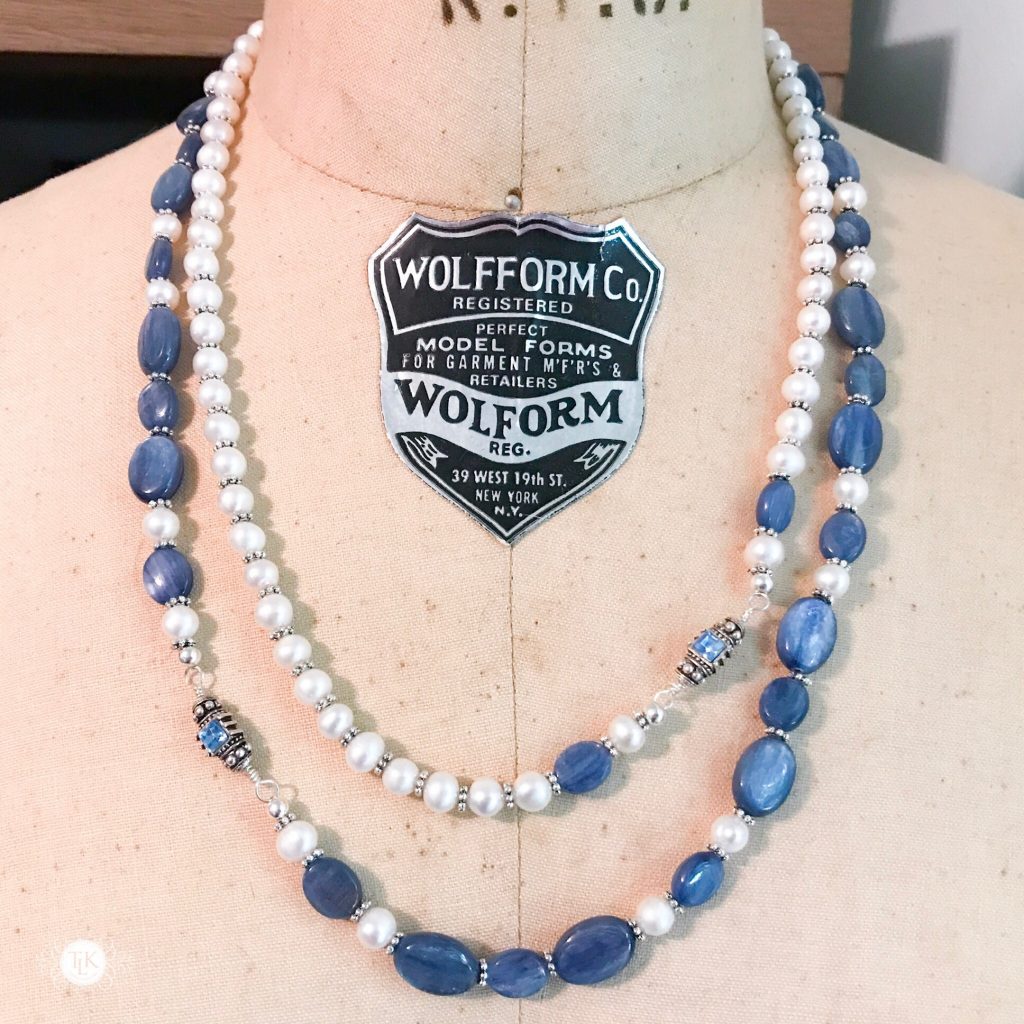 Here is the finished piece on Maud.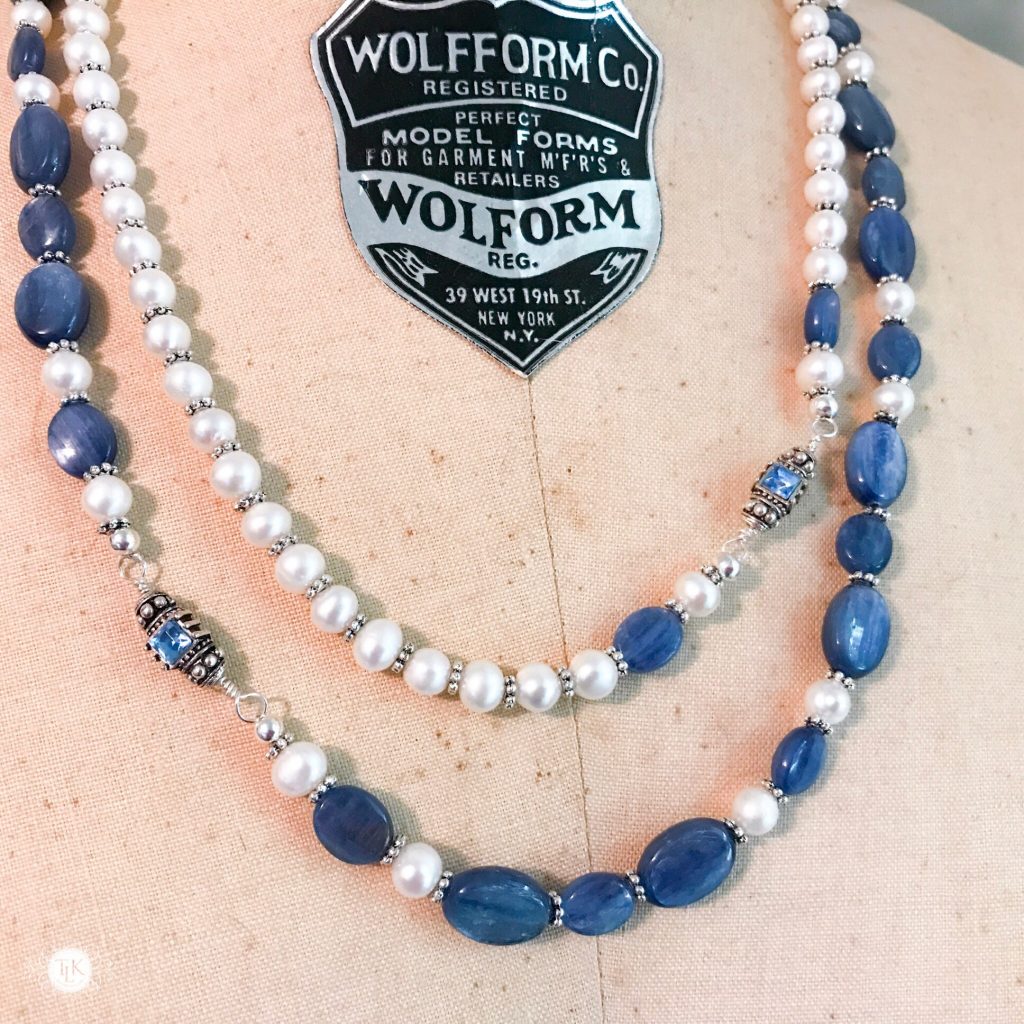 I cannot tell you how happy I am about how this turned out.  Those Kyanite beads!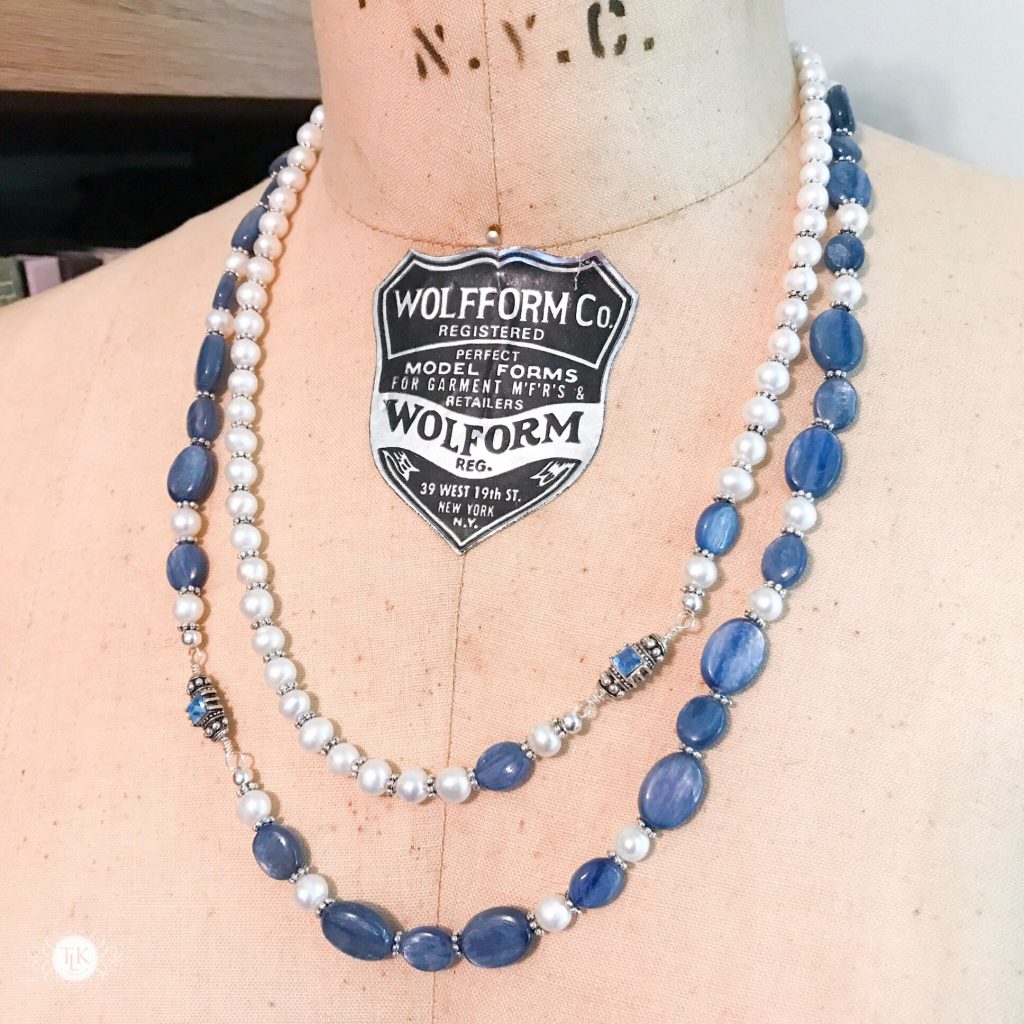 And I was able to take most of one broken, discarded bracelet and parts of another and upcyle them into new, wearable pieces!  I finally have that necklace to go with that Rhinestone bracelet.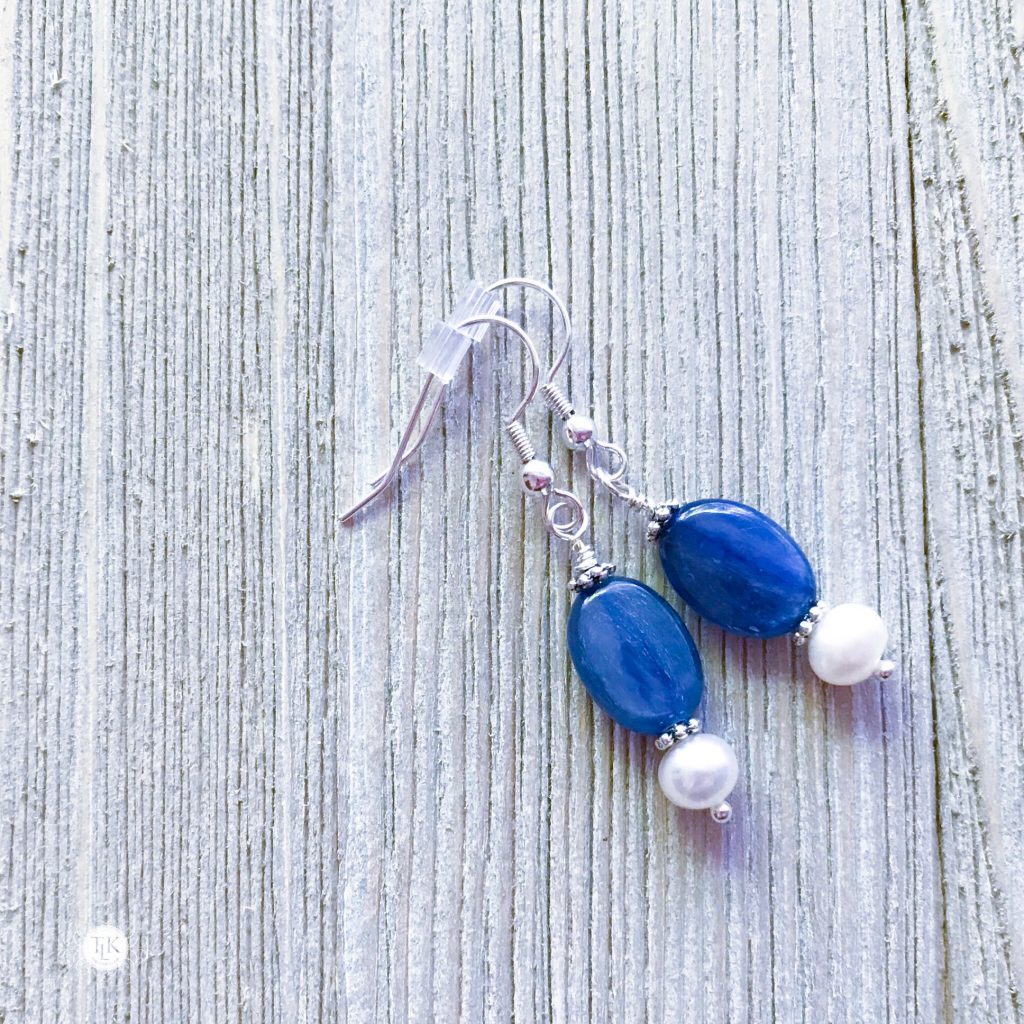 And of course, I made earrings, too.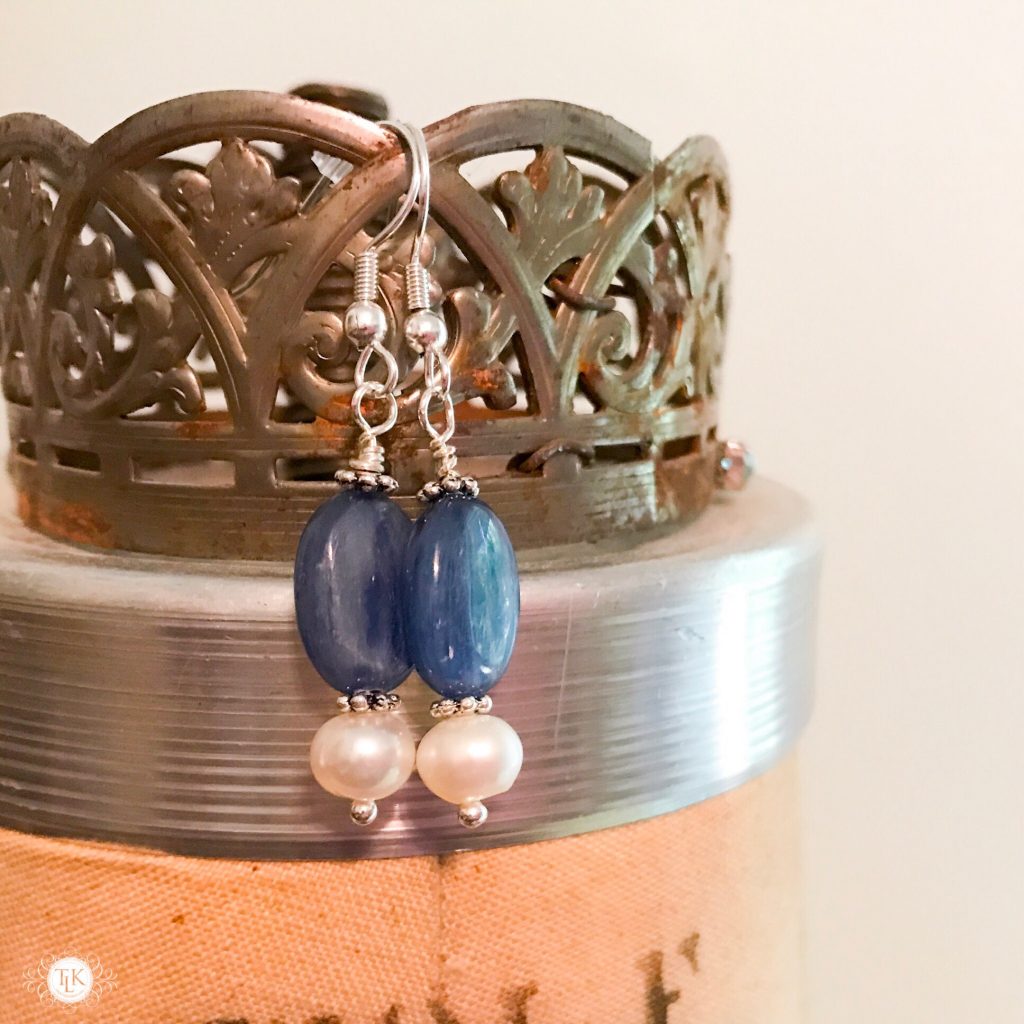 They were super easy to make.  Just Kyanite, Freshwater Pearls and some spacers.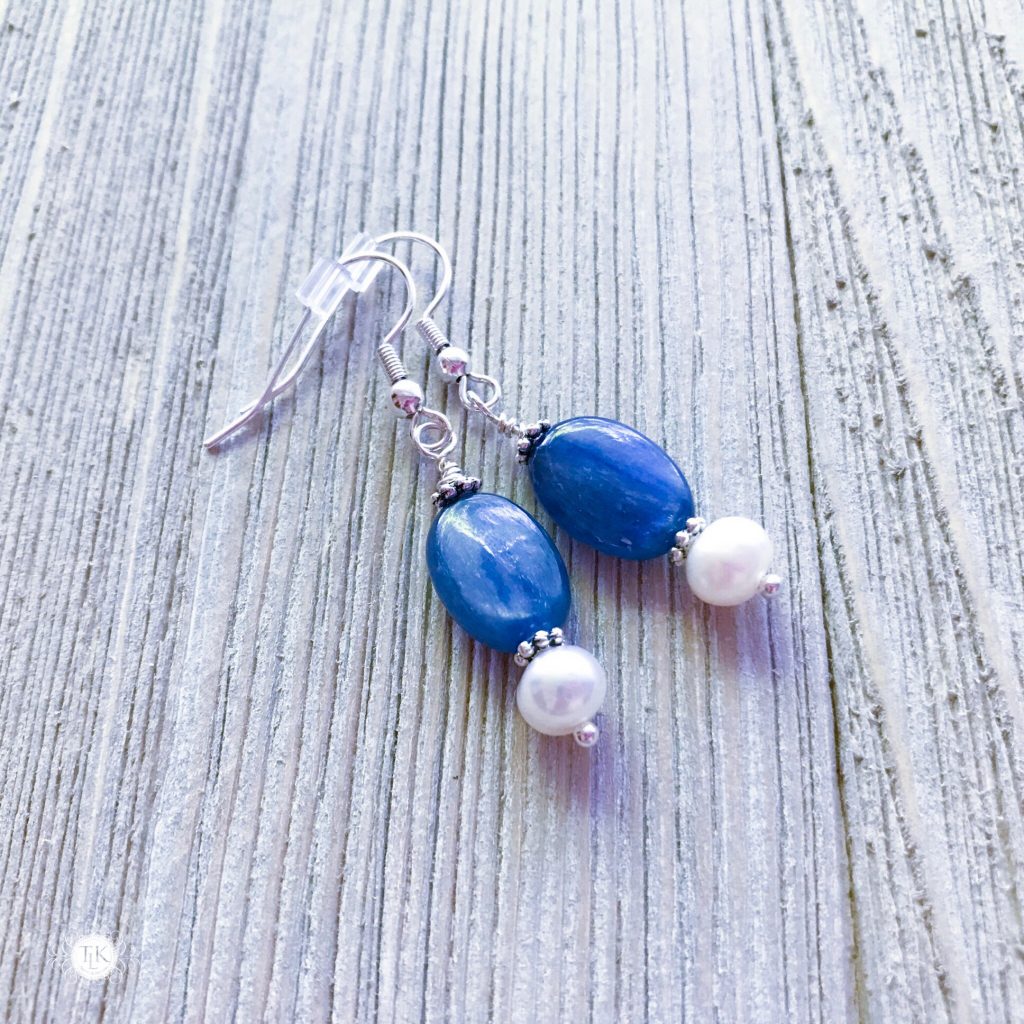 Simple but oh so elegant.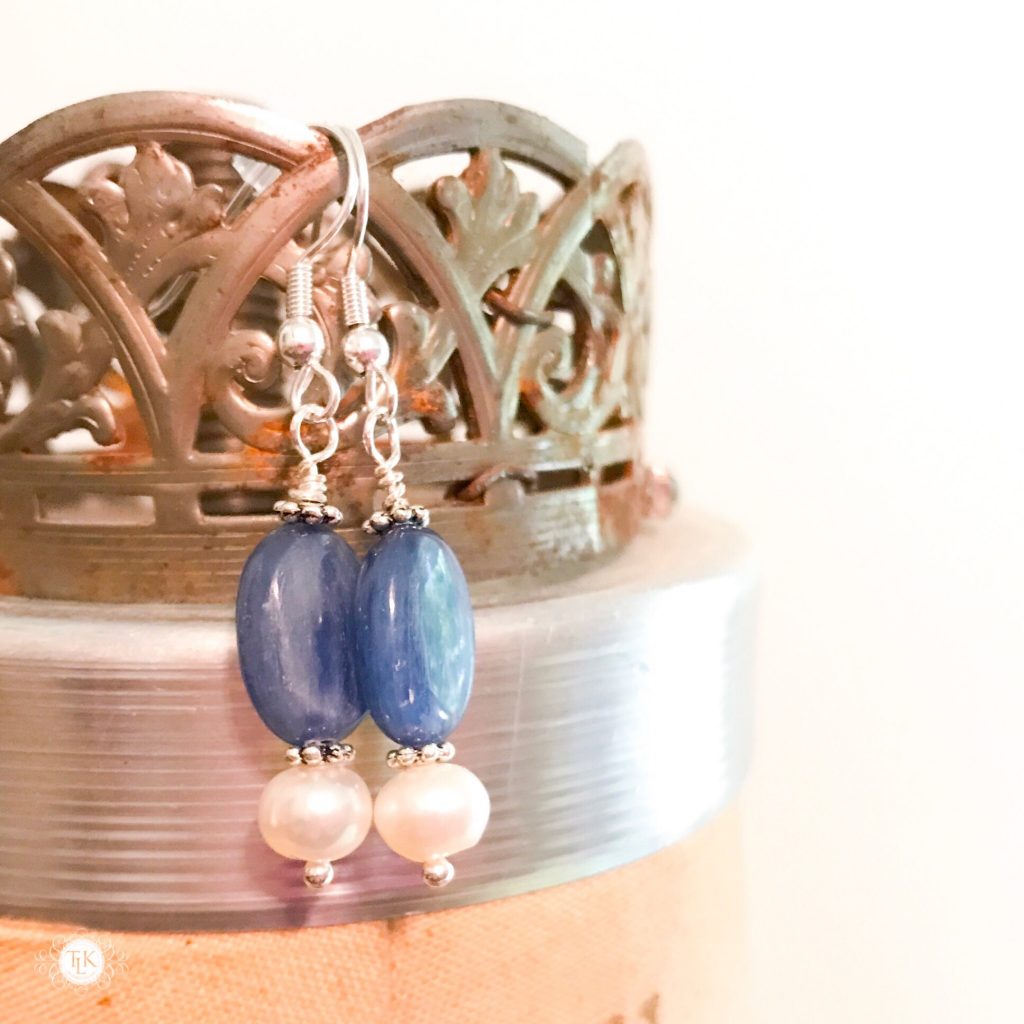 I had no idea what I was getting into when I bought that little Rhinestone bracelet.  I had no idea how that would lead me to one of my most expensive gemstone bead purchases ever and how that would in turn lead to upcycling more jewelry to wear with that one little bracelet.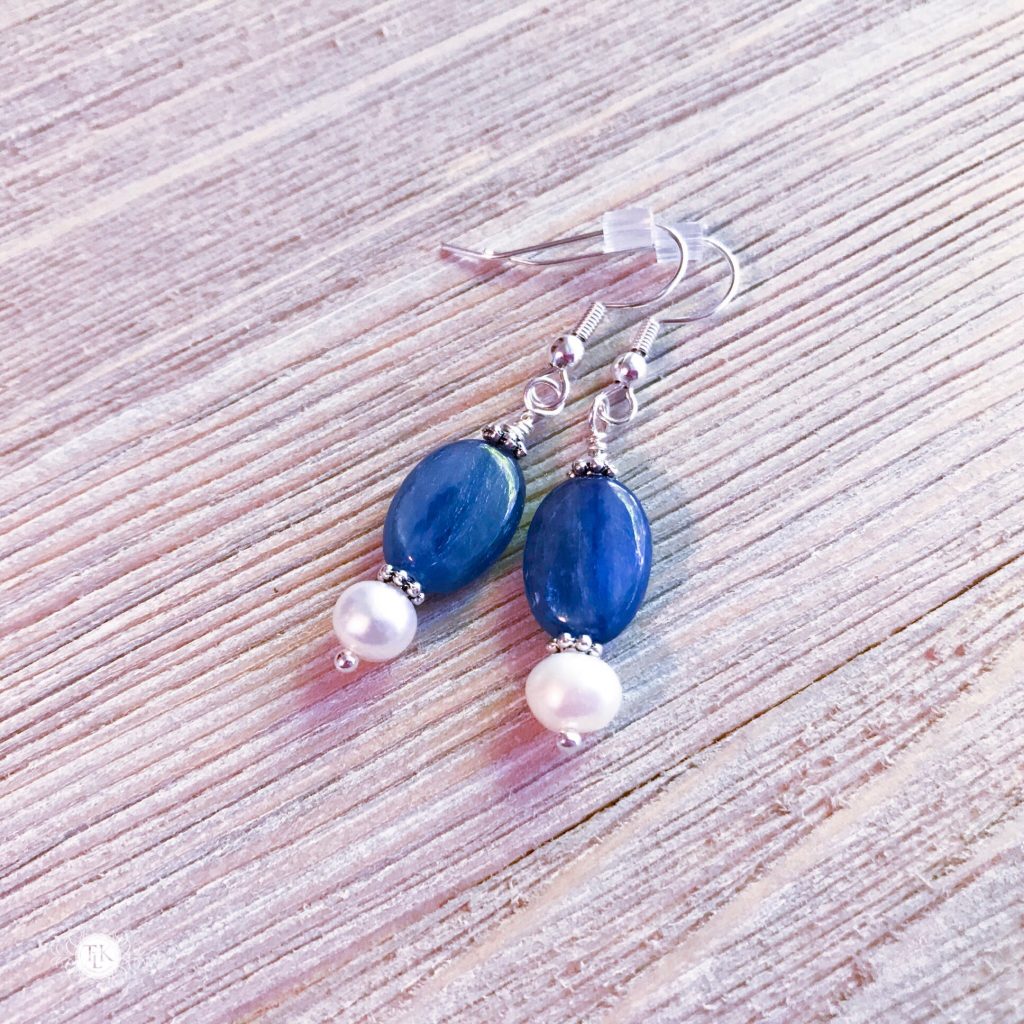 So, remember how I said at the beginning sometimes things just get out of hand?  Thankfully the "damage" will at least be super fun to wear and will make me feel like a princess.  That $3 purchase turned out to be quite a bit more, but the end result is so worth it.  I like how everything turned out.  And I love how rescuing those little Treasures at sales this summer turned themselves into something so beautiful in their new life.  Let's just hope for now I don't come across anymore $3 finds that get out of hand again.  But if I do, I am sure it will be another fun and creative adventure!
---
This post contains affiliate links.