Hi and Happy Monday!  Can you believe the Fourth will be this weekend?  Where has summer gone already?  Today I want to share a quick and easy little Vintage Patriotic Banner with you, just in time for the upcoming holiday!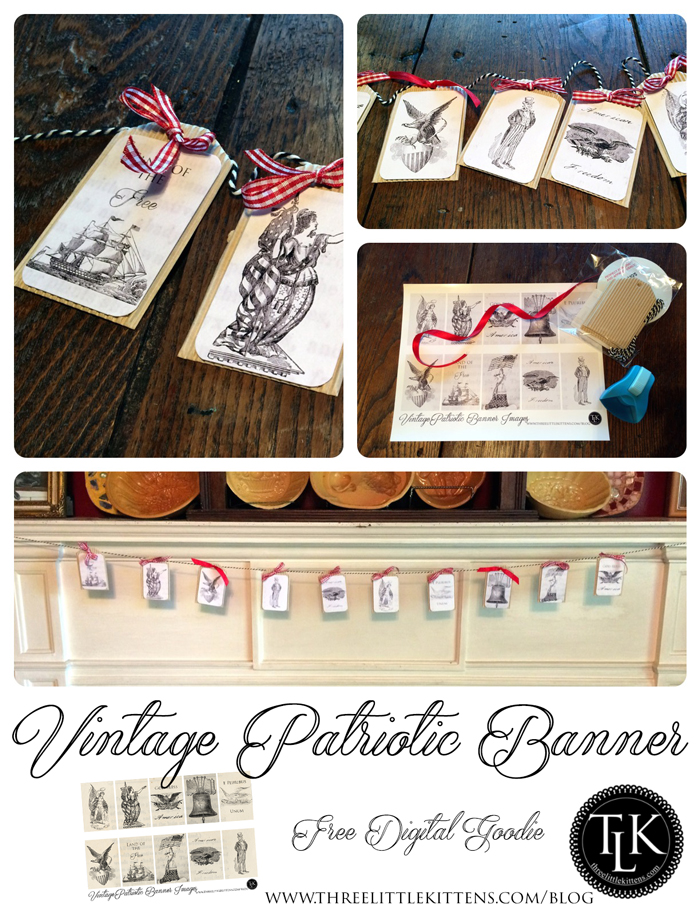 I made this using some free images from The Graphics Fairy.  And a few items that I had around the house which also makes it very inexpensive, too!  And you know that I love Buntings and Banners, so being able to make them quickly, easily and inexpensively is a must.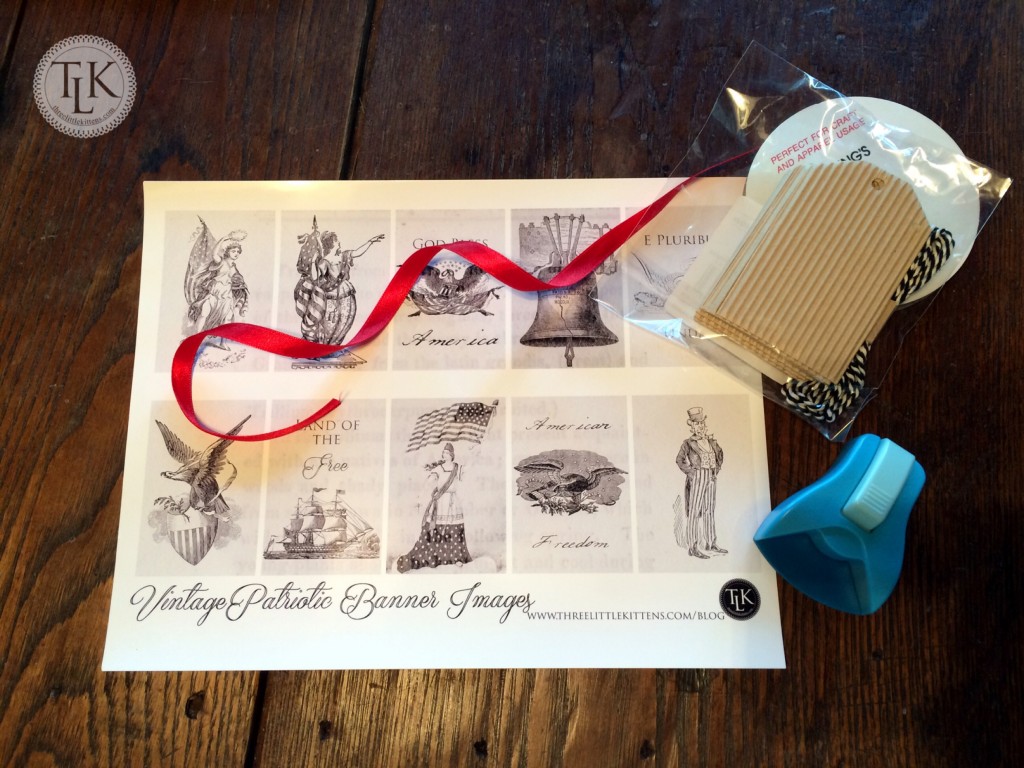 First I printed out the sheet that I made with my vintage images.  I made them approximately 2 by 3 inches to fit the little tags that I had on hand.  I pick these tags up at Michaels in their value section by  the checkouts.  They almost always have cute little packs of tags that work perfectly for making these quick little banners.  And I always have ribbon on hand, so I just picked some that I thought worked best with what I had in mind.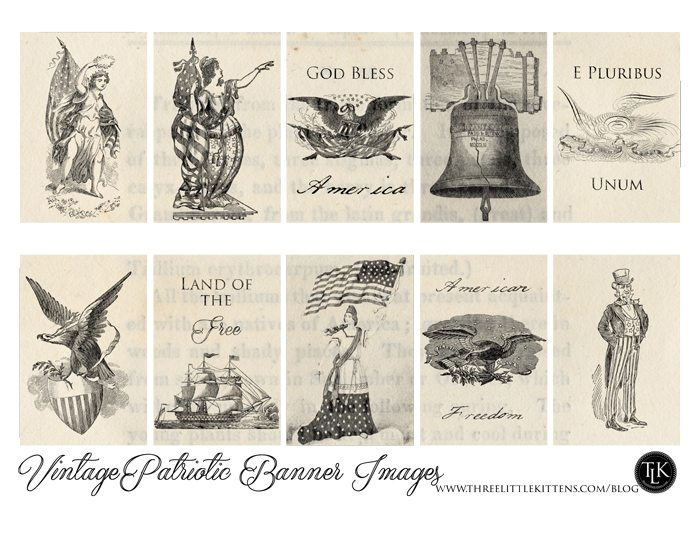 If you click on the image above, it will take you to the full size .png file.  You can print it out on a regular sheet of letter size paper.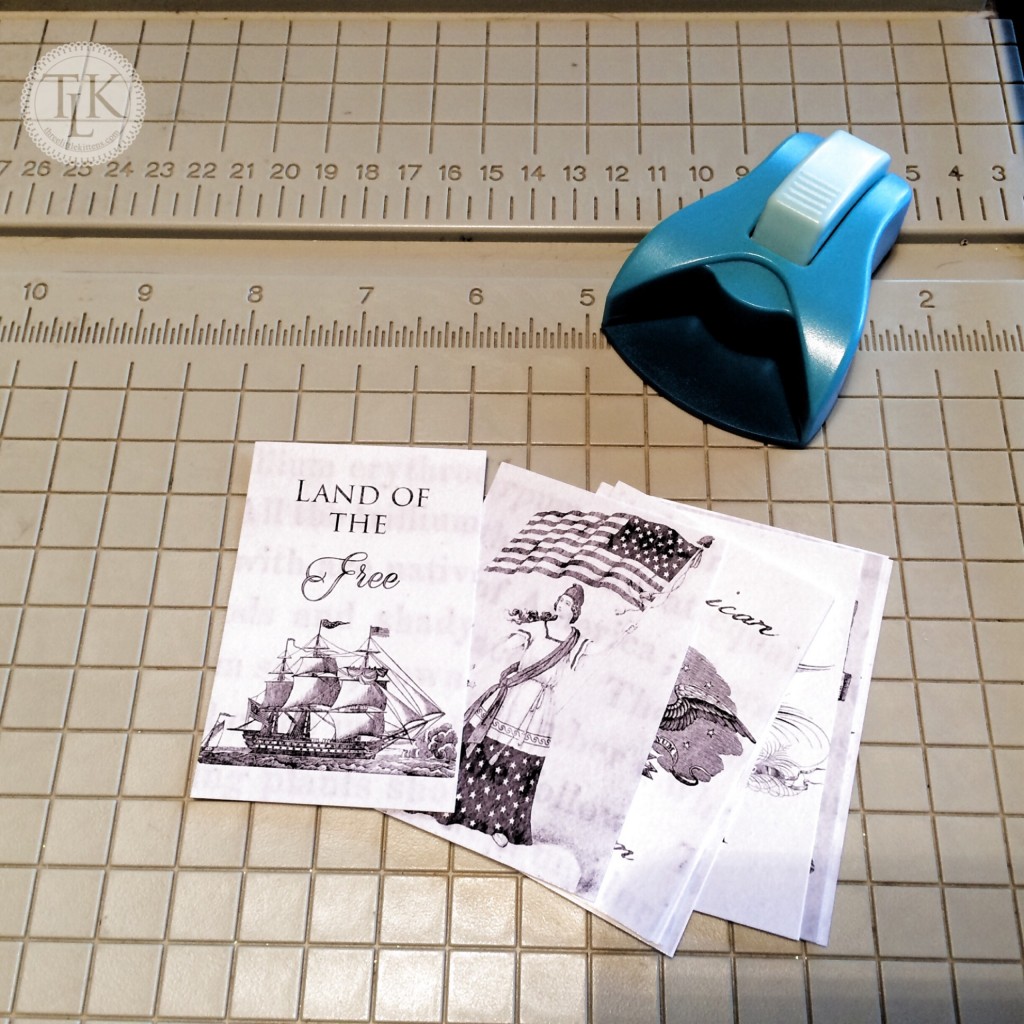 The first thing I did was cut out the images.  And for this project, I wanted the corners rounded, so I used one of my corner rounder punches to round the corners of each of the ten little images.  Then I adhered them to each of my tags.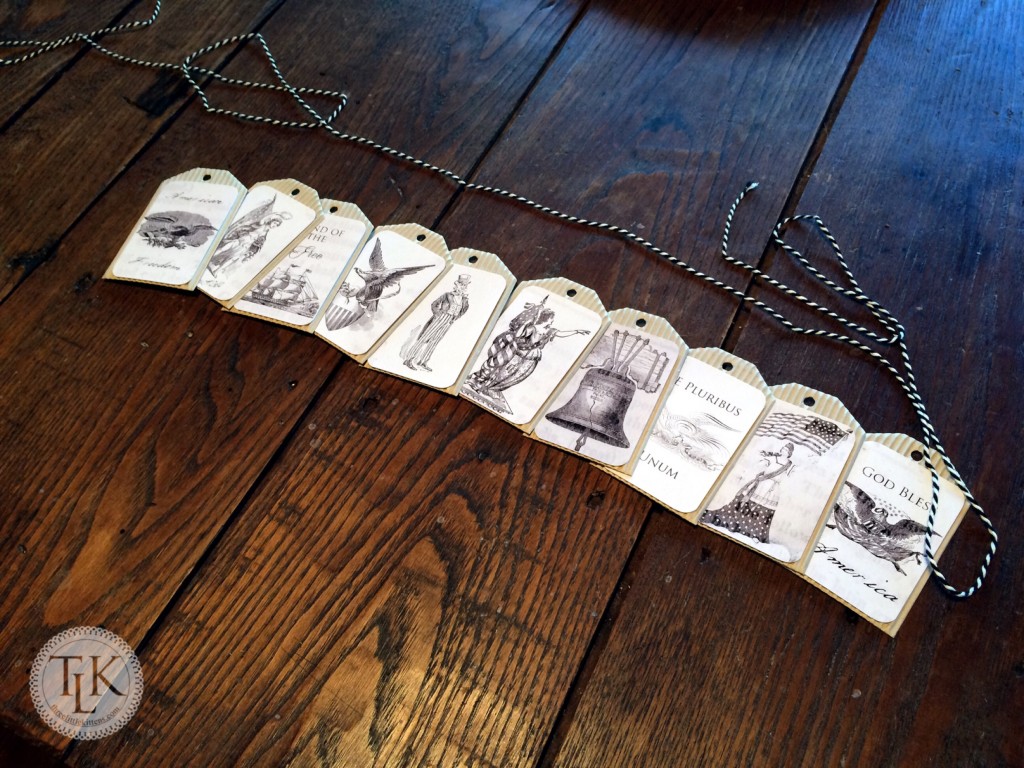 Next I played around with the order I wanted them in for my banner.  There is no right or wrong, just play until you get something you like.  My pack of tags came with a black and white piece of string, which I decided to use.  I could have used another piece of ribbon or some twine, but I was using the black and white images so I wanted to keep the black and white string.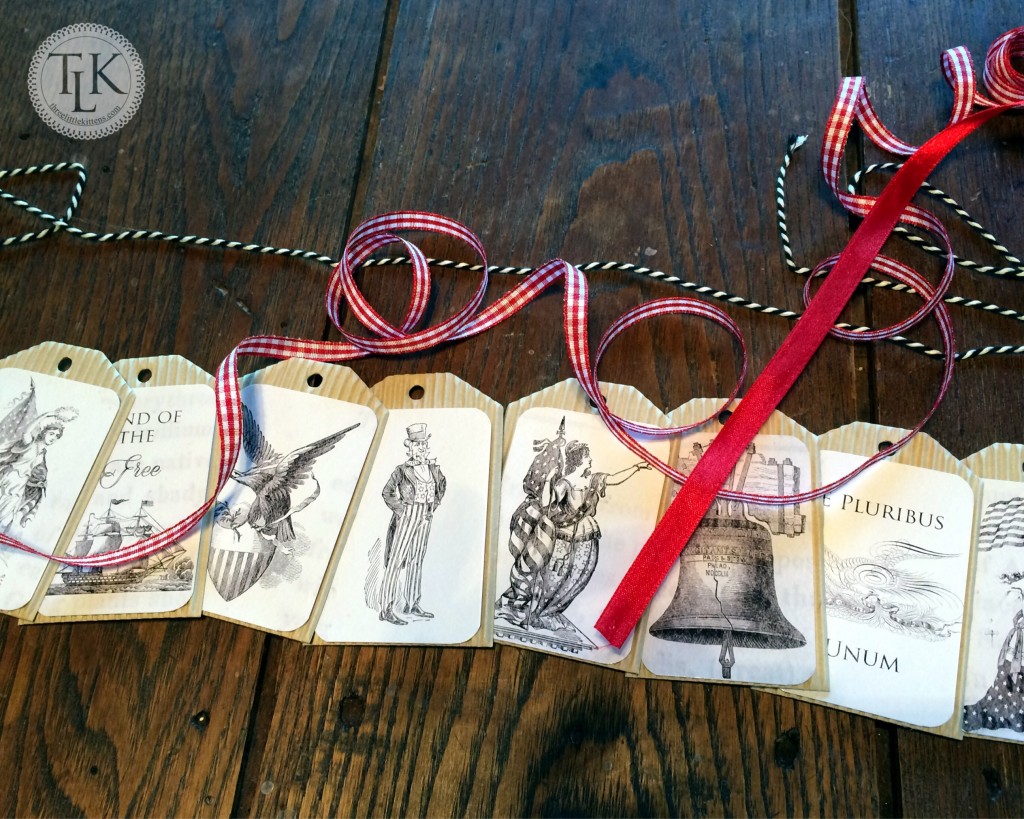 Next I needed to decide how I was going to attach them.  I had a piece of red and white check ribbon that would work for most of the tags and I also had some red satin ribbon.  I decided to use the check ribbon for eight of the tags and the satin ribbon for the other two.  I would space them out on the banner.  I cut my ribbon into sections, each about 7-8 inches long.  I just eyeballed it.  You can get real specific and measure out exactly, it just depends on what kind of look you want.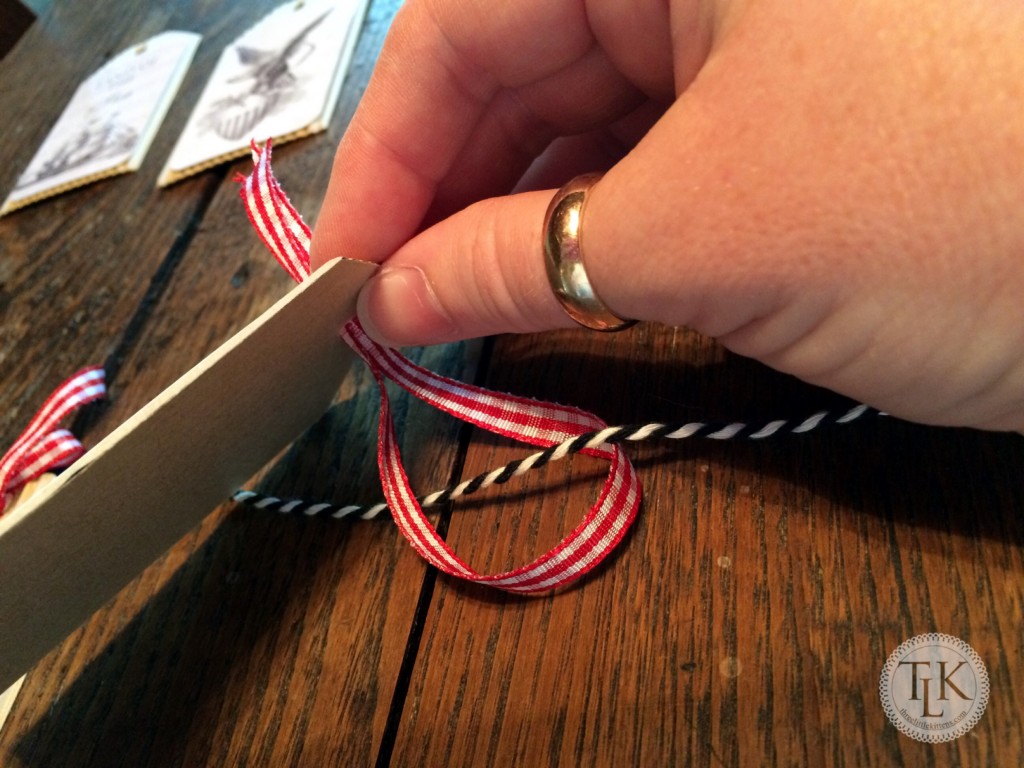 I attached these the same way I did on my Super Easy Autumn Bunting, by pulling the ribbon through the holes on the tags while securing around the base string.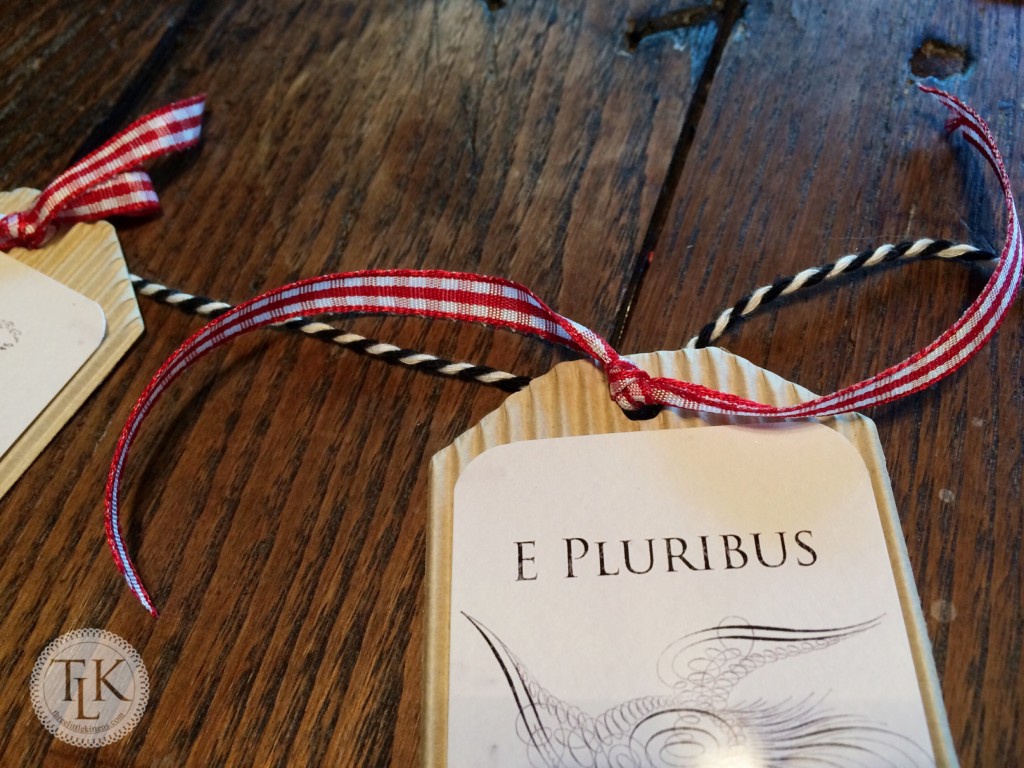 Once it is pulled through, I tie it in a knot.  Doing it this way also allows you to slide the tags along the ribbon if you find your spacing is a little off.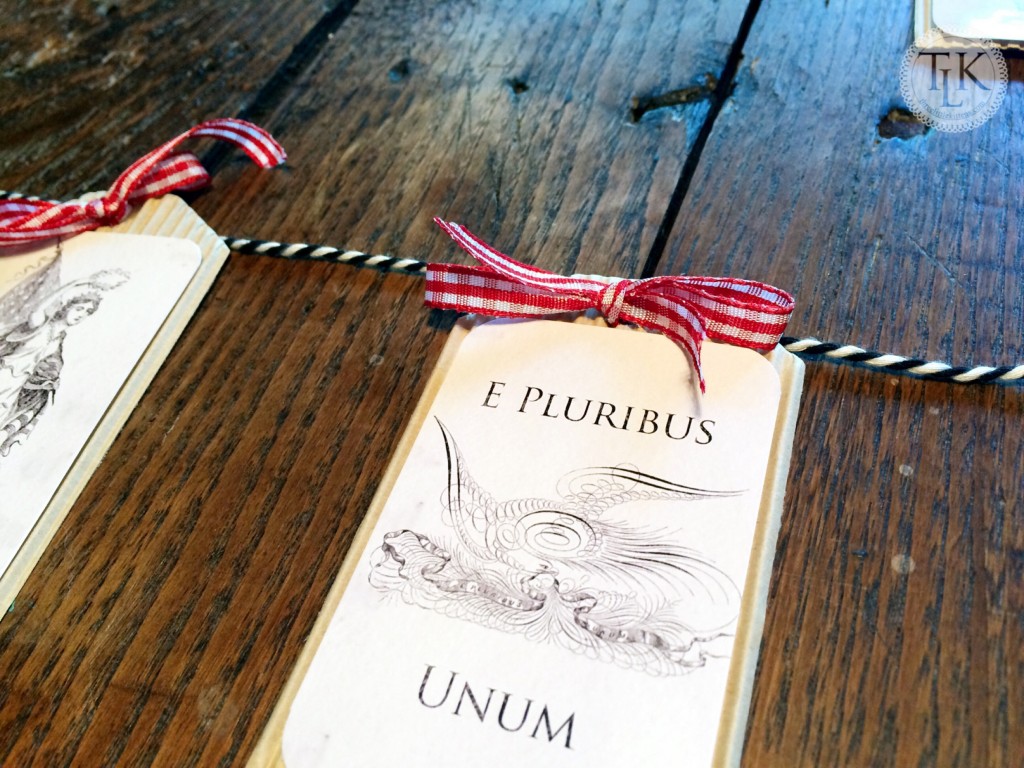 Speaking of spacing – again, I kind of eyeballed it  and just spaced them about 5-6 inches apart on my base string.  How you space will depend on how long your base string is and how far apart you want them to be.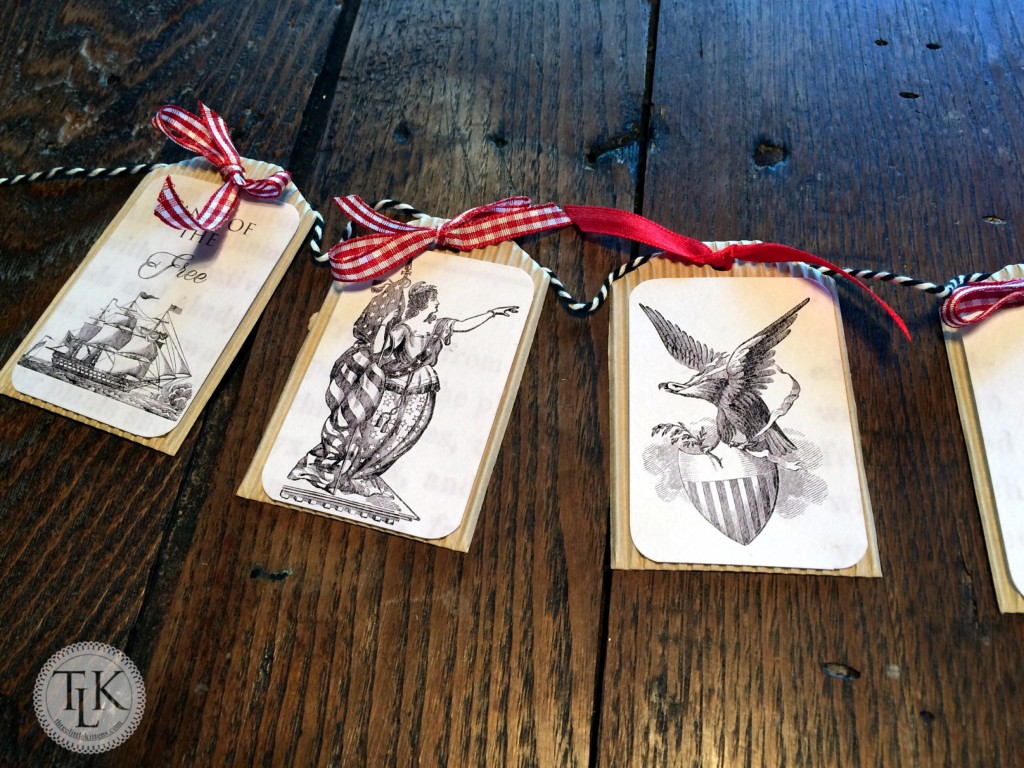 I tied my little checked ribbon into bows. For my satin ribbon I just tied it in a knot and made sure that I clipped the edges at an angle.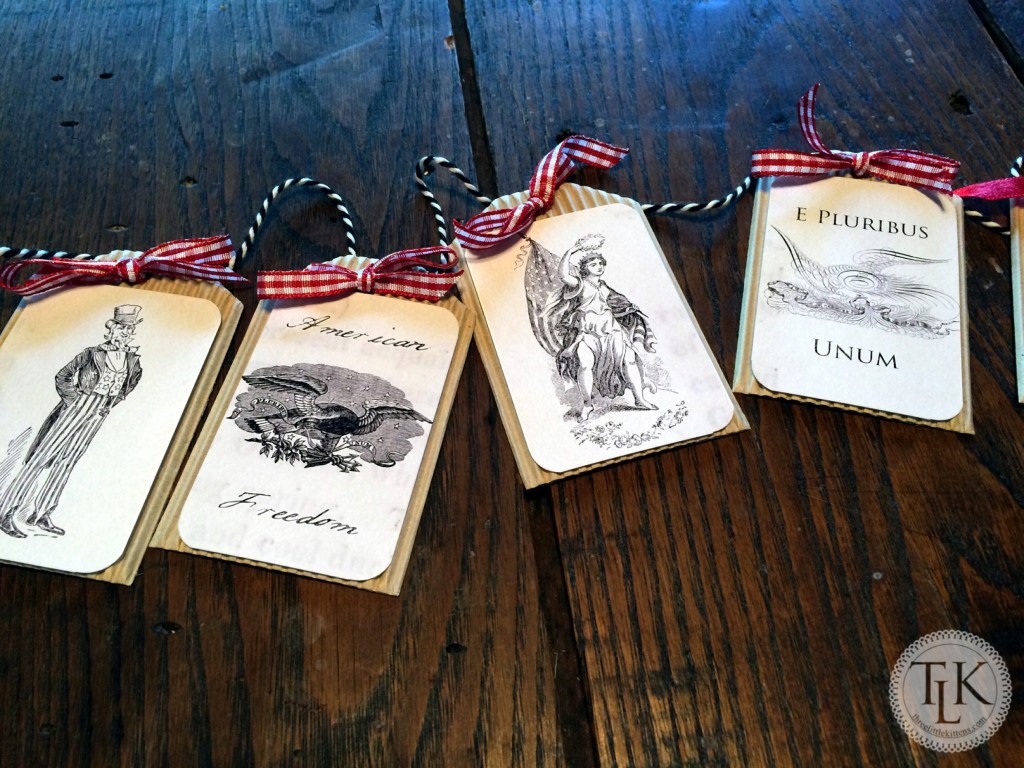 So there you have it.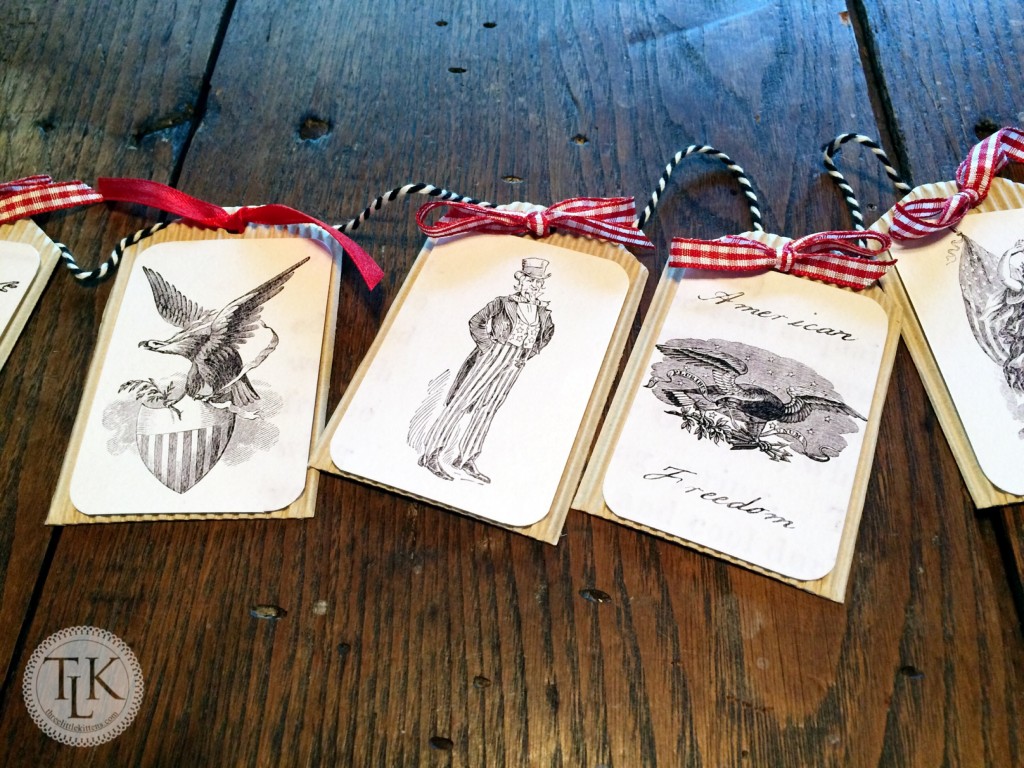 Pretty easy and quick.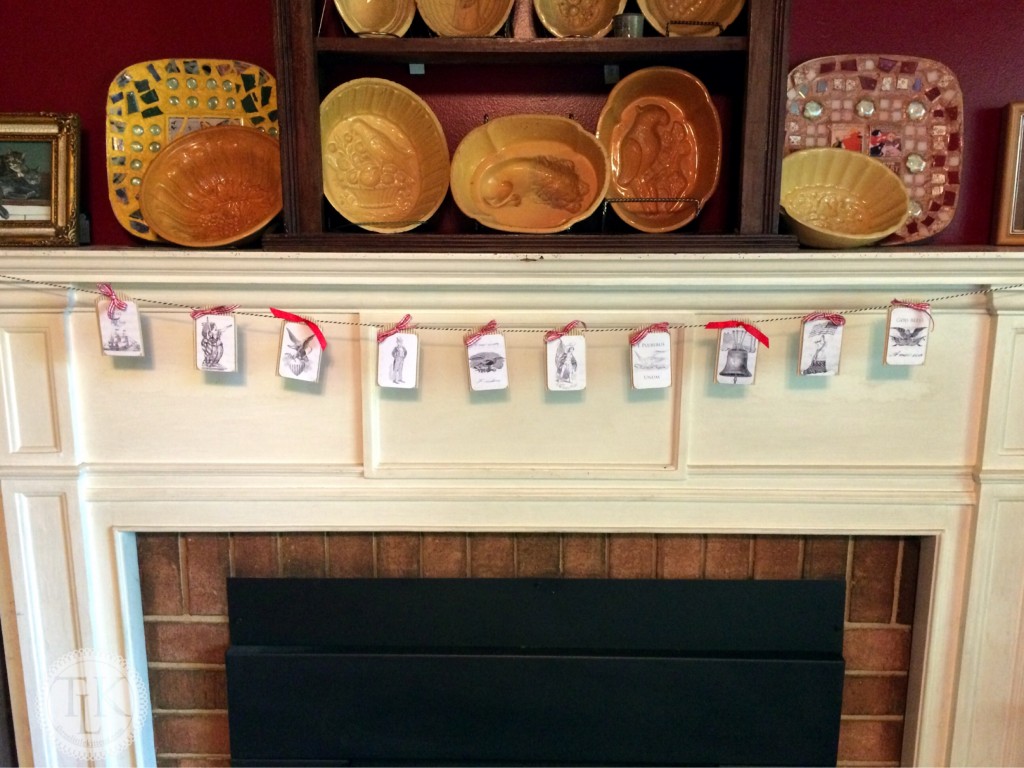 A simple, quick little banner with a very vintage feel.  I made it to look like old images clipped from a book or newspaper.  I saw some decorations similar to this in Colonial Williamsburg last Christmas and wanted to try it at home.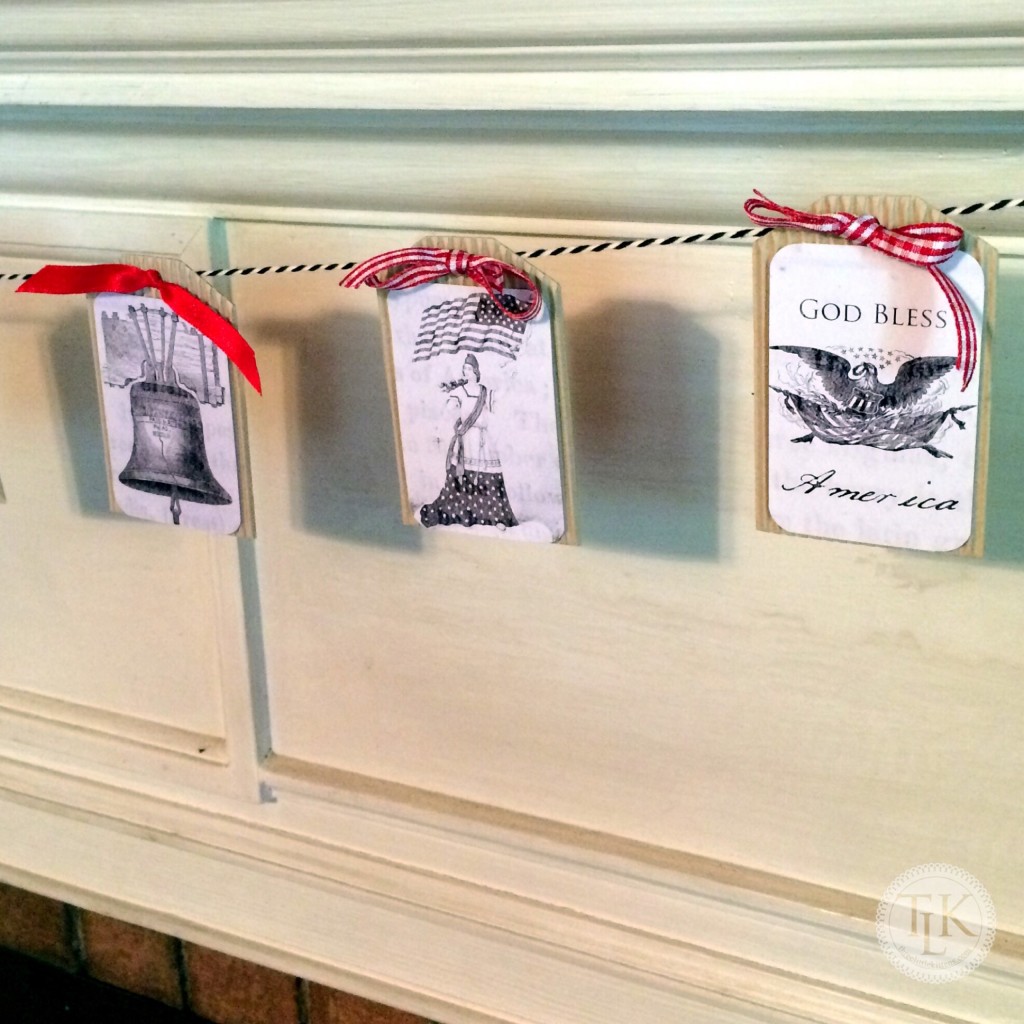 They turned out the way I had hoped.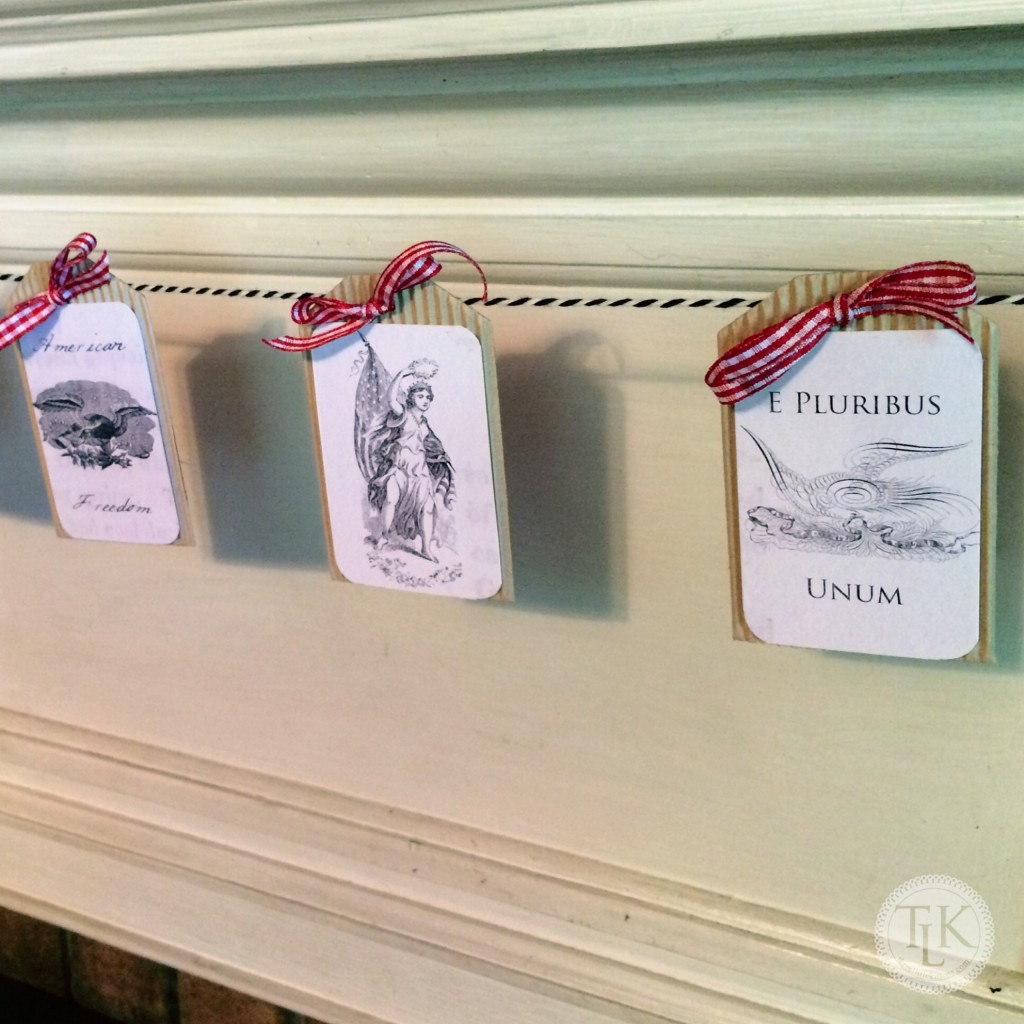 I also thought about attaching them to a wreath, but the banner idea won out.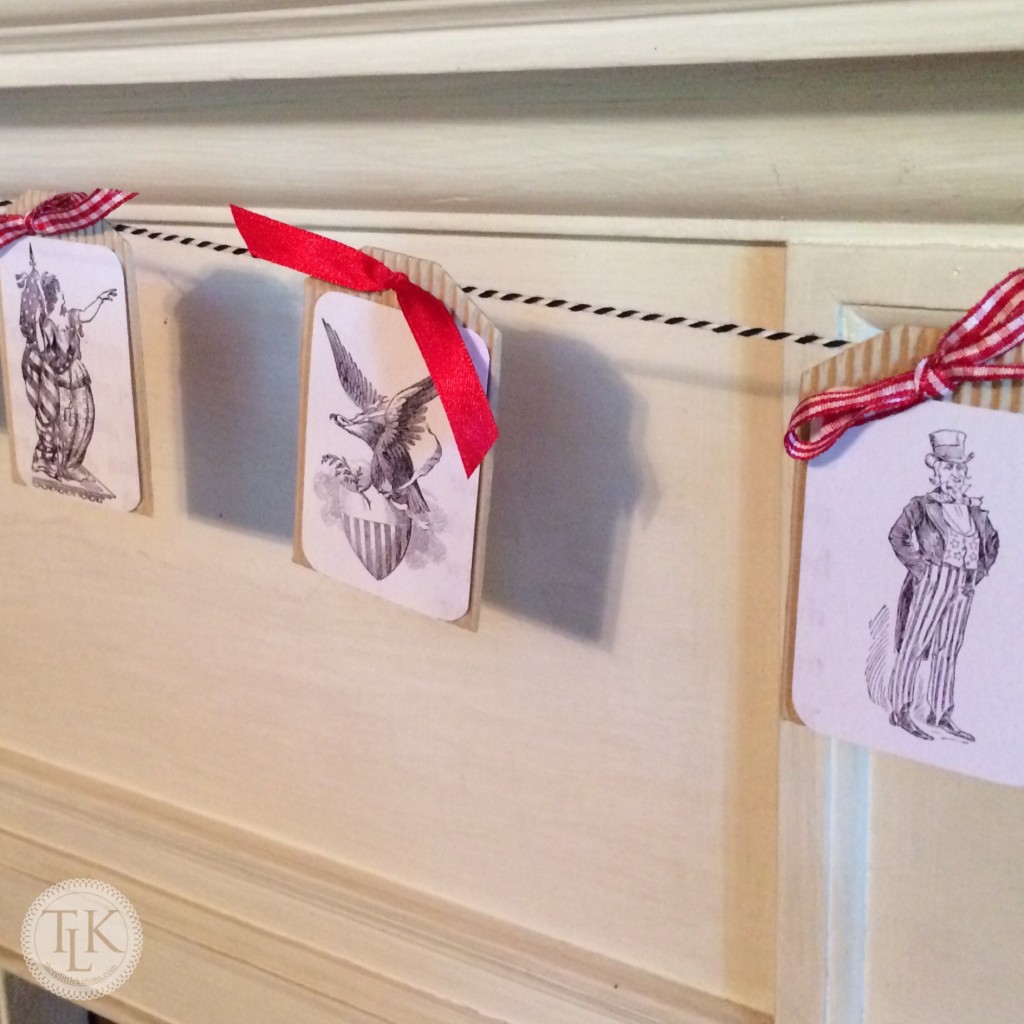 And I like the way the different ribbons turned out, too.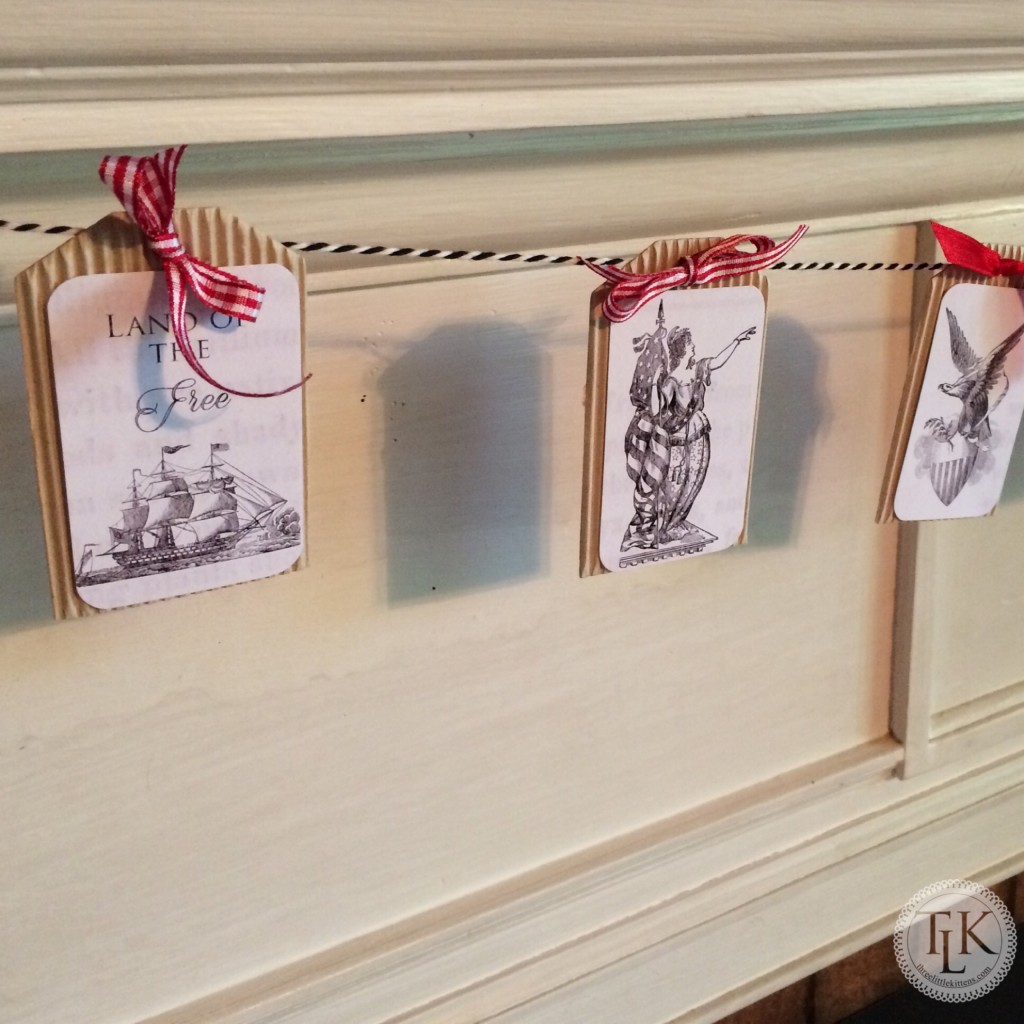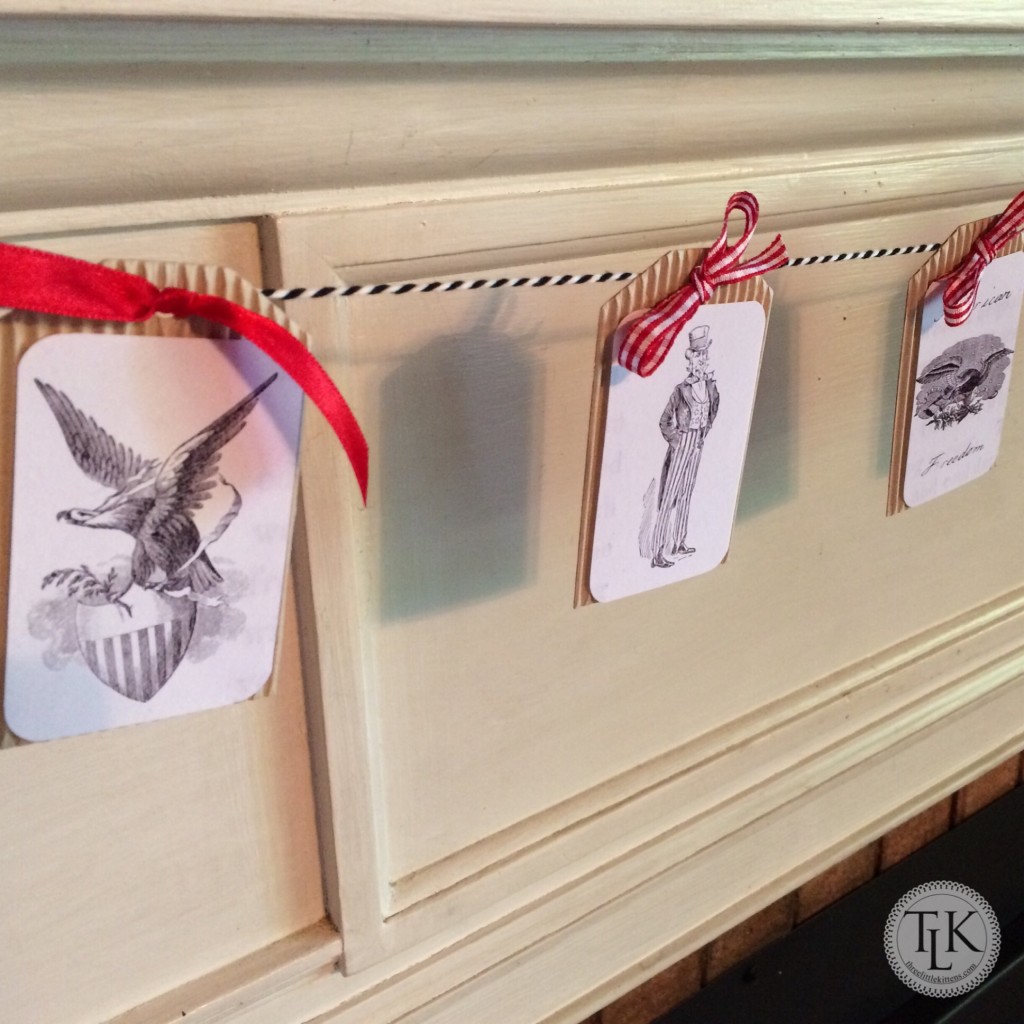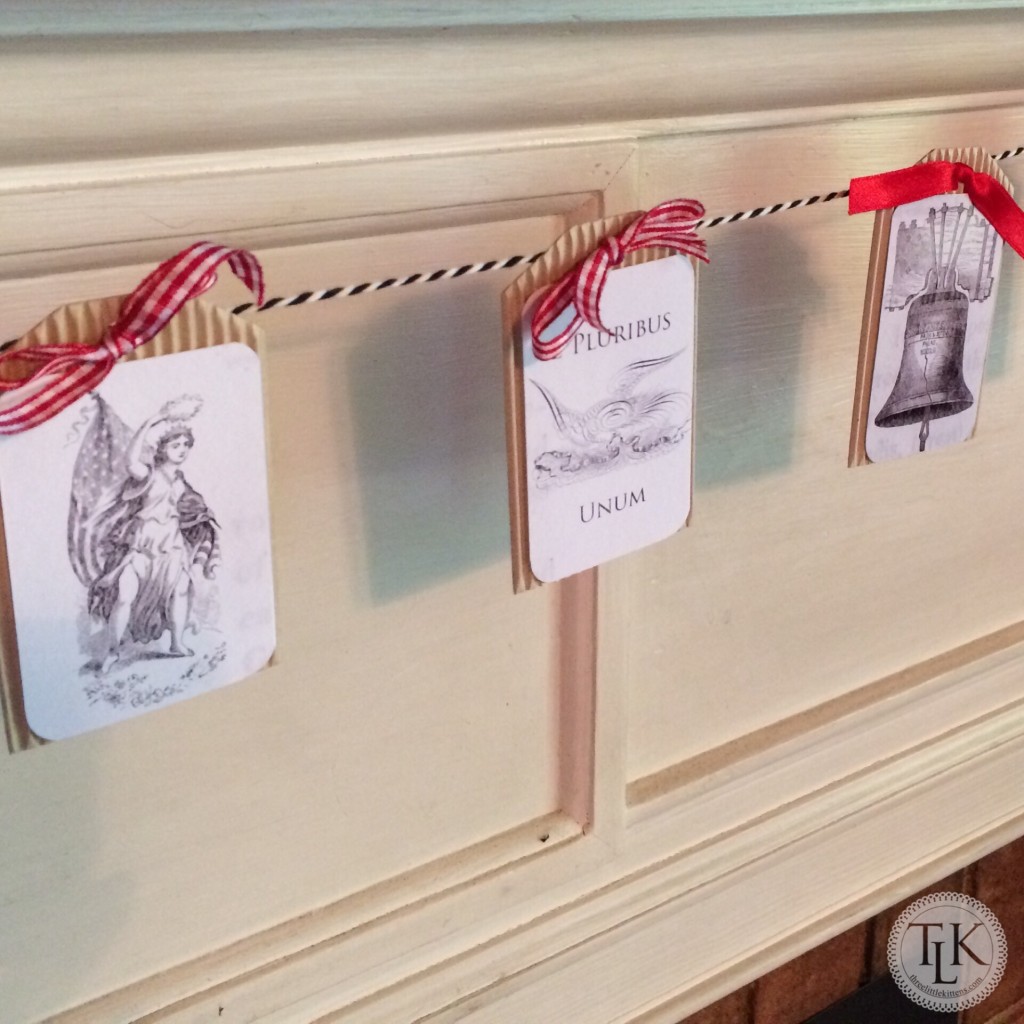 I hope you enjoy this Digital Goodie and if you use them, post a link in the comments below. I would love to see what you come up with! And Happy 4th of July!