It's been a while since I updated you on My Viking River Cruise.  It has been busy and I am not forgetting to finish my story of the great adventure in Europe.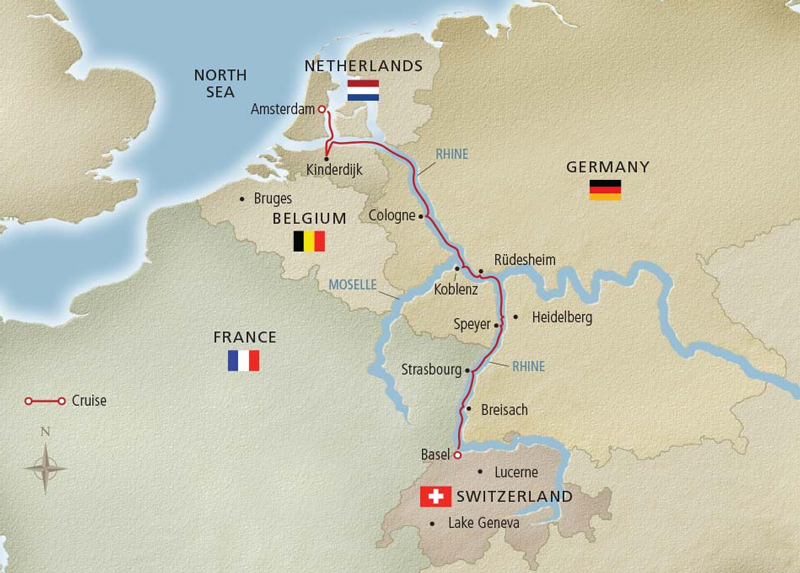 When I last left you, we were sailing from Kinderdijk and our next stop would be Cologne.  I had told you about our adventures in Amsterdam here, here, here, here, here and here. And how the next day was spent in Kinderdijk here, here, here and here.  Well, before I start telling you about Easter Sunday in Cologne, let me share a few more pictures with you that my friend June took.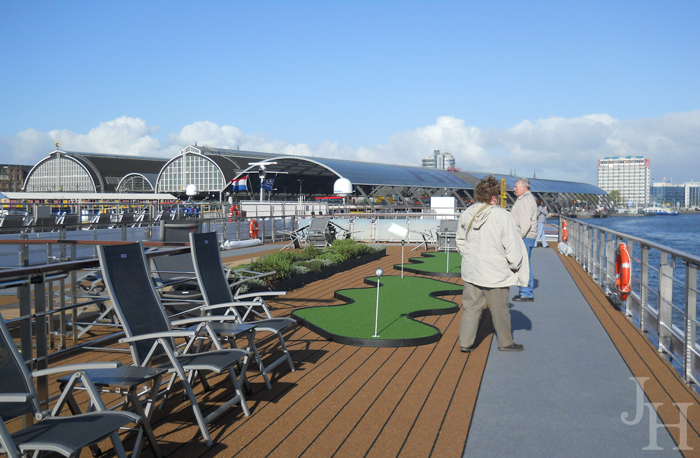 Here we are checking out the top deck of our ship when we arrived.  Betsy and Jerry are standing by the putting greens.  There is a walking/jogging track and of course the fresh herbs that the chef uses to prepare the meals.  I am at the very end of the deck taking pictures.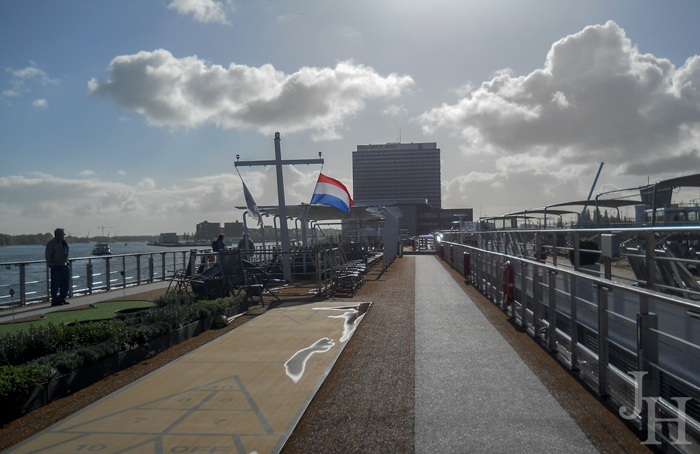 Here is a different view of the herb garden, the putting greens on the left and the shuffle board area.  You can also see another sister ship to the right.  I mentioned how many times our ships would link up side by side so that we might have to cross through one to get to our ship or vice versa.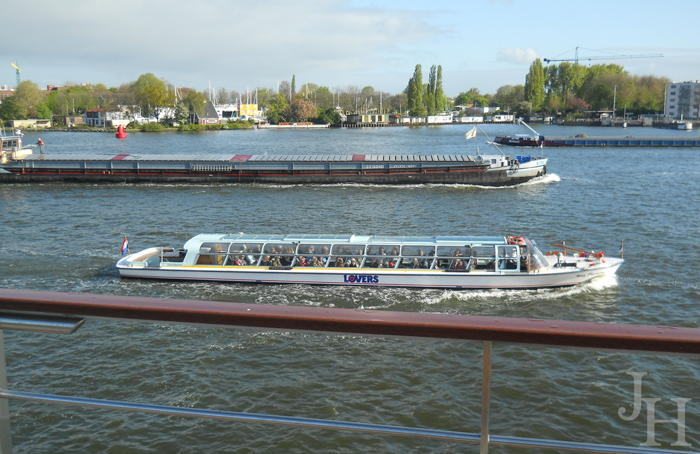 And I also told you about the many barges and other tour ships that cruised along side us up and down the Rhine.  We waved at these folks taking a river tour and they all waved back.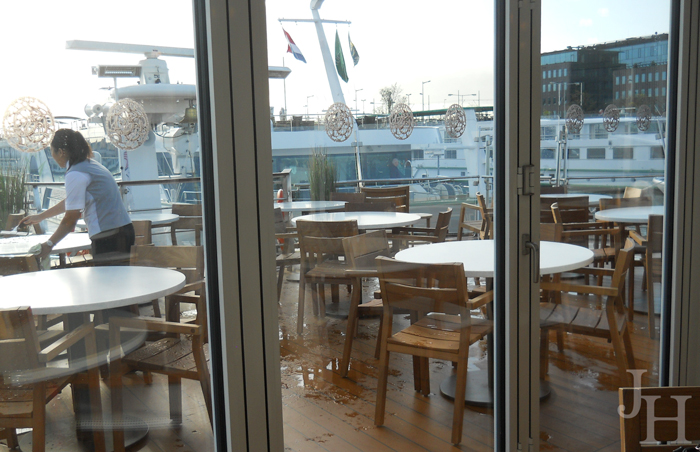 I also told you about eating most of our evening meals in the Aquavit Lounge dining area.  Here is a shot looking out to the terrace, a deck on the front of the ship.  They were out there drying everything off for the newly arriving guests.  When it was nice, they would slide open these glass doors and the whole area was open as we cruised along.  It was a really great place to enjoy the cruise, whether eating or just sitting and watching the countryside pass by.
And remember the bicycles?  Just look!  There were rows upon rows of bicycles.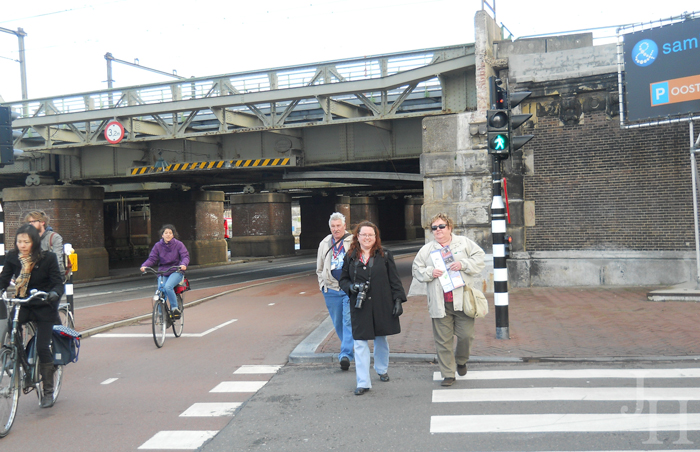 And remember the bike paths, er…roads I was telling you about?  See the two lane area to our right? That is the road just for the bikes.  The sidewalk for pedestrians is actually very narrow and in some places non existent.  And all of those bikes, everyone of them had bells or horns to let you know to get out of their way.  It only took us about half a day to learn!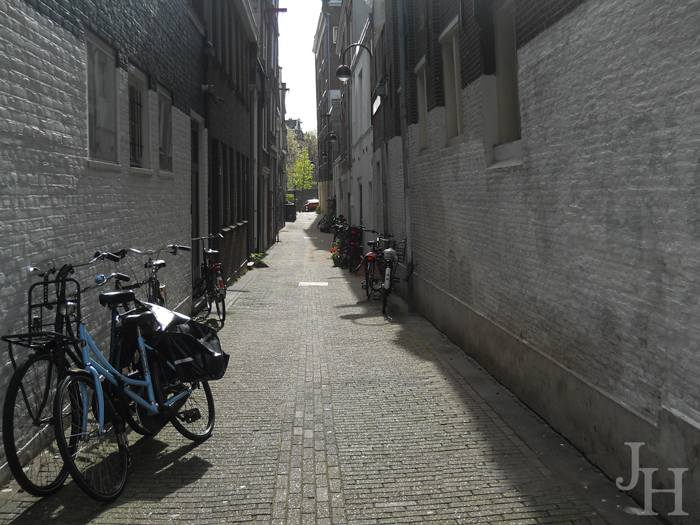 See, I told you they were everywhere!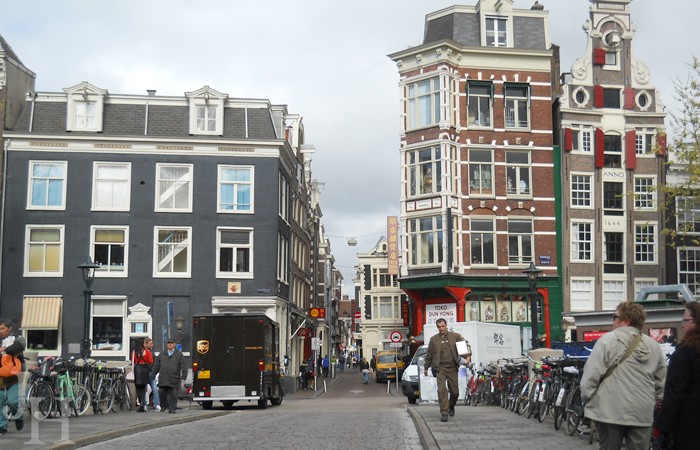 And it always strikes me as odd to see sights commonly seen at home in a different environment.  Like when we got off the plane in Amsterdam, the first thing we did was hit a Starbucks.  It was the only thing that was familiar to us.  And here, heading into Amsterdam's Chinatown, we spotted the local UPS guy and his little UPS truck. And again, more bikes.
And heading into Chinatown, look at the five floors of Chinese imports to buy!  Right beside the cute building from 1644.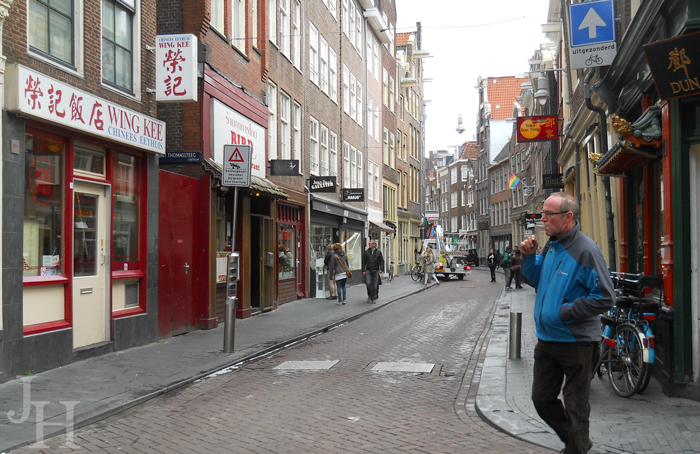 And here is something interesting that we saw all over Amsterdam.  Of course, being in the Olde Town, the streets are narrow, not built for cars, trucks and buses, but they have a clever way of blocking the streets off when they need to.  See those two rectangles in the road and the silver pole to the left with lights on it?  When they need to close a street off due to traffic or whatever, the light changes and these poles pop up from the road and you cannot get a vehicle down the street. And there is a warning sign above the light pole showing what can happen to your car if you fail to notice the light.  Of course, people and bicycles can get down the street without any problems.
Did I mention there were a lot of bicycles in Amsterdam?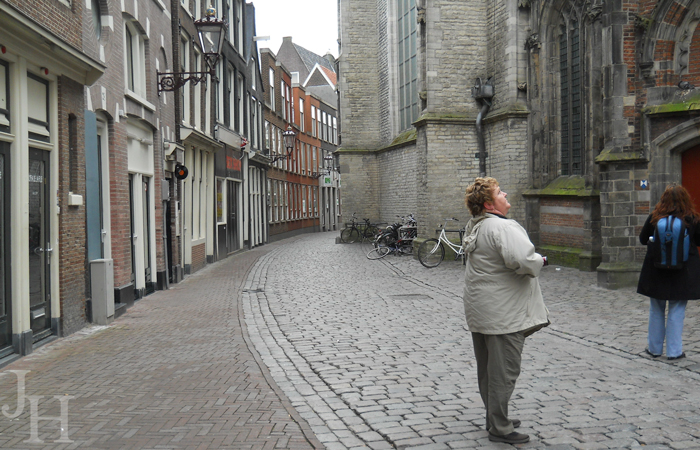 And remember how I told you about the Oude Kerk being right next to the Red Light District, or De Wallen? Well, here is a great shot June got of Betsy and me standing in the road separating the glass door buildings on the left where the prostitutes work and a door of the church.  They are that close.  Isn't that just something else?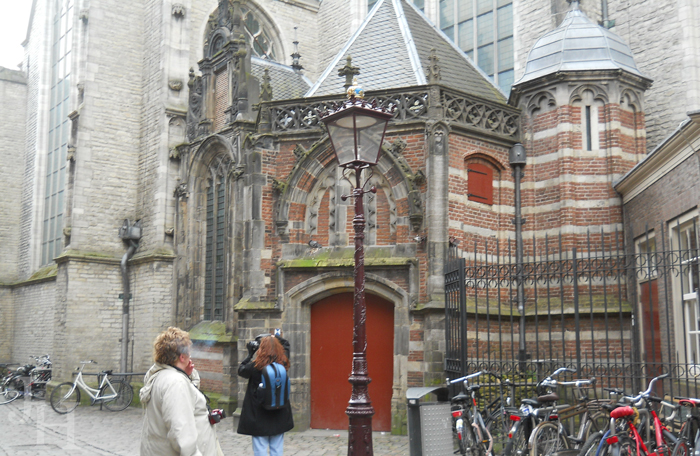 And guess what, there are more bikes.  And me, taking one of over 5000 pictures on this trip.  And let me tell you, the back pack that I got for Christmas was so wonderful to carry all of my camera gear and personal items.  I carried it everywhere we went and never had any problems with my shoulders or back hurting.  It's a lowepro and I just love it. (This is not a sponsored post, but man it would be nice!)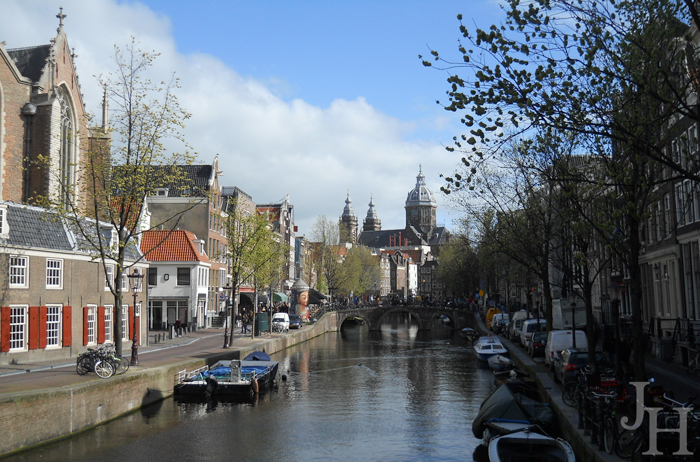 And here you can see part of the Oude Kerk on the left of the canal (where the red shutters are) and a view of the Basilica of St. Nicholas.  Amsterdam is really a beautiful place.  And June took some great pictures.  I am so glad she is letting me share them with you. Until the next update….