I have been telling you about my Viking River Cruise last Spring and more recently about visiting Marksburg Castle in Braubach, Germany.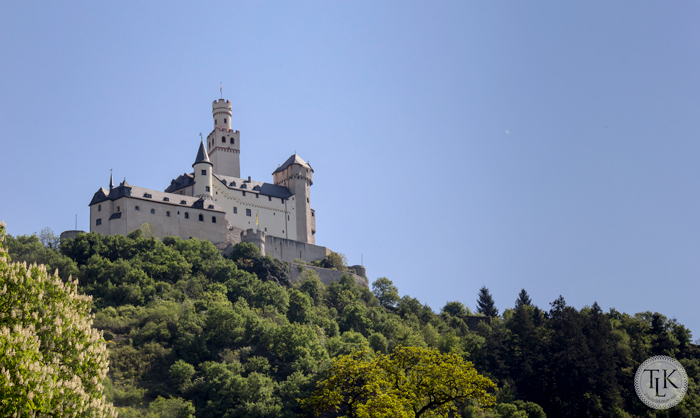 Well, today I want to show you the Herb Garden.  I never dreamed there would be such a fantastic herb garden inside the walls of this castle.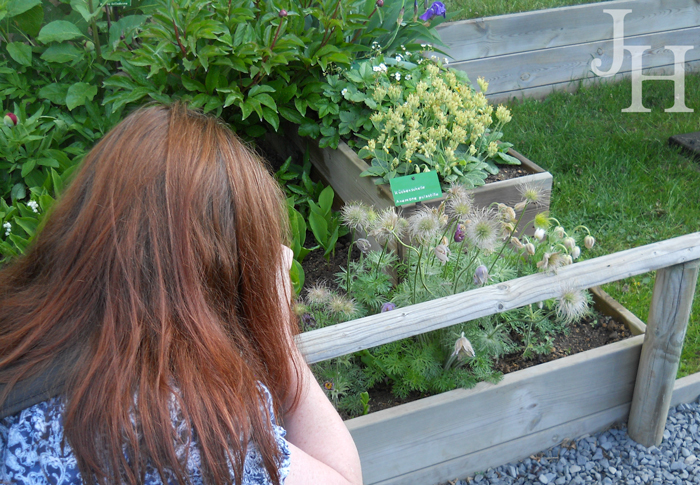 When we left the Batteries, we entered the Rhinezwinger, or Upper Bailey, and found several patches of herbs and other important plants in two areas neatly tucked into a narrow space between the wall and the castle.  I think this was my favorite part of the tour.  I know it was June's favorite part, too.  We both love our gardens.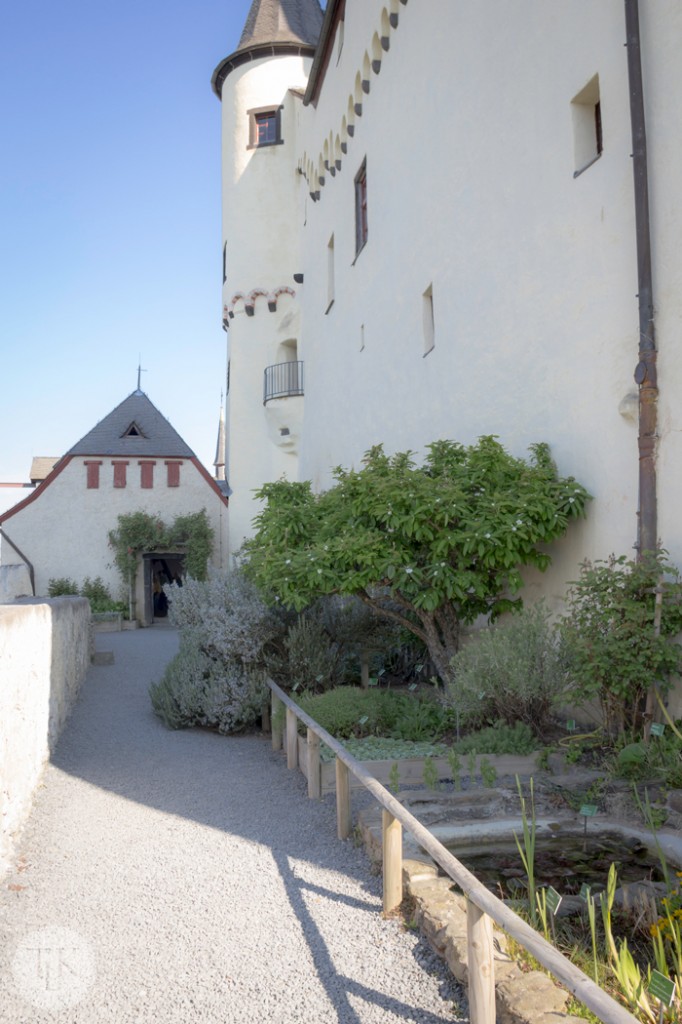 Here you can see what I mean about the narrow area where they had the gardens.  And if you look on the lower right, they even have water gardens!
We came right from the Great Battery into this heavenly place.  There were lots of roses, herbs, medicinal plants and even poisonous plants that were used by the sorcerers and witches to concoct deadly potions for enemies of the castle.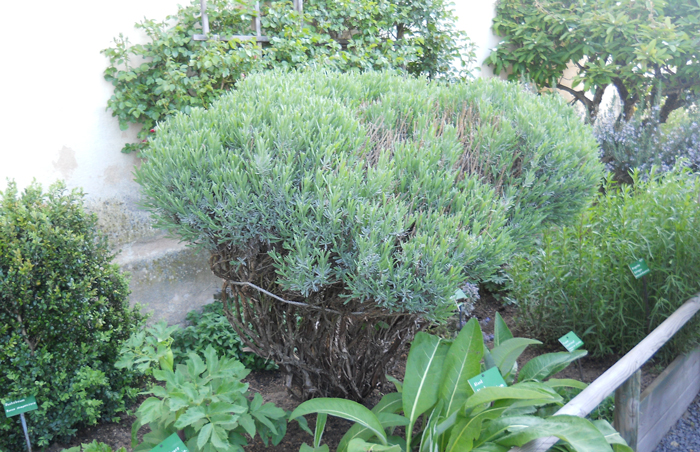 Everything was neatly labeled, in German of course, but we could figure out what most things were, like this huge lavender plant.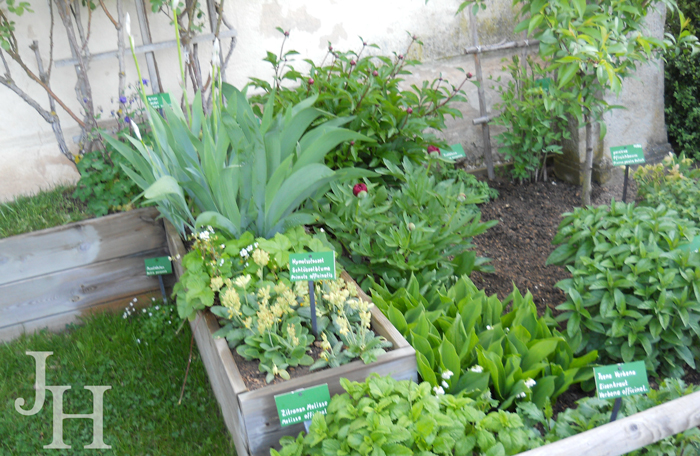 There were raised beds, trellises and grassy areas.  Every inch of space was utilized.  And they even had peonies.  See the dark red buds above?  We were a few days too early.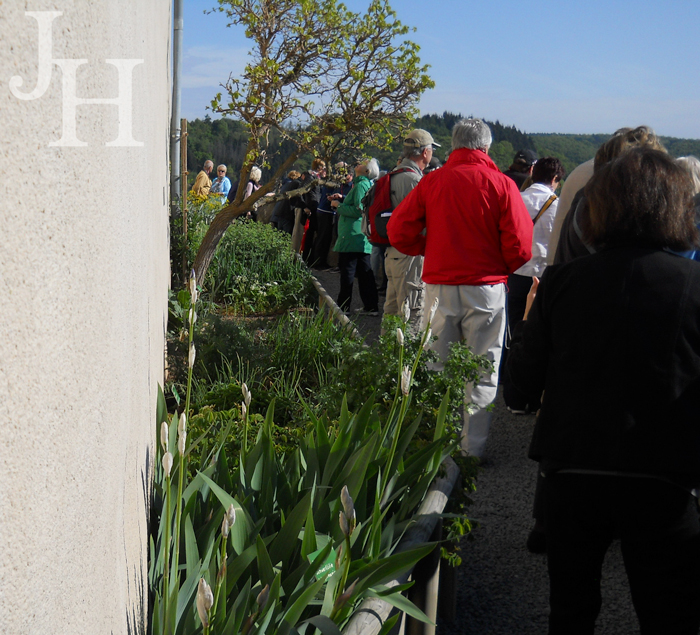 See what I mean about using every possible inch of space available?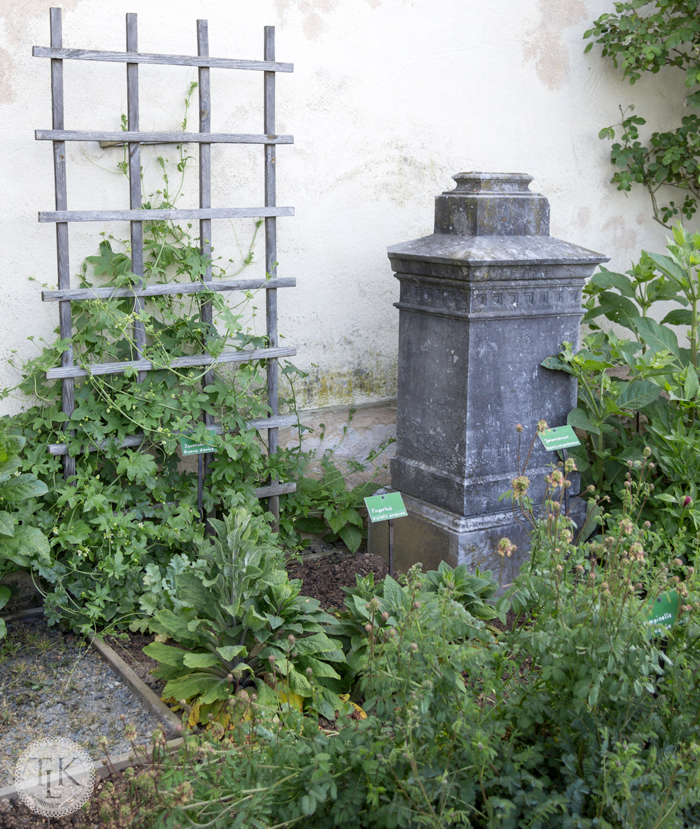 And there were even a couple of pieces of yard art, as we would call it.  There was an inscription on this pillar that had faded over time.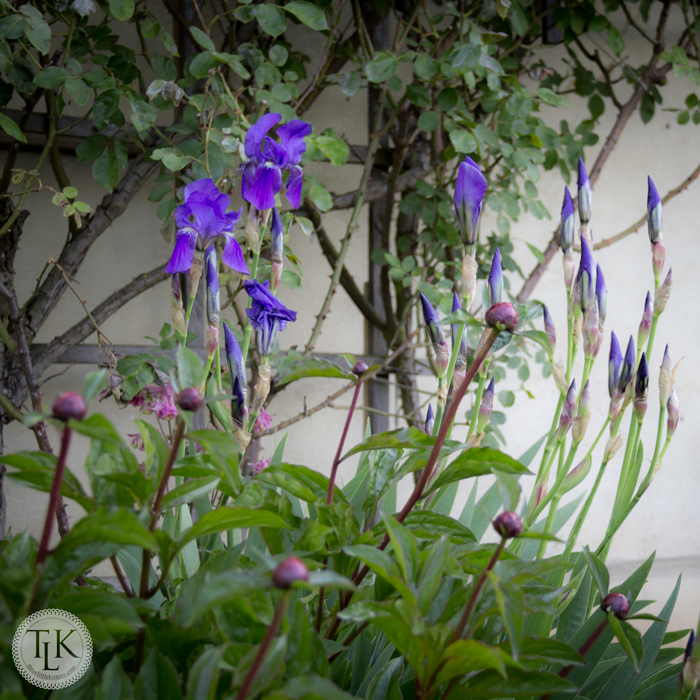 And even though we were too early for the peonies, the Iris were showing off for us instead.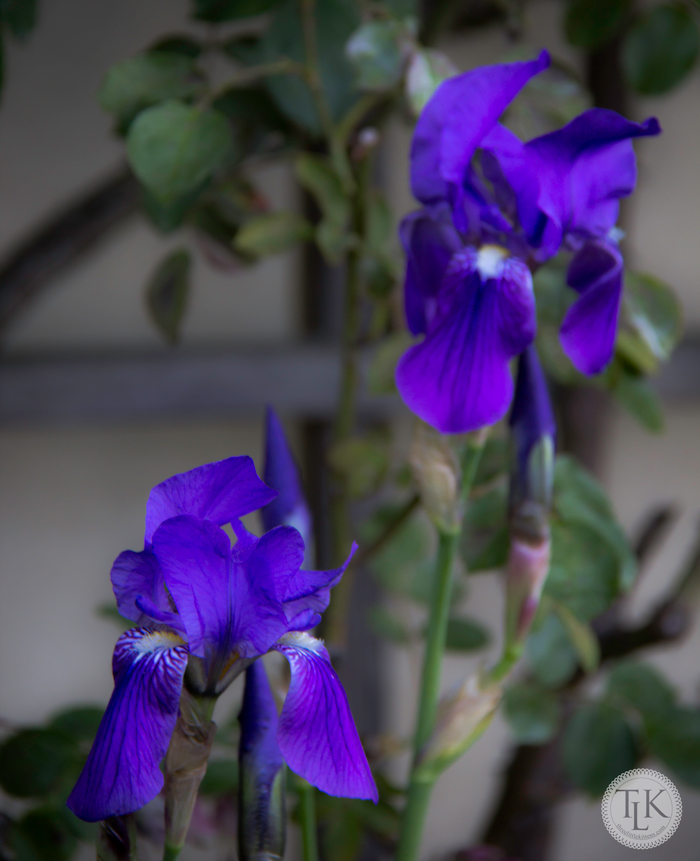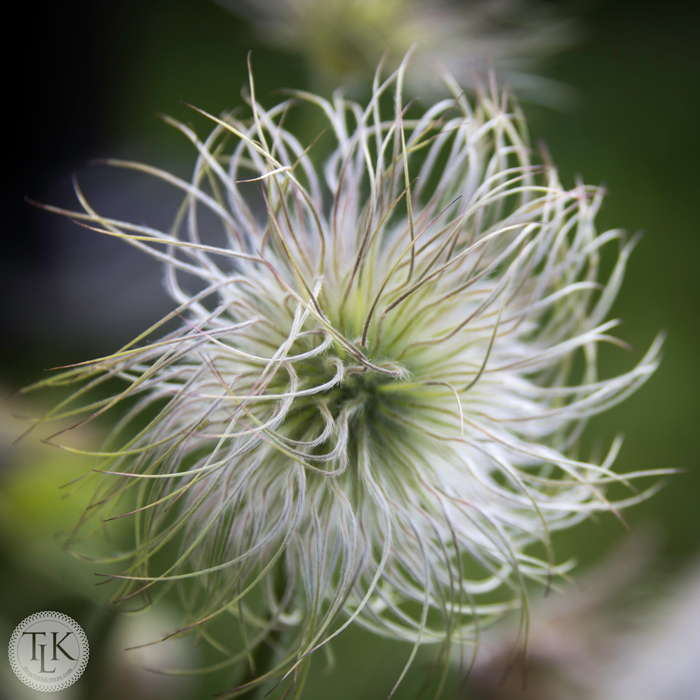 And it looks like we missed the Anemones, too.  But I captured their beautiful seed heads.  They are just as pretty as the flowers, I think.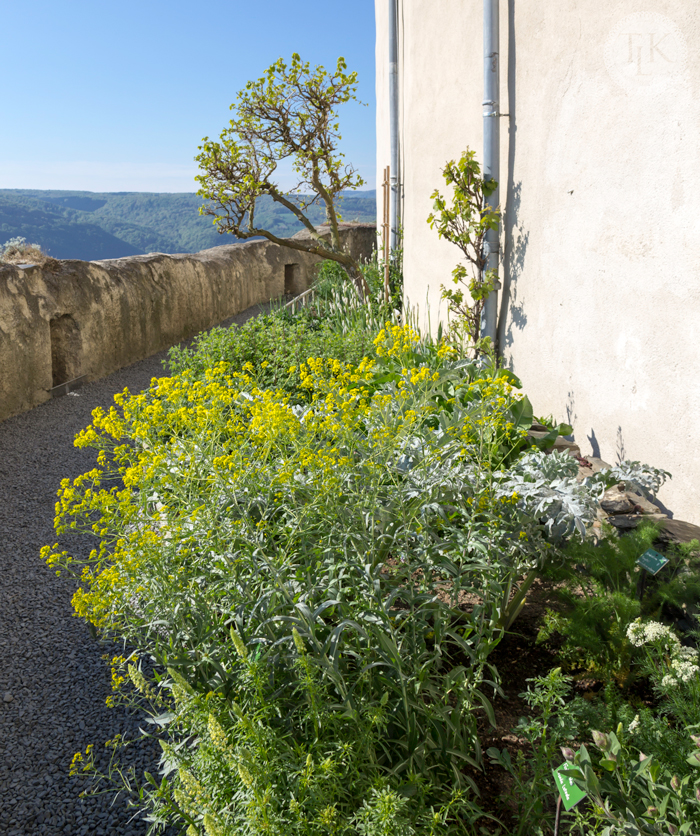 Here was a huge patch of herbs: mustard, tarragon and parsley just to name a few.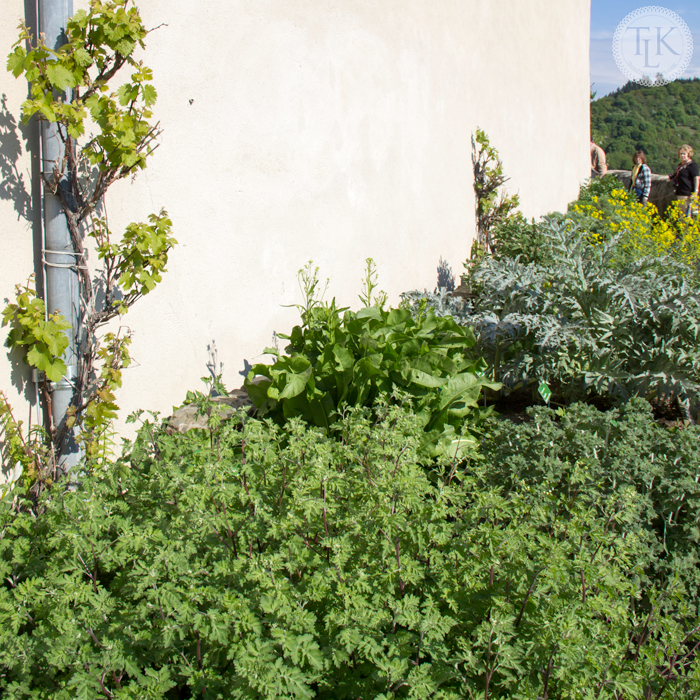 Lots of mint.  And grape vines growing up the rain spout!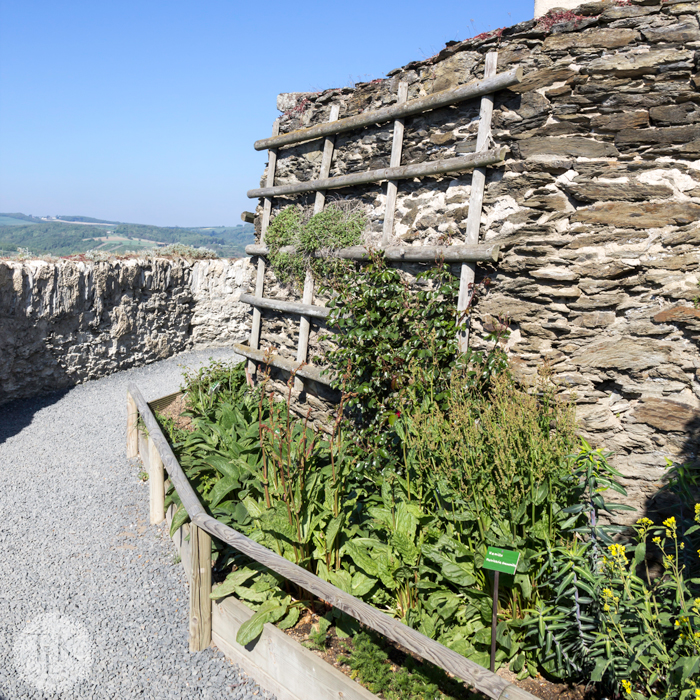 There were trellises everywhere, too.  Every inch of available space was used.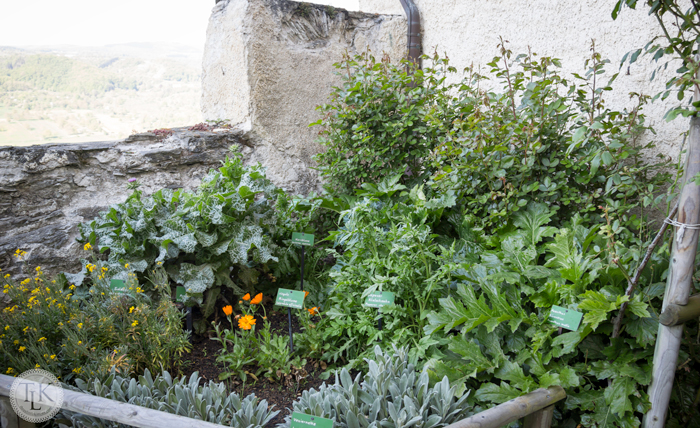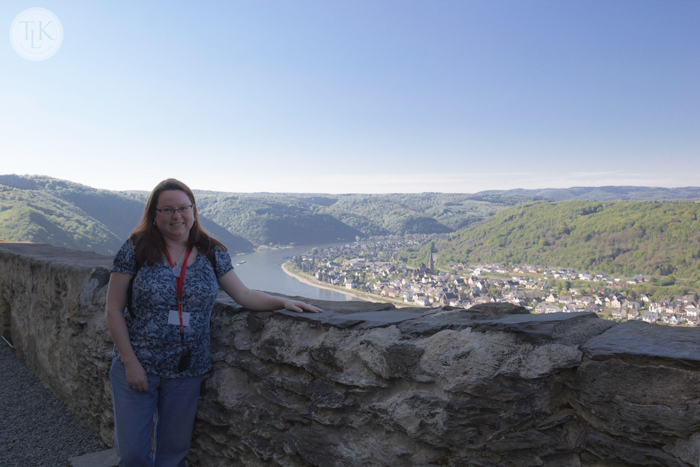 Here I am by the wall, overlooking the Rhine Valley.  Isn't it just amazing?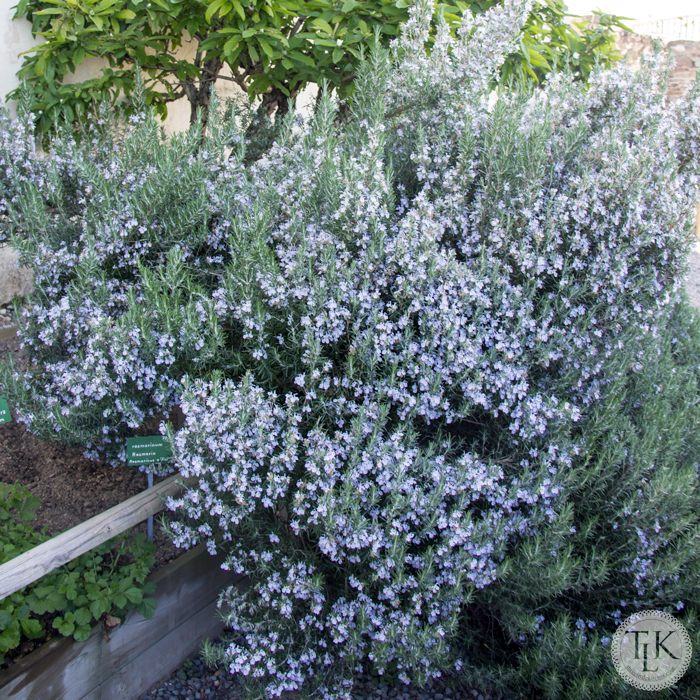 June and I loved this monster Rosemary plant!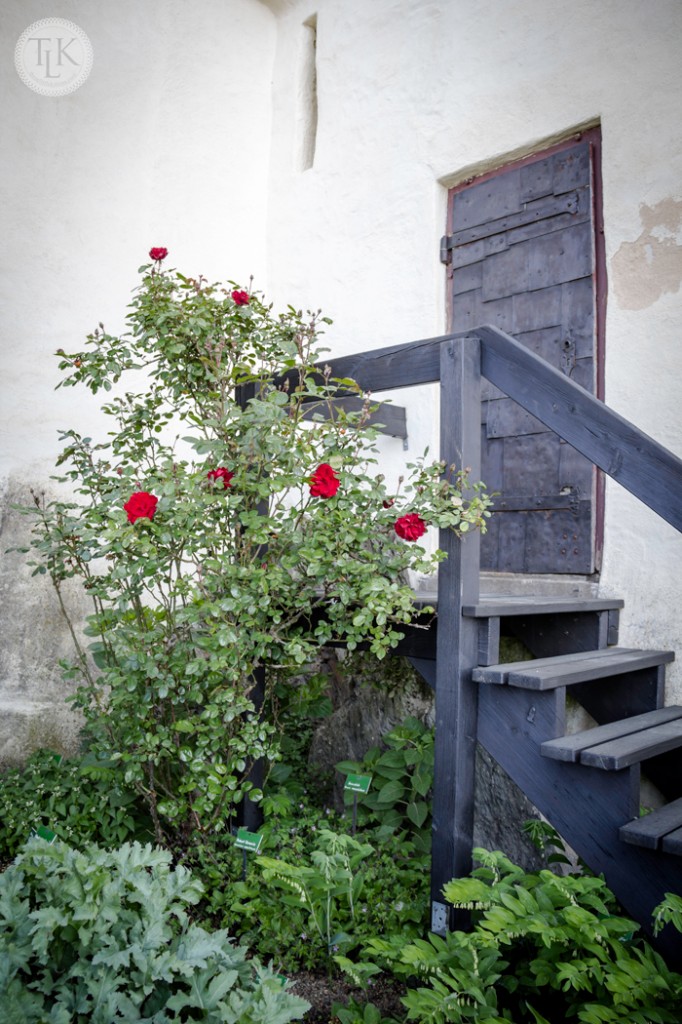 A pretty red rose by another one of those patchwork doors.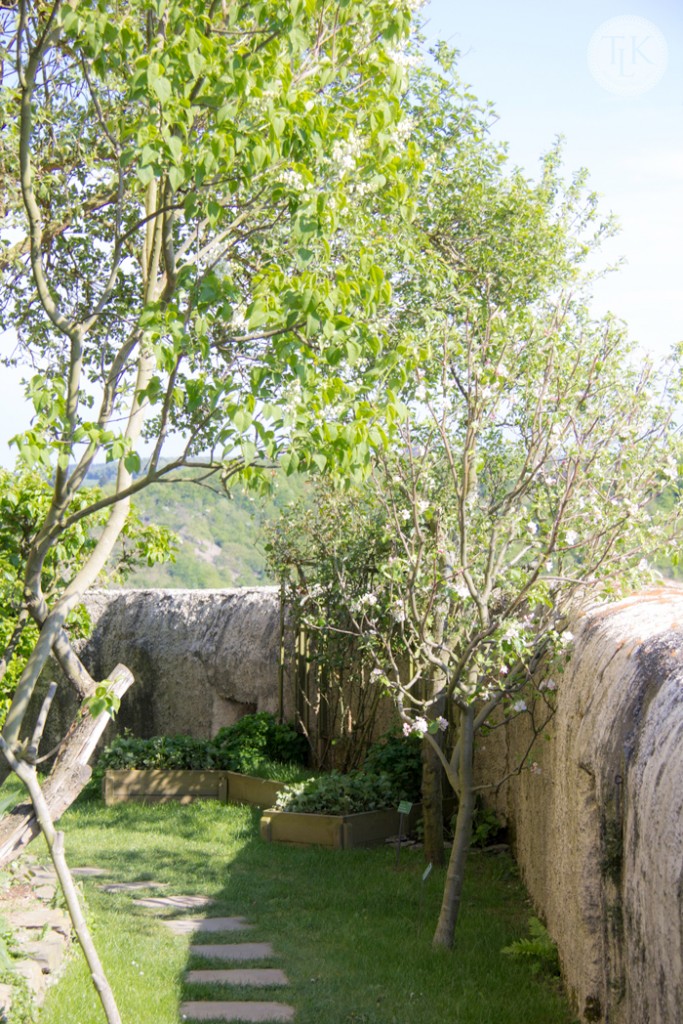 There were even fruit trees and a small grassy area!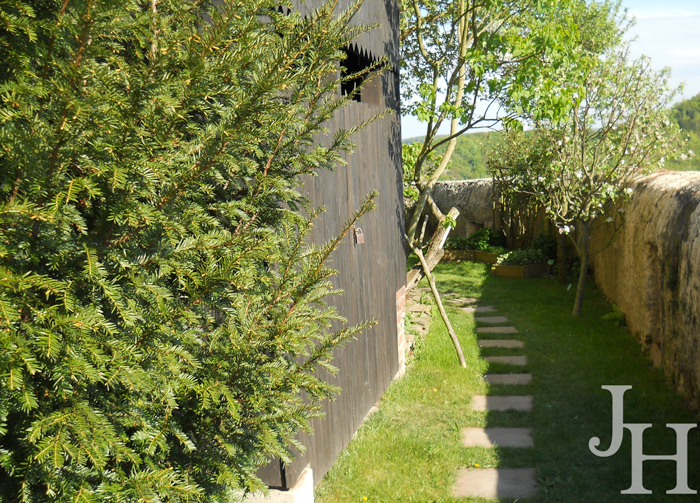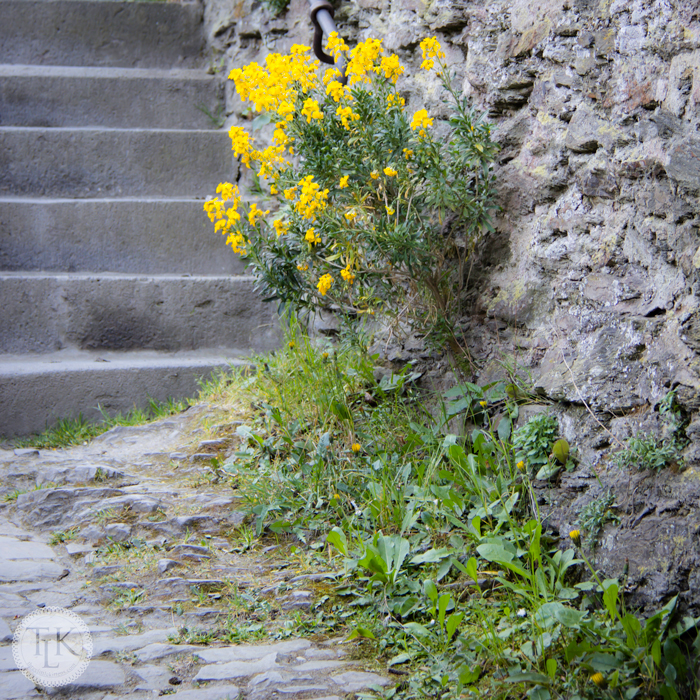 And the herb garden was not the only place where we found plants and flowers at Marksburg Castle.   There were bits of life in every nook and cranny of the walls the castle was built with.  The Wallflowers grew everywhere.  I never really got why they were called Wallflowers until now.  They literally grow in the walls. And, there were even the familiar dandelions, too!
This living wall has wallflowers, ferns, moss and other little goodies tucked in the rocks.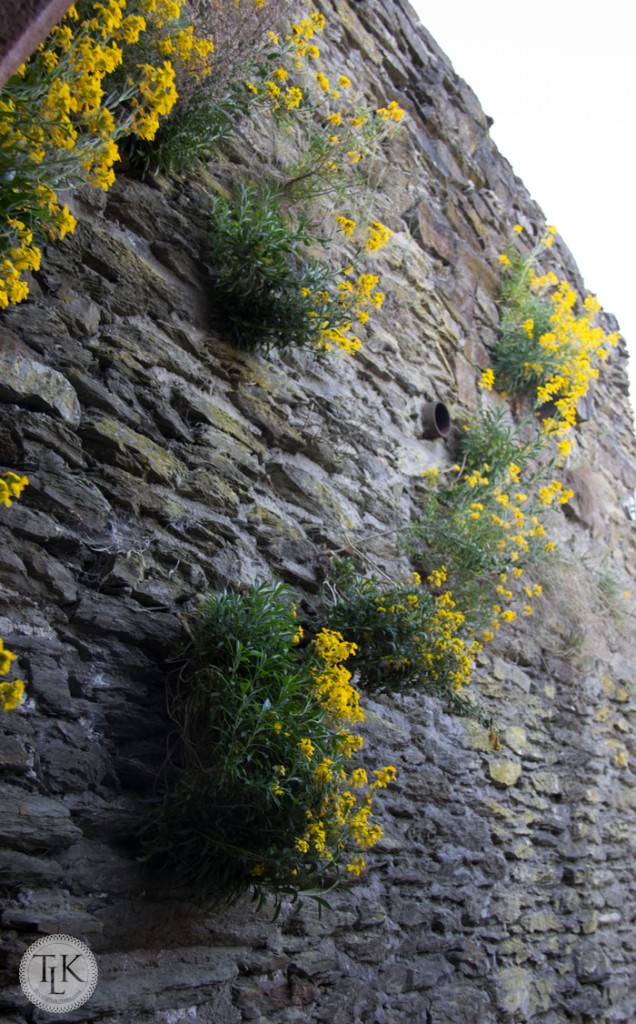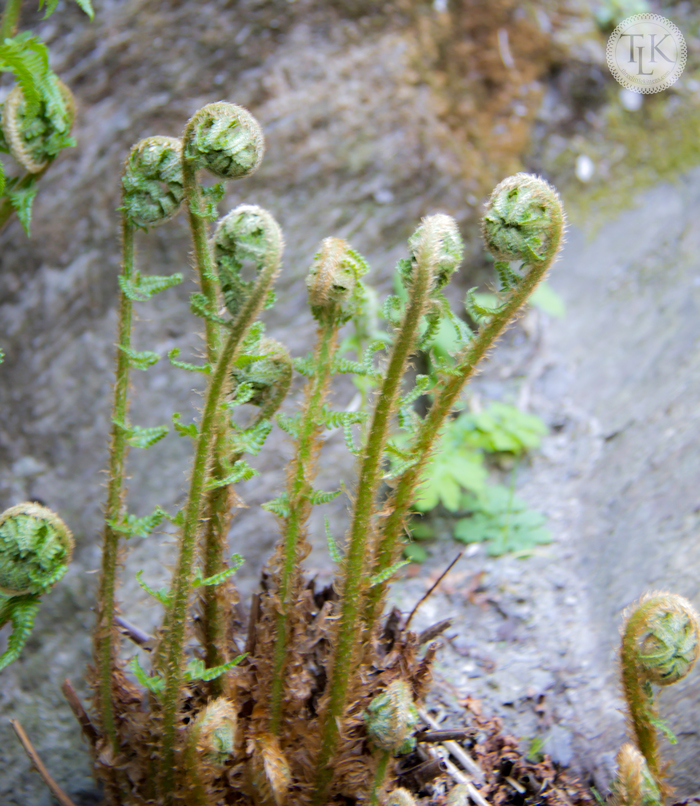 Oh and the ferns.  They were in the "fiddlehead" stage, where they have not unfurled fully.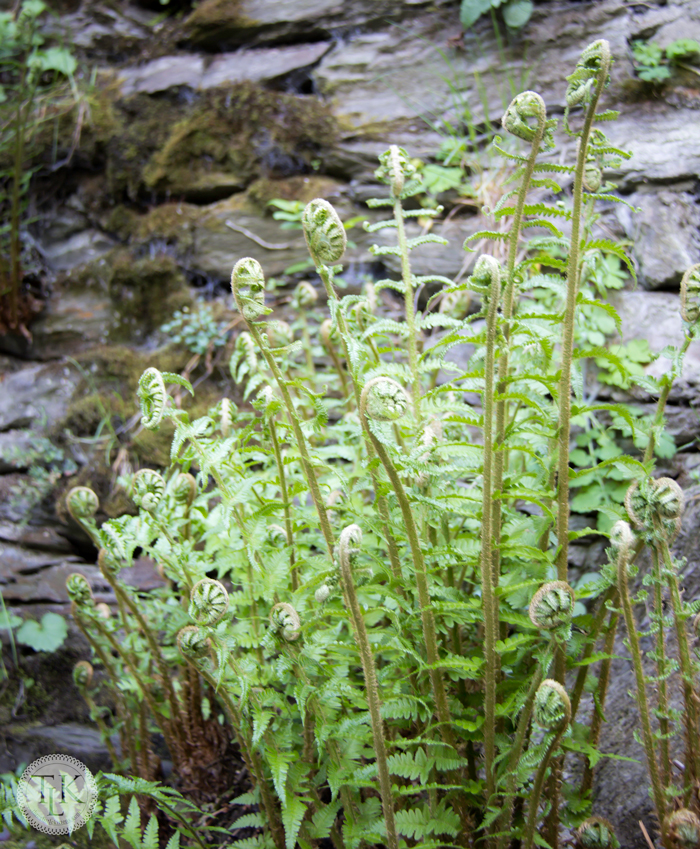 This is my favorite way to photograph ferns.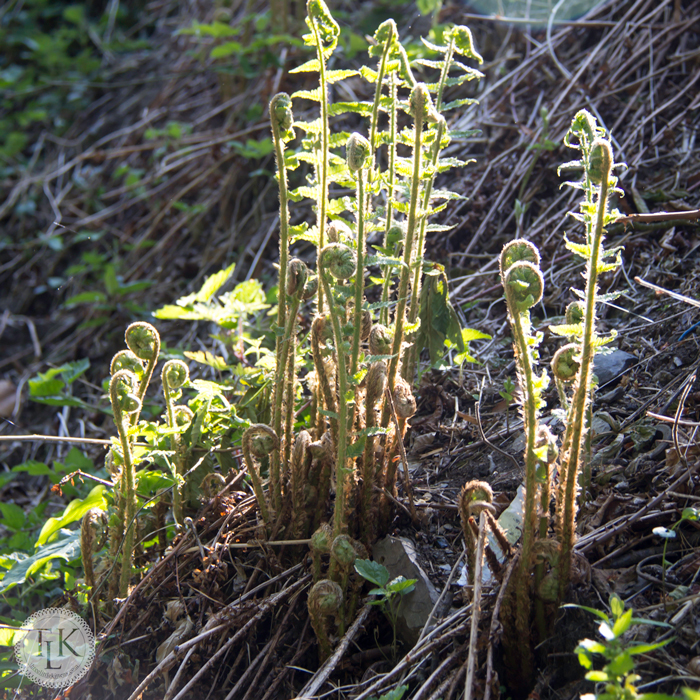 And they were everywhere, too!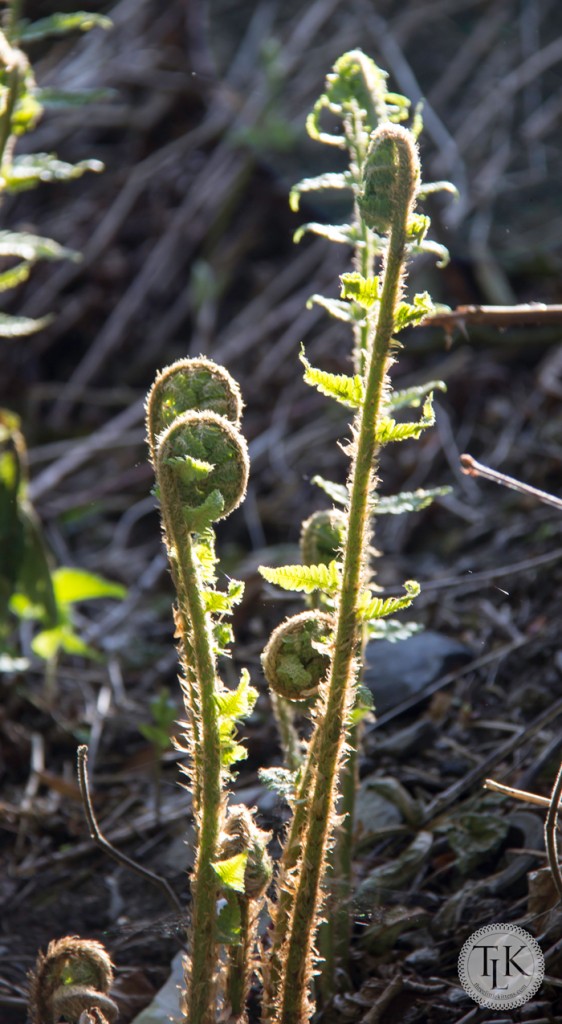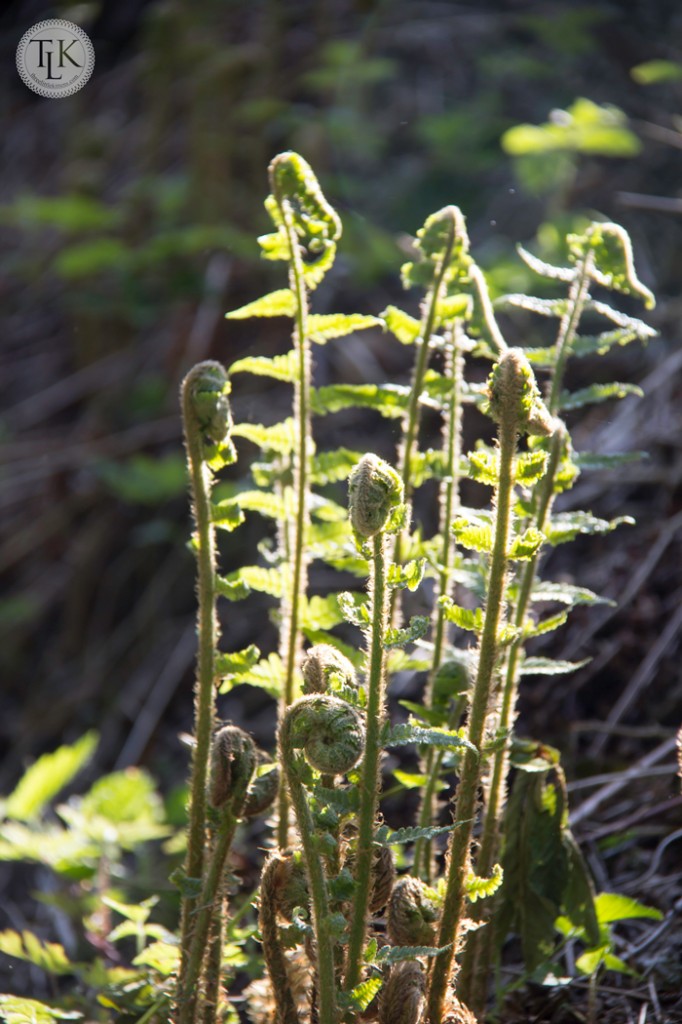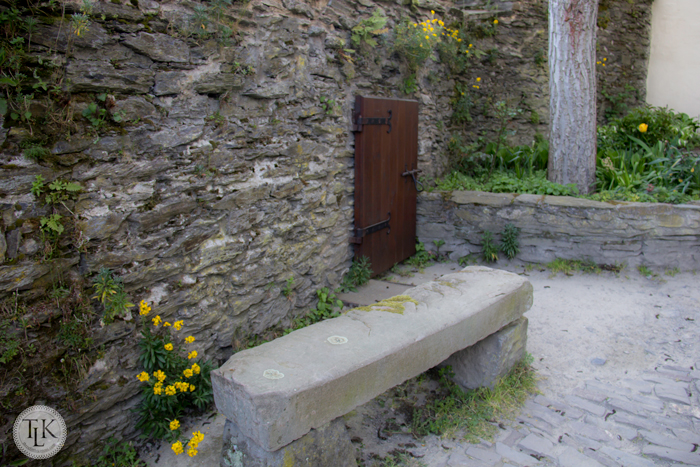 There were also little gardens in other areas of the castle.  Like this little area with a bench and tiny door.  Not sure where that door led to, it was small.  But this was a pretty place to sit and enjoy the flowers and greenery.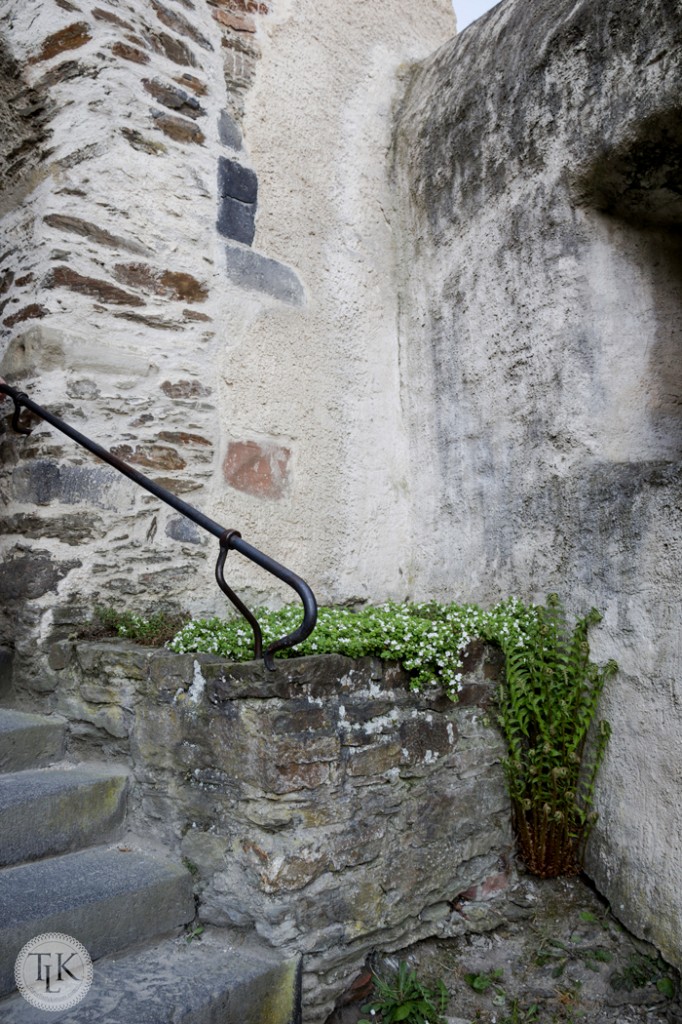 And here was a tiny little garden tucked in a corner by some stairs.  The creeping plant had tiny little white flowers that were blooming their hearts out.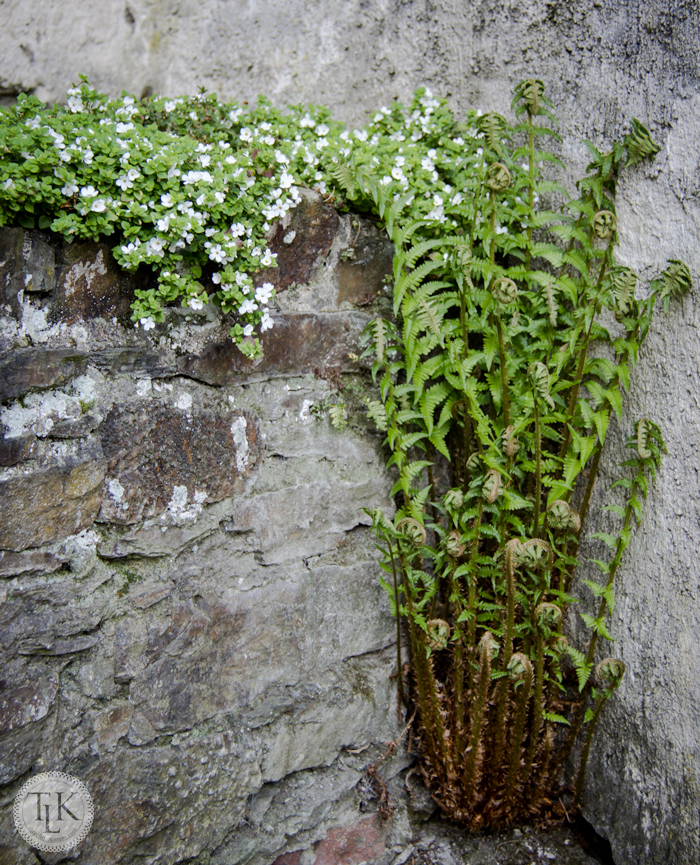 And of course there were a few ferns tucked into the corner.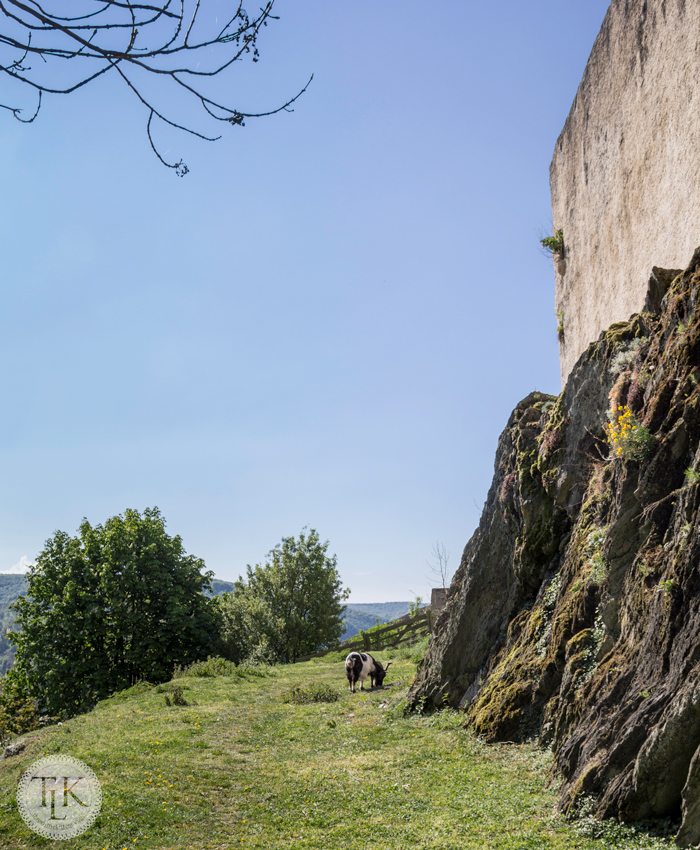 As we were leaving the castle, we came across this mountain goat, quietly munching away outside the castle wall.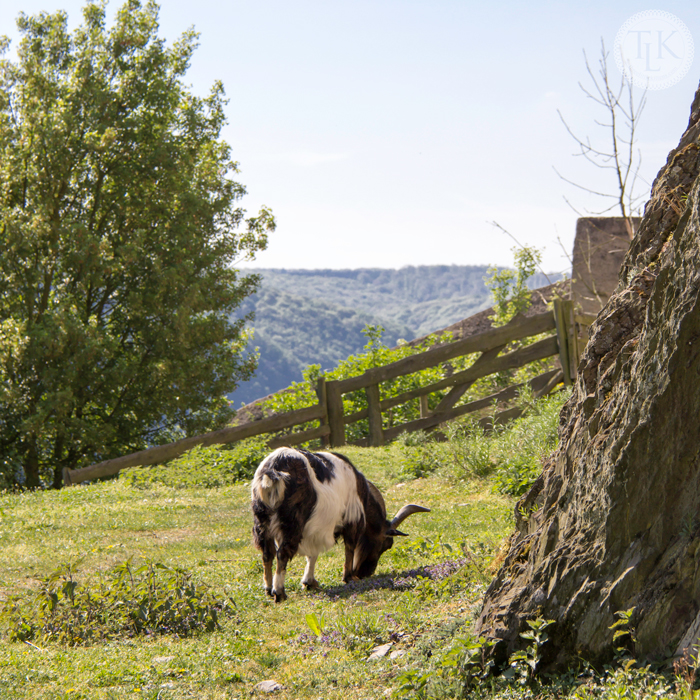 The castle of course would have had livestock and they were stabled and housed outside the walls of the castle.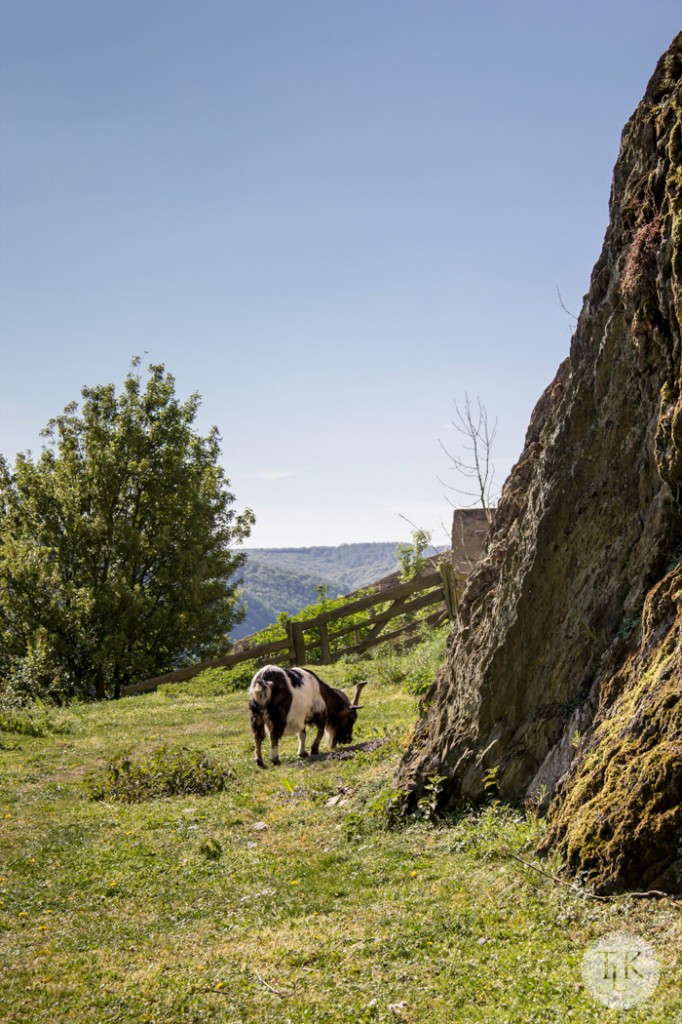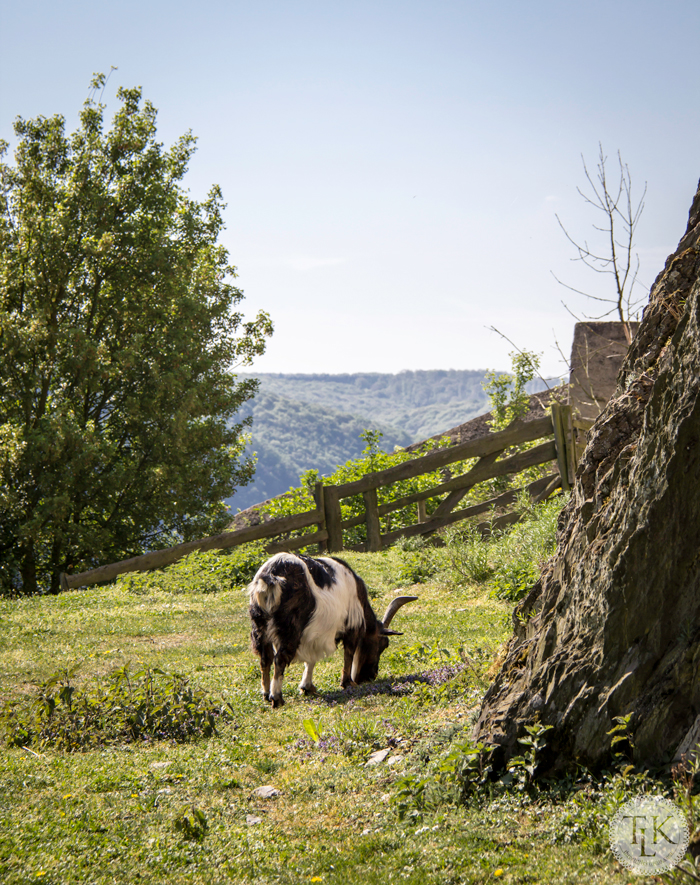 And he was content to munch away, oblivious to the crowds of visitors that passed by. The gardens were a nice surprise at this hilltop castle in Braubach.  I do want to show you a little bit of what we saw inside the castle before I move on to our next adventure on the Rhine.  That will be next.
This is not a sponsored post.  This is my experience from my trip with Viking River Cruises.
Related Posts