I have been telling you about my Viking River Cruise along the Rhine and when I last left you, we had just docked in Cologne on Easter morning.  With each stop on our cruise, we had multiple options of things to do when we arrived.  Almost all stops included guided tours, which I recommend if you want to get a high level overview of the destination from an expert guide.  Many stops also included additional free time to explore the city on your own and the concierge can make recommendations or even reservations for you if needed.  After disembarking, we headed out to explore the Altstadt, or Old Town.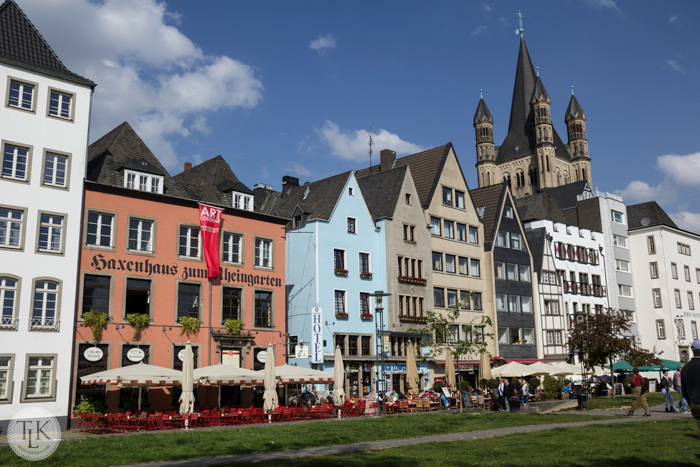 Our ship was docked within a short walk of the Old Fish Market, which is full of amazing old buildings that today house many fine Brewpubs and Restaurants.  And there is a lovely park that lines the area between the river and features several outdoor eating areas.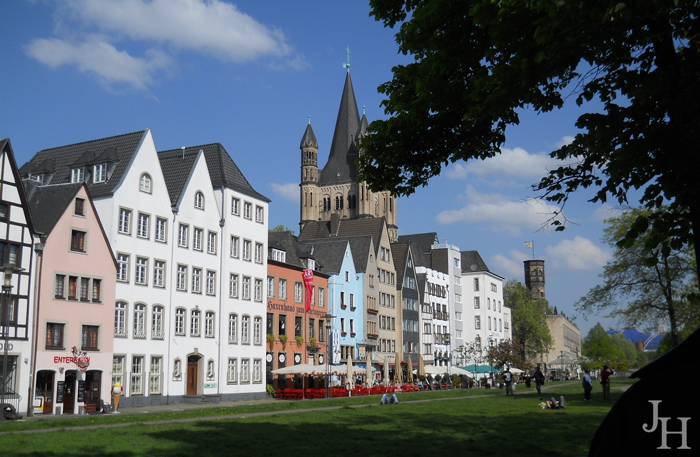 One thing our guide told us about this area and Cologne in general was how much damage they received during World War II.  This area is one of the few that was not heavily damaged and has an amazing amount of 14th and 17th century architecture still mostly intact.  During the war, about 95% of the city was destroyed.  Throughout our tour we were amazed at the rebuilding efforts that were completed.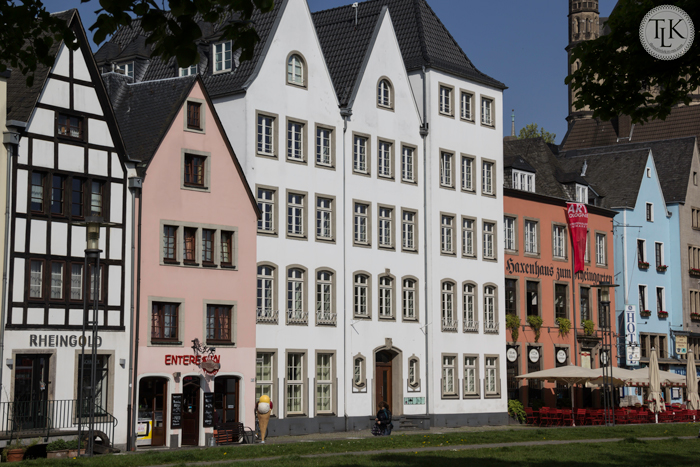 Because it was Easter morning, many of the Restaurants were closed or not very busy yet, along with many of the shops.  The Restaurants would be open and much busier later in the day, but the shops would be closed to observe the Holiday.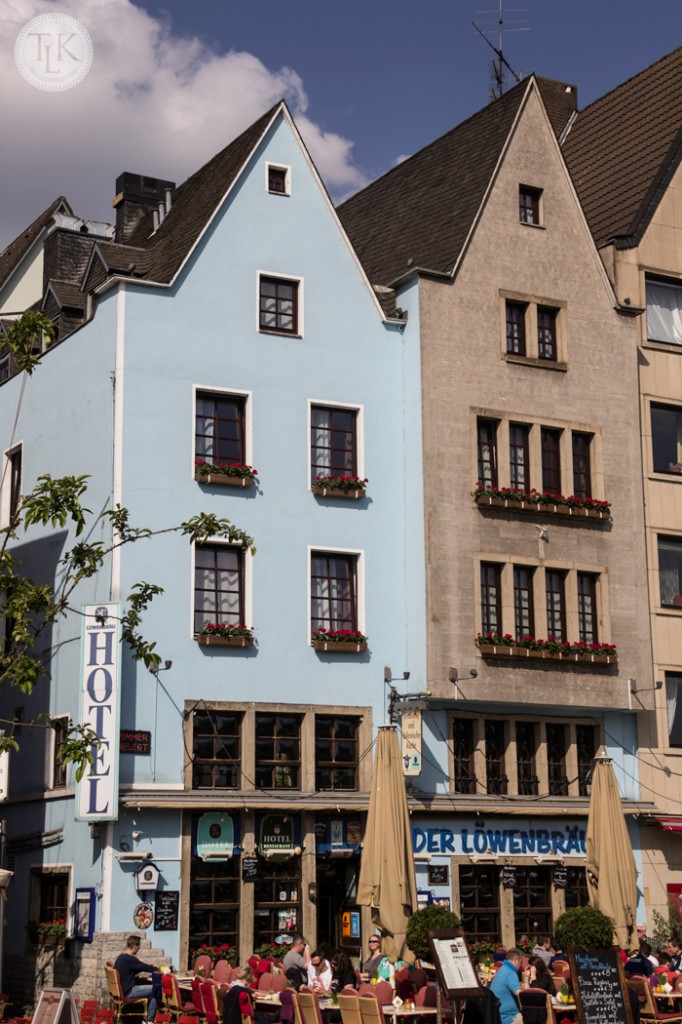 Of course, can you guess which famous beer this pub serves?
And here is a cute little ice cream shop.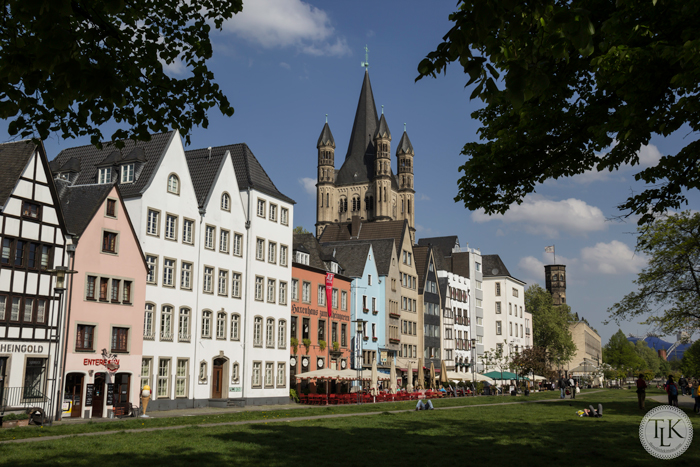 Many families and groups of people were enjoying the park, all throughout the day.  It really was a beautiful spring day and a beautiful place to spend Easter Sunday.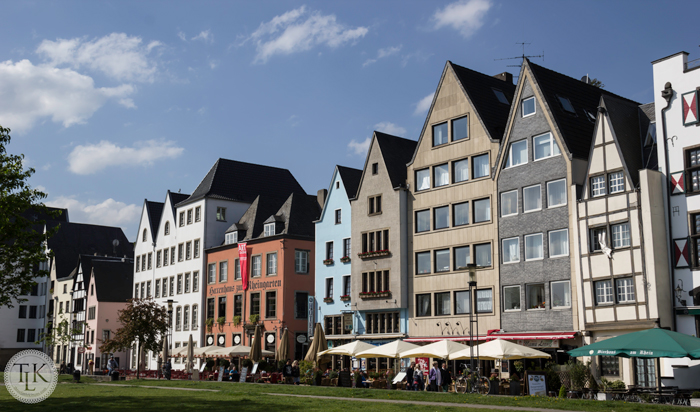 A different view of the Brewpubs and Restaurants.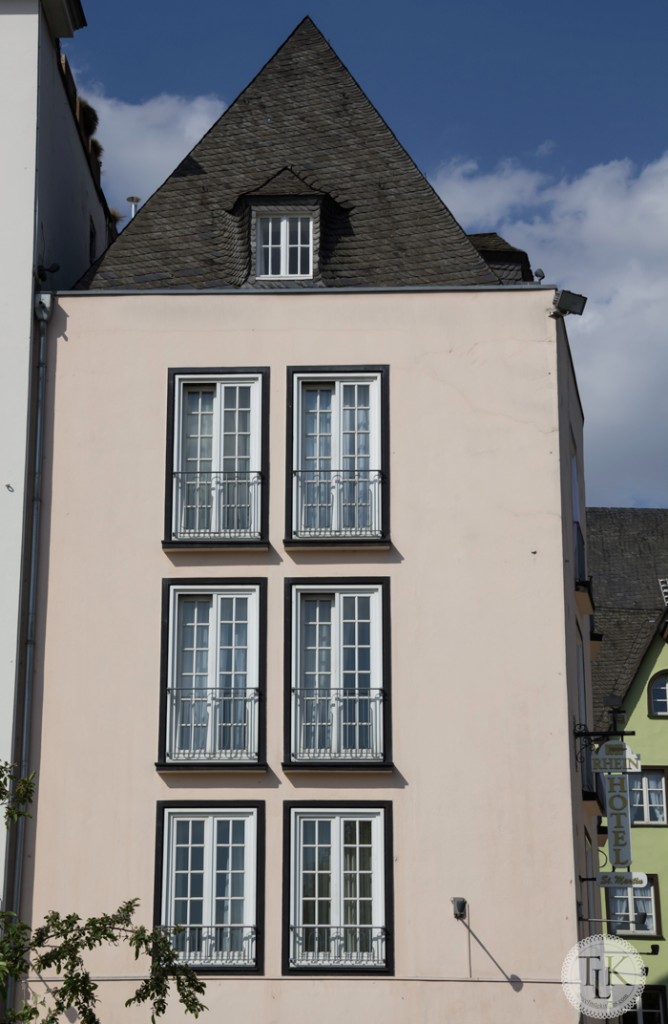 Here is the Hotel Rhein. And, if you notice, towering above this section of the city is the Great St. Martin Church, which is a Romanesque Catholic Church with foundations dating back to 960 AD.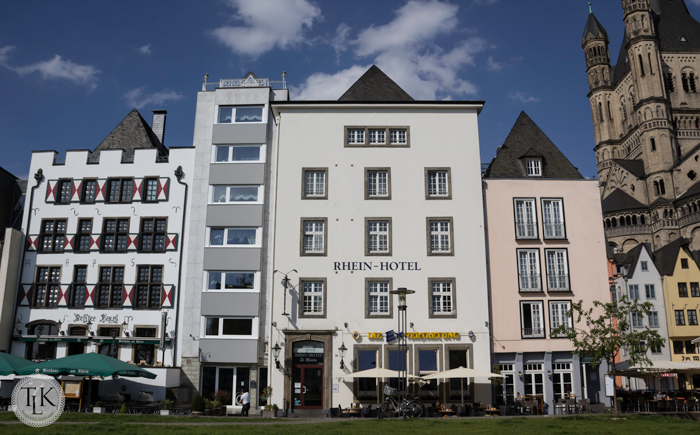 Here you see it behind the Hotel Rhein.
It looks imposing above these buildings, but is not the main attraction when it comes to churches in Cologne. It unfortunately only gets second billing.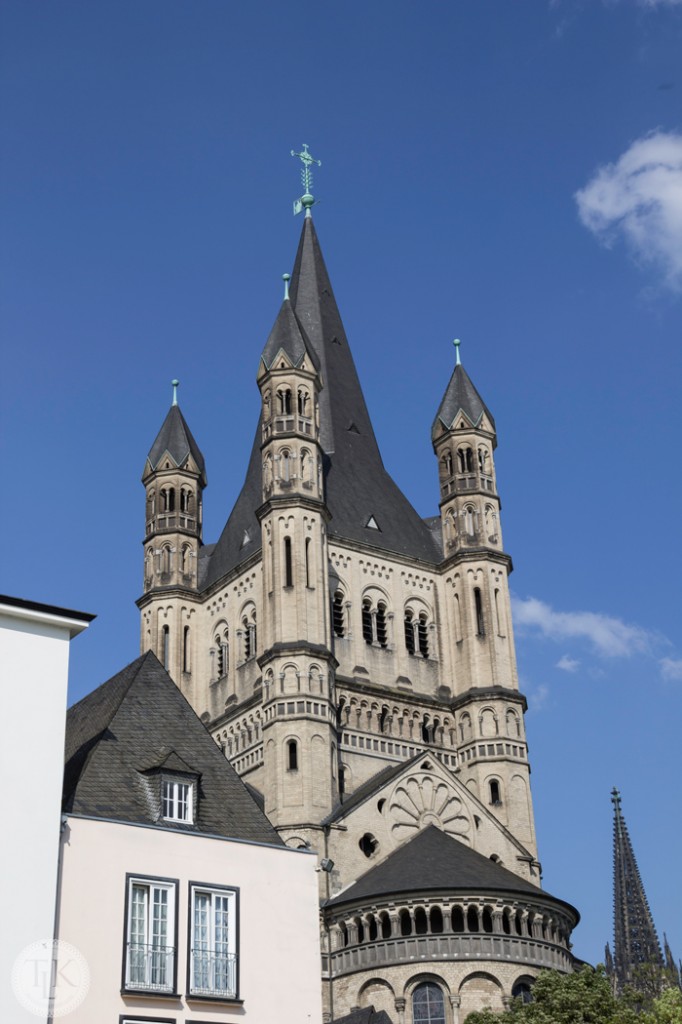 The tower was erected between 1150 and 1250.  And to the right is one of the spires of the Dom, the main attraction here in Cologne.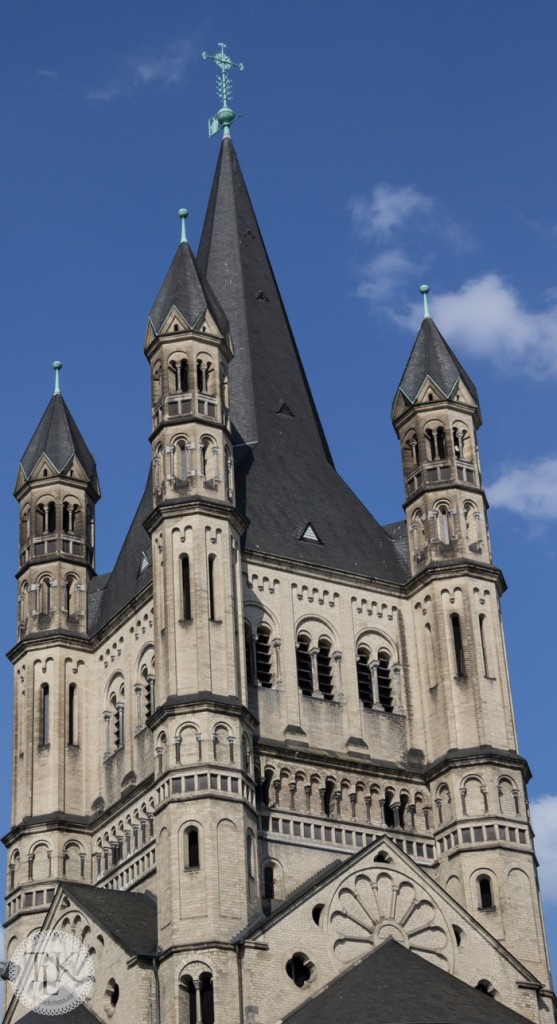 It is just beautiful.  Most of this has been rebuilt since World War II.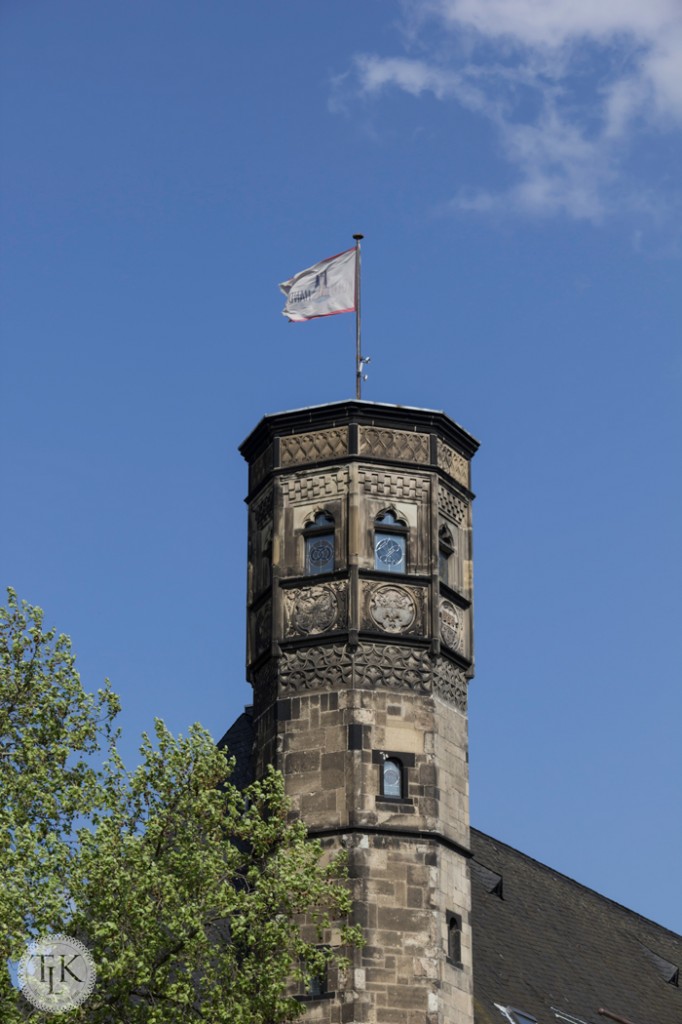 I am not sure what this little tower belonged to, but it had some interesting stained glass in the top.  See the pretzel on the left?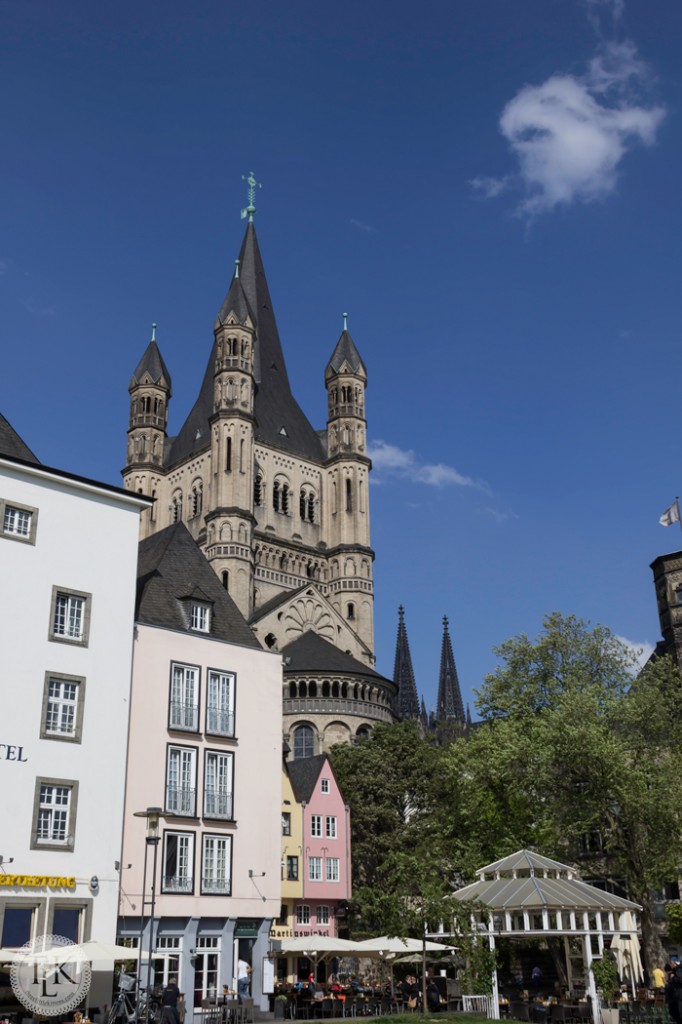 It may have been associated with the Great St. Martin Church.  Maybe when you visit you can find out and let me know.  There are so many things to see in Cologne and one day does not provide enough time to see but a small portion of this wonderful city.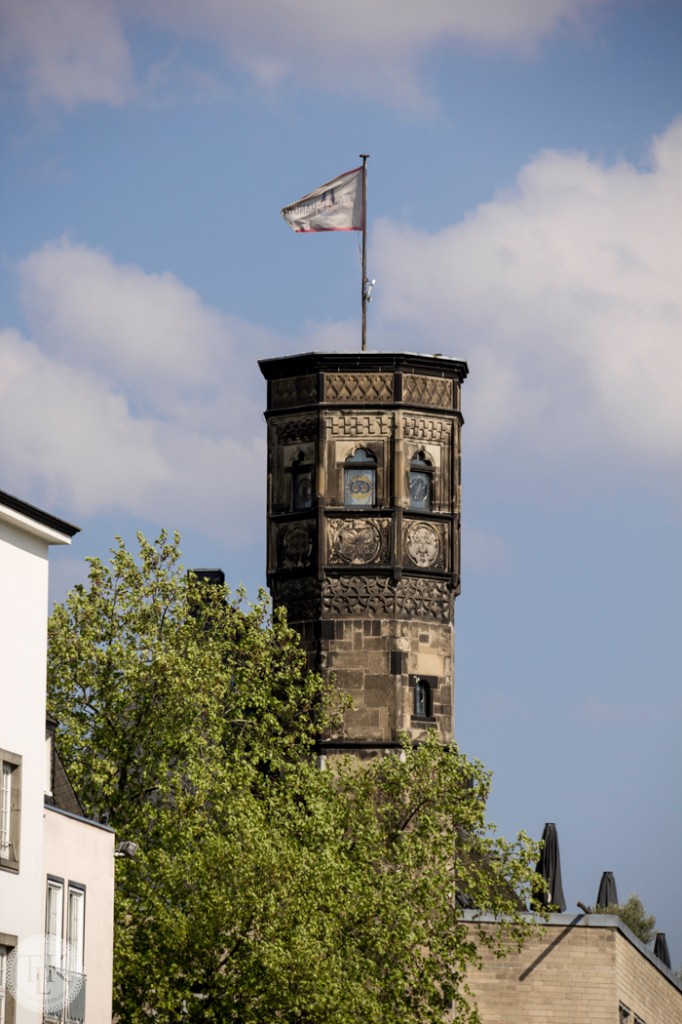 Maybe there is a restaurant associated with the tower.  See the umbrellas on the roof top?  Oh well.  We were early into our tour and figured we might come back this way to explore later.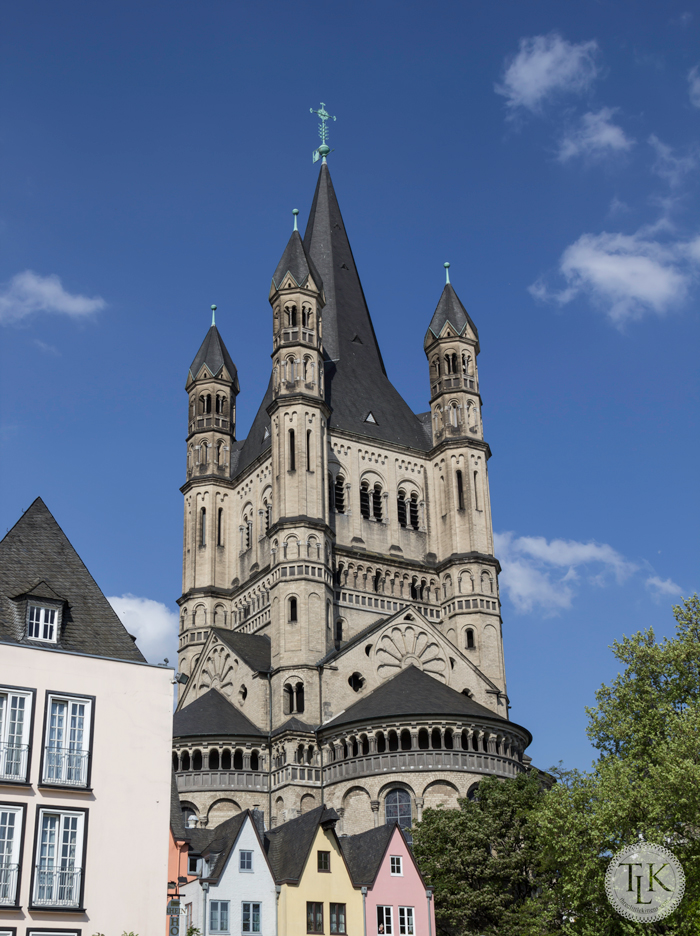 We never were able to make it back to tour Great St. Martin Church.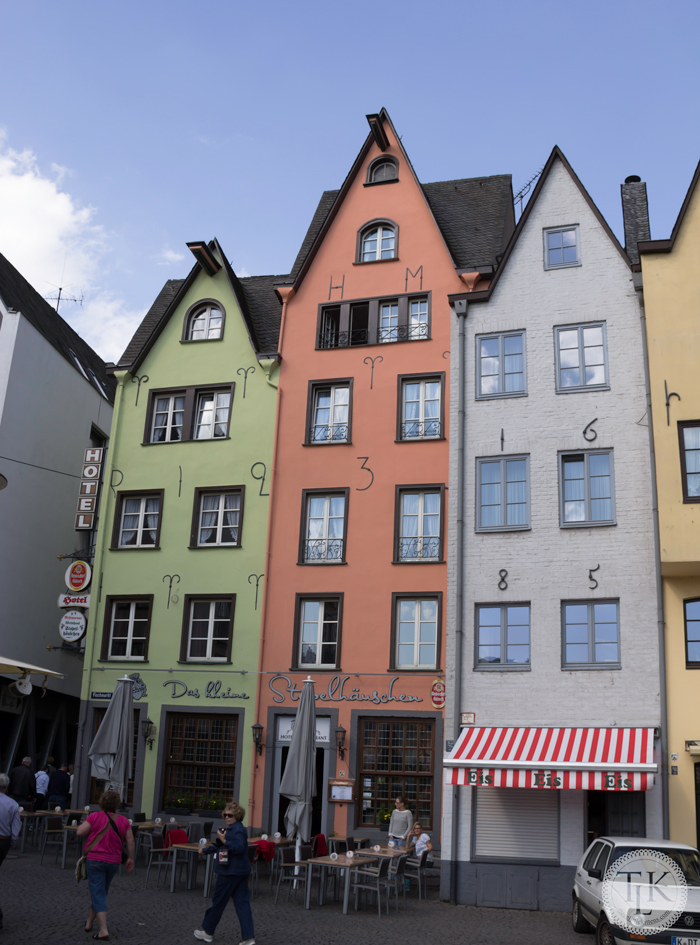 And here are the real gems of the Old Fish Market Square.  These old townhouses were some of the oldest in the city.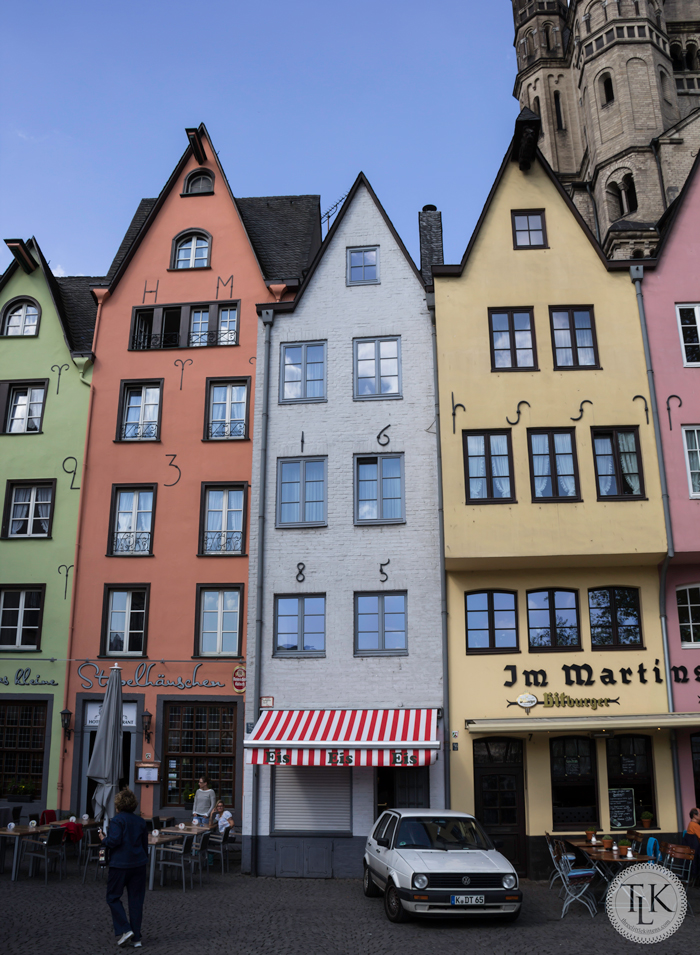 The one in the center dates to 1685, as noted by the numbers on it's front.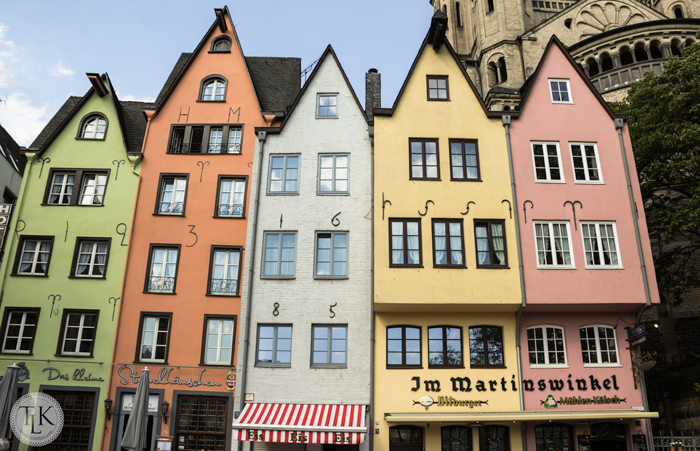 They are colorful.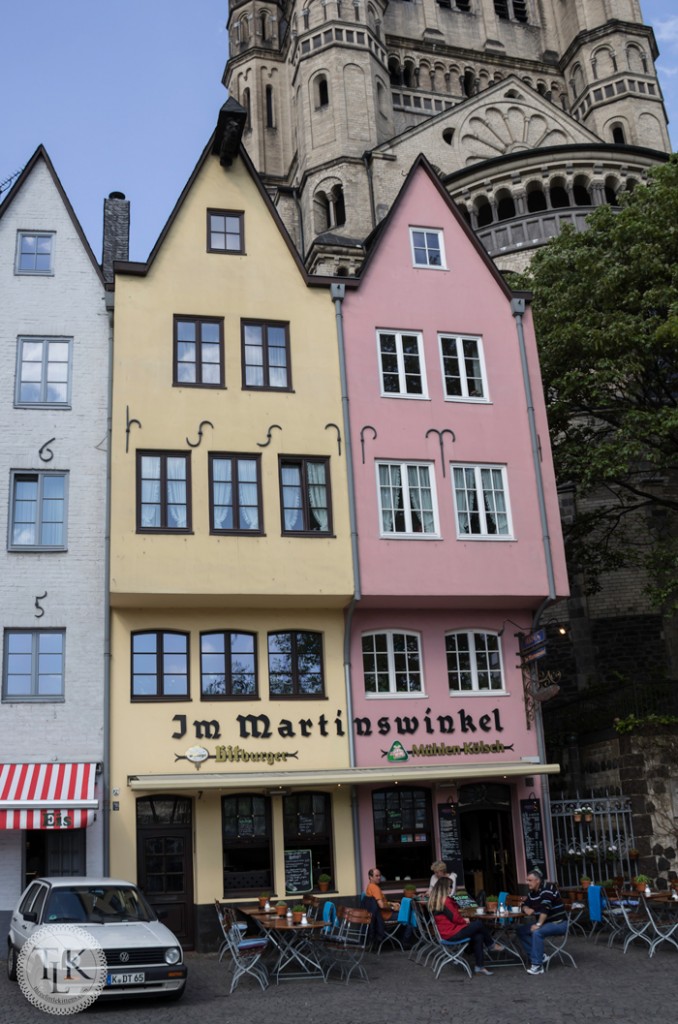 People were starting to show up for drinks and meals.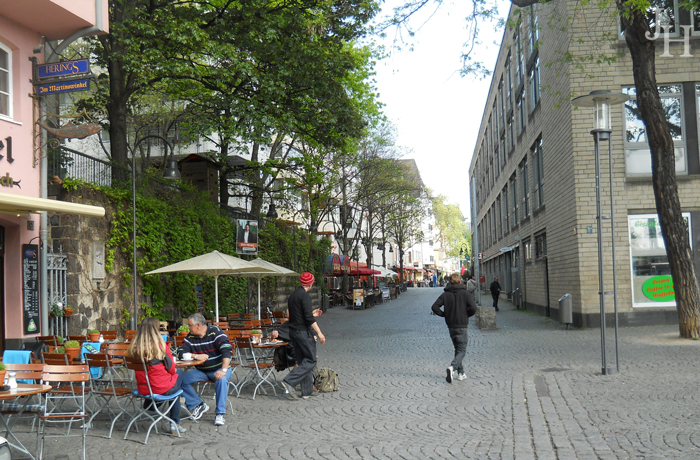 Oh, and in case you are wondering, you must wear comfortable shoes when touring.  Just look at all of these cobblestones.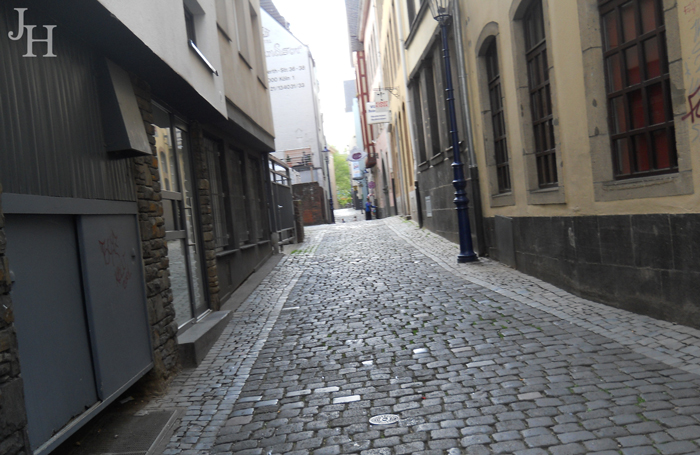 They are everywhere in Altstadt.  On every street, down every alley.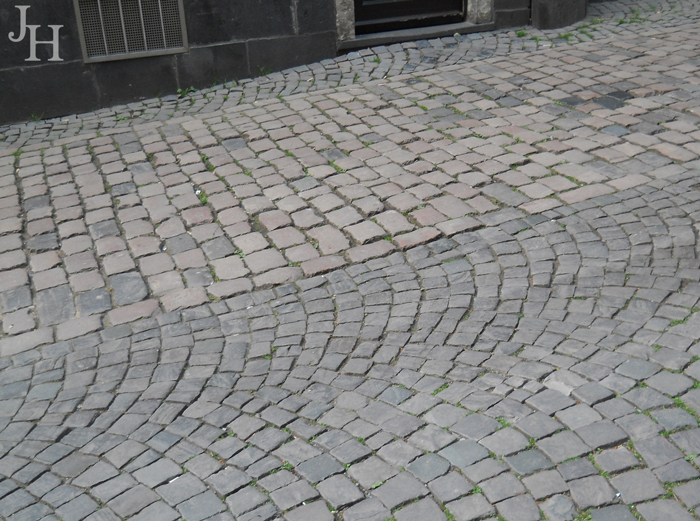 Even with good walking shoes, these cobblestones could be tricky.  They were uneven and the gaps between them would be murder on heels.  High heels, that is. And believe it or not, we did see many a lady wearing high heels trying to navigate these bumpy streets.  Some were successful and many were not.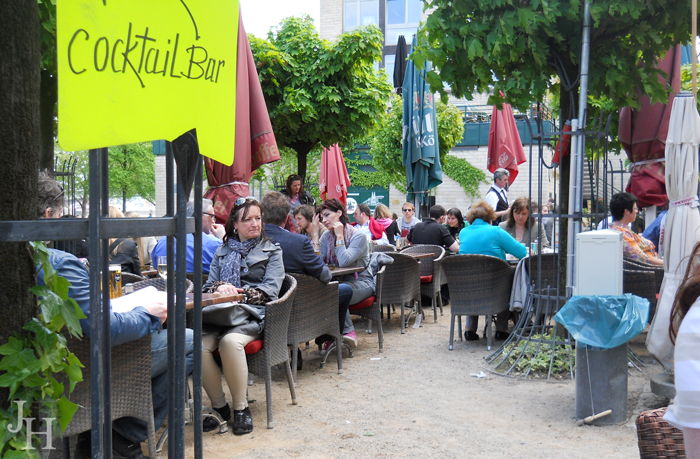 After our tour ended, we did stop back by the Brewpubs to get a drink.  One thing our tour guide let us know, thankfully, was that here when ordering a beer, if your glass is empty and you don't want any more to drink, you must cover your glass with your coaster.  Otherwise they will continue to fill your glass.  Good to know.  That could add up quickly!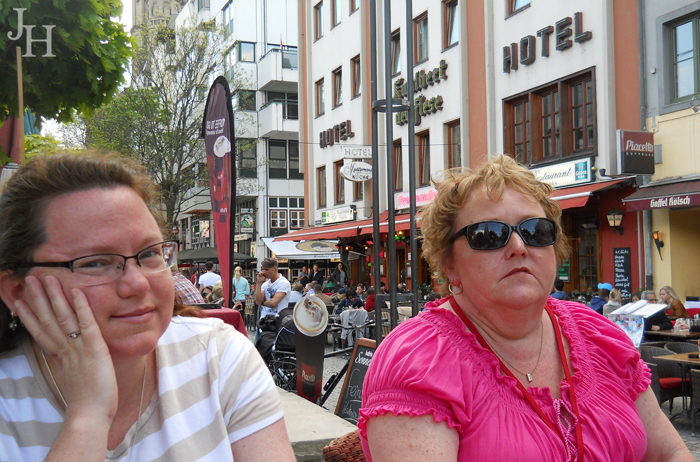 Here I am with Betsy resting as they have a beer.  We did lots of walking and it was always nice to take a break and sit down for a bit.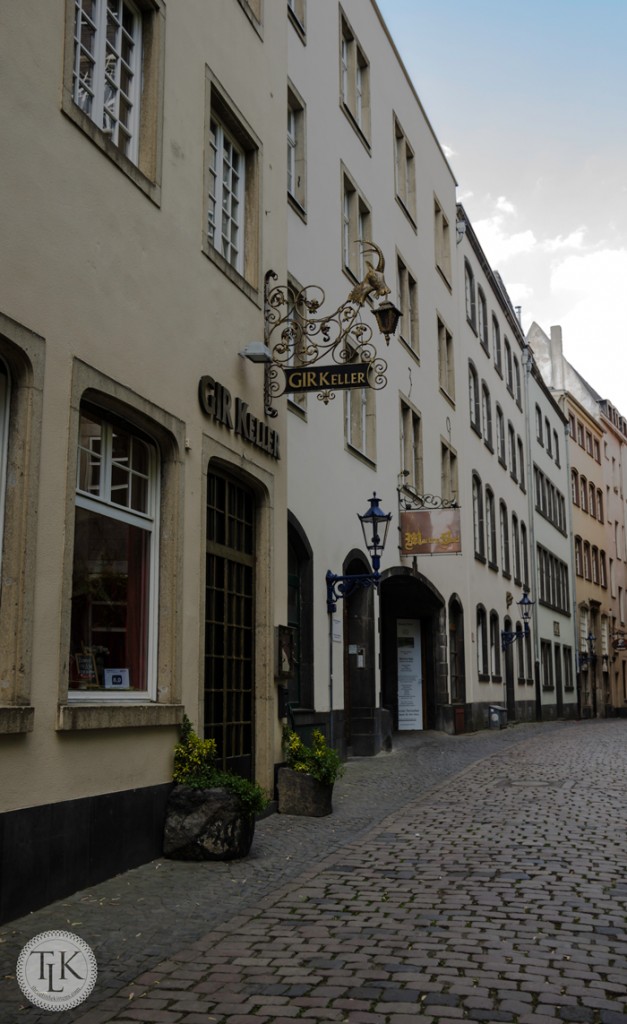 I don't want you to think we only toured the Old Fish Market.  We hit a lot of the Altstadt.  I am just trying to show you our tour in sections, since again, I took over 5,000 pictures.  After we finished touring the Old Fish Market, we headed to Alter Markt, which is near Cologne's City Hall, or Rathaus.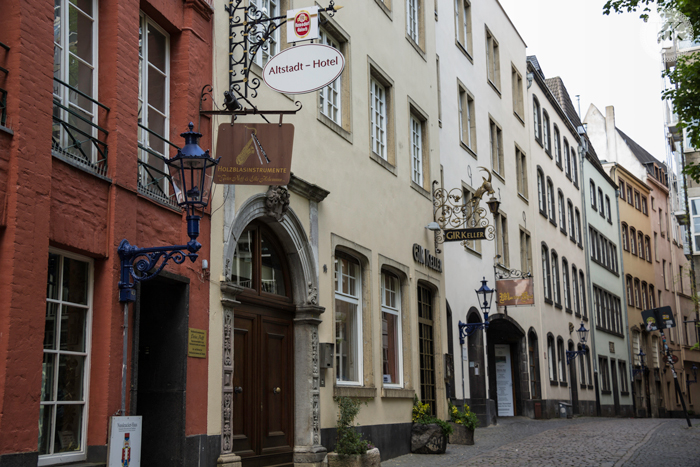 Our walk from one place to the next took us through wonderful little sections of the city.  The little alleys were picturesque.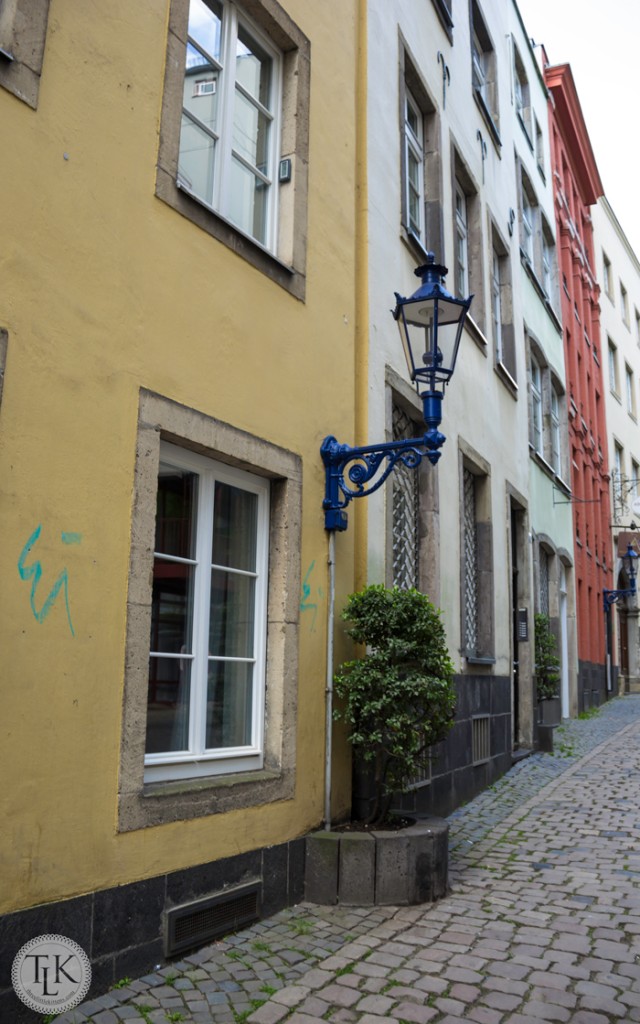 Even the graffiti was artful and colorful.  I love the many different, bright colors of this alley.  There are many more things to show you on our tour through Cologne.  Until then….
This is not a sponsored post.  This is my experience from my trip with 

Viking River Cruises

.
Related Posts
10000

This past April I had the opportunity to travel with dear friends to Europe and take a Viking River Cruise called the Rhine Getaway. This is not a sponsored post (although that would be awesome) but rather just my experience on this vacation of a lifetime. Because this was such a wonderful adventure, I will…

10000

It's been a while since I updated you on My Viking River Cruise.  It has been busy and I am not forgetting to finish my story of the great adventure in Europe. When I last left you, we were sailing from Kinderdijk and our next stop would be Cologne.  I had told you about our…

10000

Last week I shared some photos my friend June took while we were all enjoying our Viking River Cruise in Europe earlier this Spring.  I want to share some more of hers from Holland and life on board our ship before I catch back up to our day in Cologne, Germany. I told you we…

10000

On Easter Sunday, my friends June, Betsy and Jerry and I arrived in Cologne, Germany on our Viking Longship Ingvi.  We had already spent time in Amsterdam and Kinderdijk, Holland and had cruised the previous afternoon and night to Cologne. When we arrived at breakfast on our ship, we were greeted with Easter Baskets full of…

38

We arrived in Amsterdam on Good Friday, the start of the Easter Holiday.  I have been telling you about my Viking River Cruise along the Rhine River for a few posts now and you can read about visiting the Olde Center District, the Architecture and the Damrak in previous posts.  Because of the holiday, we…