Recently Keith and I have been getting up early on Saturday mornings and heading out to Estate Sales.  Not that Keith doesn't always get up early on Saturdays – I'm the one that will sleep in if I can – but its not quite yard sale season yet and we both have been itching to get out and see what Treasures we can find to repurpose or use around the house.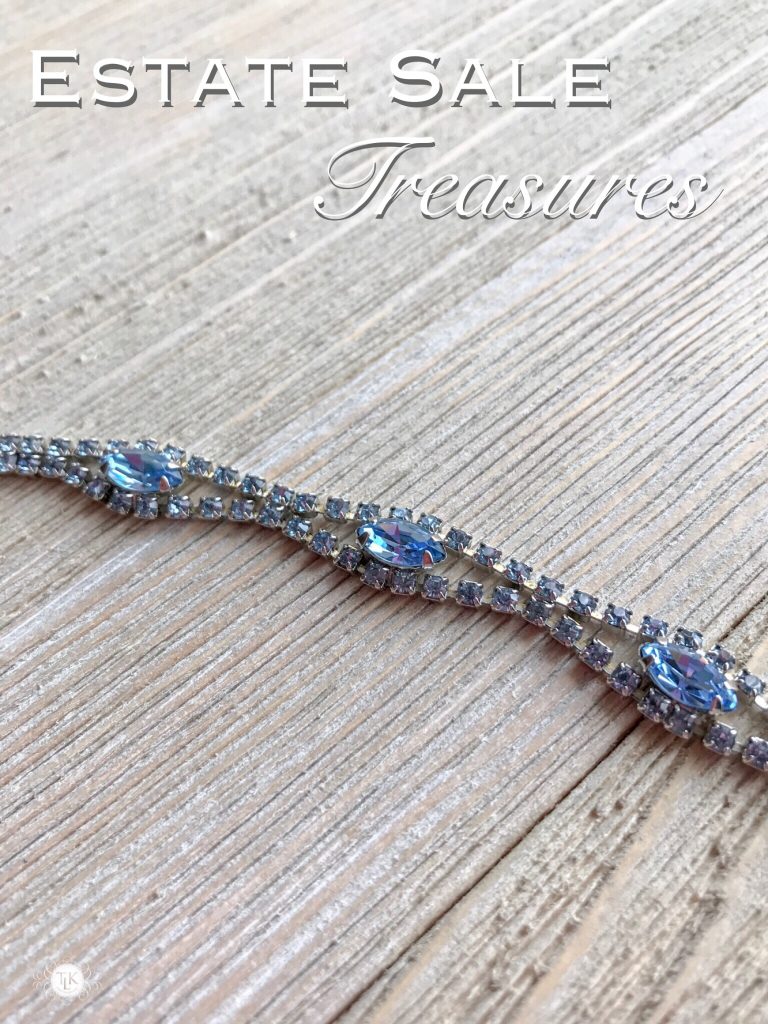 We had good luck at two of the sales we visited.  I found this lovely Ice Blue Vintage Rhinestone Costume Jewelry Bracelet at one sale.  It was very dirty and did not shine at all.  I figured it just needed a little cleaning and I could repurpose it into something different like I did with this blue earring that I received in my stash from Petticoat Junktion.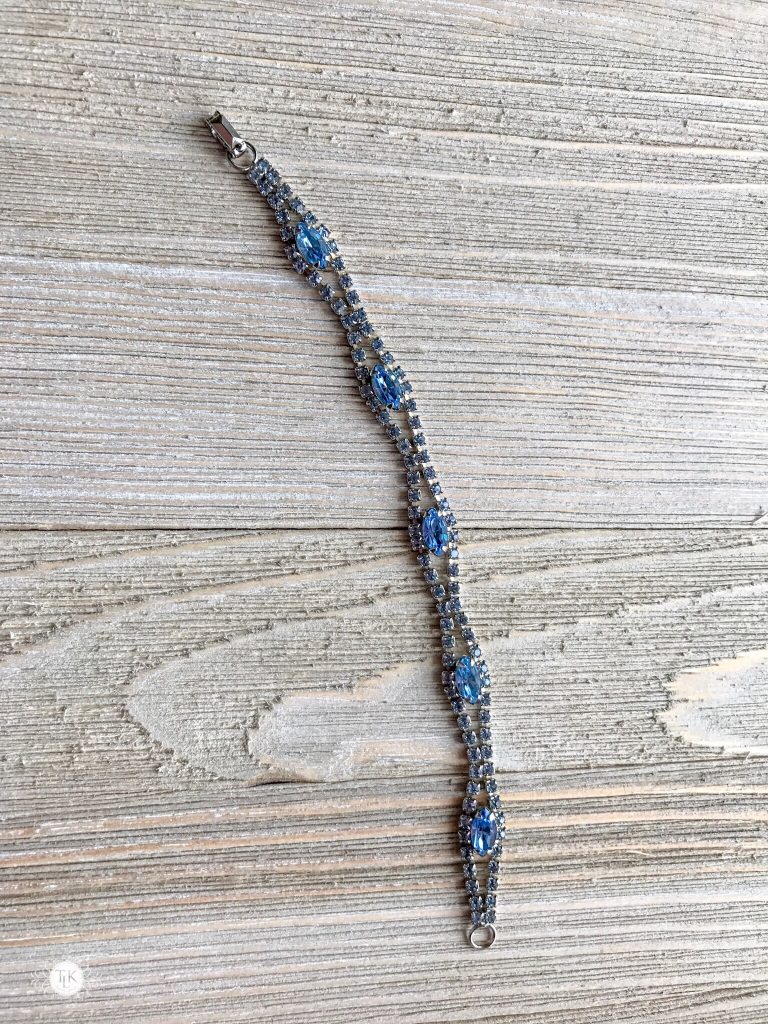 I took it out of the bag it was in to inspect it and realized that the clasp was broken. That would be super easy to fix.  I could just add a lobster claw clasp that would make it work again.  And since it was the second day of the sale, it was marked down 25%, which made it a whopping $3.  I could take a chance on that.  I mean it could easily be used to create a necklace and maybe even some earrings.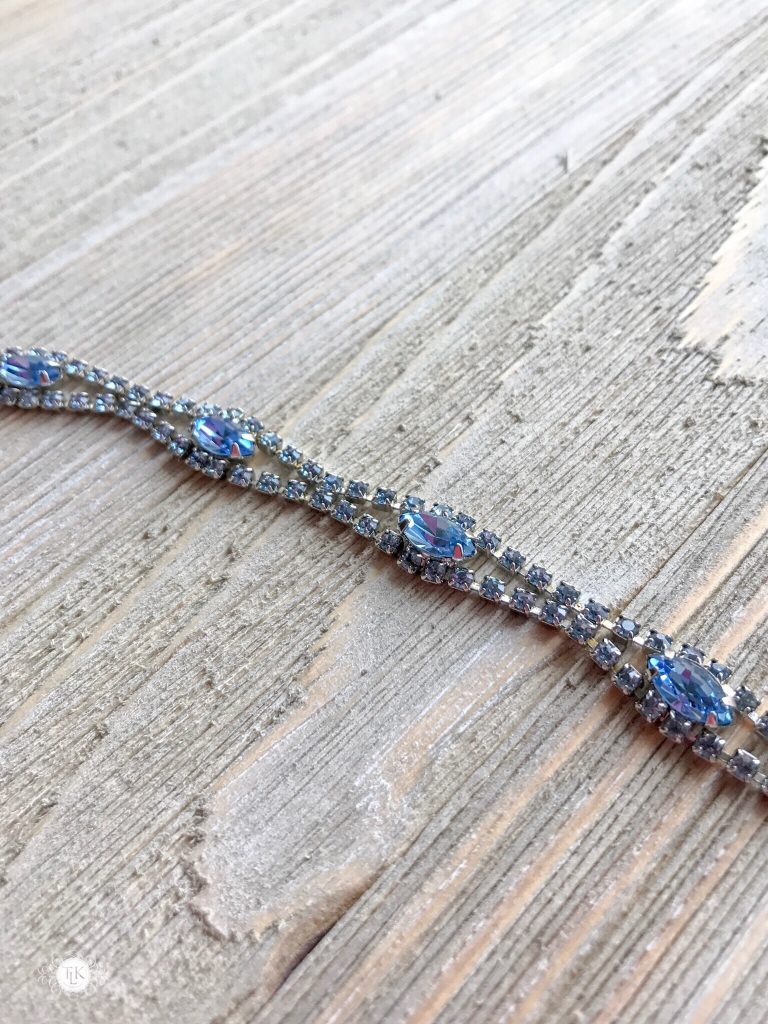 But, after I cleaned it up and changed out the clasp I put it on.  Thats when I decided it was a keeper.  Even Keith thought it was really pretty on my wrist.  And I won't have to worry about it slipping off since I changed the clasp to something a little more secure.  It really is quite lovely and it will be fun to wear to work or out.  It is very delicate and really does sparkle in the light now.  Glad I took the time to dig through the other 50 little bags of junk jewelry to find this gem – no pun intended.
We also came across a huge stash of vintage Mason Jars at another of the sales we went to on Saturday.  I only brought home nine of them, which leaves me to wonder if they all sold.  They had an entire shelving unit in the basement full!  Probably several hundred, neatly stacked in rows and tucked in boxes.  The large jars in the back are Ball Perfect Mason Jars.  They are great for storing things, I use them in my kitchen cupboard to store pasta.  They are from the early thirties to early sixties.  All three of them are identical to the one you see on the far right above and are considered half gallon size.  They have ribbed sides which made them easier to grip.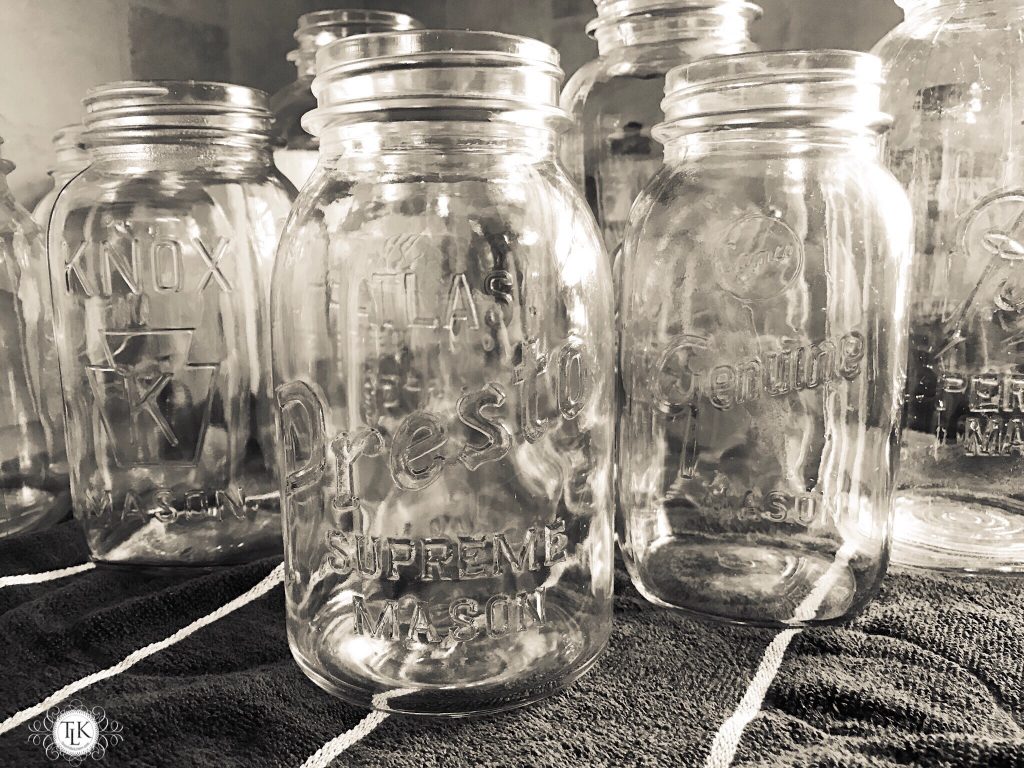 The other six jars I brought home are all different and are all quart size.  Its hard to see in the pictures, but I will tell you a little about what I know about them.  We had just finished cleaning them out when I took these pictures – they were filthy – and they cleaned up beautifully with a some hot water, soap and a little elbow grease from Keith.  He was so nice to clean them up for me.  The one in the middle above is a Presto Supreme Mason Jar.  It was made by the Illinois Glass Company and is probably from the forties or  fifties.  It is also the only round one of the group.  All the others are square, even the large Ball Jars.  The one to the right is a Samco Genuine Mason Jar.  Its hard to see but Samco is in the circle above Genuine.  This jar is from the Samuel Mallinger Company of Pittsburgh, PA and was later produced by the Knox Glass Company in Pennsylvania.  There is a Knox jar on the left but I will tell you more about it later in this post. The Samco trademark is from 1931 but this jar is probably from the forties.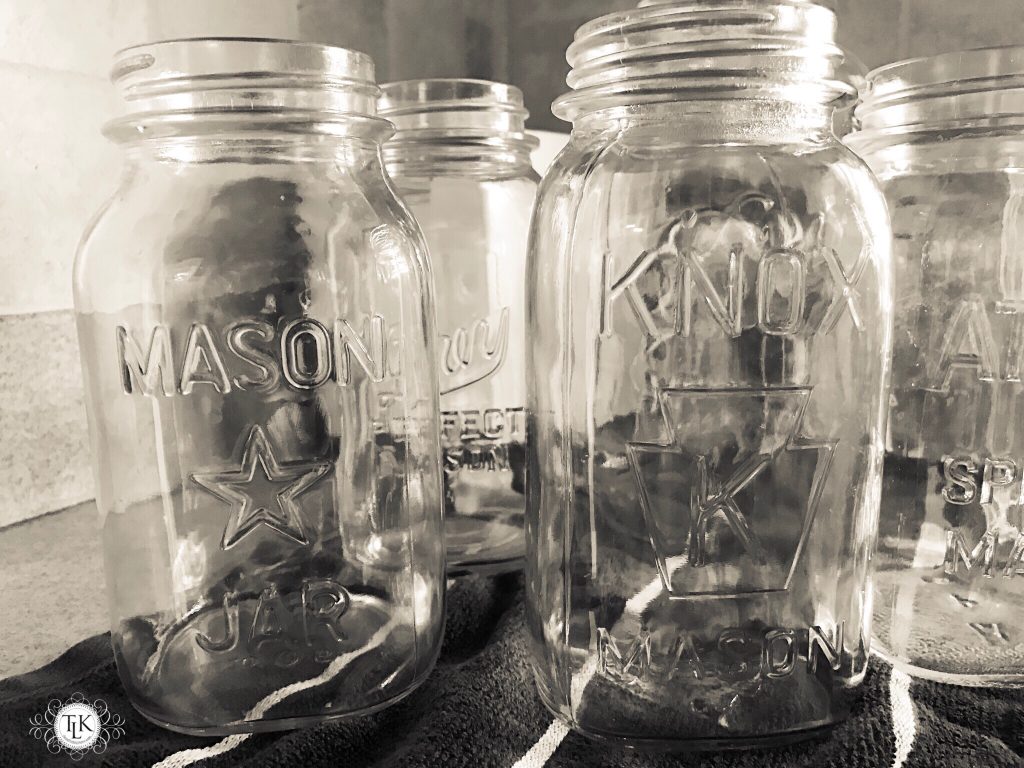 The one on the left above just says Mason Jar with a Star Logo in the middle.  I cannot really find anything about this one.  If you know, post a comment below.  It probably is very common but I just would like to know the age.  Since it was found with the others, I would like to think it is from the same timeframe.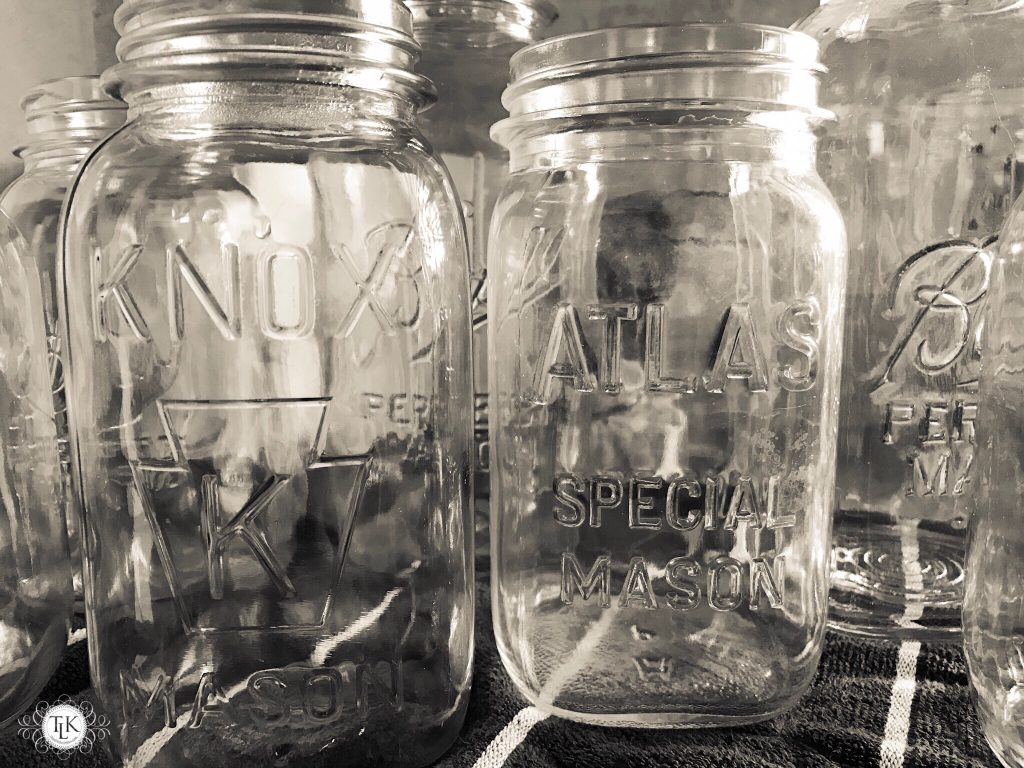 On the right above is an Atlas Special Mason Jar.  It is the only wide mouth of the group.  The Hazel Atlas Glass Company was one of the big producers of Mason Jars.  They started in Washington, PA and Wheeling, WV but at one time had plants all over the country, including Pomona, CA, where this particular jar was made, according to its mark on the bottom.  It is also from the thirties to fifties but was heavily produced and is much more common, although its not really something I see every day around here.  But I find it interesting that I found this California made jar in a basement in Virginia when there were plants making jars much closer to home.  And the jar on the left above is a Knox Mason Jar.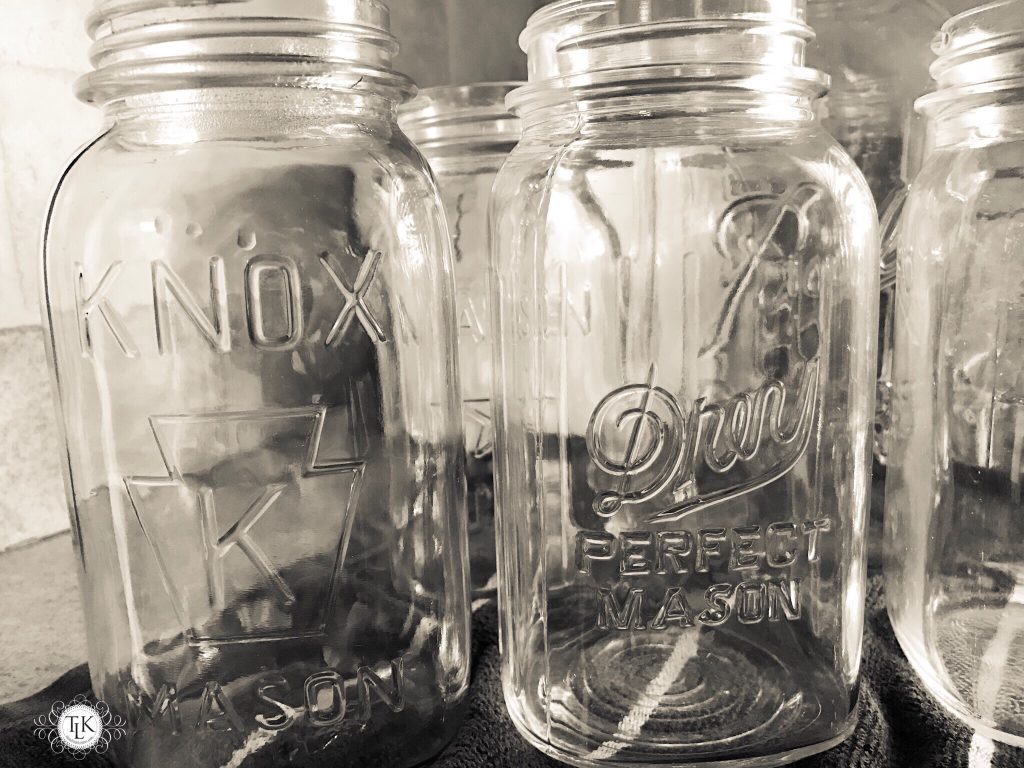 Here you can see the Knox jar better.  It is from the 1940's and from what I understand these were made in Knox, Pennsylvania by the Knox Glass Company.  Notice the big "K" inside the Keystone.  Pennsylvania is the Keystone State for those of you that may not know already.  I did not know this jar was that old.  And I guess there were lots of glass factories in that area of the country since the Hazel Atlas jar and the Samco jar came from companies that had plants in the same area.  The last jar above is a Drey Perfect Mason Jar.  This jar is probably the oldest, from the thirties or early forties.  I found some interesting information about it here.  It was actually a company that Ball acquired and during the depression instead of using their Ball Logo on the jars produced in Huntington, West Virginia, they kept the Drey Logo and used this as their discount line of jars.  What an interesting little collection of jars I found during my Estate Sale hunting.
I cannot wait to fill them up with goodies.  I hope they enjoy their new life holding craft supplies and other pretties in my craft room.  At least they won't be collecting dust and other basement dwelling things any more.