A few weeks ago I told you that I was a winner in a craft stash giveaway by Petticoat Junktion.  I was excited about my prize and anxious to create with the goodies that I won.  This weekend I decided to try my hand at creating some new jewelry pieces with those vintage costume jewelry earrings that were in the package.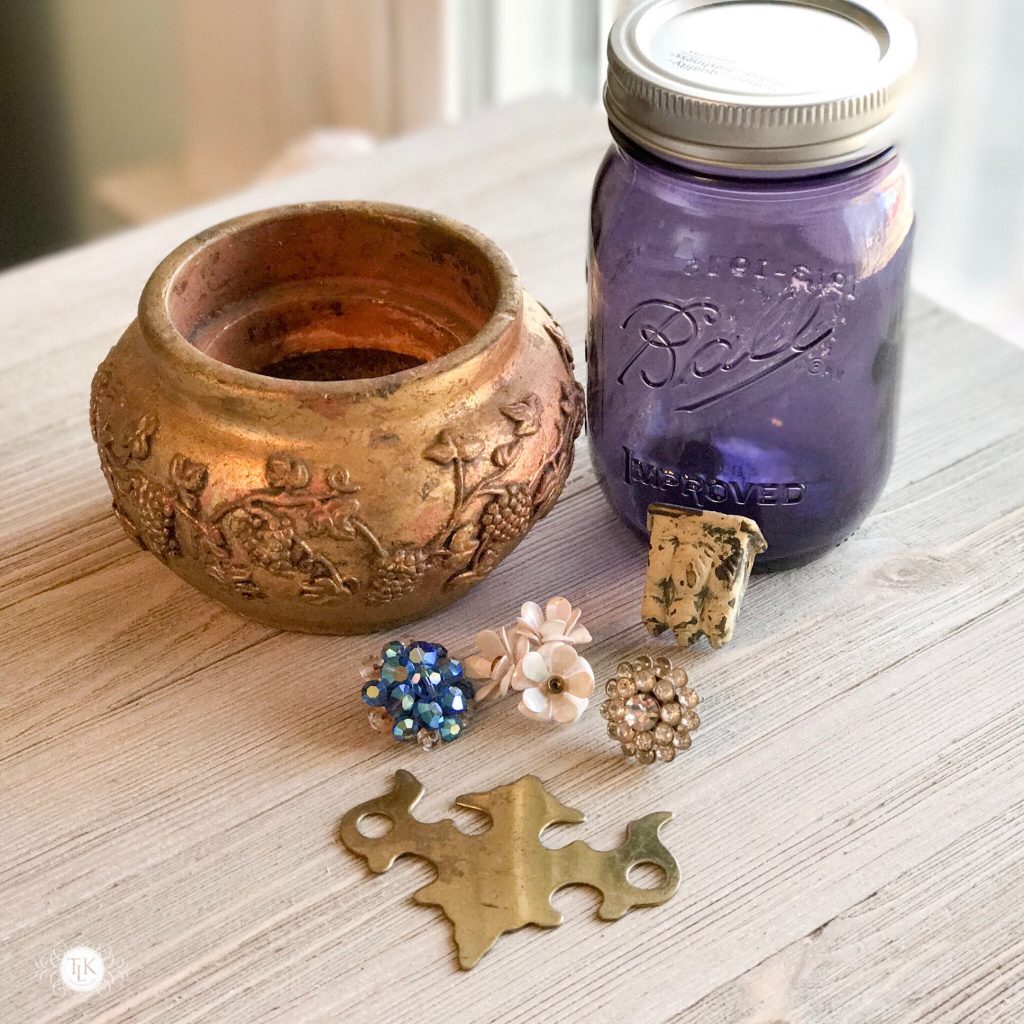 I had also picked up a few more pieces at an estate sale so I had plenty of bling to choose from.  I got out the earrings and put them with my new treasures and started cleaning them up.  There were a few rhinestones missing on the earrings and one of the brooches and that one in the middle above, the trio of white flowers, was missing the centers to all of its flowers so I thought I would run to the craft store and pick up some Swarovski Crystals and glue them in to fix what was missing.  When I came home, Keith reached into his pocket and handed me my little stash that I had left on my work table.  He had found Spencer playing with them in the sitting room.  Evidently Spencer drug them off my table and carted them in there.  Thankfully Keith was able to retrieve all but one -the little white flower earring.  Who knows where Spencer has that hidden.  I hope he decides to bring it back to Mommie soon, that was one that I really wanted to play with.
After looking on Pinterest for some inspiration, I figured out what I wanted to do with the little blue clip on earring that Kathy from Petticoat Junktion gifted me with.  I wanted to make an assemblage necklace and I knew I had the perfect piece to add to the earring to make it into a long hanging pendant.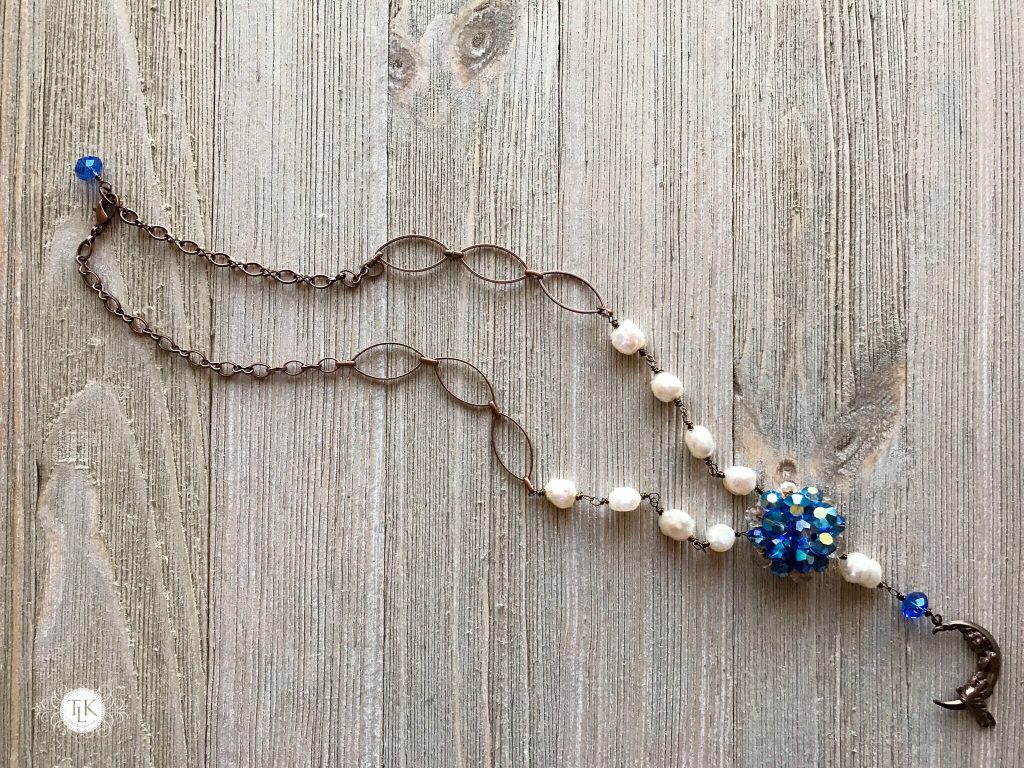 I call this one Blue Moon.
I think that earring cleaned up pretty nicely.  I used my Dremel to remove the clip off the back.  And the back, oh my.  It was pretty rusty. Some of the clear crystals in the earring have turned a little coppery because of the rust.  But, that just ties them in to the Vintaj Fairy Crescent Moon Pendant that I used.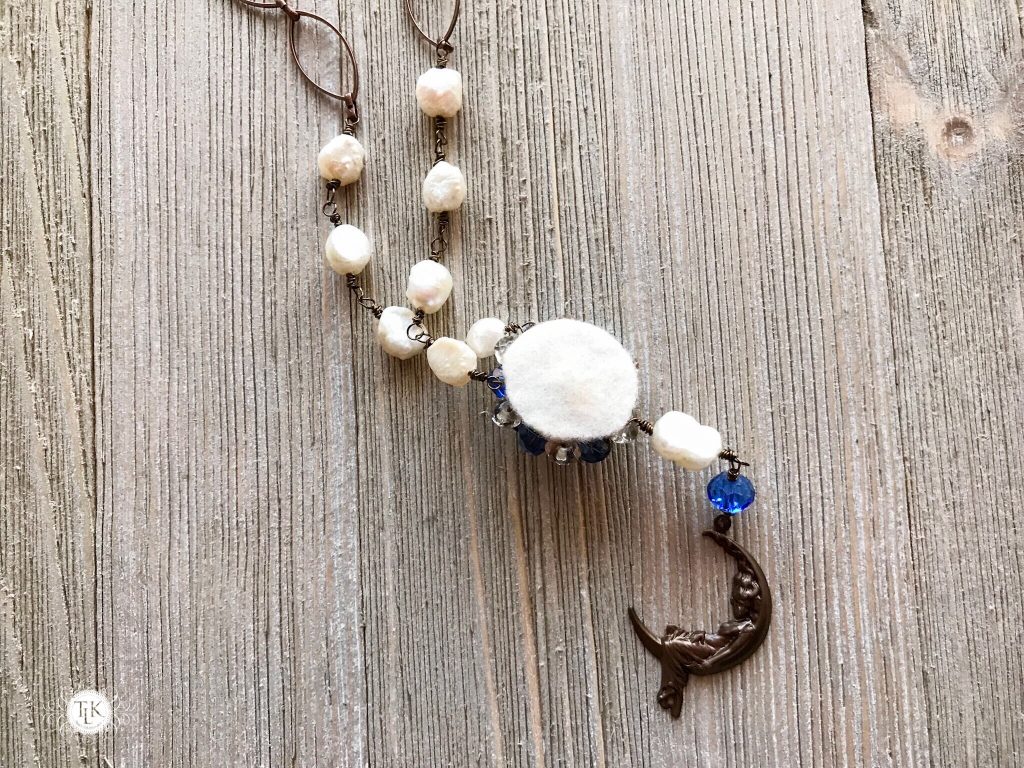 After taking off the clip I put a couple of coats of a clear coat sealer on the back and then I glued a piece of felt over that just in case.  I would hate for rust to ruin an outfit.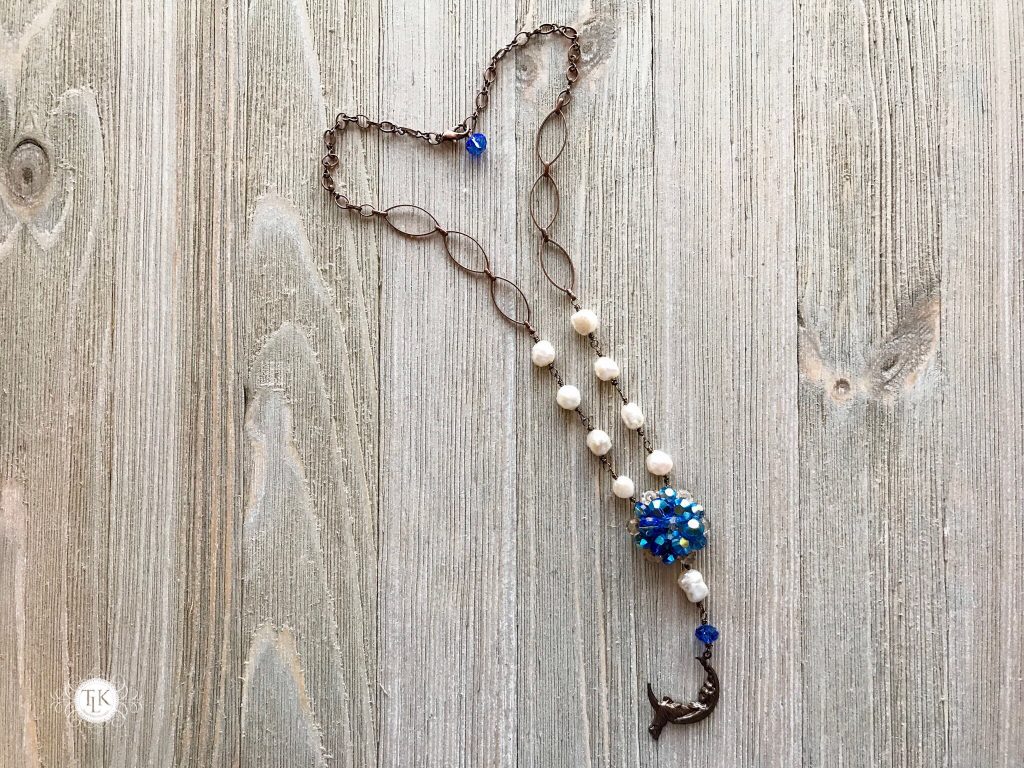 I call this an assemblage necklace because that is the term used when you use vintage pieces and "assemble" them with more or other parts and pieces to create a new piece of jewelry. I have been doing this for a while and didn't know it had a name.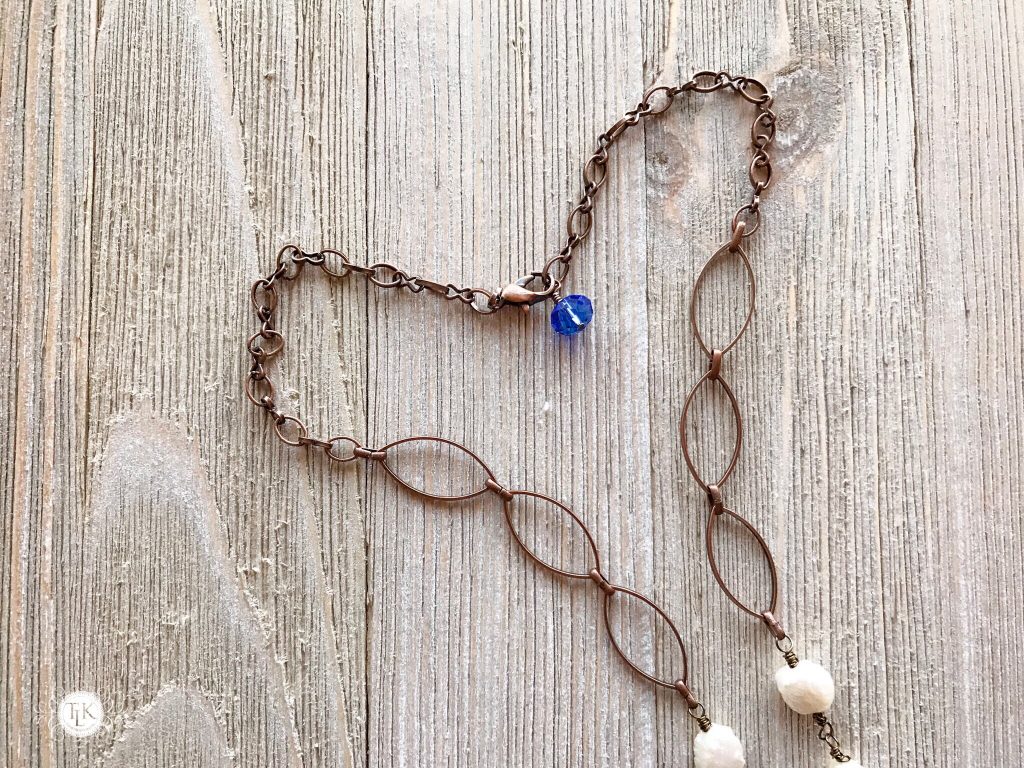 I even used two different kinds of chain  – the links were leftover from a few other projects and were perfect for this piece.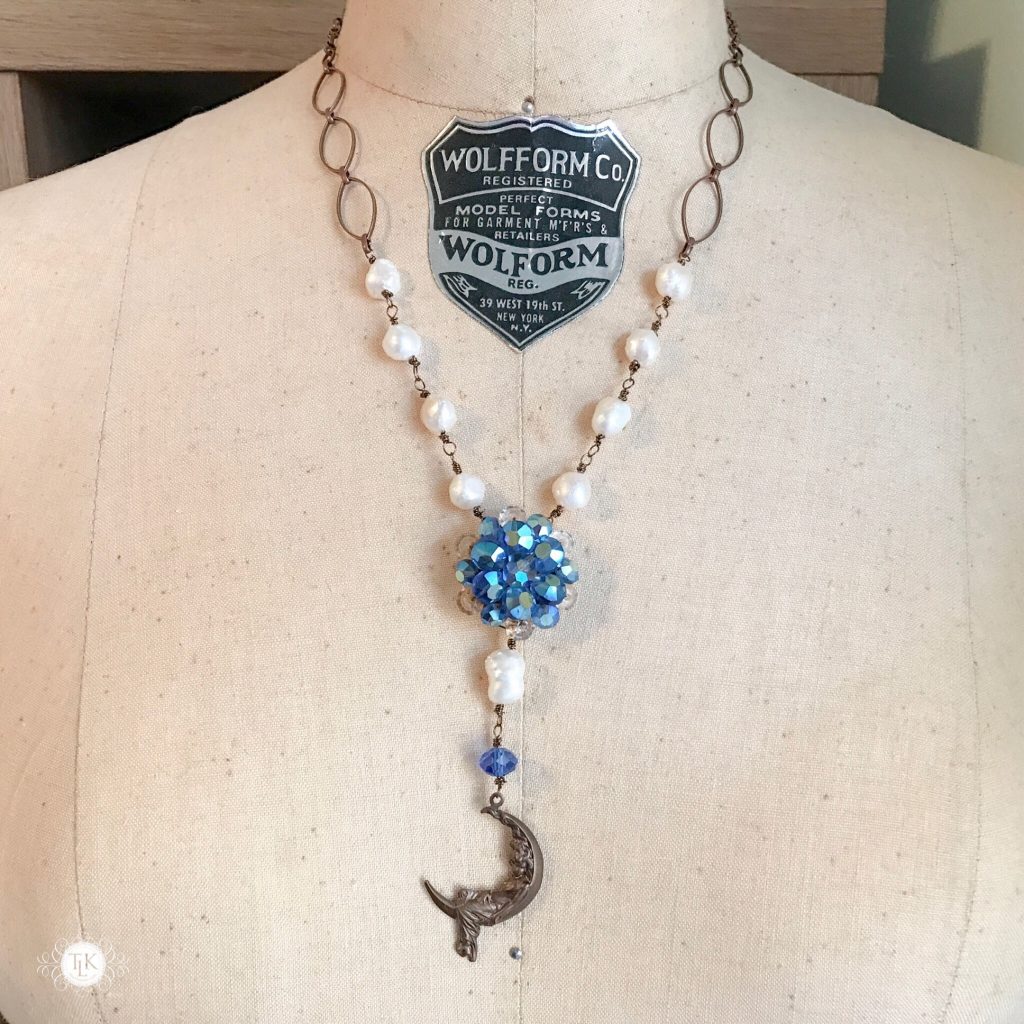 The freshwater pearls are potato nugget pearls.  They are really mis-shaped and eclectic.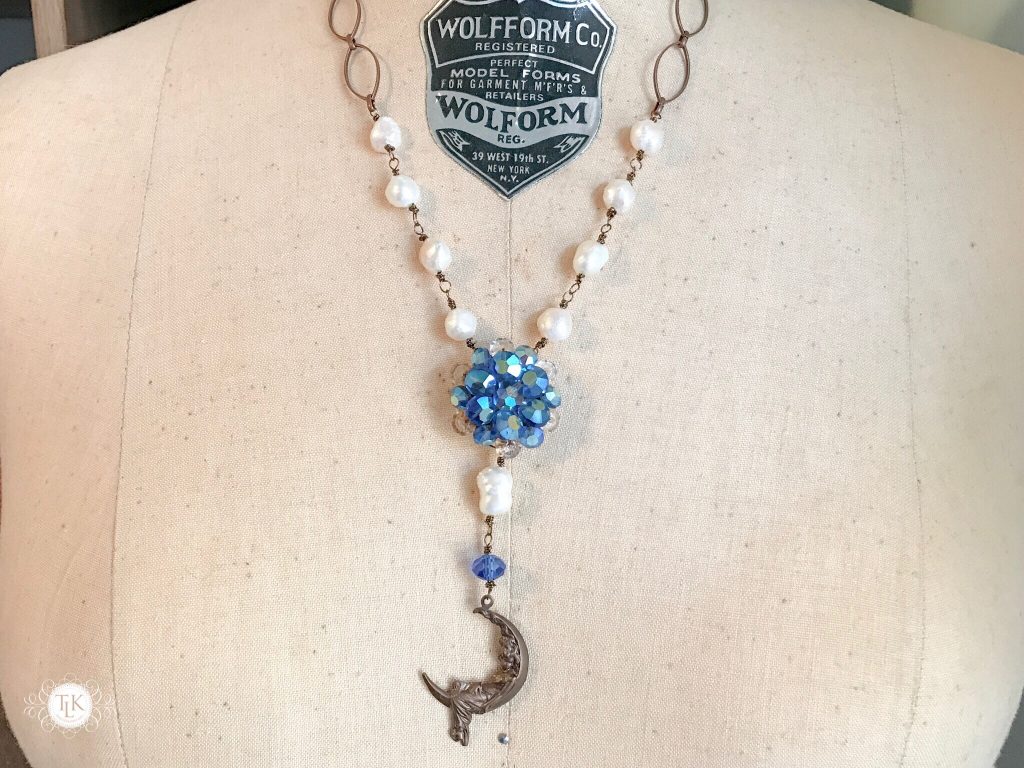 And I added a cobalt blue glass crystal roundel to connect the brass moon pendant.  And Maud was put to work, too!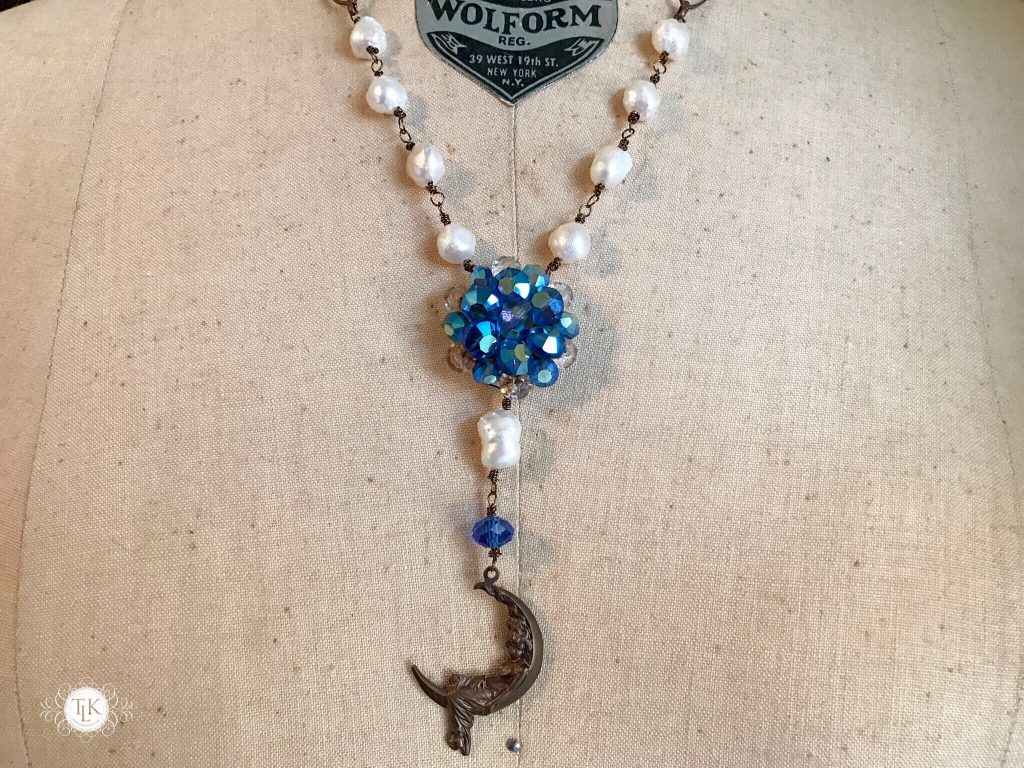 I really love how the earring sparkles.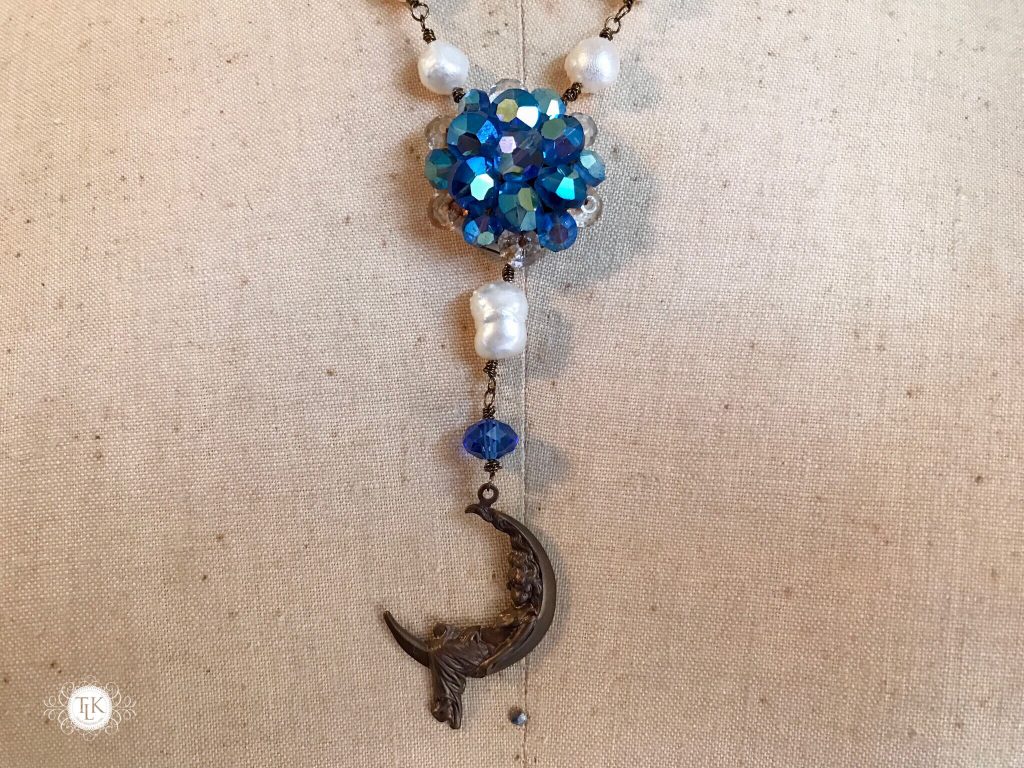 And I used some Vintaj beading wire to make the wrapped segments for the pearls and the crystal.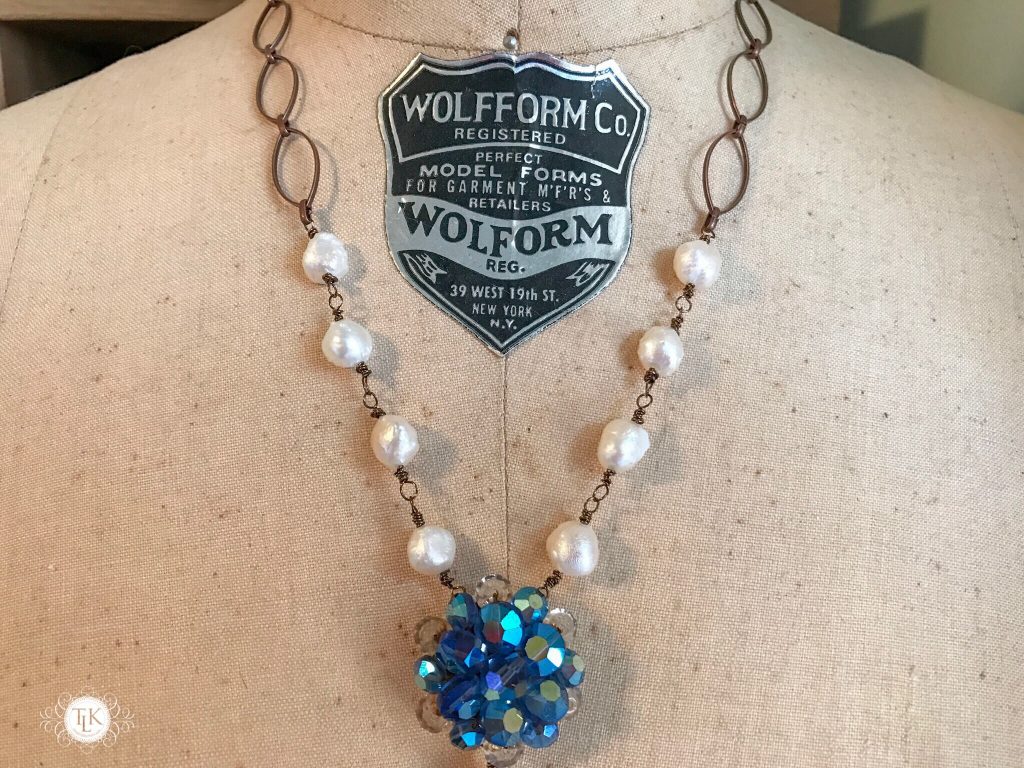 I made what I call "sloppy" wraps for them.  The wire I used was a very fine gauge so it is hard to make precise wraps, but I like how they turned out with the vintage earring.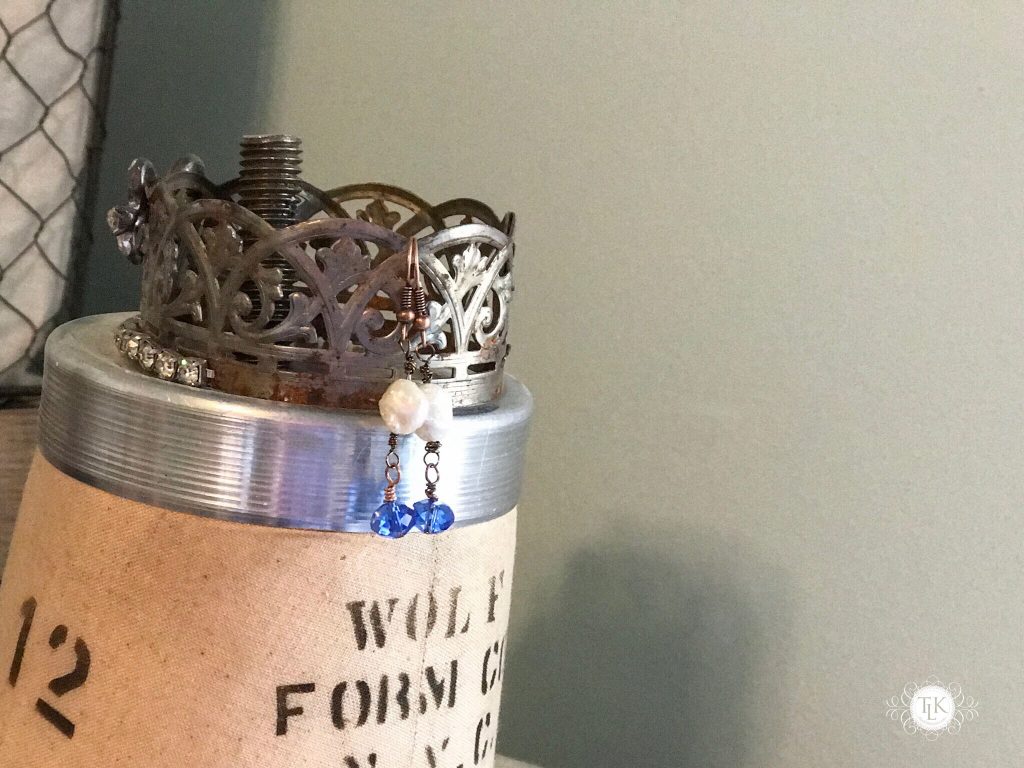 And, I made some earrings to match.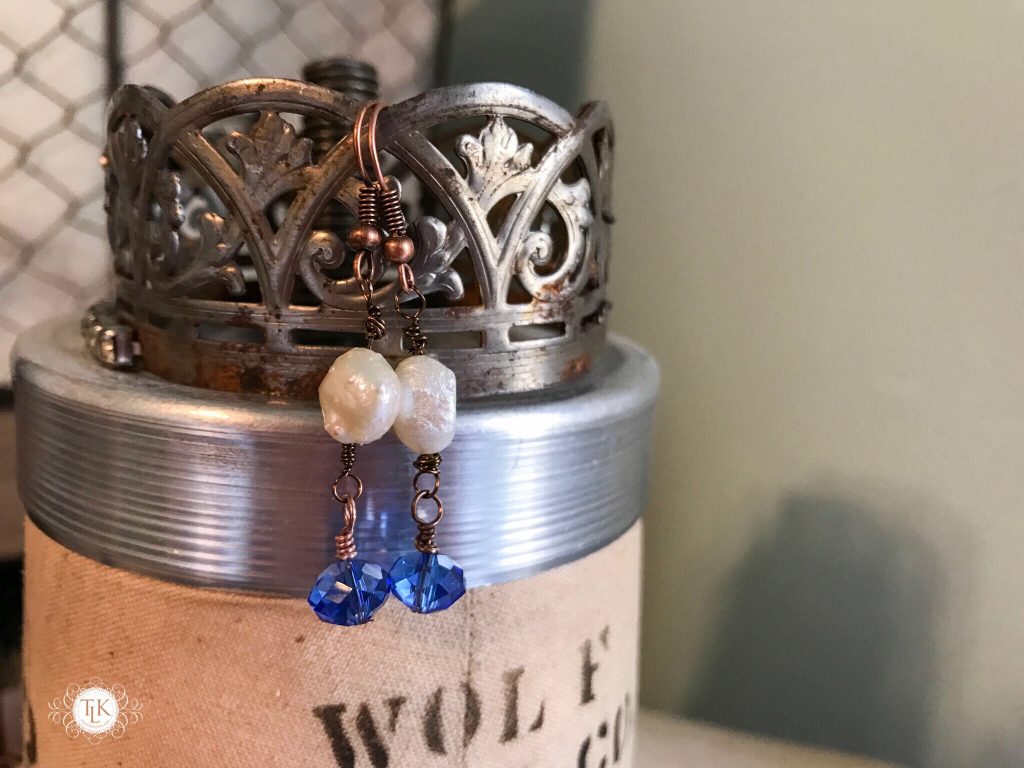 See what I mean about the pearls?  They are lumpy and imperfect and some even have these flat sides – they remind me of little drop biscuits the way they are shaped.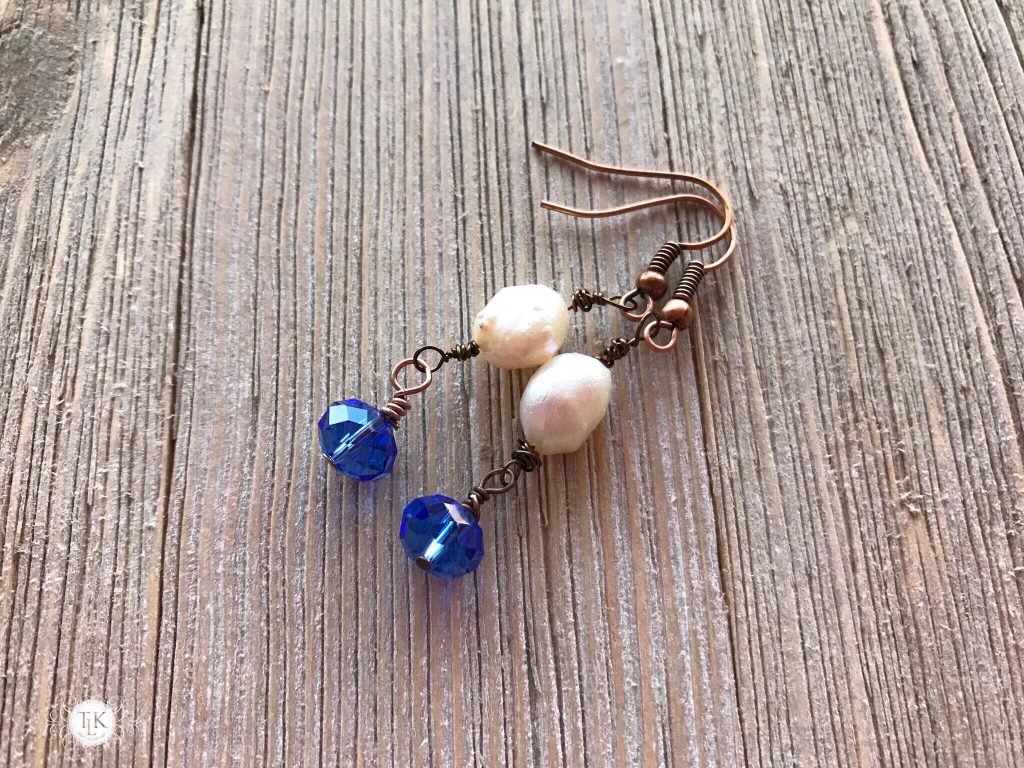 Here you can really see what I mean by the "sloppy" wraps.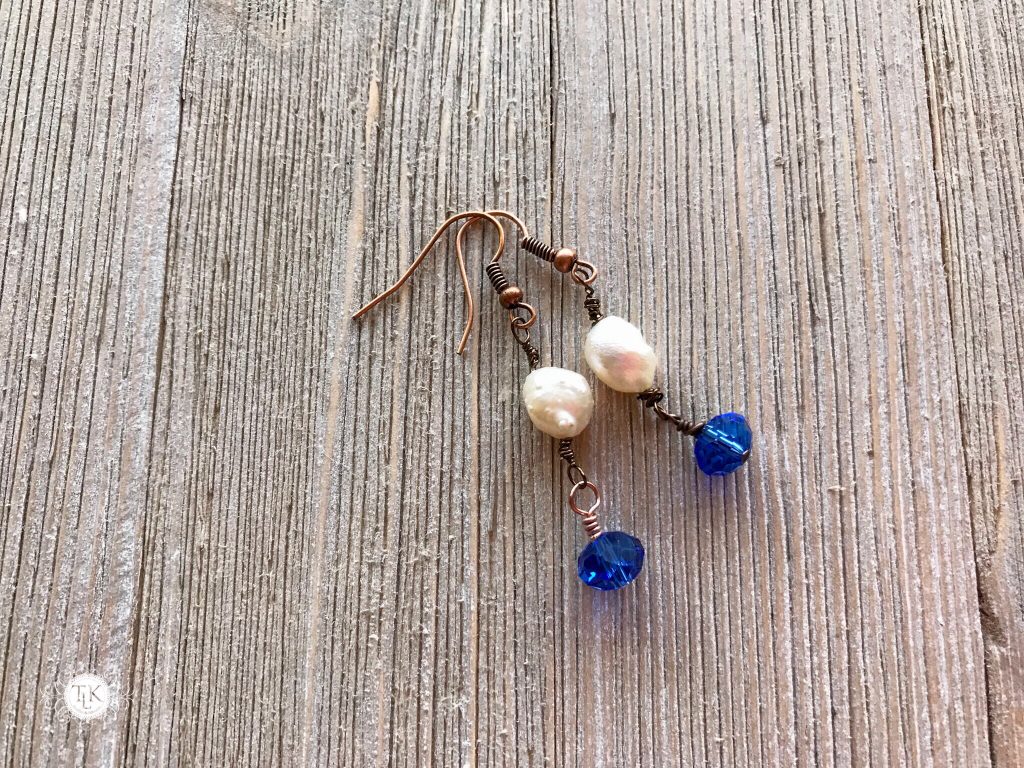 The earwires are a copper colored metal.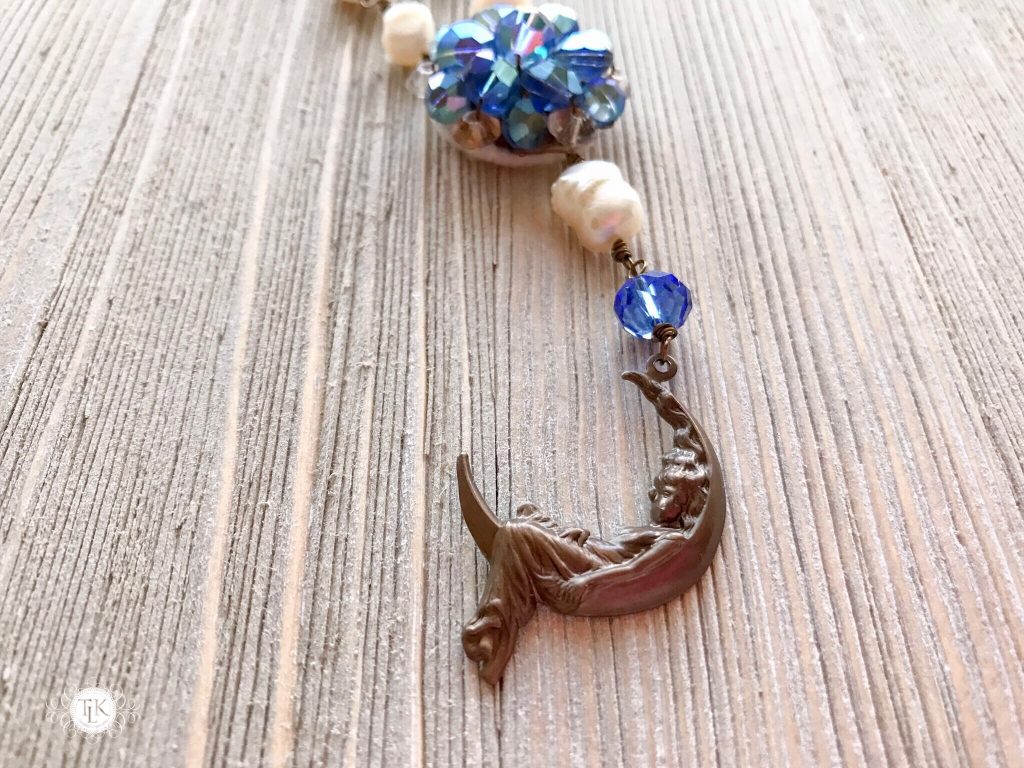 Isn't this little fairy sitting on her moon romantic?  Very Art Deco looking.  You can find both the necklace and earrings in my new shop, here on the blog.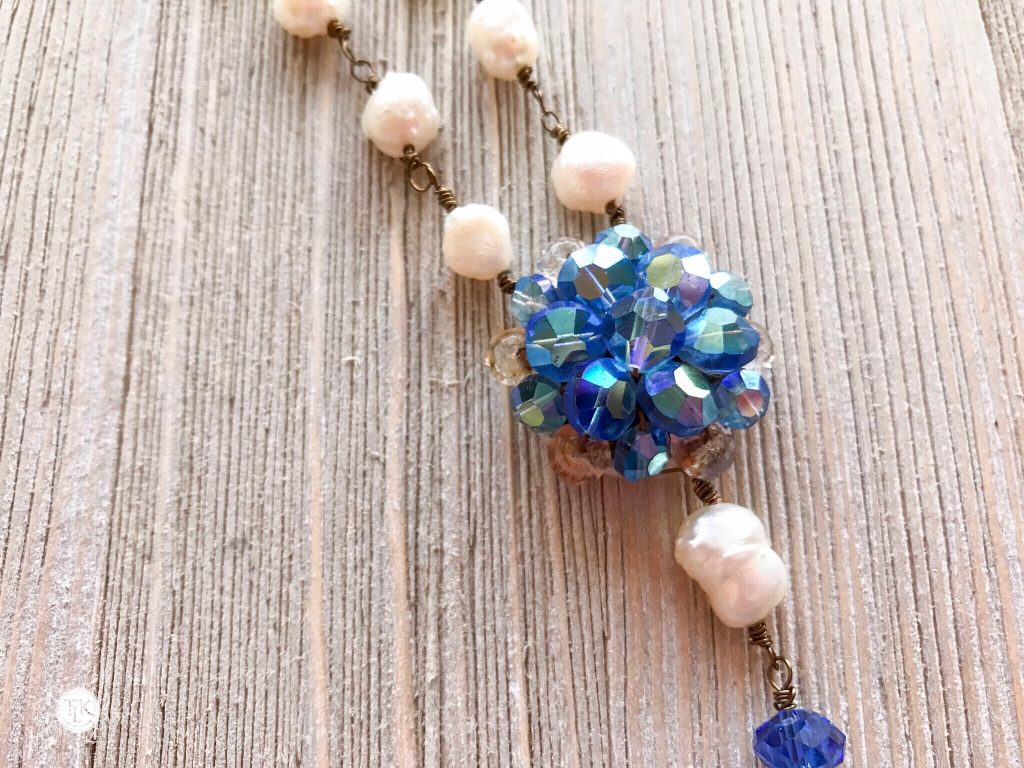 Thank you again Kathy for my box of goodies!  I hope you like how this one turned out!  And I sure hope Spencer remembers where he put that flower earring….
---
This post contains affiliate links.