When I last posted about my Viking River Cruise down the Rhine, we were just leaving the Cathedral in Strasbourg, France to do some more sight seeing on our own.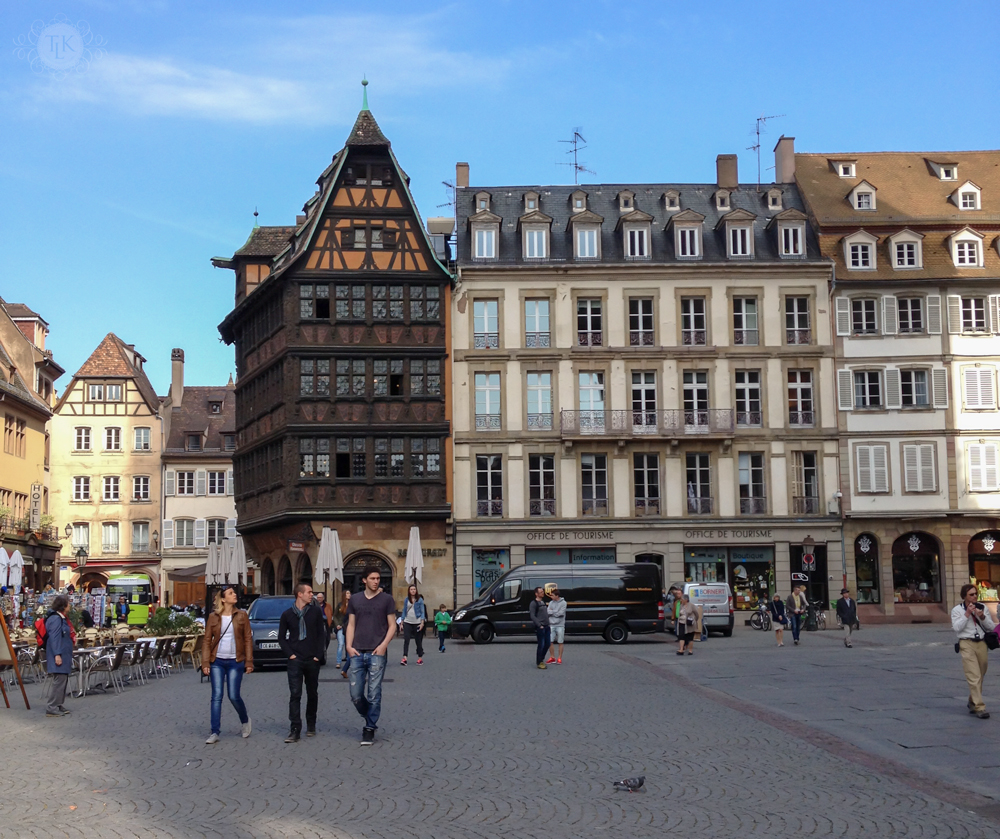 We were still in Place de la Cathedrale and decided we would get some lunch here in Strasbourg rather than head back to the ship. There were lots of little cafes here and a restaurant at Maison Kammerzell, but we decided to head back to Place Gutenberg instead.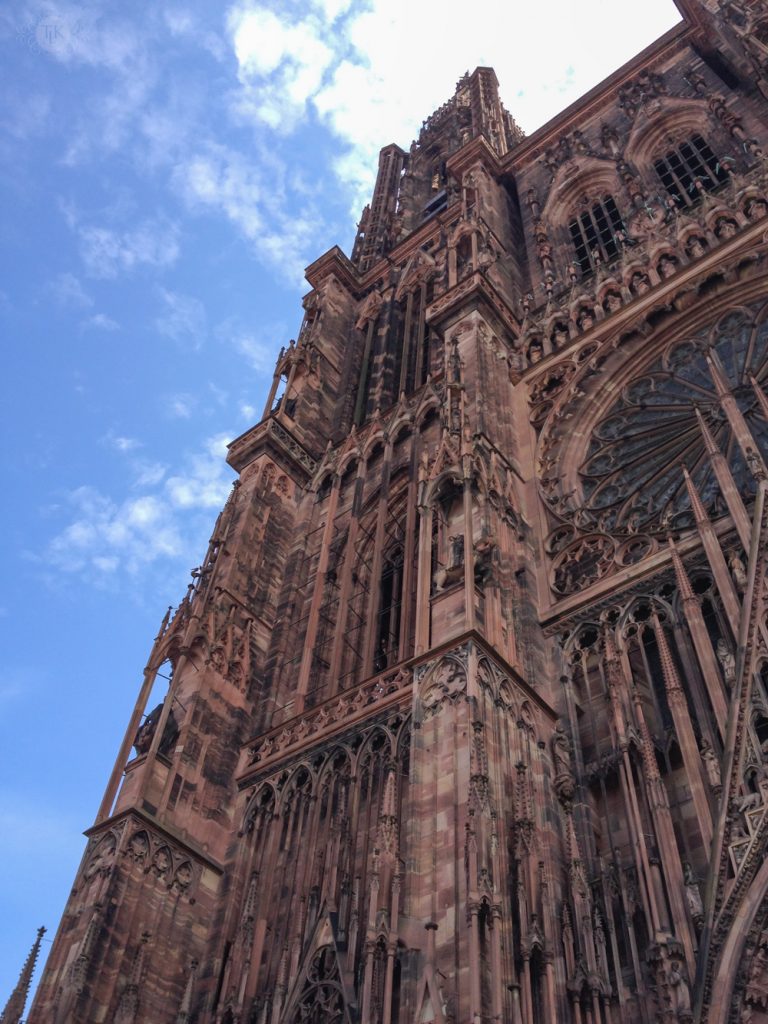 With one more look back up at the Cathedral we headed back to Gutenberg Square to find something to eat.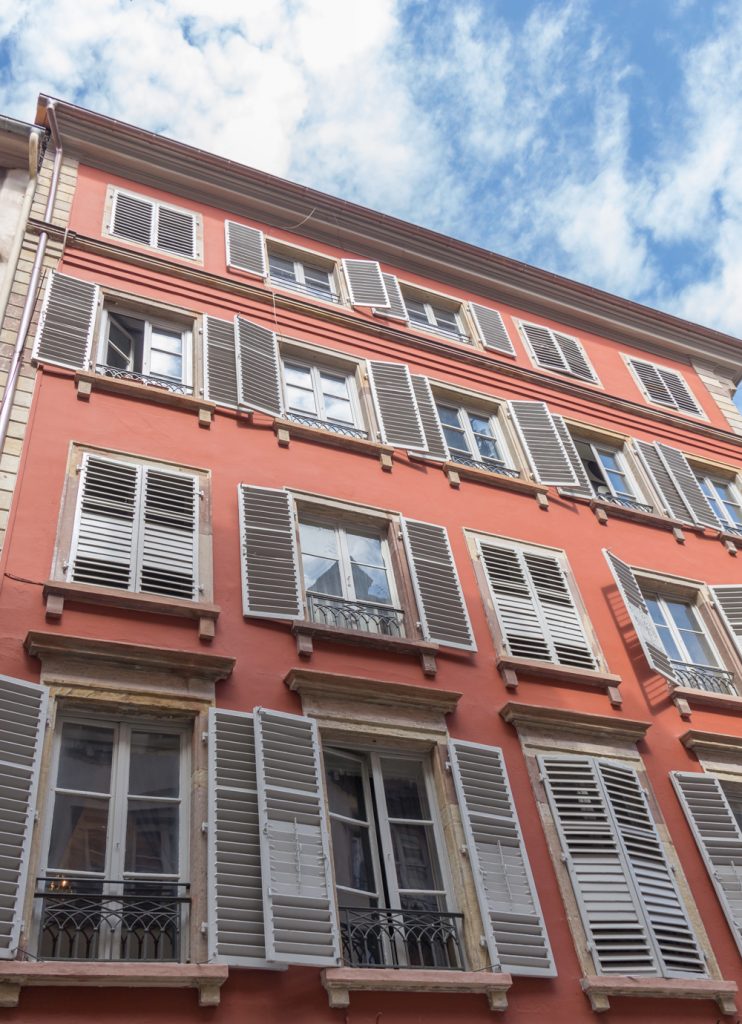 There were still amazing views of this romantic town that took our breath away.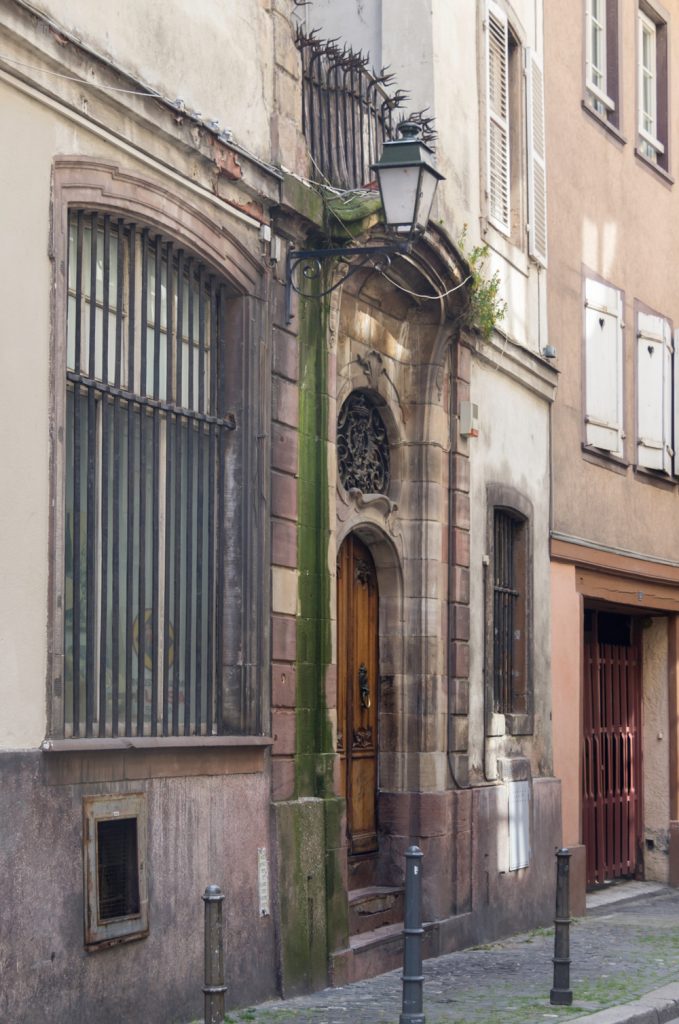 This little alley with its moss covered stones, hearts on the shutters and beautiful doorway beckoned.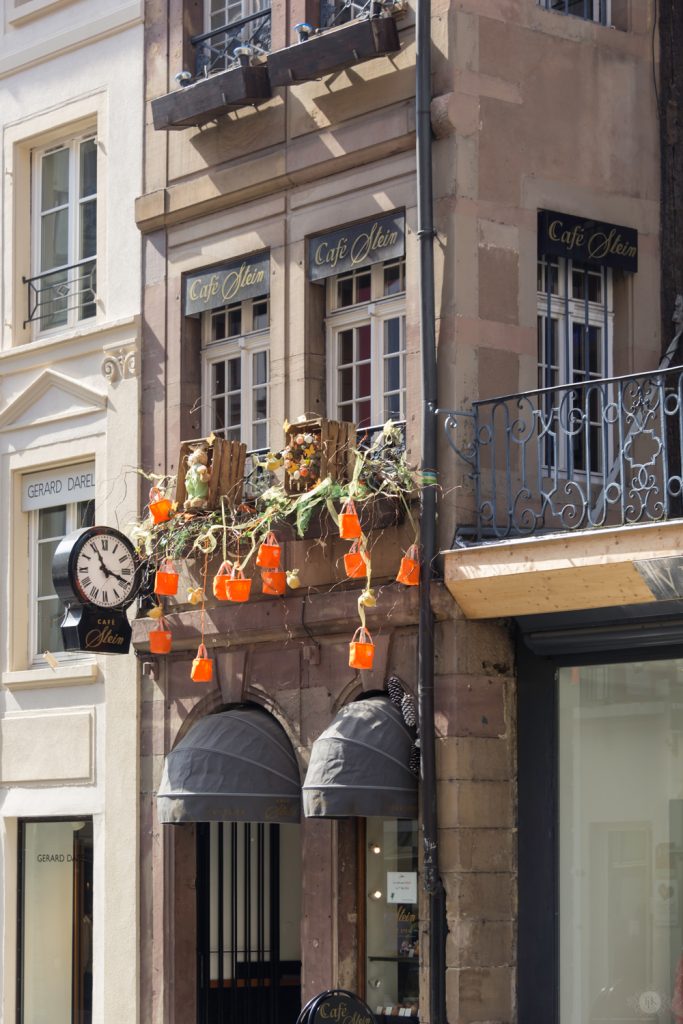 And there were still Easter decorations everywhere.  In America we celebrate Easter and decorate before the holiday.  Here, they were still celebrating and there were lots of displays to see, like this one at Cafe Stein.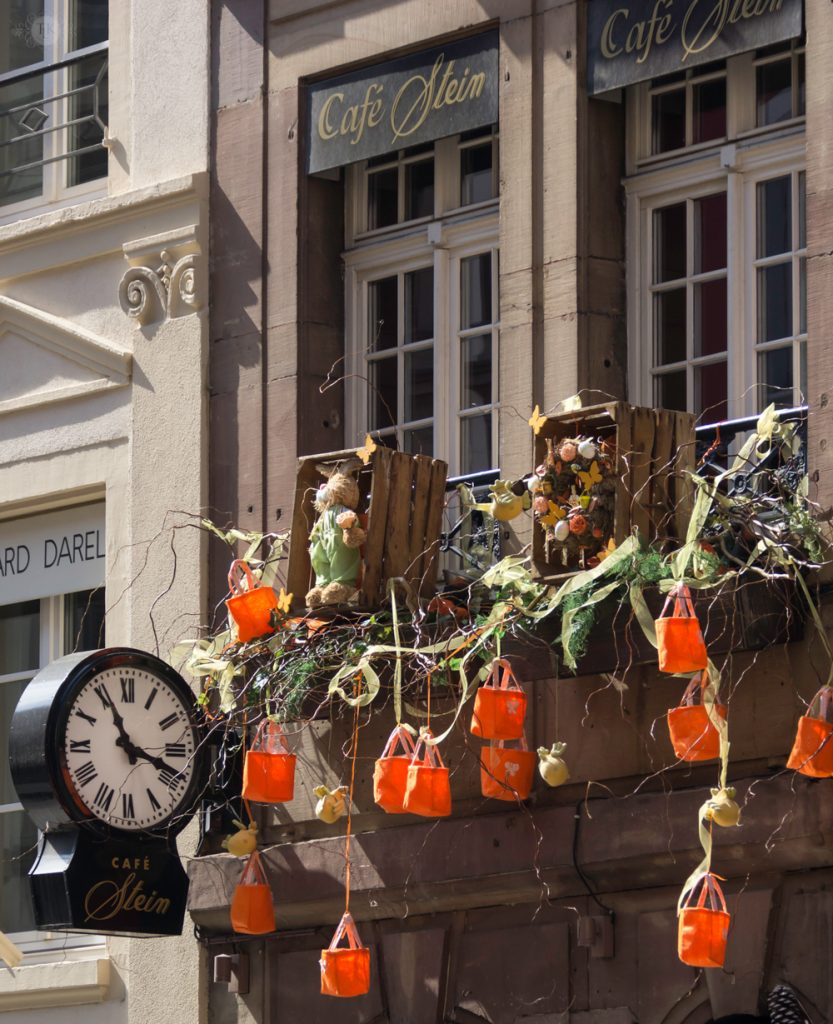 They had a little Easter Bunny and lots of burlap baskets hanging above their entrance.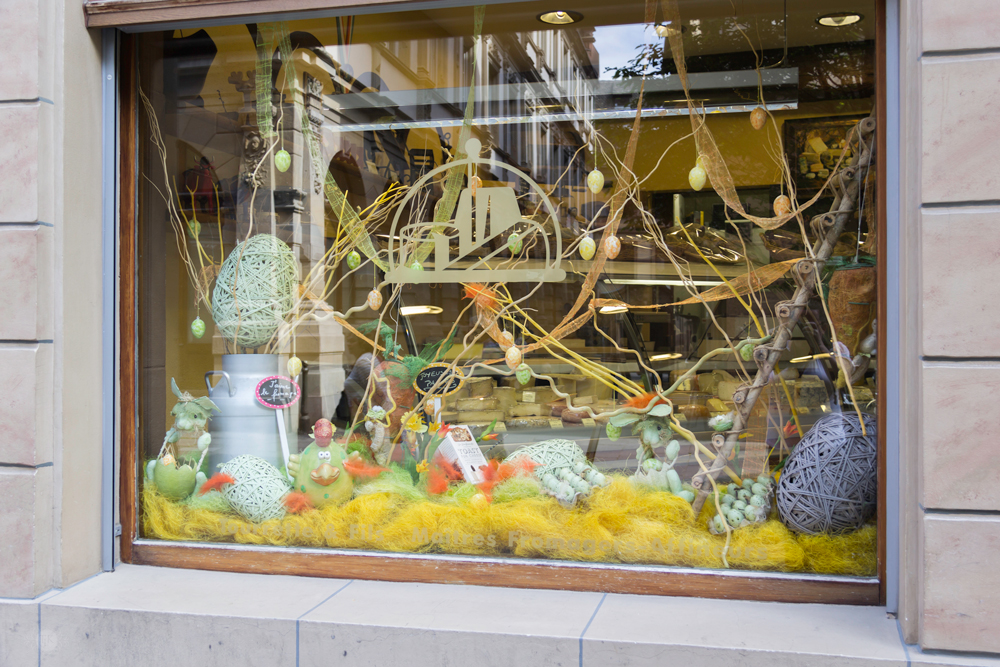 This was another cute display at La Cloche a Fromage – a cheese shop that we passed.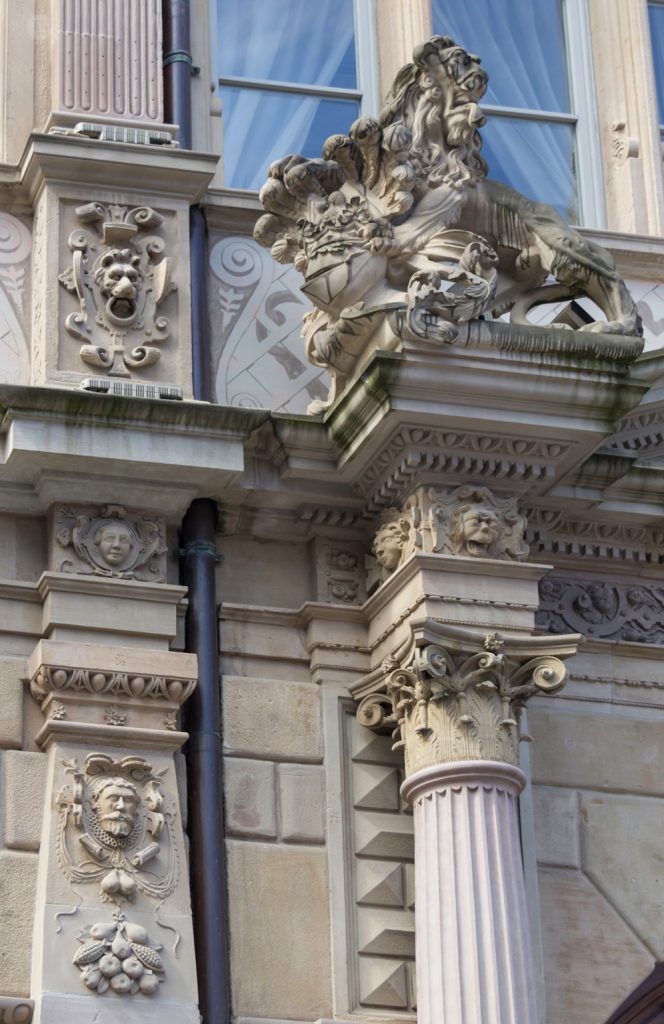 And the architectural details on the Chamber of Commerce were pretty amazing.  There were figureheads everywhere, lions, a knight, fruits and vegetables – it was a beautiful building.  But we were on a mission.  We were hungry.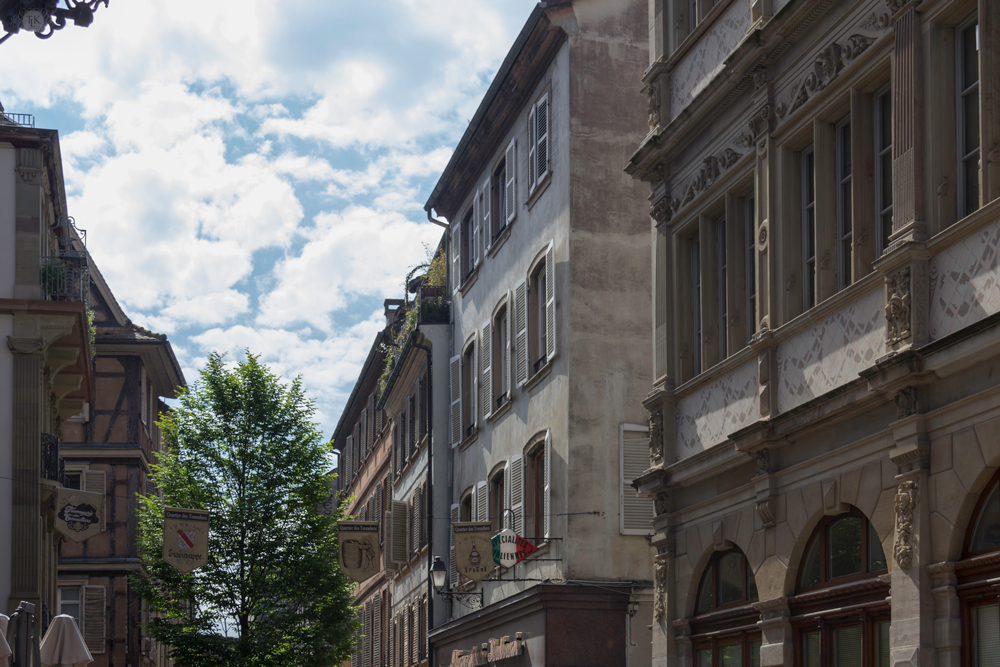 We also passed the Italian Quarter.  There were quite a few restaurant signs, but many appeared to not be open. It was interesting to see this part of the city, just like Chinatown in Amsterdam.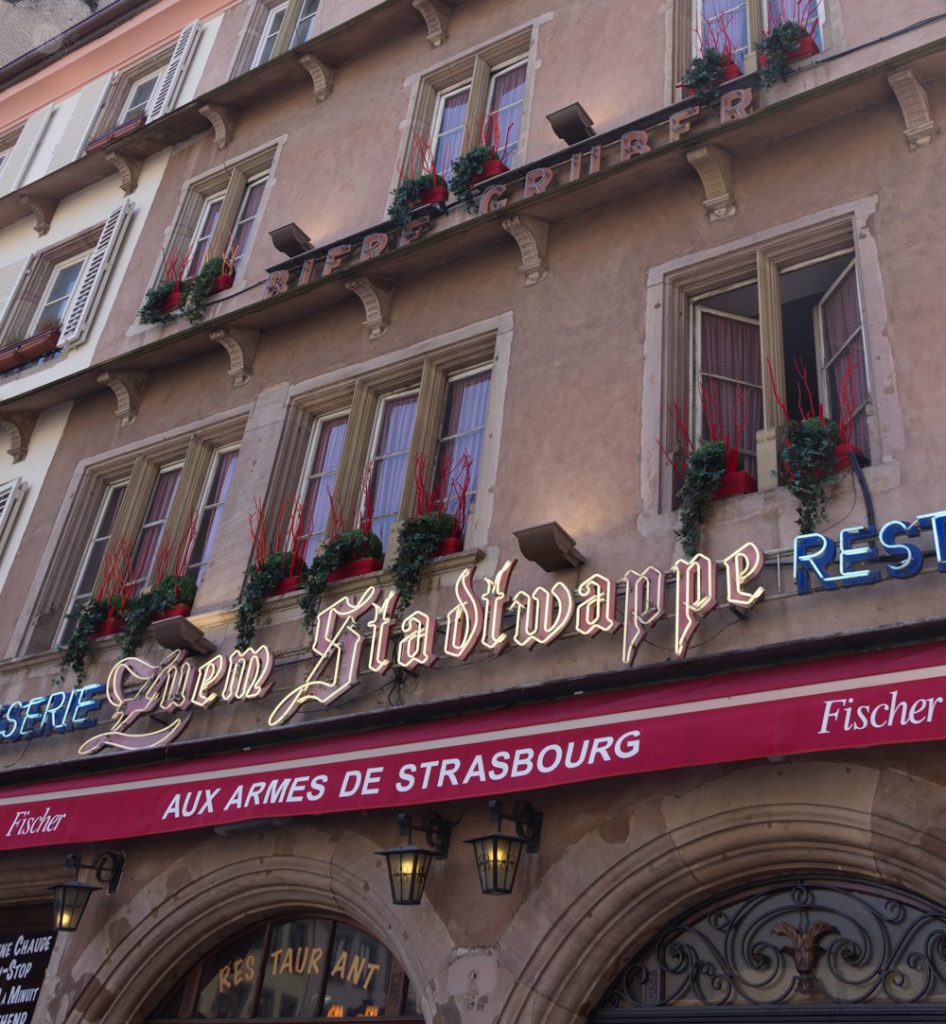 We finally made it back to Gutenberg Square and decided on Zuem Stadtwappe.  They had an outdoor cafe and we didn't need a reservation and lucky for us, there was seating without a wait.   Plus, they had those pretty red flower boxes in every window.  We weren't sure what the significance of the red sticks were, but they made a colorful statement with the green topiaries and ivy.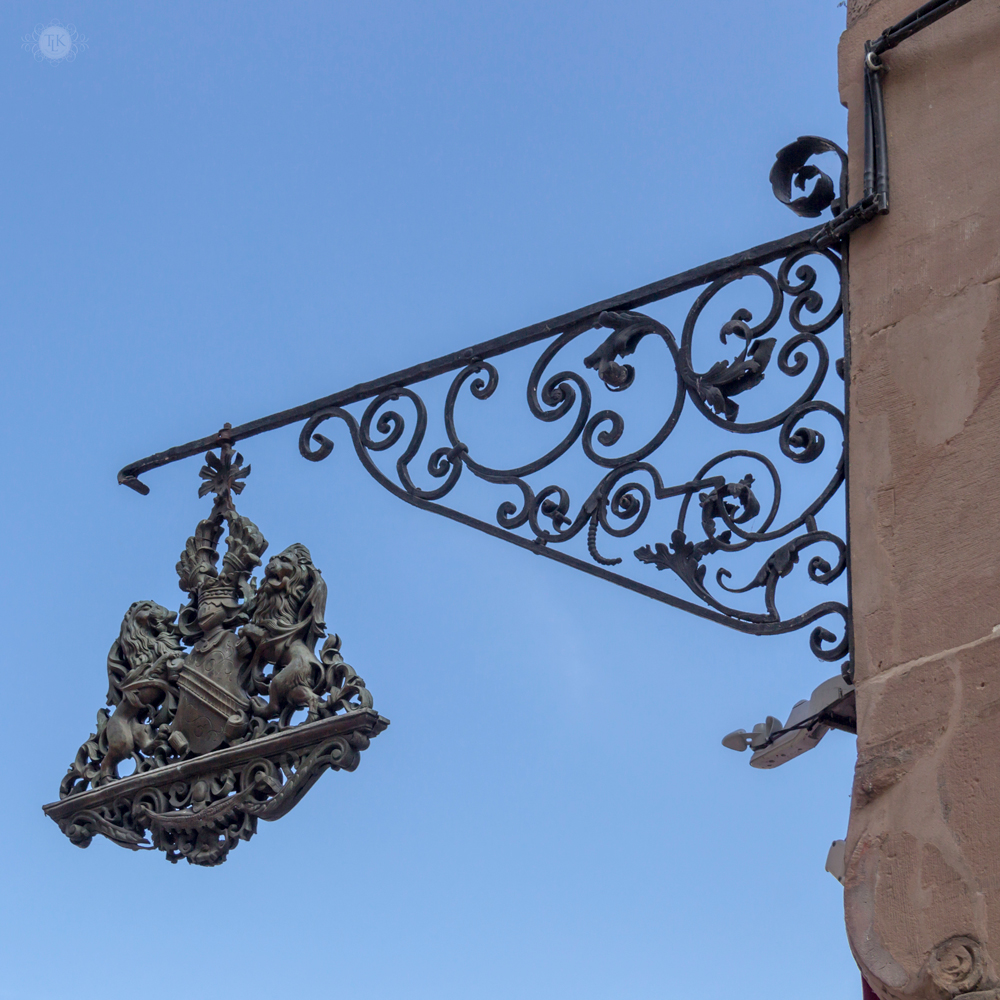 Oh, and they had a really cool Coat of Arms for their sign.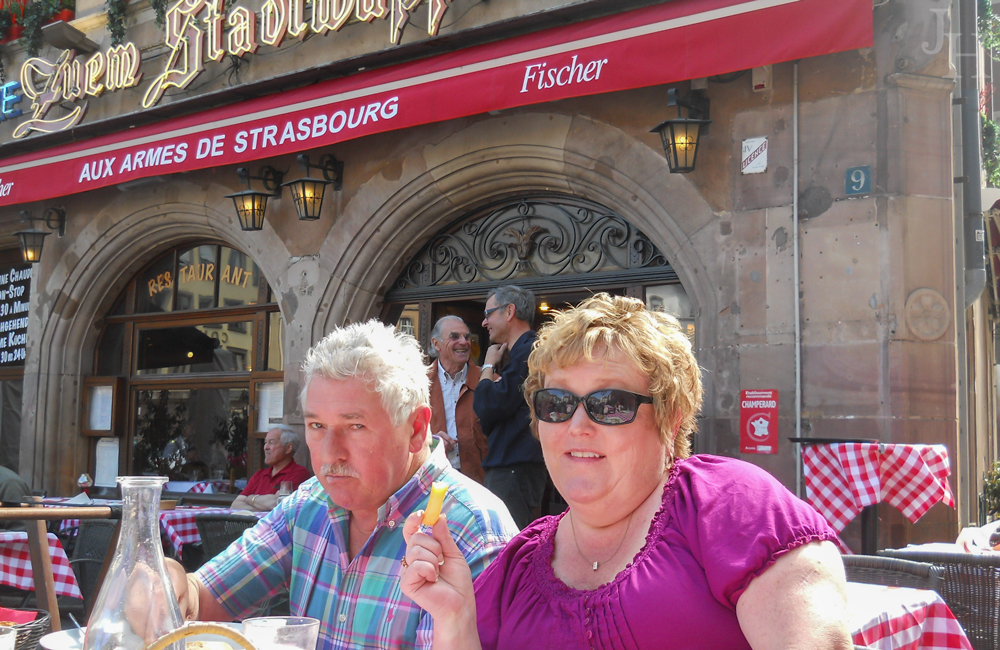 Lunch was delivered and Betsy said her pommes de terre frites, or fried potatoes were delicious.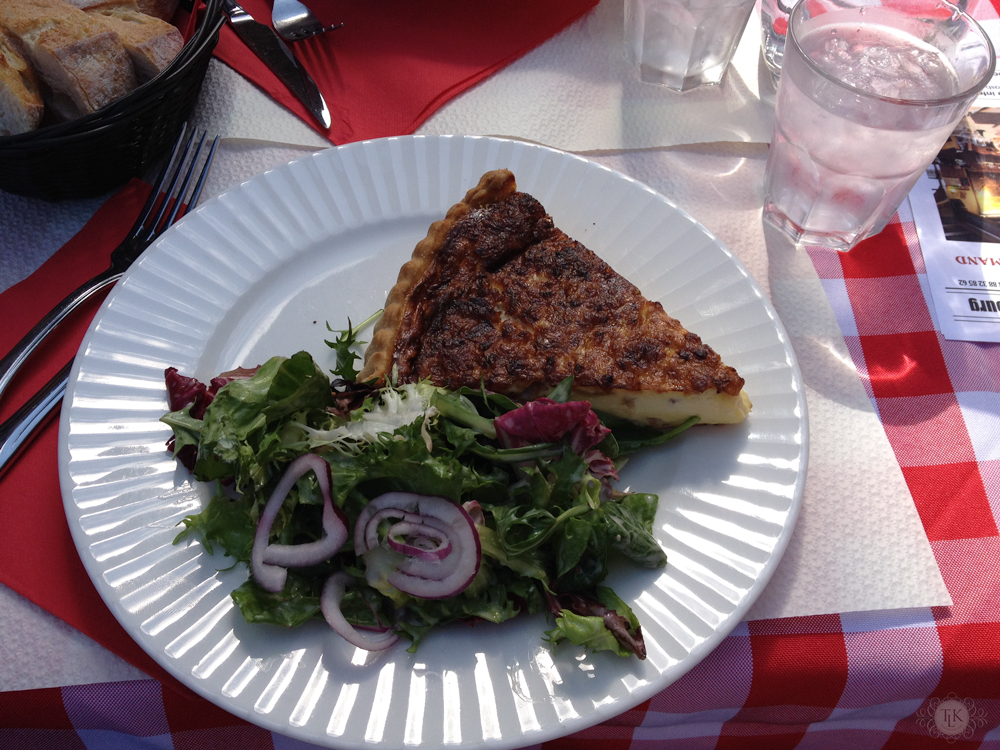 I had Quiche Lorraine and a Spring Salad.  It was also delicious.  And the bread, which you can barely see in the upper left corner was freshly baked and amazing.  Although this Brasserie was probably a tourist destination in La Petite France, the food was well prepared, fresh and delicious.  And the service was good, too.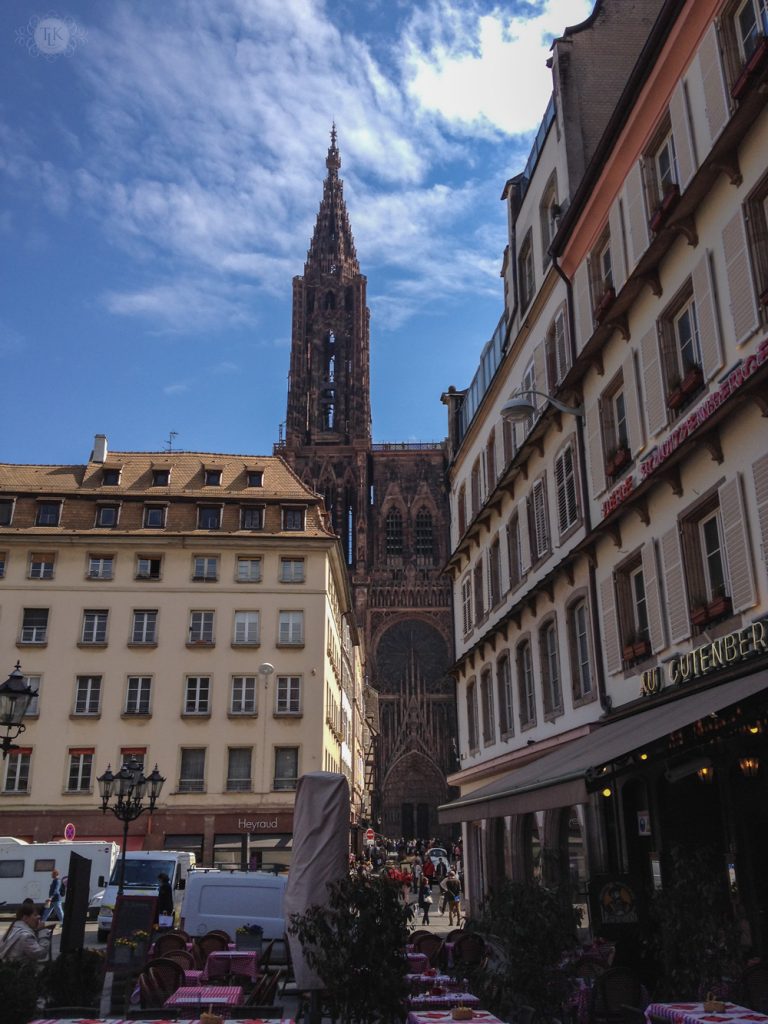 And with a view of the Cathedral, what more could you ask for?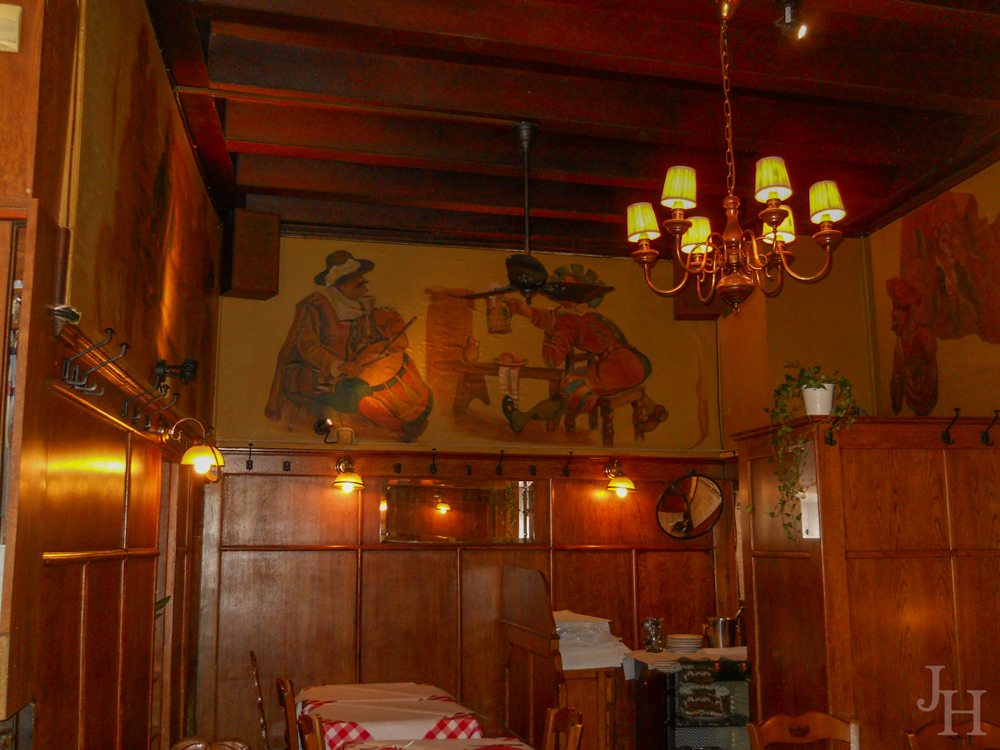 June ventured inside and snapped this shot on her way to the restroom.  It reminded us of an English pub.  And you can see, most folks were eating outside – it was a beautiful day.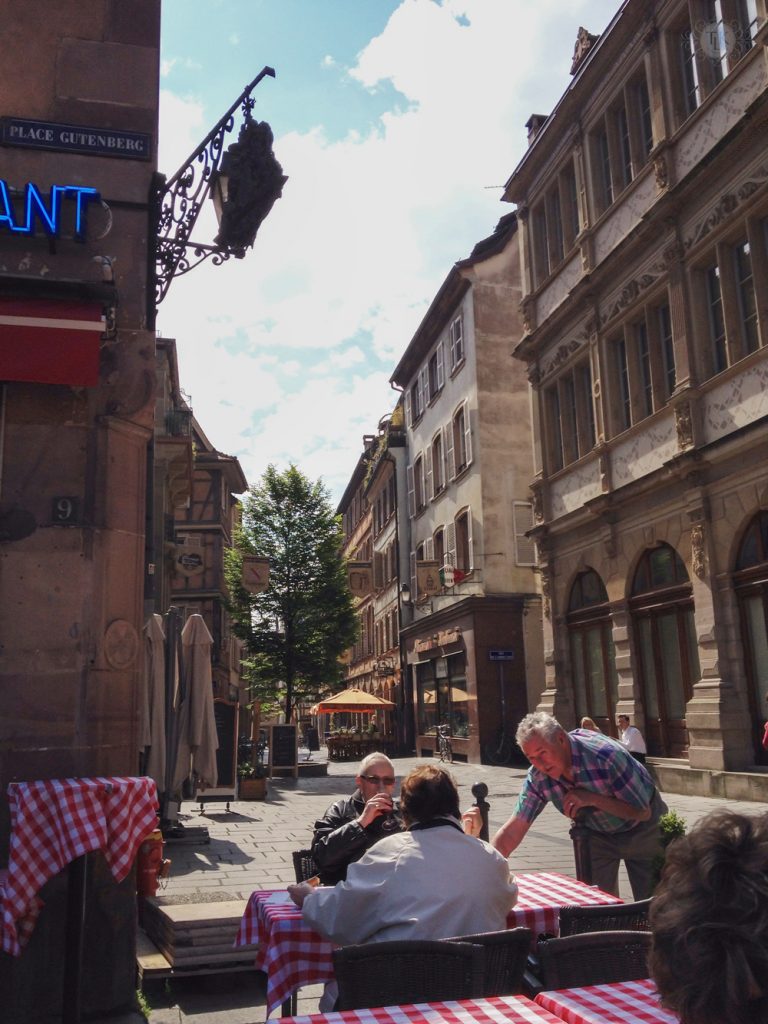 Jerry even made friends with two lovely Alsatian ladies and their little Yorkie.  Jerry makes friends everywhere he goes.  After a great meal, we decided to to some more exploring and shopping.
And we would come back to visit Our Lady of Strasbourg again before heading back to our longship.
---
This is not a sponsored post.  
This is my experience from my trip with Viking River Cruises. 

Email me to find out how you can save $100 when you book your
first cruise with Viking through their referral program.
SaveSave