As we continued touring Strasbourg's La Petite France section as part of my Viking River Cruise, we found ourselves walking along more of the centuries old streets, headed to Saint Thomas Church.  Our tour guide Claude gave us lots of information along the way as we passed more of the famed half timber architecture, shopping districts and beautiful cafes.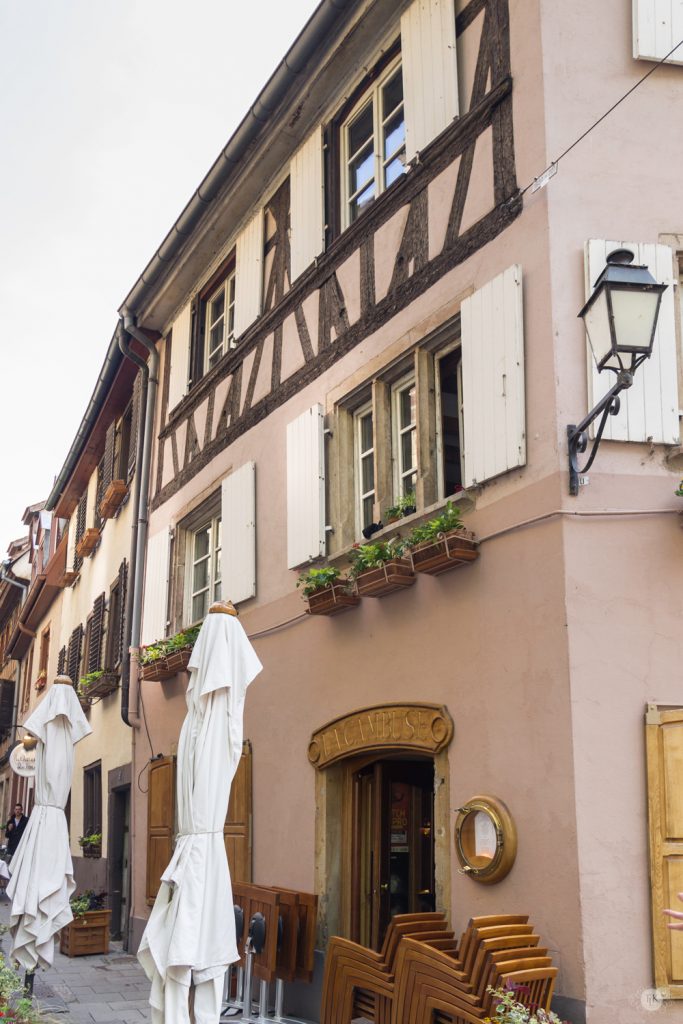 Most of the cafes were closed and in recovery mode from the previous day.  The owners and staff were busy cleaning and getting ready for the day's new business.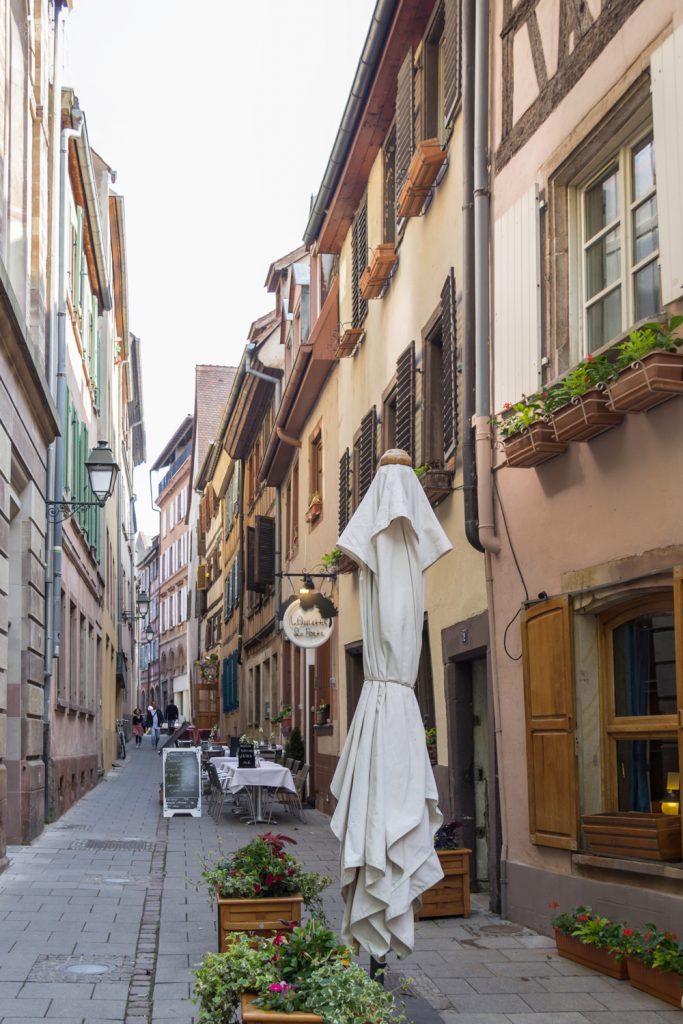 We did spot one cafe down this narrow alley that appeared to be serving breakfast already.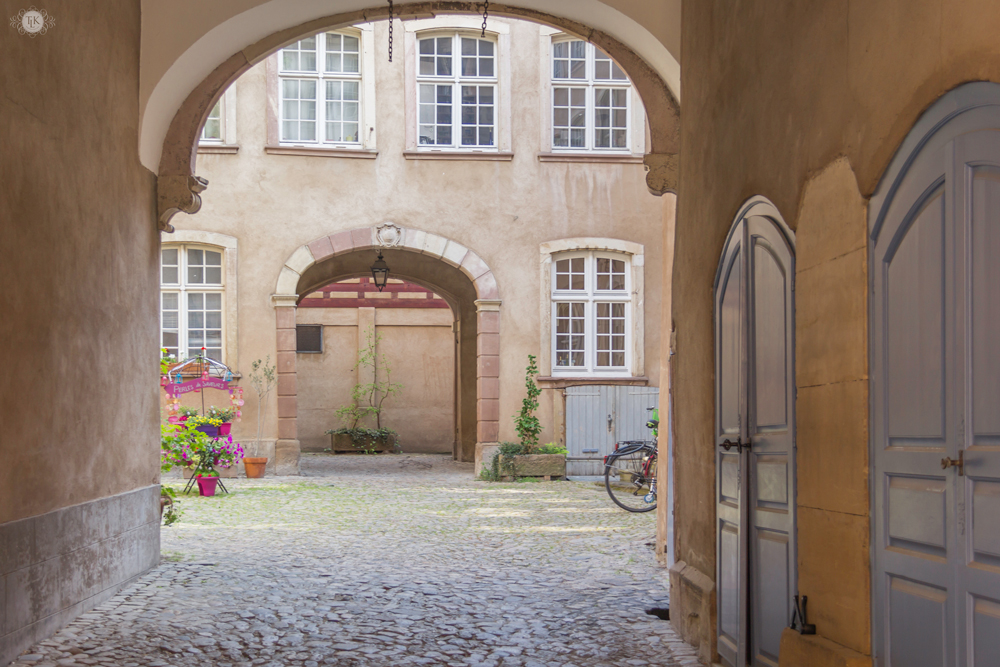 And as we walked along, we would find scenes like this amazing little hidden courtyard.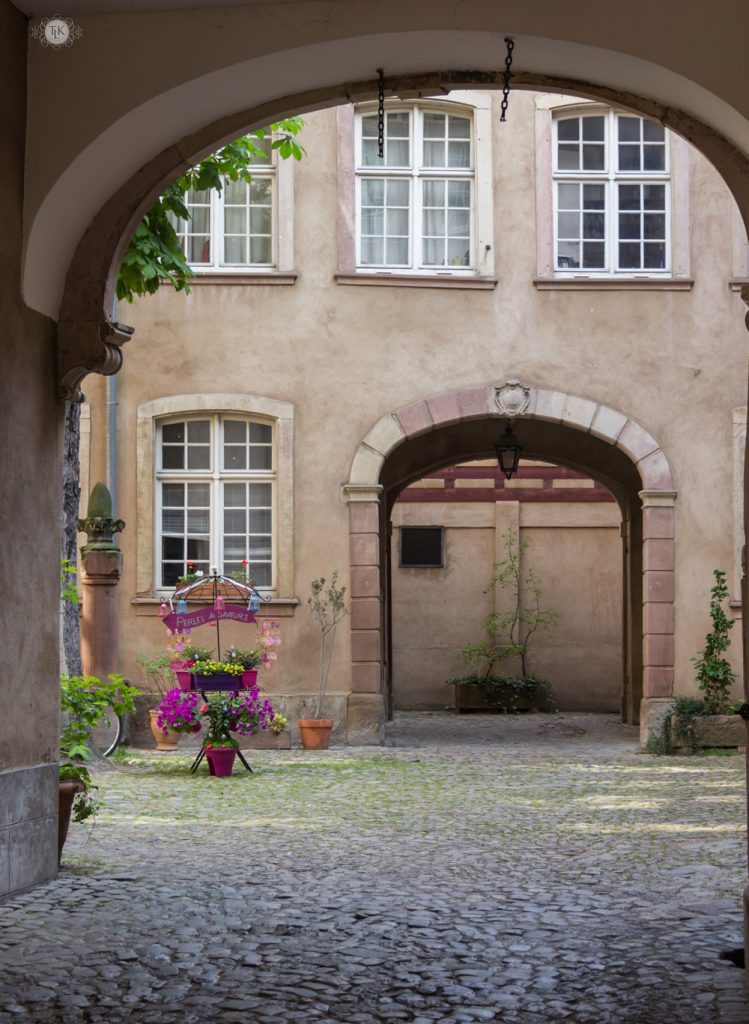 The sign reads Perles de Saveurs, or Pearls of Flavor.  How appropriate for an herb garden.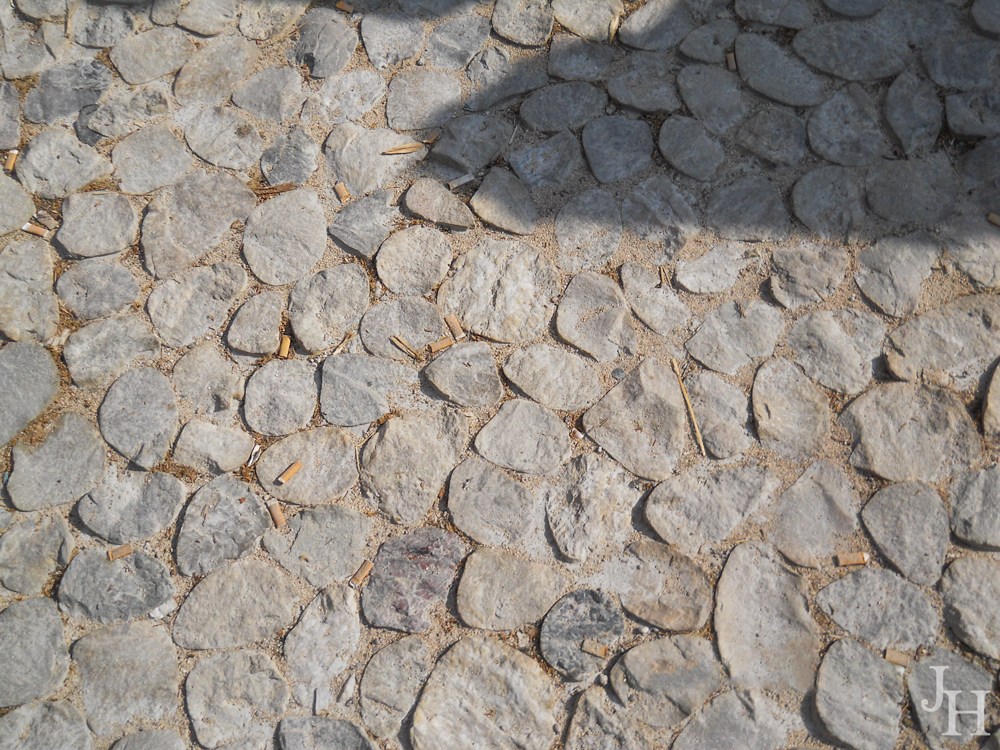 And yes, most of the walking we would do while in Strasbourg would be on cobblestones like these. We were so glad we had good walking shoes with wide bottoms to help us navigate all those uneven surfaces.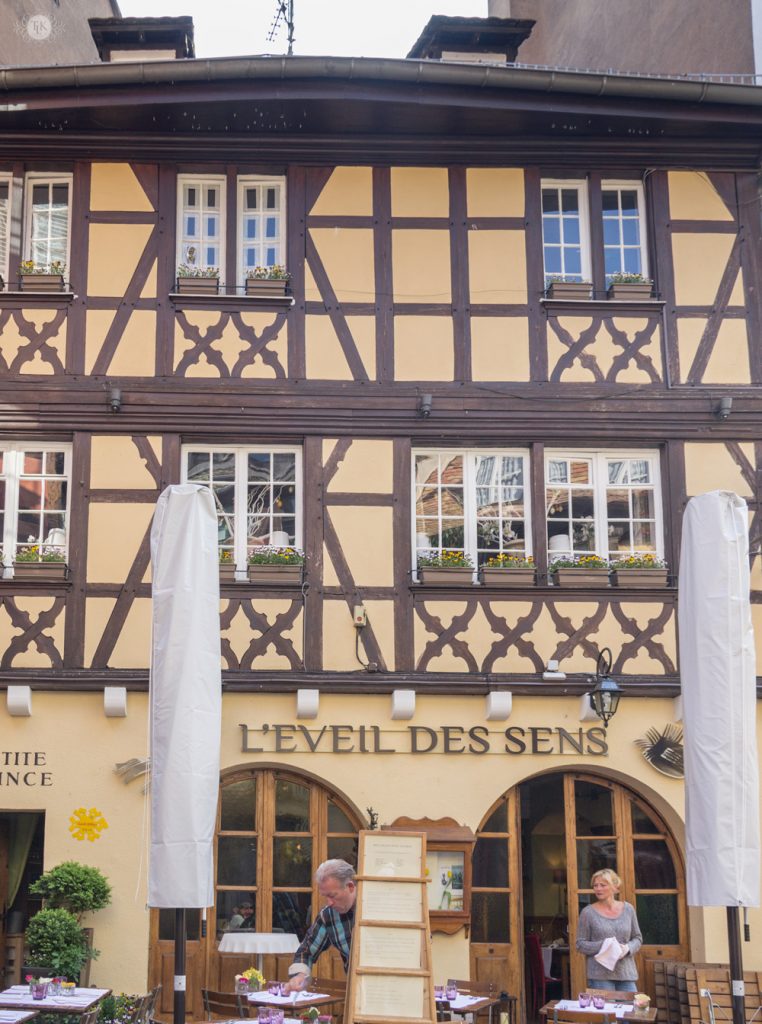 Here was another cafe preparing for the day.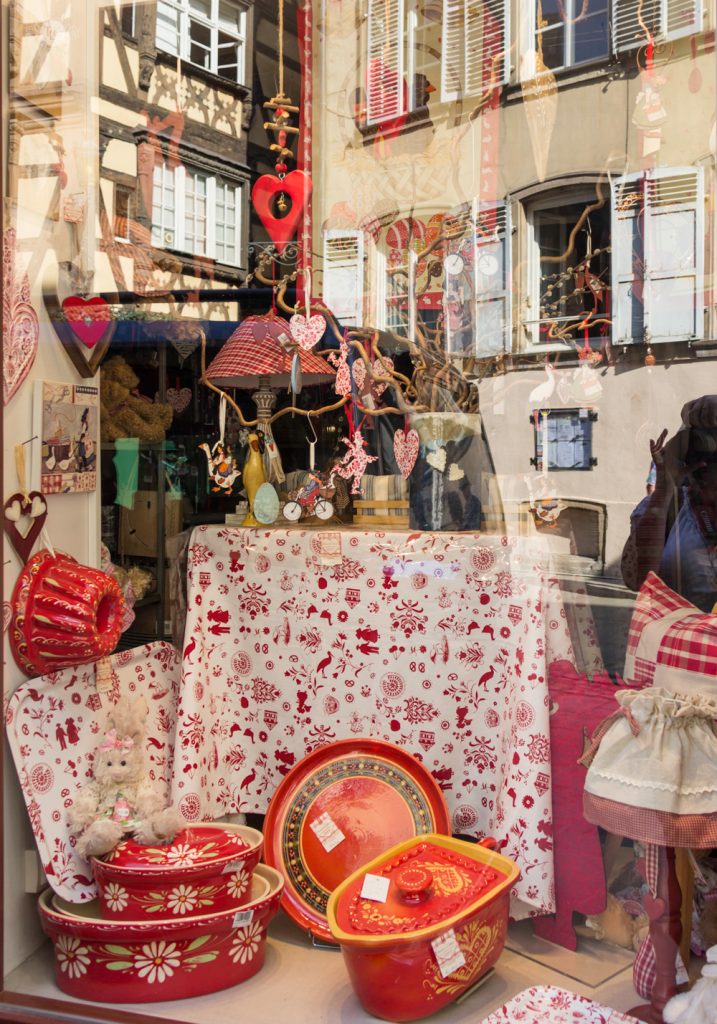 We did some pretty heavy window shopping in the morning while we were walking along.  The cookware in this shop was too pretty to cook in!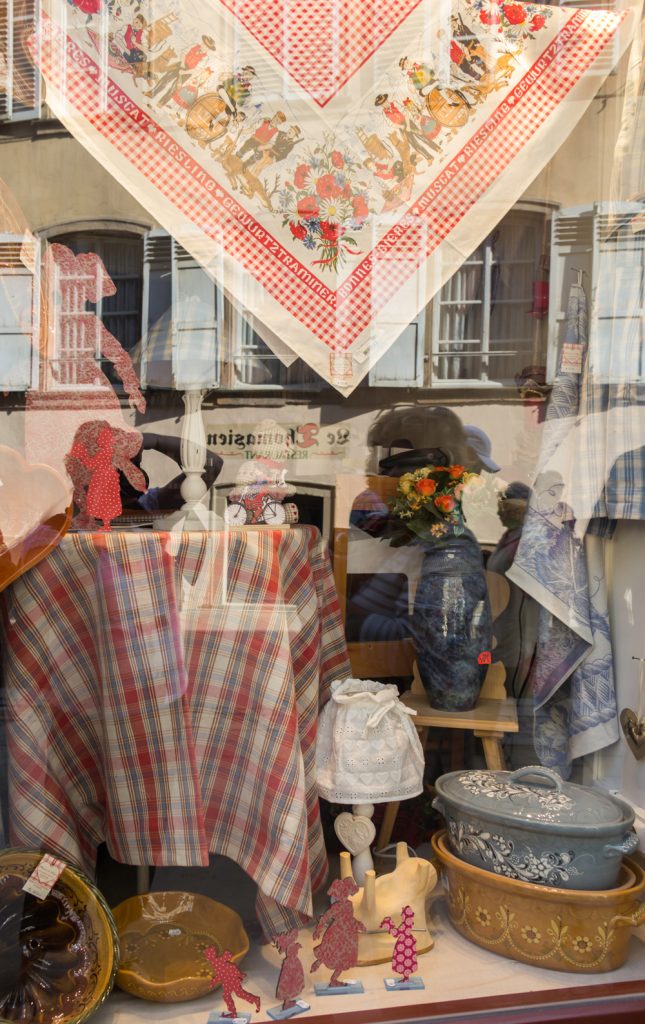 And they had colors to work in any kitchen!  June and Betsy and I wanted to take one of everything home with us.  Including the linens and decorations.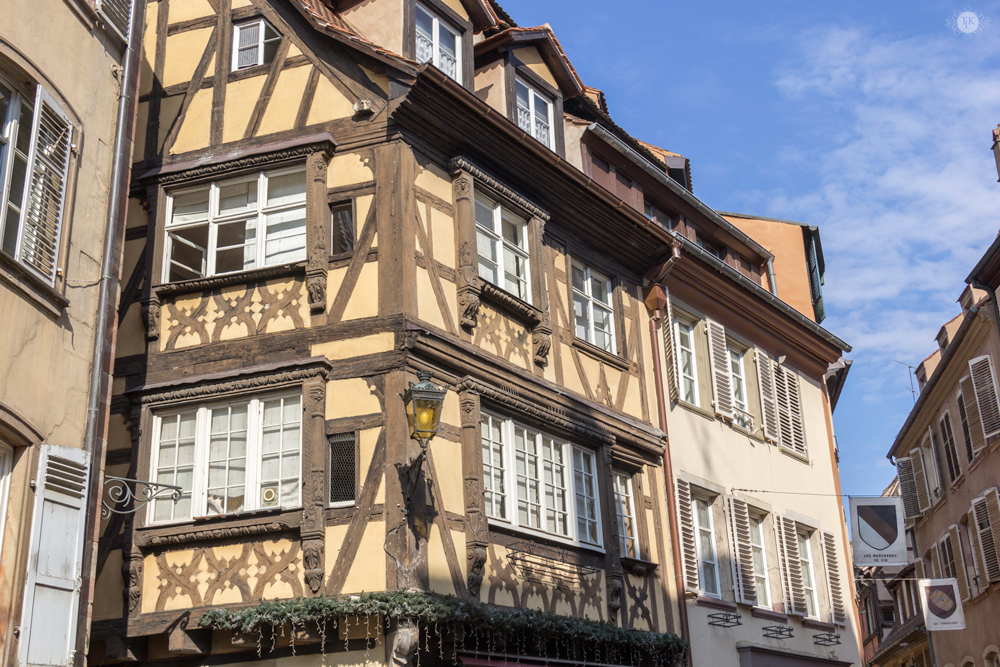 The fancy yellow half timbered building on left was a Christmas Shop.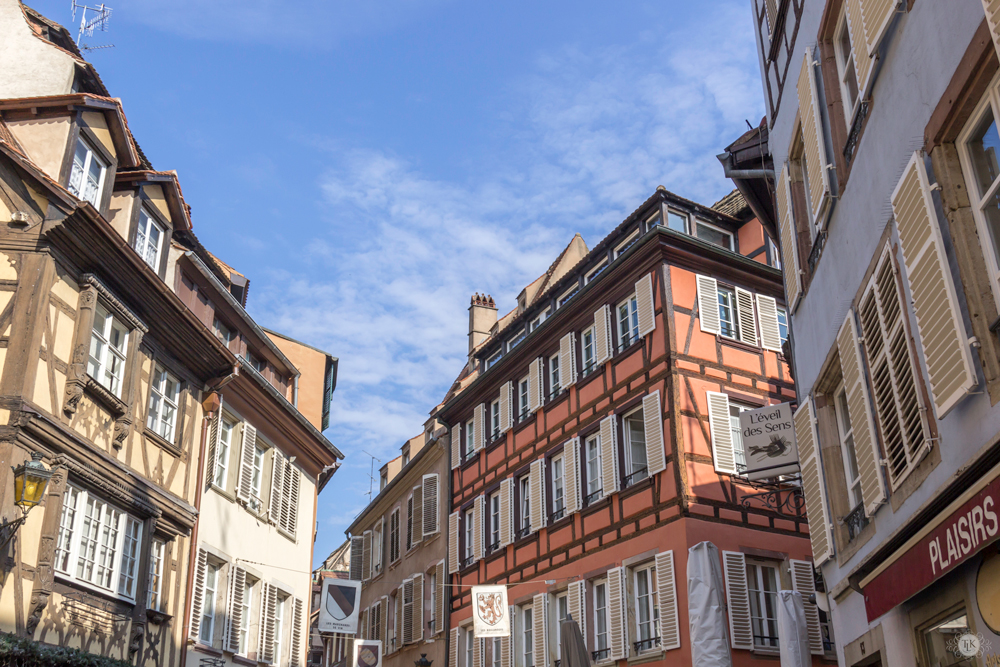 We were in a little shopping district with all kinds of places to find exciting souvenirs and gifts.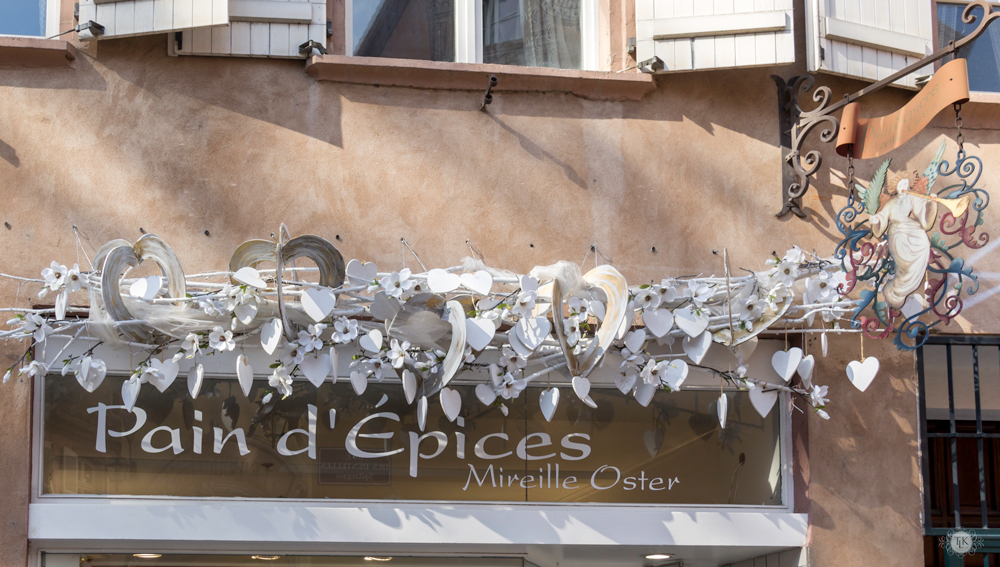 This was the Gingerbread Shop we passed.  I loved the garland of hearts above the shop and just look at that angel sign! They really go all out with their ornate business signs.  Not the flashy and bright signs we are used to here.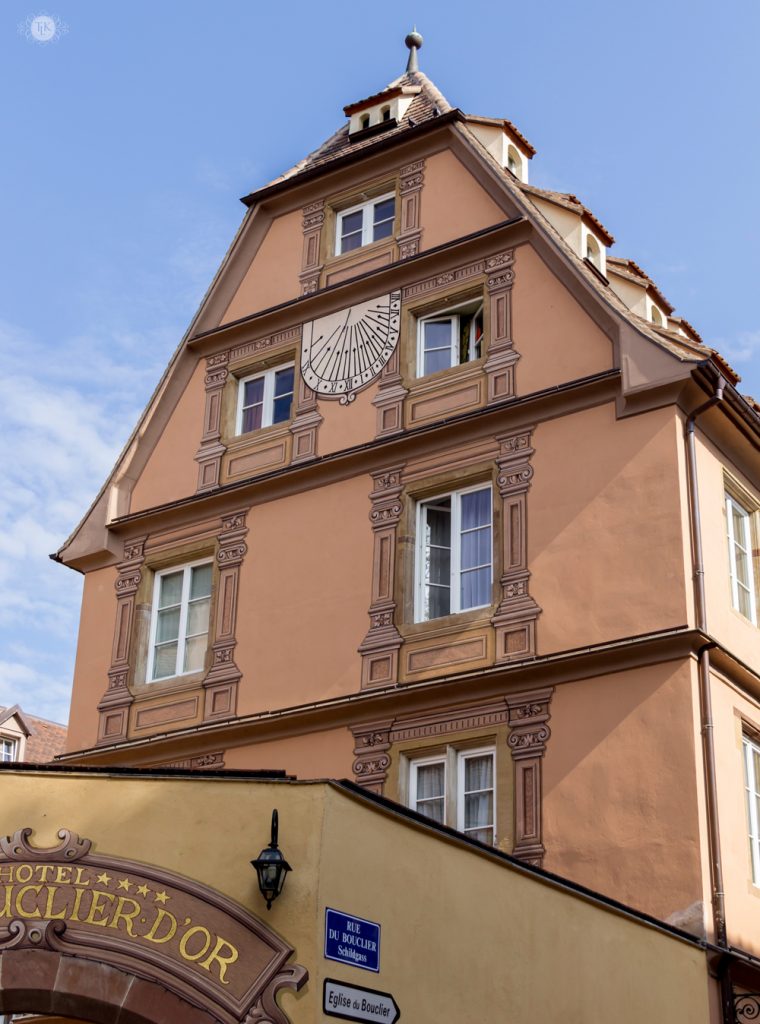 Now, look closely at the hotel above. Isn't it just amazing?  That architecture and the sun dial are fantastic.  But wait – they are fake!  Claude made a point to show us a great example of French Tromp l'oeil painting.  It is a form of art that tricks the eye or creates the illusion of dimension. Not a bad job, eh?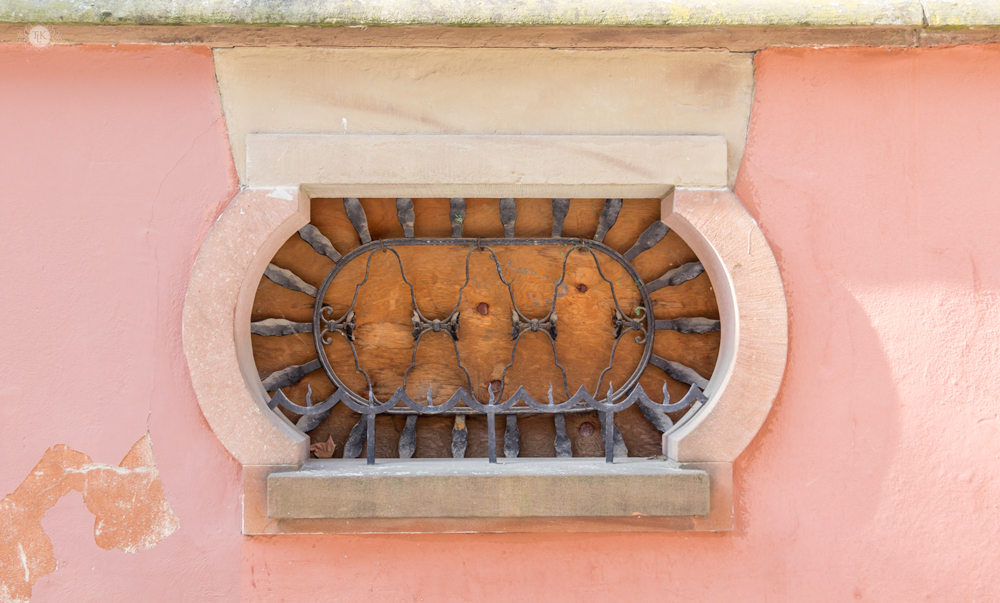 We were getting close to Saint Thomas Church.  In fact, as we were walking along, we walked along this beautiful pinkish, peachy wall.  It had all of these portals in it.  At first we could not see what was on the other side.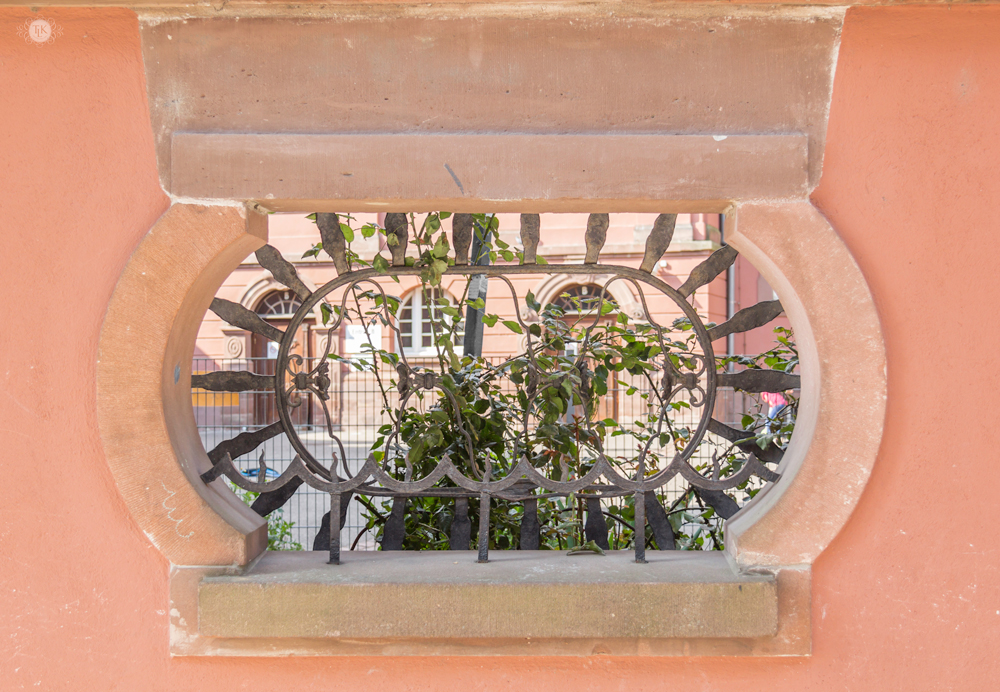 The next portal however revealed a courtyard playground and garden with rose bushes and the sounds of children playing.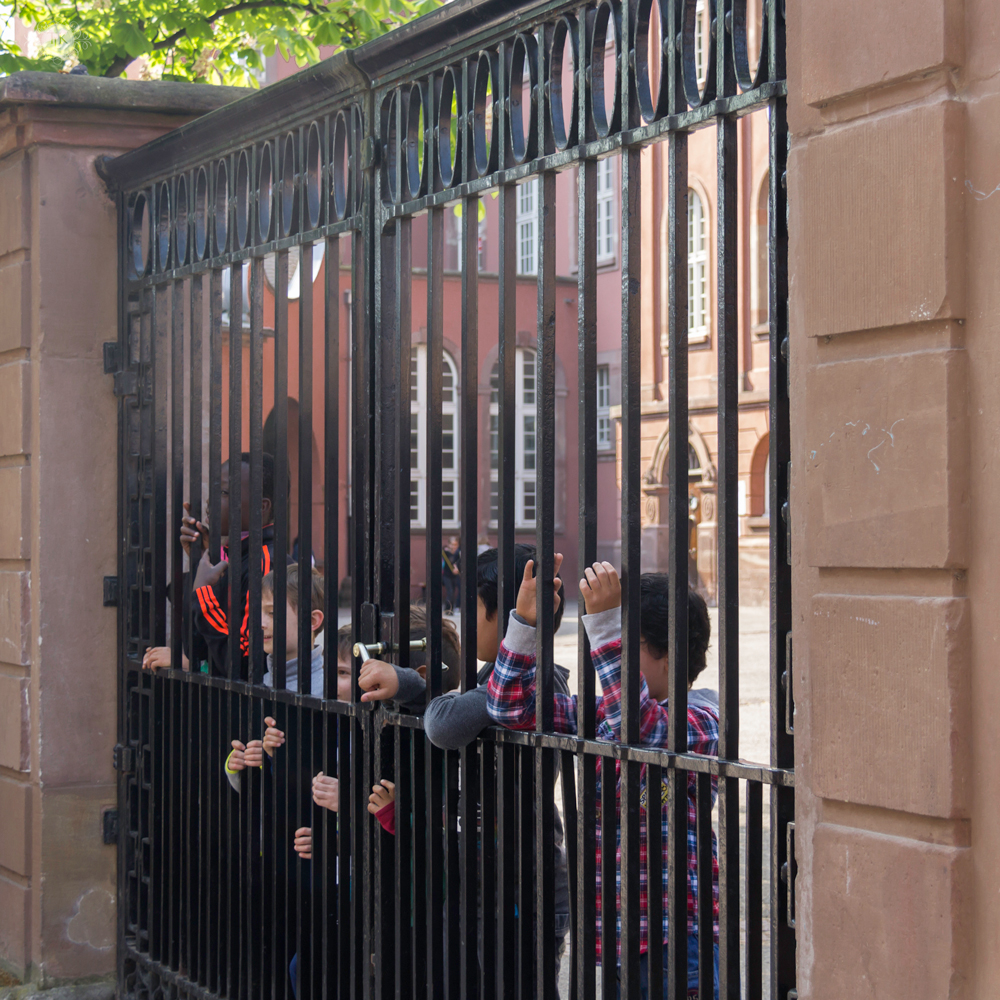 And then as we stopped to listen to our Viking Guide tell us about the church, these cute little boys came to the gate to see us.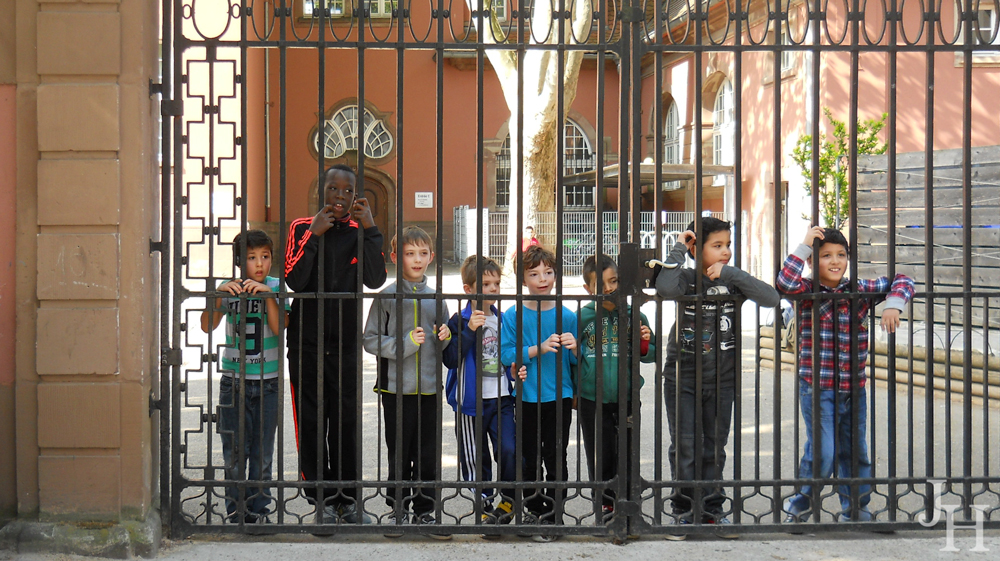 They were excited to see us and listened intently to Claude and were happy to say hello!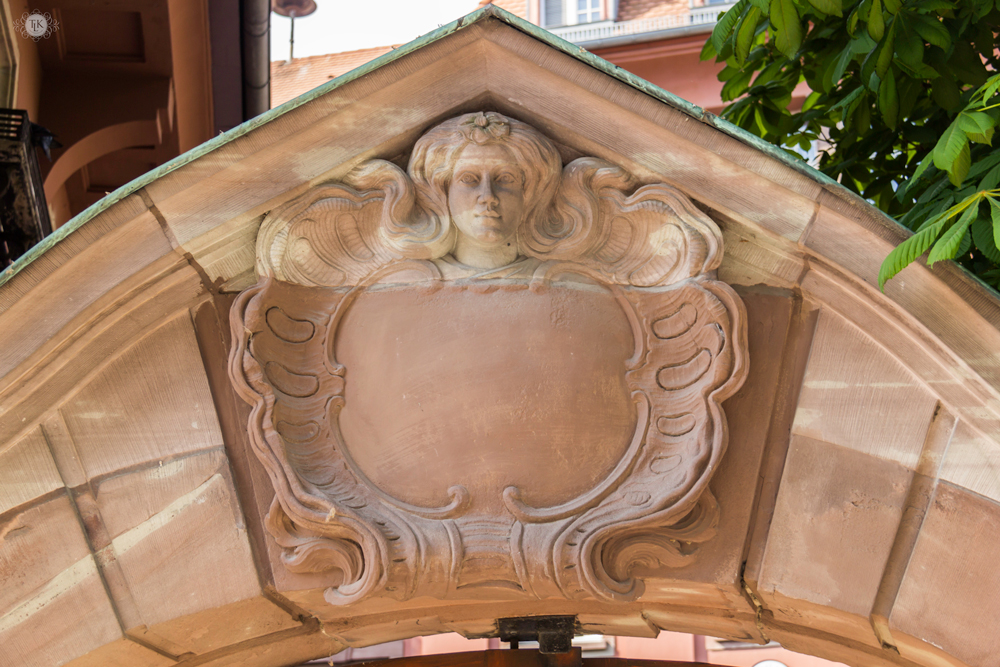 Saint Thomas Church dates back to the sixth century at this location.  The present day church is not that old and has been rebuilt a couple of times, but not recently.  The current church is mainly from the sixteenth century and is constructed of sandstone just like we saw in many of the older buildings along our way already. Isn't this gate beautiful?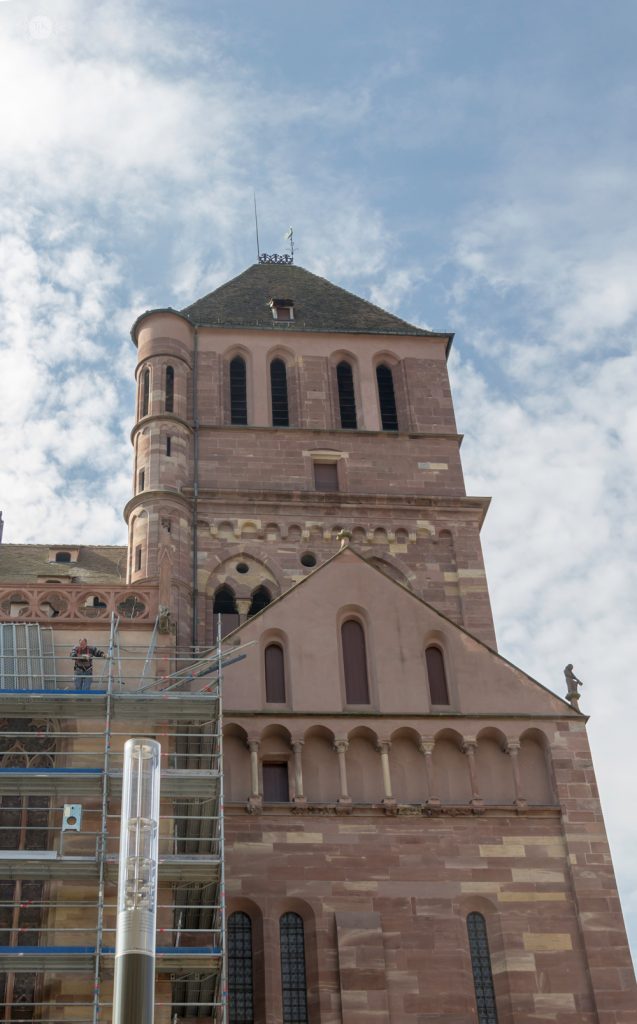 And here is one of the five towers of the church.  Just like the Dom in Cologne, there was reconstruction being completed while we were there.  I didn't realize that I captured one of the workers when I took this shot.  Apparently having so many towers or naves makes this church known as a hall church and makes it quite famous in the Alsace region.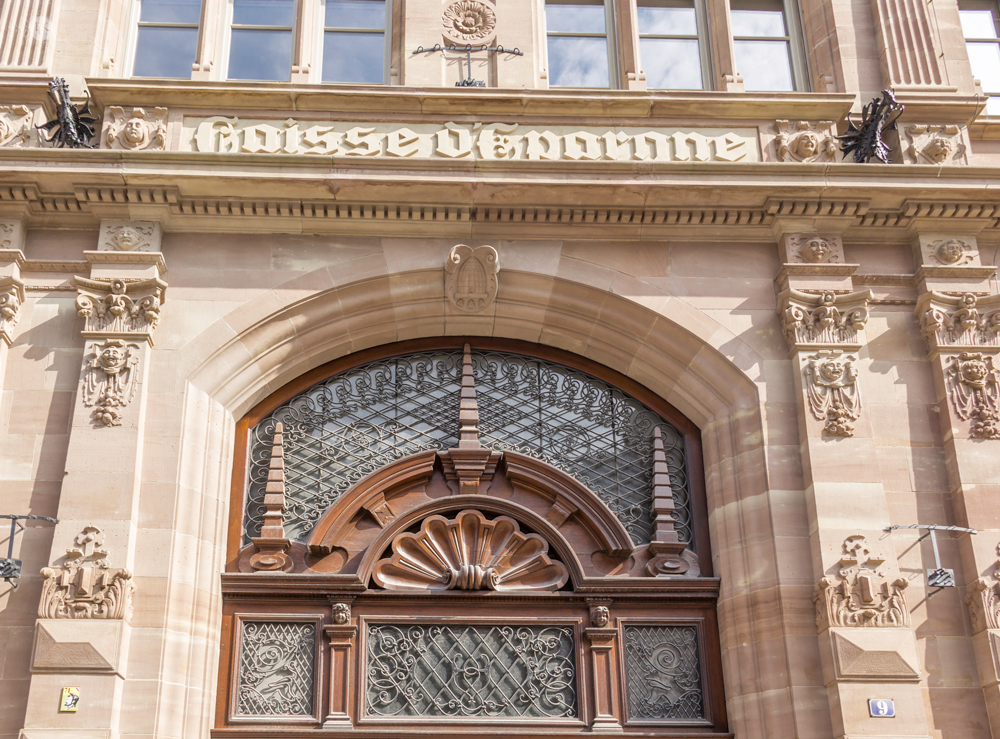 It was beautiful outside with all kinds of details.  But I think the most interesting thing I saw on our quick stop was those quirky little dragon like birds above this entrance.  I have no idea what they are or what they represent.  If someone knows, please let me know so I can post an update.  The church was originally Catholic and is now Protestant (Lutheran) so maybe that has something to do with what they stand for.
There are a few other claims to fame for this gem.  It of course is a school and seminary but inside there is a famous fresco, notable tombs, medieval stained glass windows and some pretty famous organs.  Organs that were played by Wolfgang Amadeus Mozart no less when he visited Strasbourg in 1778.  It would have been fun to tour inside but we were moving on with Claude to our next area of La Petite France.
---
This is not a sponsored post.  
This is my experience from my trip with Viking River Cruises. 

Email me to find out how you can save $100 when you book your
first cruise with Viking through their referral program.
SaveSaveSaveSave
SaveSave
SaveSave