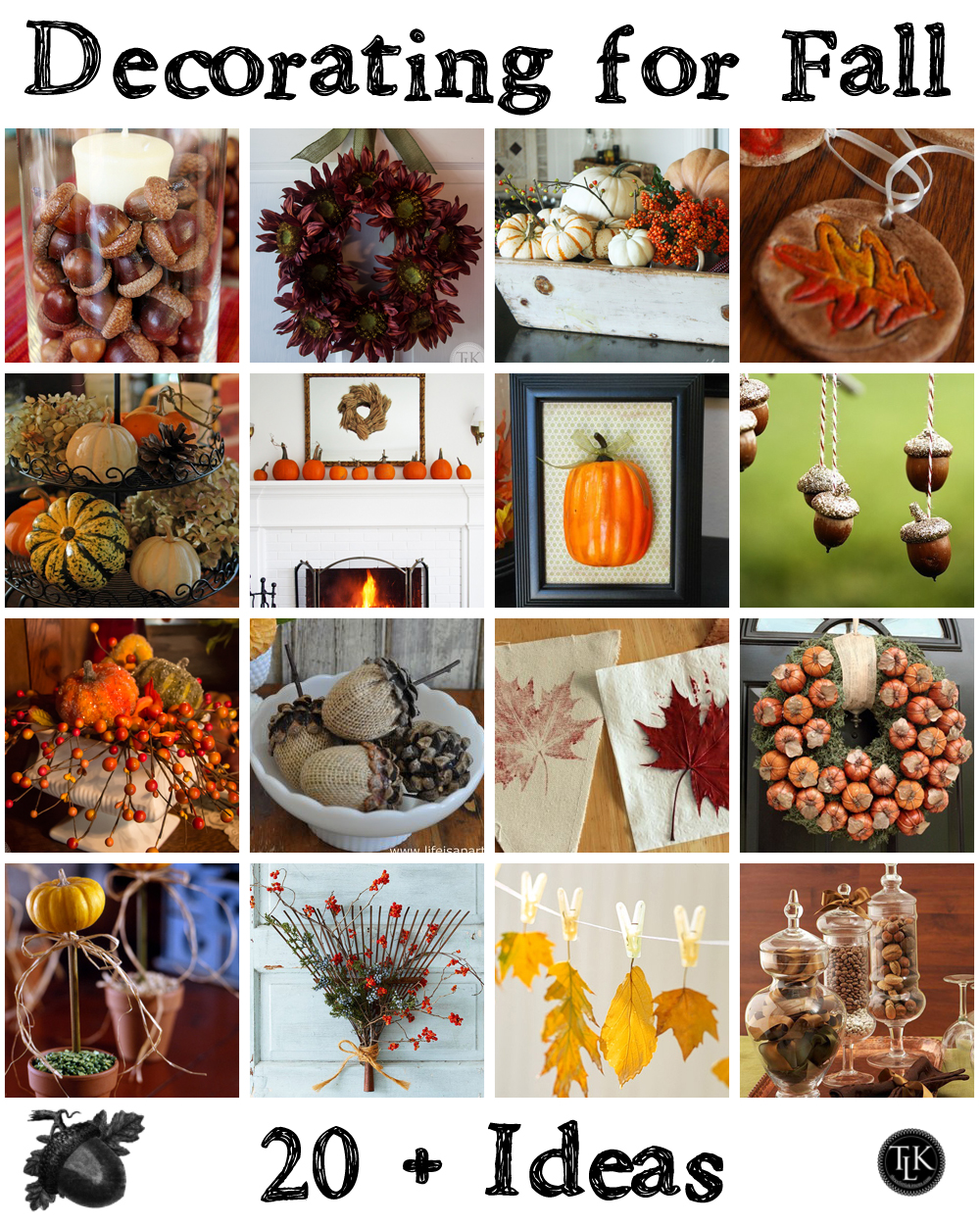 Pinterest is my go to for finding just about everything these days.  I love how easy it is to find inspiring ideas on anything  I need to know or want to do.  Last year I did a post on Fall decorating ideas from Pinterest and it continues to be one of the most popular posts I have done.  I decided to do another one this year from my Falloween board with new ideas that I have pinned over the last year.  I hope that you find something that inspires you from my picks.  As with most of my Pinterest related posts, just click on the image to visit the site where the item was pinned for more information.
Let me start with a few simple fall ideas using natural items that can be found at your local farmer's market or in your backyard.
Who doesn't love a box filled with Fall gourds, berries and some corn. And it is super easy.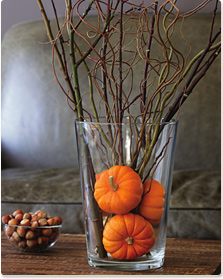 Now this adorable centerpiece did not have any more info than the picture, but I think you get the drift.  A few small pumpkins and some twigs make a striking statement piece.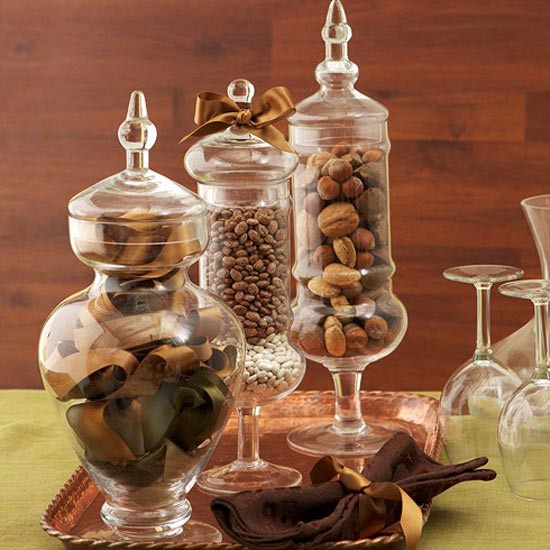 This display requires nothing more than mixed nuts, beans and ribbon added to clear glass containers.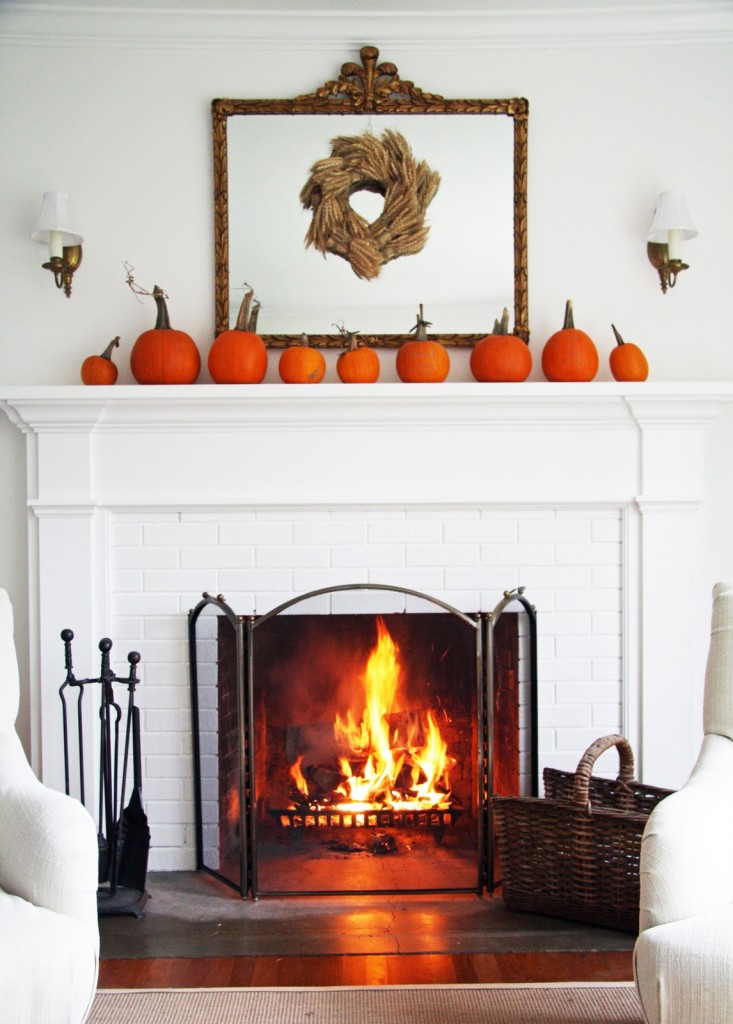 Just adding a row of pumpkins instantly transforms this mantle.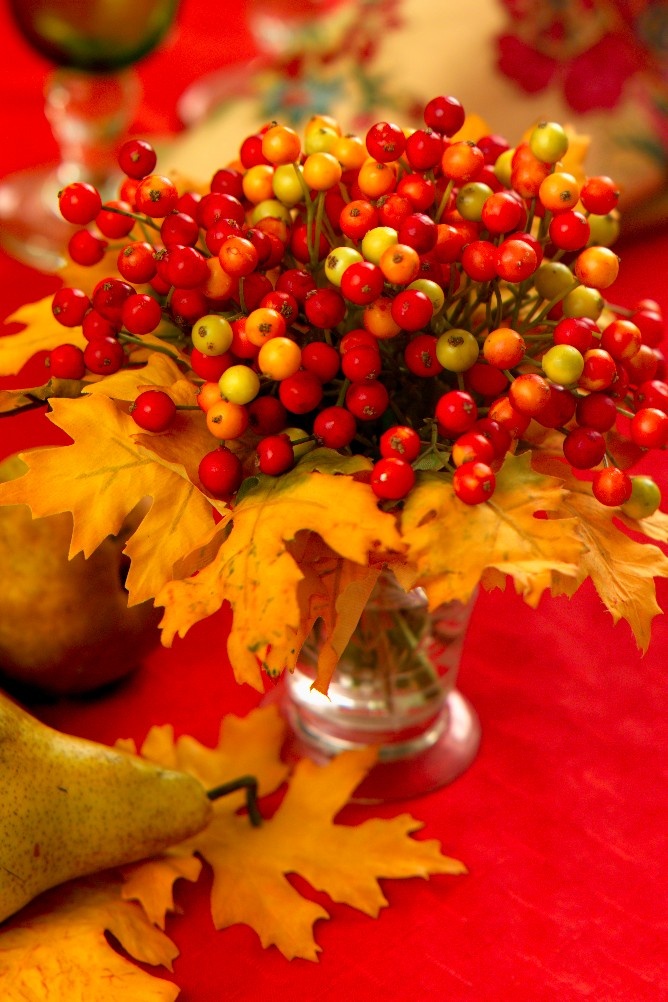 This is super simple.  Just go out in your yard, pick up a few pretty leaves, add some berries and tuck in a vase!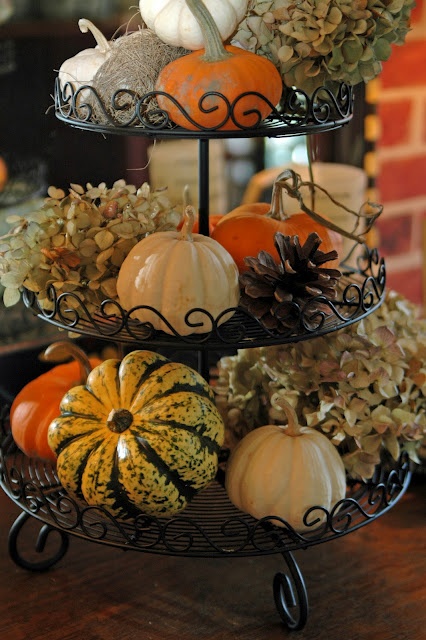 This tiered stand combines colorful Fall gourds, dried hydrangeas and pinecones.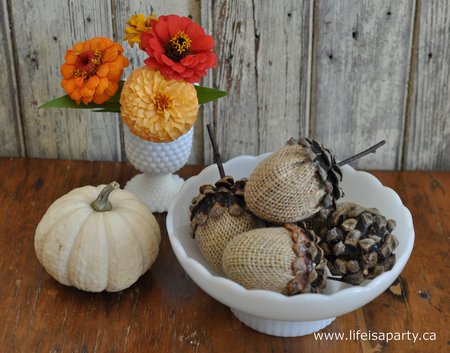 Ok, now these involve some craftiness on your part, but aren't they adorable?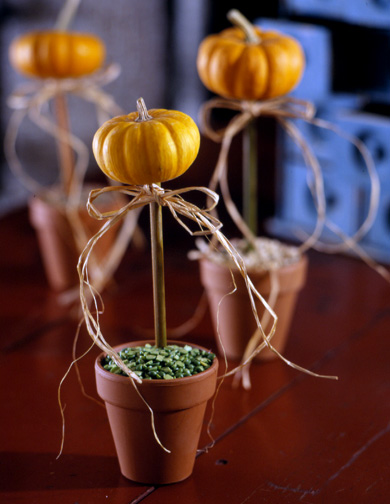 I just love these little pumpkin topiaries!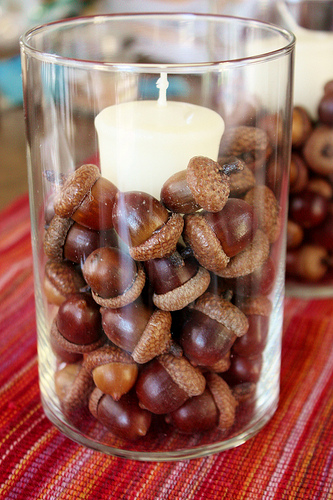 Not only is this candle holder filled with acorns adorable, this site tells you how to dry them so that they will last and you won't have bugs.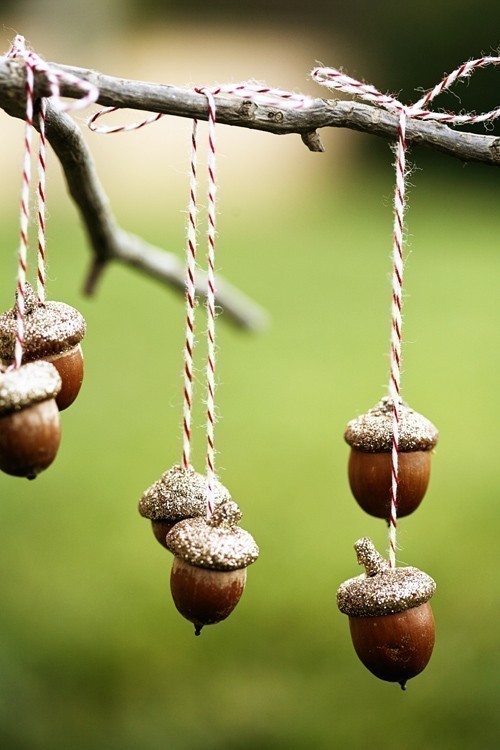 Speaking of acorns, how about these cute little ornaments by Stacey Winters on Etsy?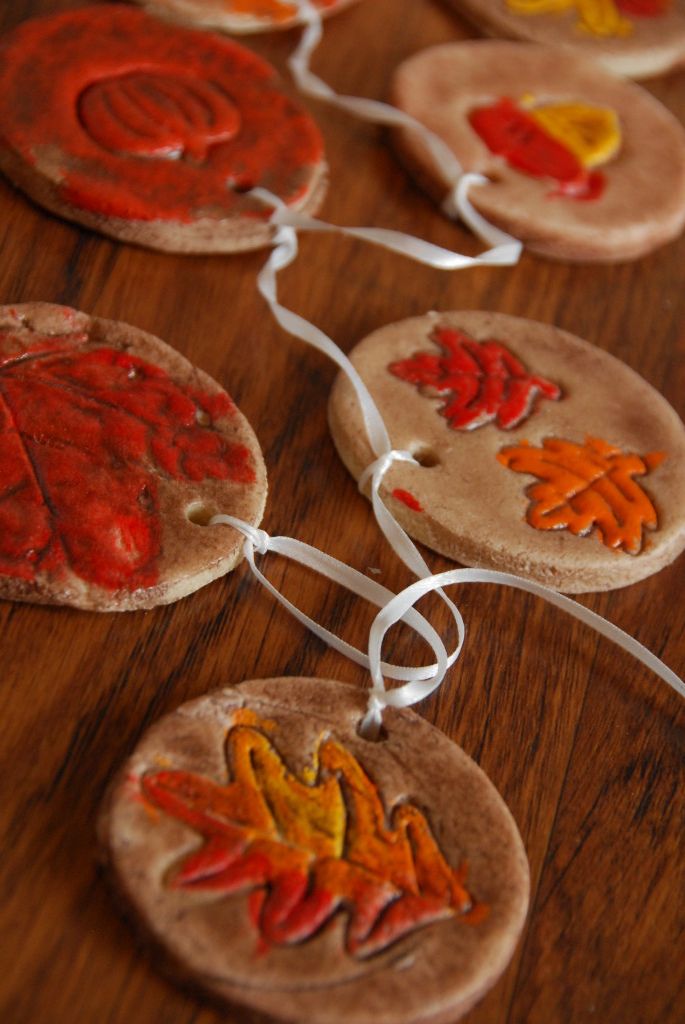 And these salt dough ornaments are really cute.  They would make a neat bunting.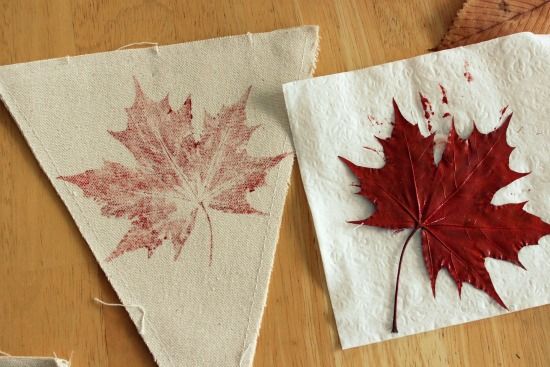 Or try stamping leaves to make a cute bunting.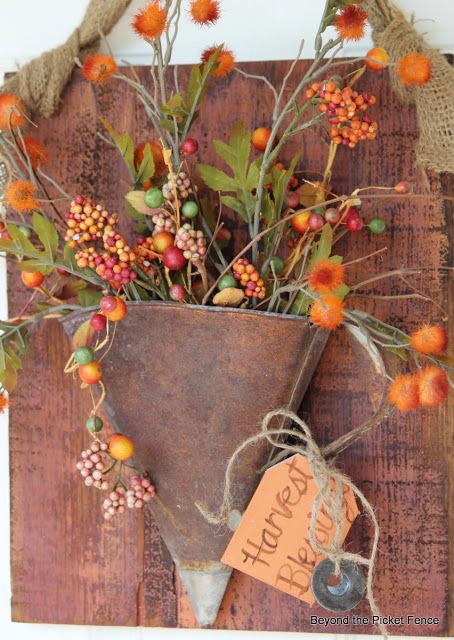 Here is a great way to use an old rusty funnel to make a fall arrangement.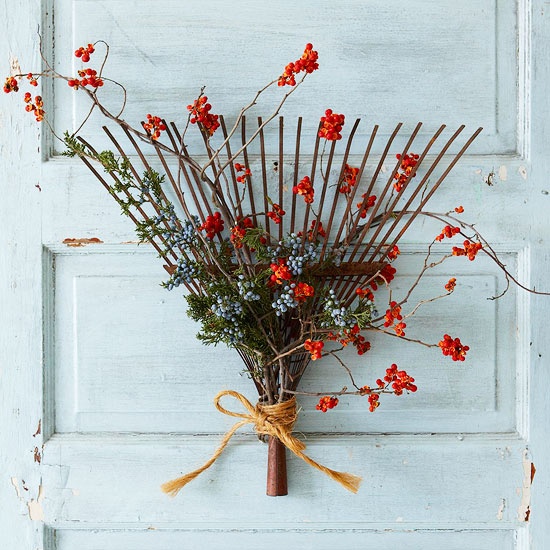 And if you are into recycling and reusing items, this is a great way to use an old metal garden rake.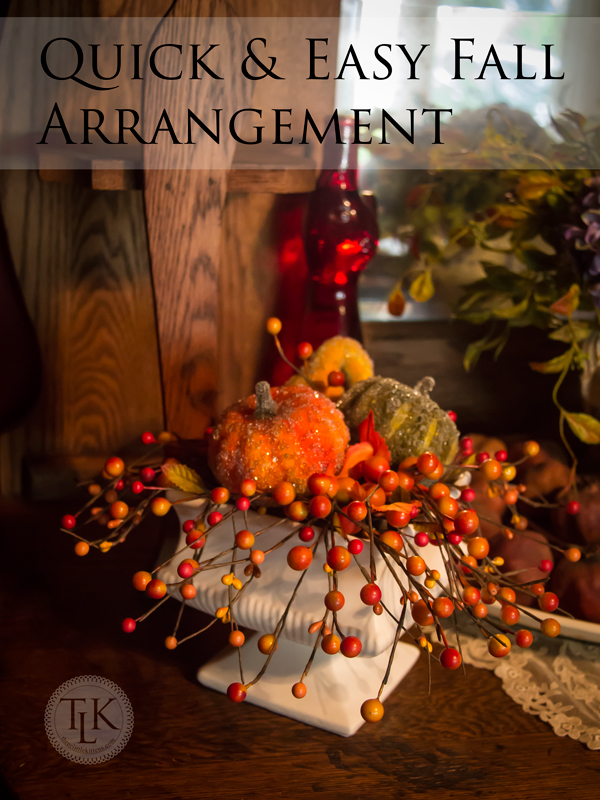 Here is a quick and easy fall arrangement I made a few weeks ago.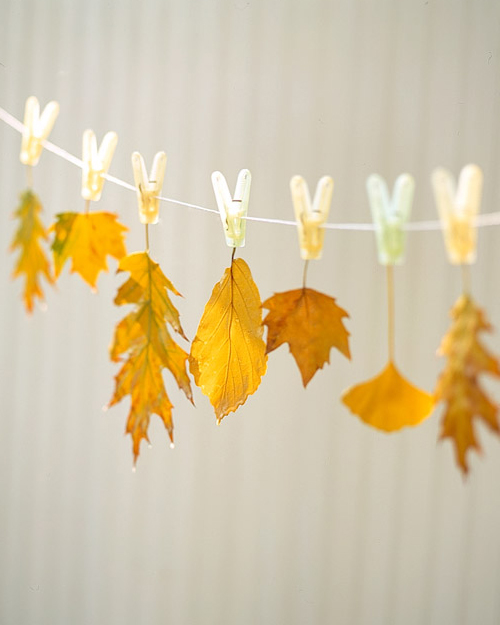 And if you want to preserve leaves for banners or garlands, you can find directions here.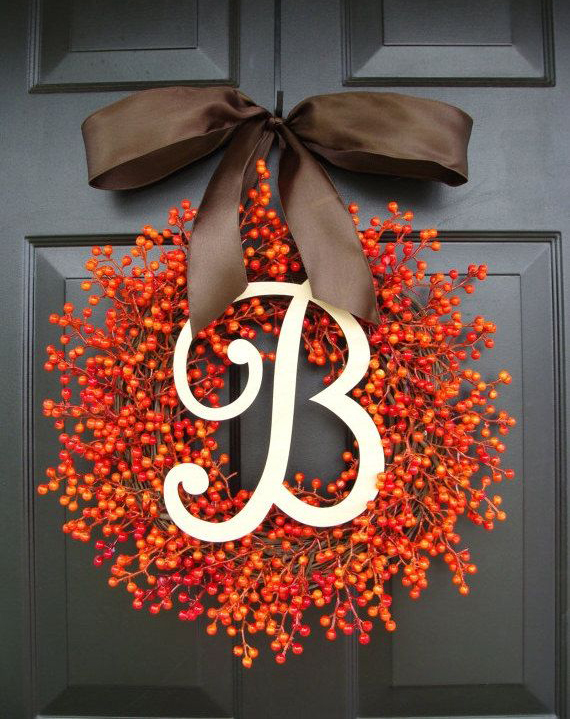 How about a pretty, elegant berry wreath for your front door?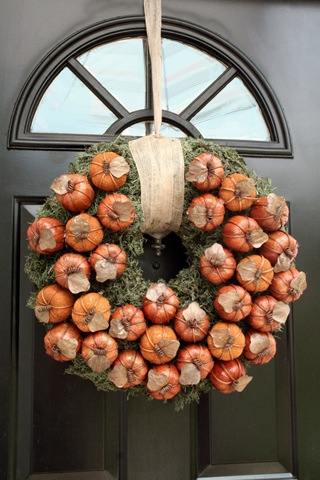 Or a cute mini pumpkin wreath?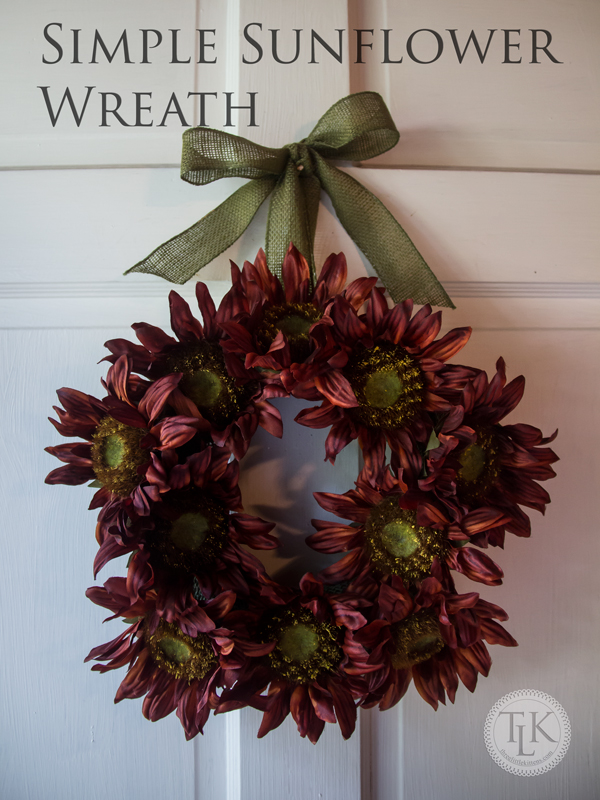 I made this simple sunflower wreath a few weeks ago with autumn hues.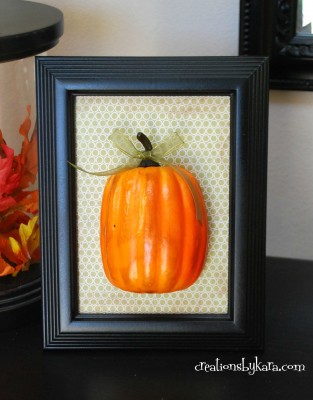 And I could not resist this cute little framed pumpkin.  This would work great with one of those cheap little pumpkins with a defect on one side, just cut it off so you have a flat surface to mount to your frame and there you go.
I hope that these decorating ideas get you motivated for fall.  It is coming, sooner than you think!