After visiting the Church of the Holy Spirit in Heidelberg, we spent some time in the Marktplatz or Market Square.  It is a large open space in the heart of Altstadt, or Old Town and was part of our tour while we were on a Viking River Cruise in 2014.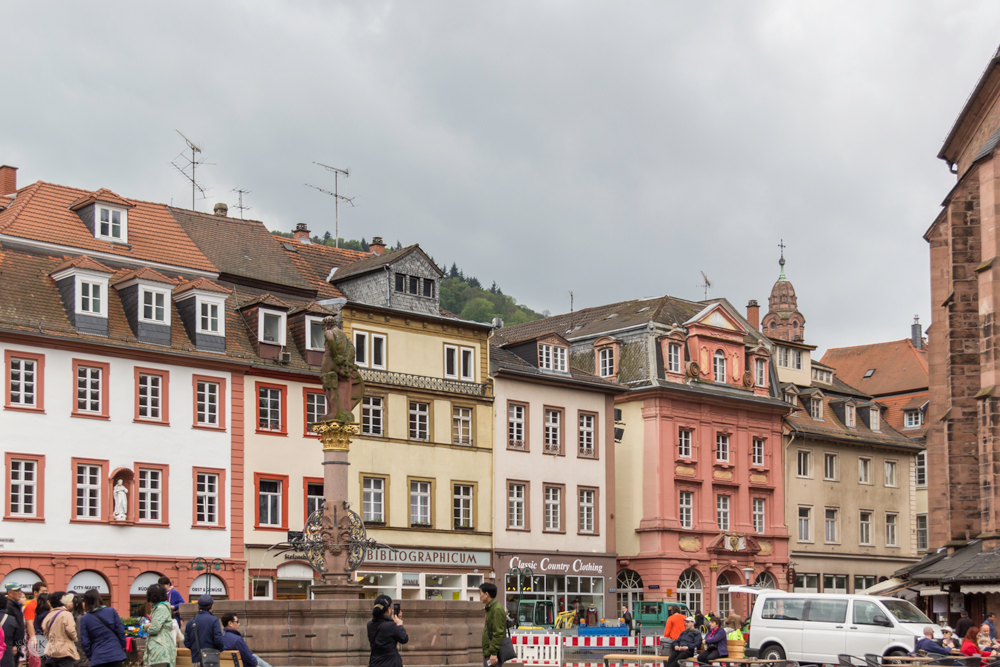 There were lots of other tour groups there while we were visiting.  And when we arrived early, many of the cafes and shops were not yet open.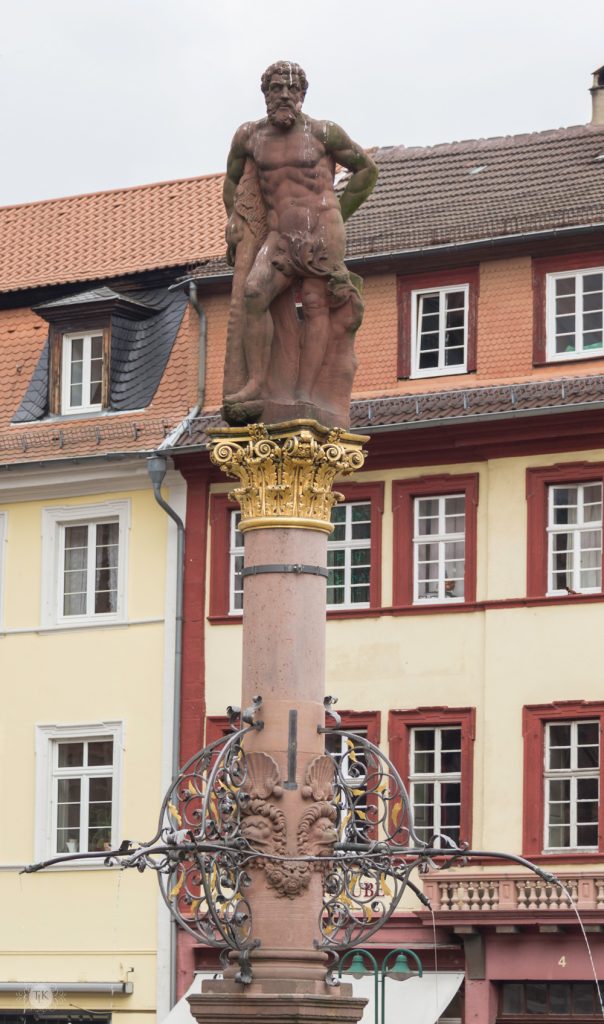 There is a large fountain called the Hercules Fountain.  It was built between 1706 – 1709 and is a reminder of the "Herculean" efforts to rebuild after the Thirty Years War.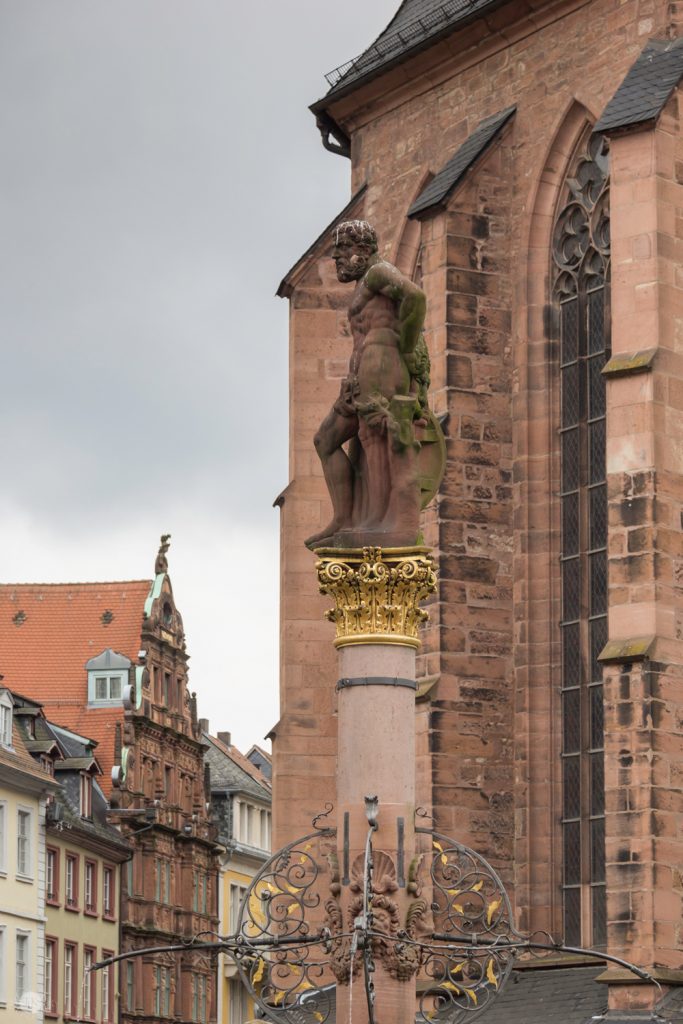 It is an impressive piece of art as well as a beautiful fountain.  It stands in front of the Church of the Holy Spirit and down the street is the Hotel Zum Ritter, which dates to 1592.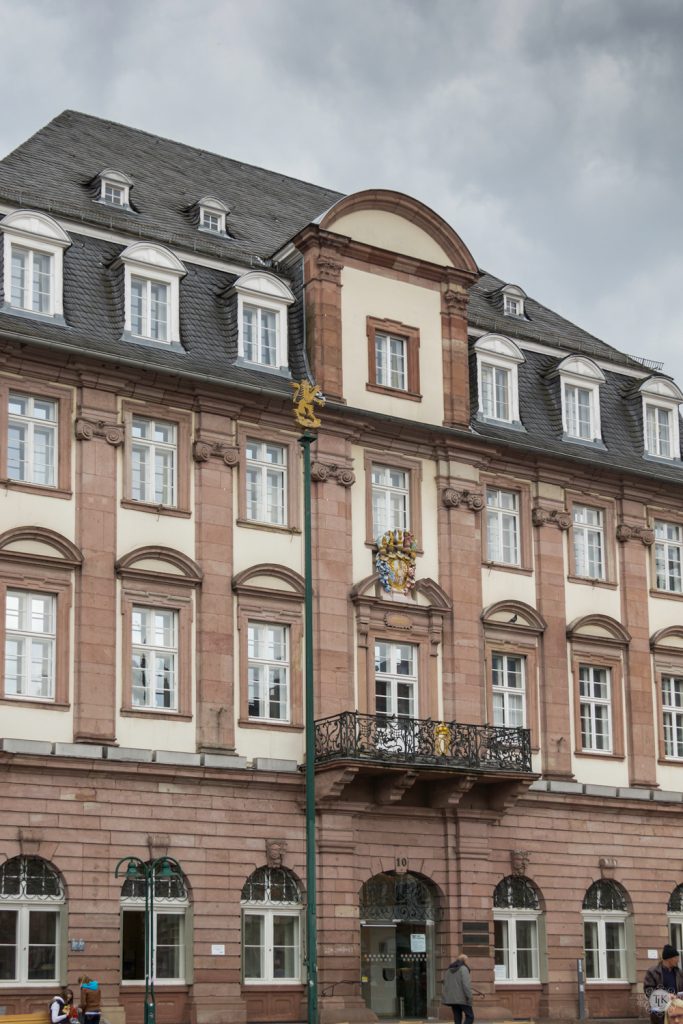 We also found the Rathaus, or Town Hall located in this Square.  It was not as ornate as the one in Cologne, but it was not as old as that one – this Town Hall dates to the late 1890's.  In fact, there was a great fire in this area in 1908 and many of the buildings surrounding the square were razed and rebuilt afterwards.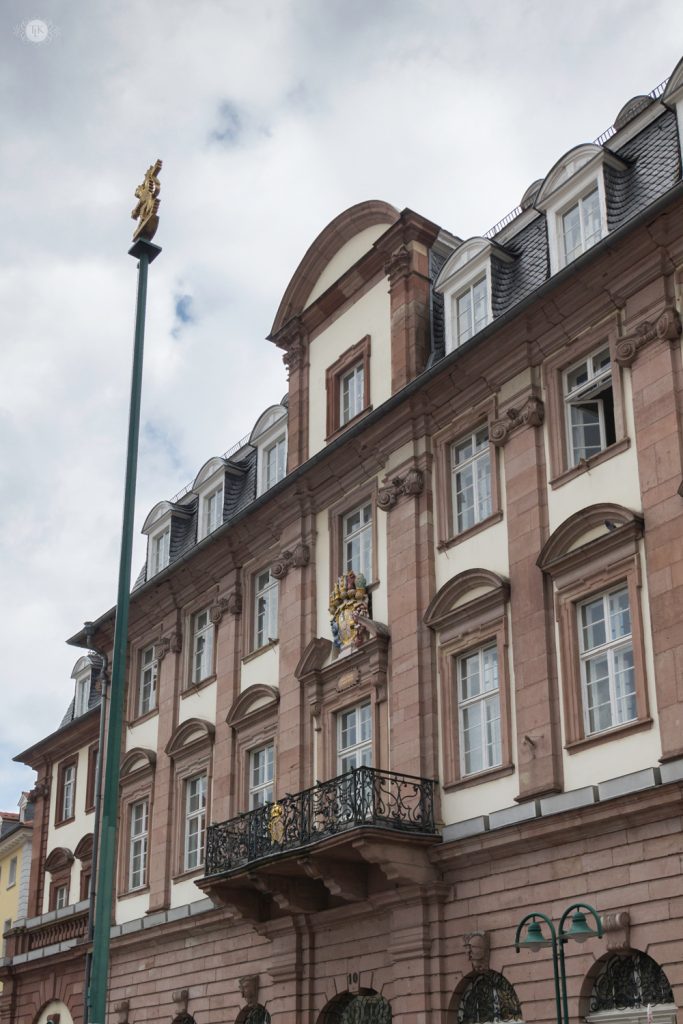 But it was a pretty and impressive building.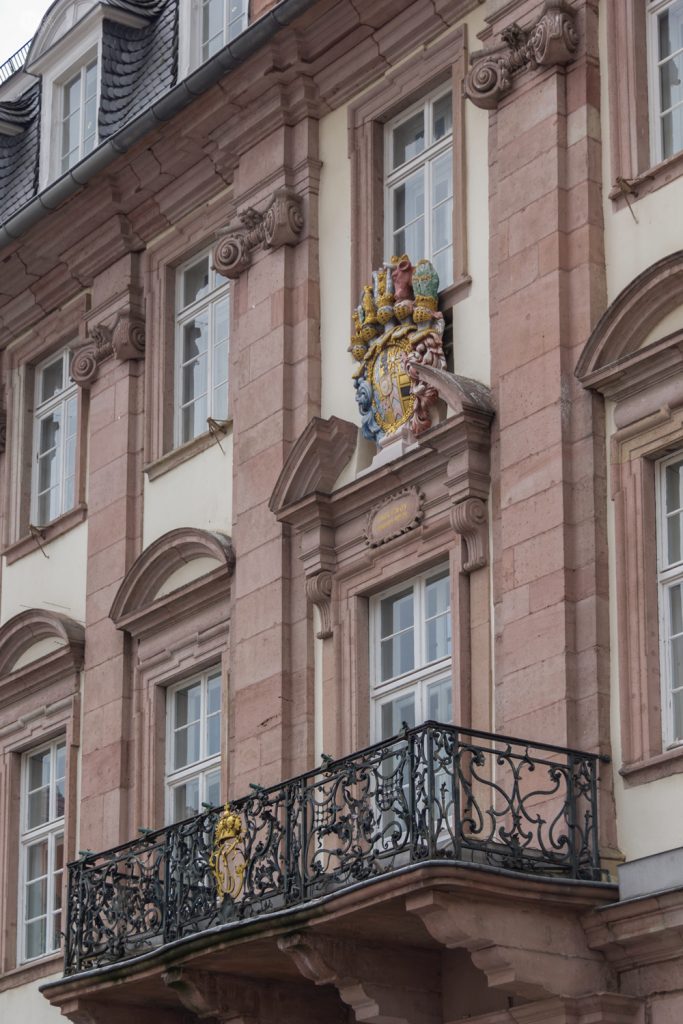 There was an ornate little balcony for giving speaches.  And a crest and lots of Neckar Valley Sandstone.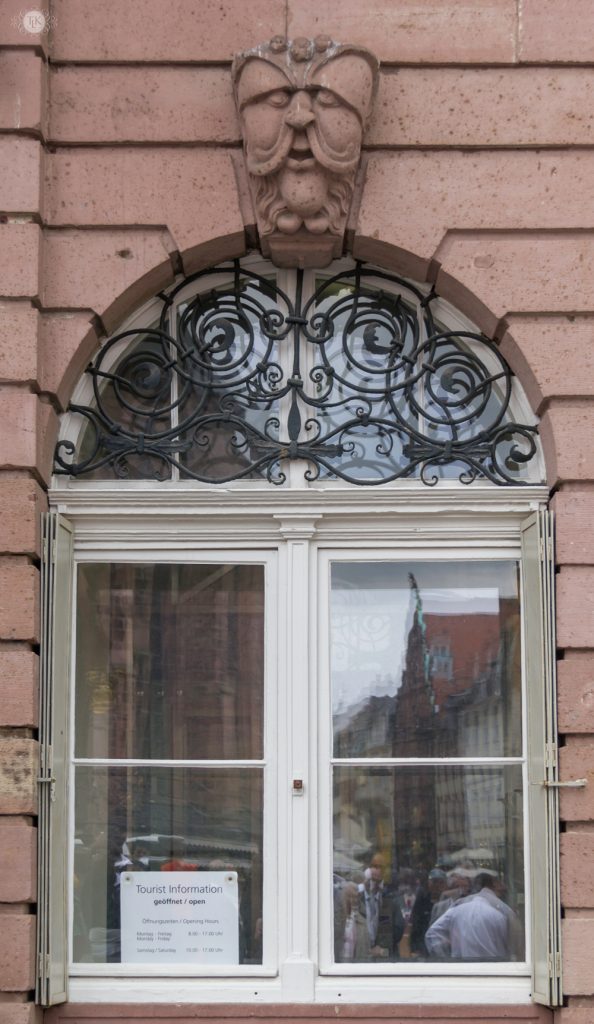 But there were modern touches, too, like this sign for tourist information.
Of course I had to get pictures of the pretty ironwork and that funny little face.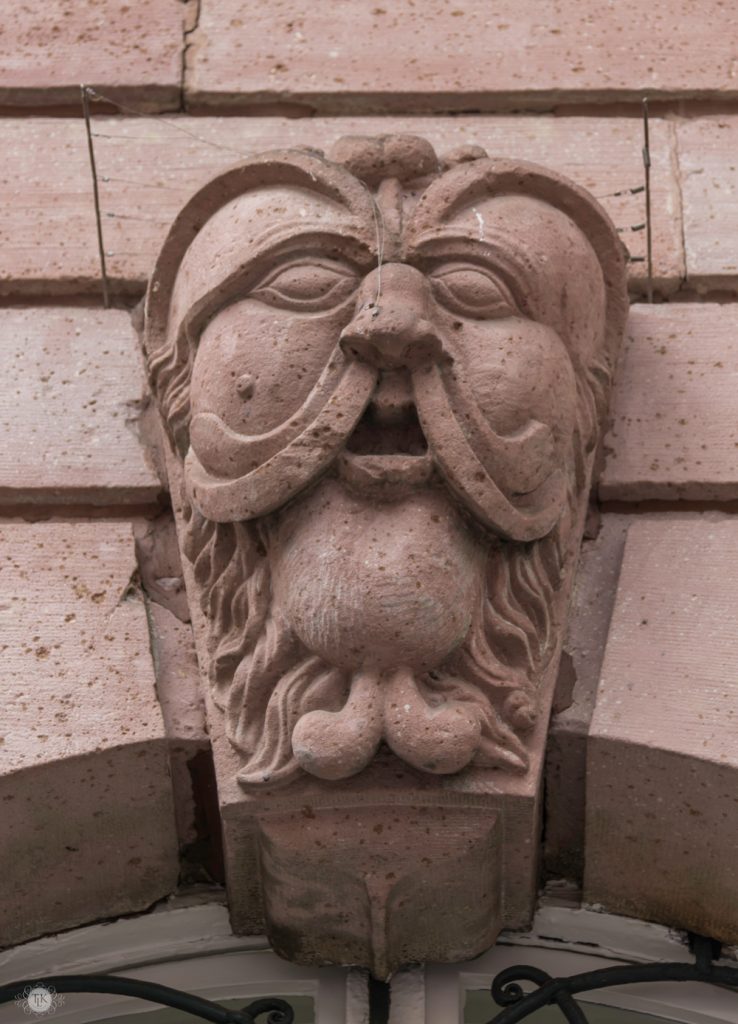 I wasn't sure if it was a man's face or a lion's face.  But it caught my eye.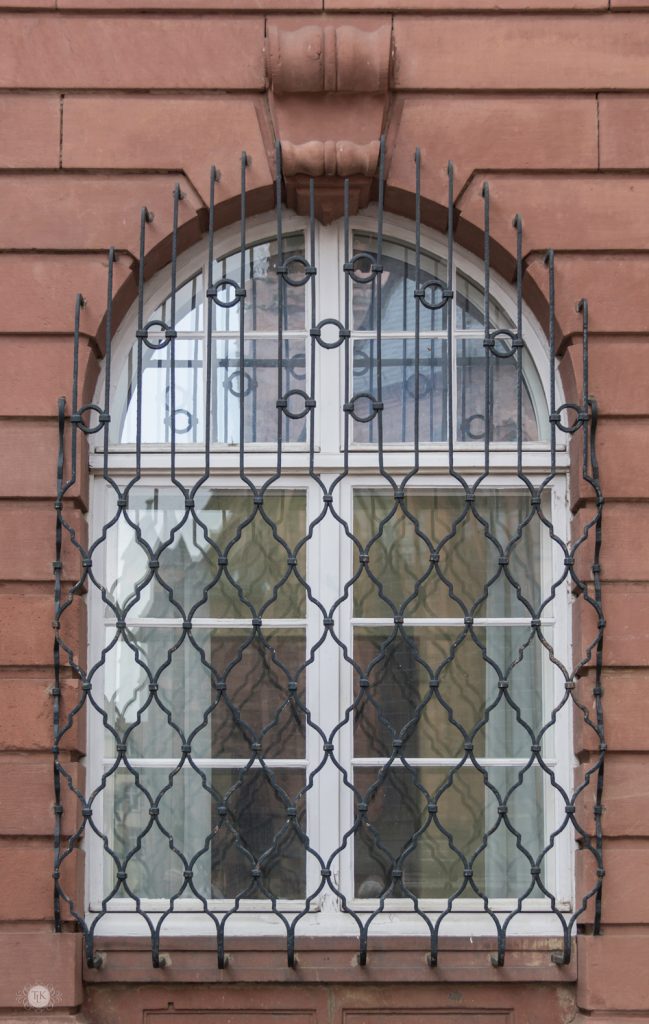 And so did this pretty window with its iron grate covering.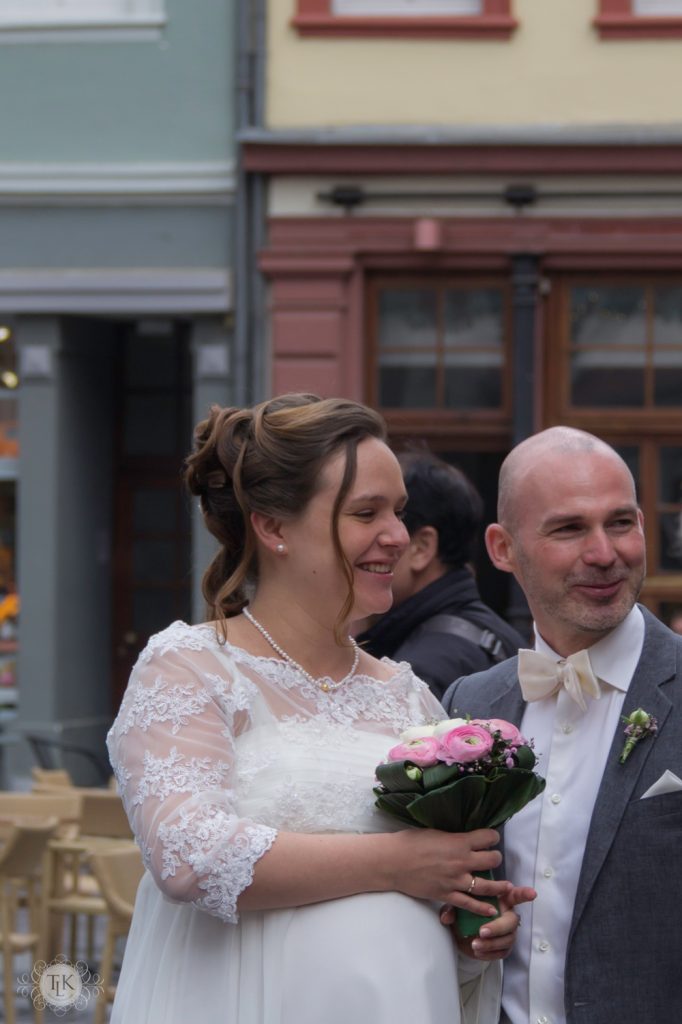 And since we were at the Town Hall, what a nice surprise for our group to come across a newly wedded Bride and Groom!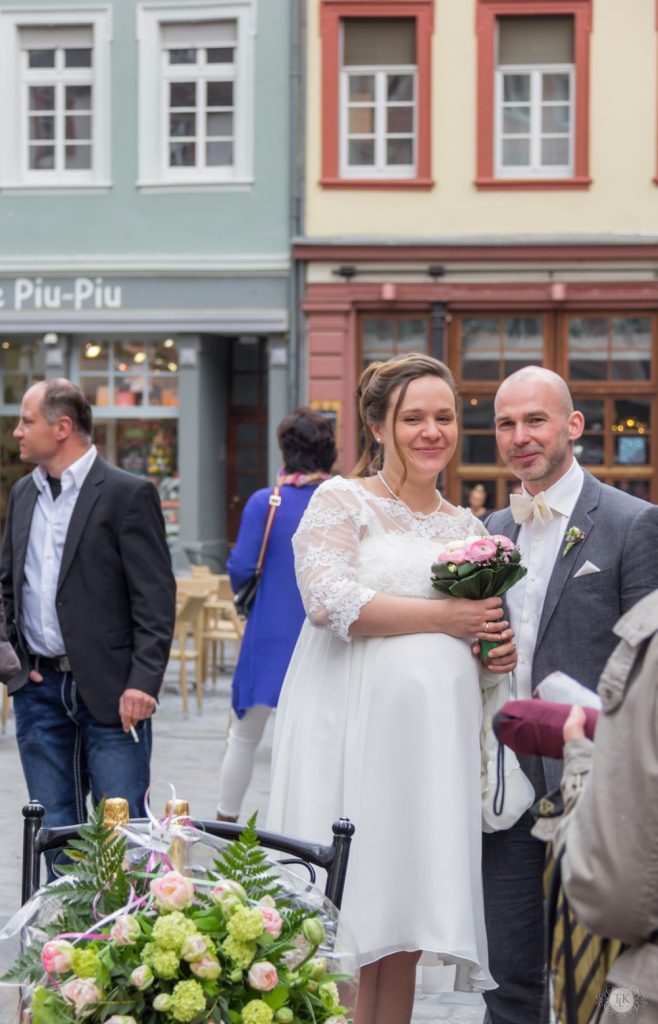 They were so nice to pose for pictures for our group.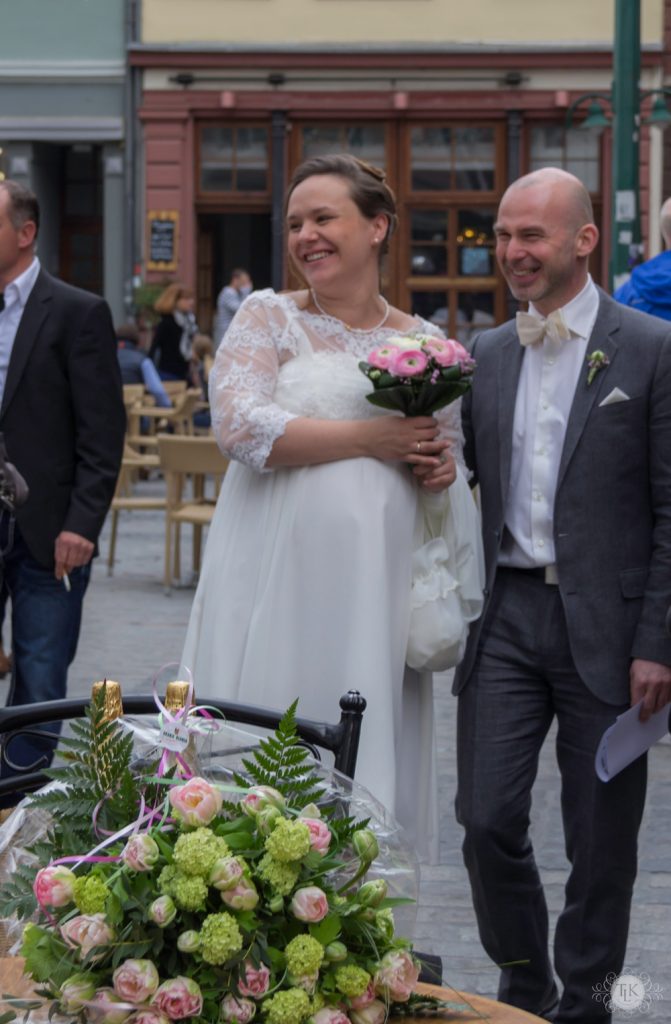 They had so many well wishers on their special day!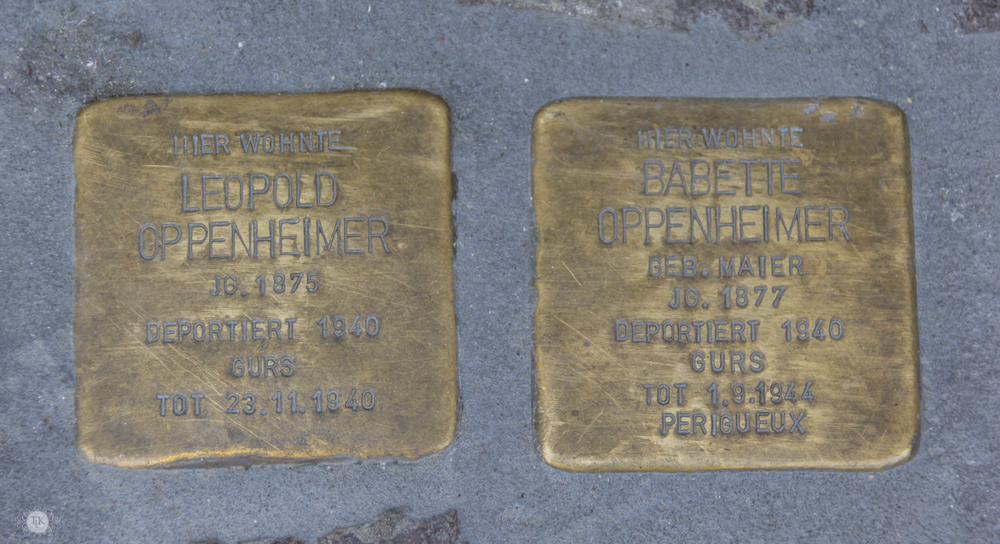 But I think the  Stumble Stones were probably one of the most fascinating things we came across.  These are miniature memorials – little brass bricks – that are scattered about cities all across Germany in the cobblestone streets or sidewalks.  They represent the starting point of the horror that Jewish Holocaust Victims experienced.  Wherever you came across them, they memorialized the individuals of this dark chapter in Germany's history.  There are many memorials to the Holocaust but these are much more personal.  The artist Guenther Demnig intended these to be personal – they are right at your feet, right where the terror started.  And they add up, one by one.  Some places may have one stone, some may have many, showing where an entire family was taken.  They definitely caught your attention and made you stop and reflect and tugged at your heart.
Many of our guides took time to point out items that were related to World War II and to tell the stories of how Germans felt after they realized the horror of what went on during that Regime.  They brought that time to life.  Most of their parents or grandparents had lived through the War and it's aftermath.  Our guides made sure that we knew how thankful the Germans were for the liberation by the Allied forces.   And how proud they were of their country today.  They have such a rich history and fascinating story to tell.  It was wonderful to experience each new part as we explored with our guide.
Until next time…
---
This is not a sponsored post.  
This is my experience from my trip with Viking River Cruises. 

Email me to find out how you can save $100 when you book your
first cruise with Viking through their referral program.