Earlier this week I showed you a cool old building in Heidelberg and the Lion's Well.  And I told you that we were wrapping up the guided portion of our tour of Heidelberg by heading to the Old Bridge.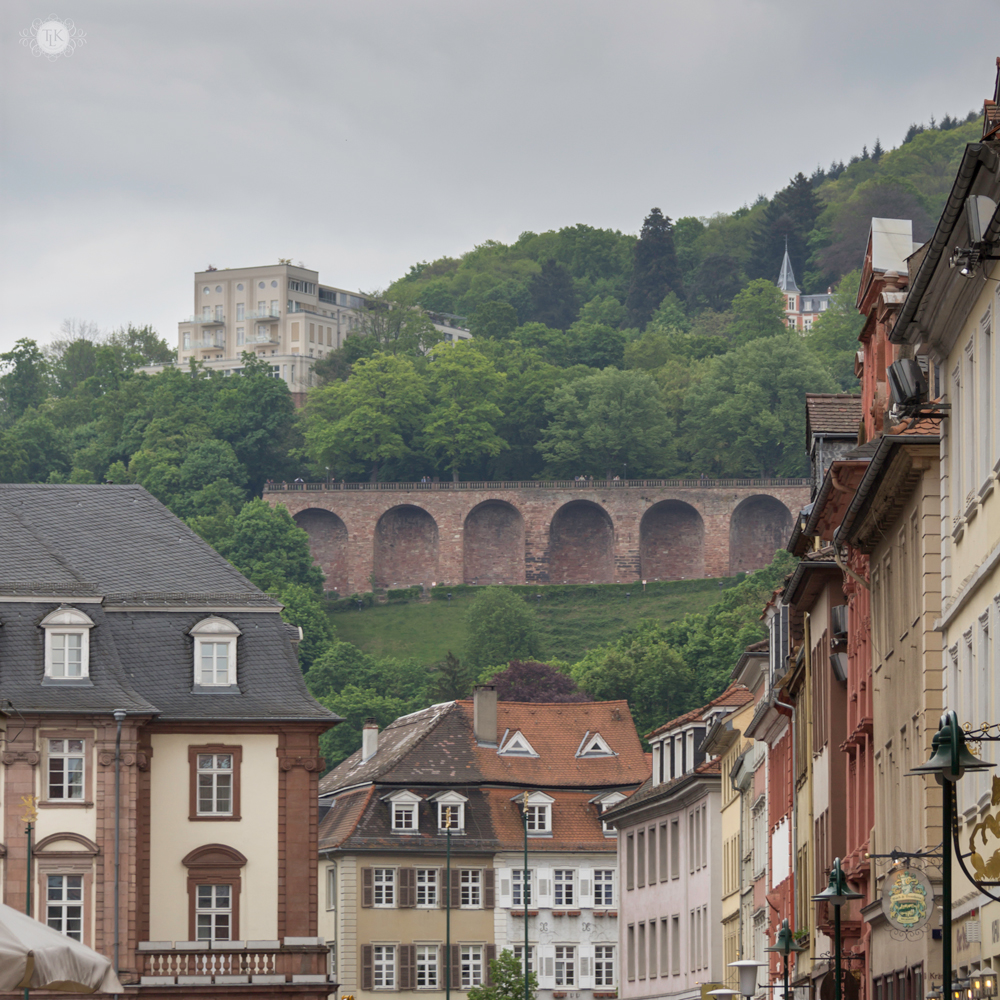 The streets of Altstadt were narrow and full of charming old buildings.  But they were only from around the 1700's because Heidelberg, like the Castle had been destroyed many, many times through wars and fires.

We still had some excellent views of the Castle as we made our way to the Old Bridge.  Which really was a new bridge.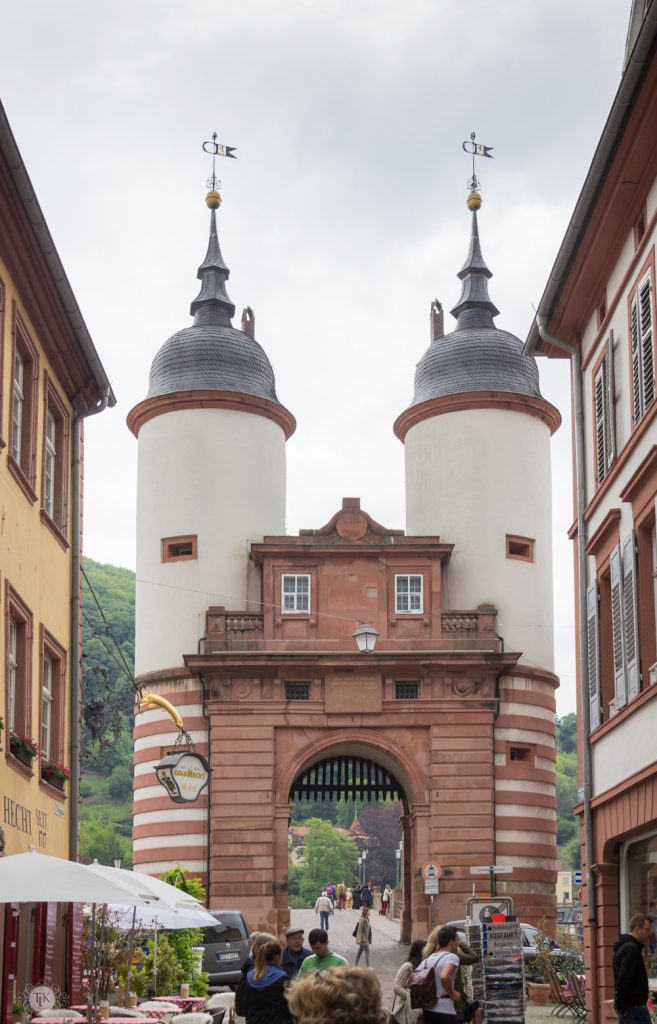 The Bridge Gate, with its Portcullis and towers was an original part of the defensive wall around the city of Heidelberg.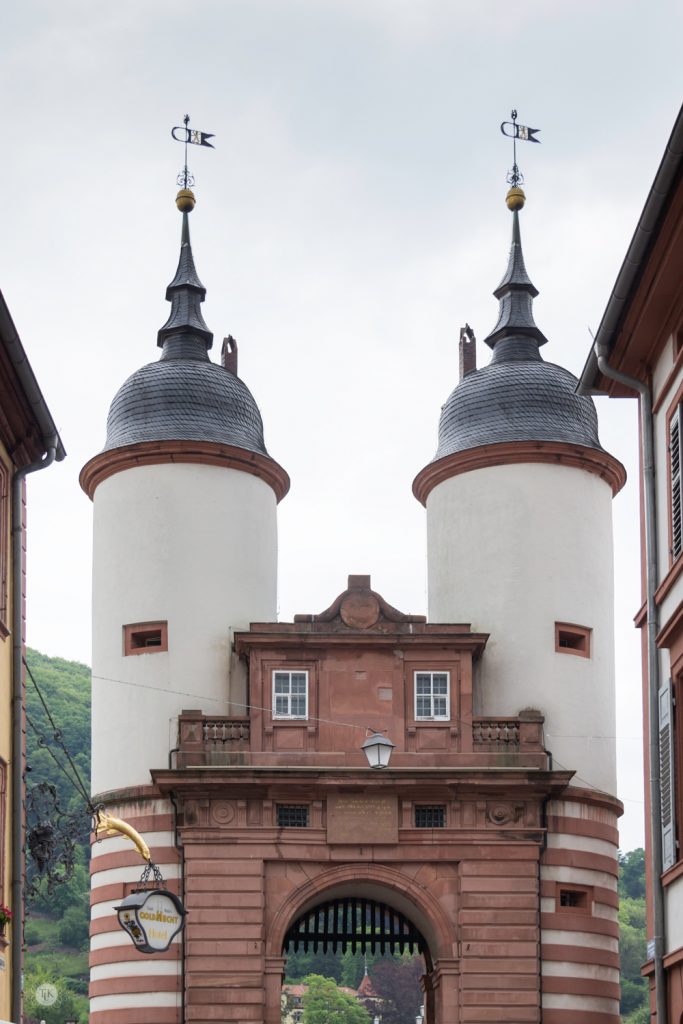 There are dungeons and a plaque honoring Austrian Troops that helped defend the bridge in 1799 from the French.  A bridge has been in place at this part of the Neckar River for centuries to connect the Altstadt and Neuenheim portions of Heidelberg. But I stated above that its called the Old Bridge and it actually is a new bridge.
That is because it is actually the ninth bridge built at this location.  The first bridge was built by the Romans in the first century and this bridge was built in 1788.  All of the previous versions were made of wood and destroyed by flood or wars, so this bridge was built of stone so that it would hopefully last.  And not just any stone, but Neckar Valley Sandstone.  It has become a landmark for the city.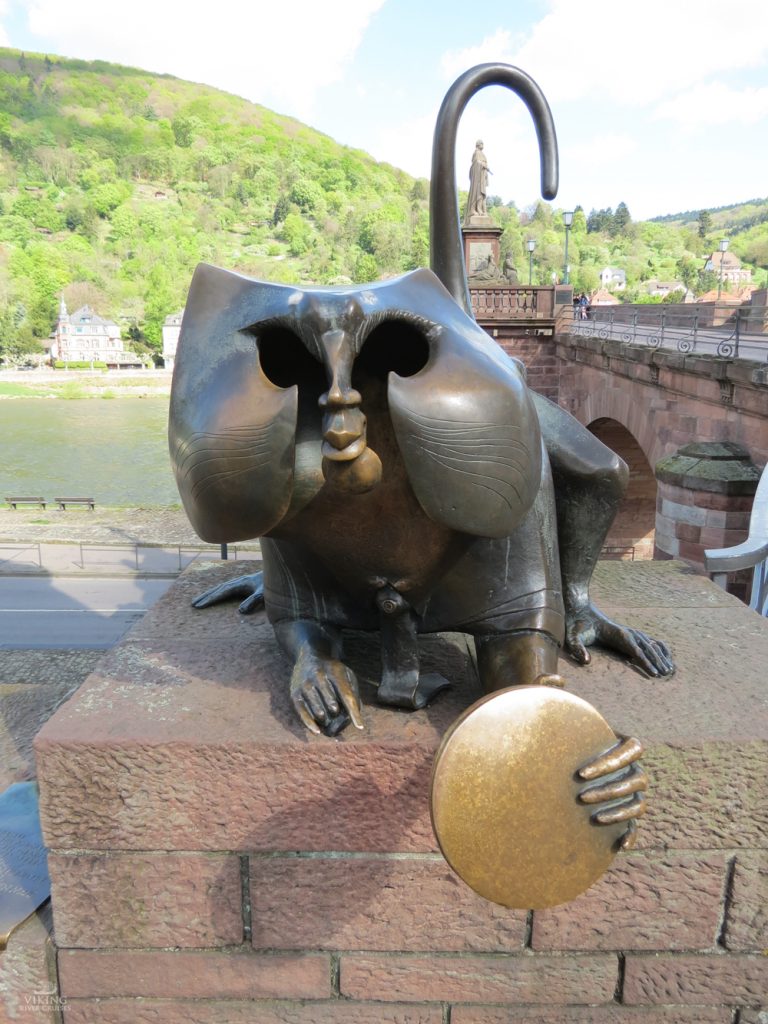 And there is even a Bridge Monkey to remind the residents of both sides that neither is better than the other.  They should always look in the mirror it holds to remember that lesson.  This statue is much newer but the Bridge Monkeys at this site date to the fifteenth century.  I had never heard this tale before and found it interesting.  And like the Blarney Stone at Blarney Castle, there is good luck involved in touching the Bridge Monkey.  Touching the Mirror will bring you wealth and touching the Monkey's hand will ensure that you return to Heidelberg.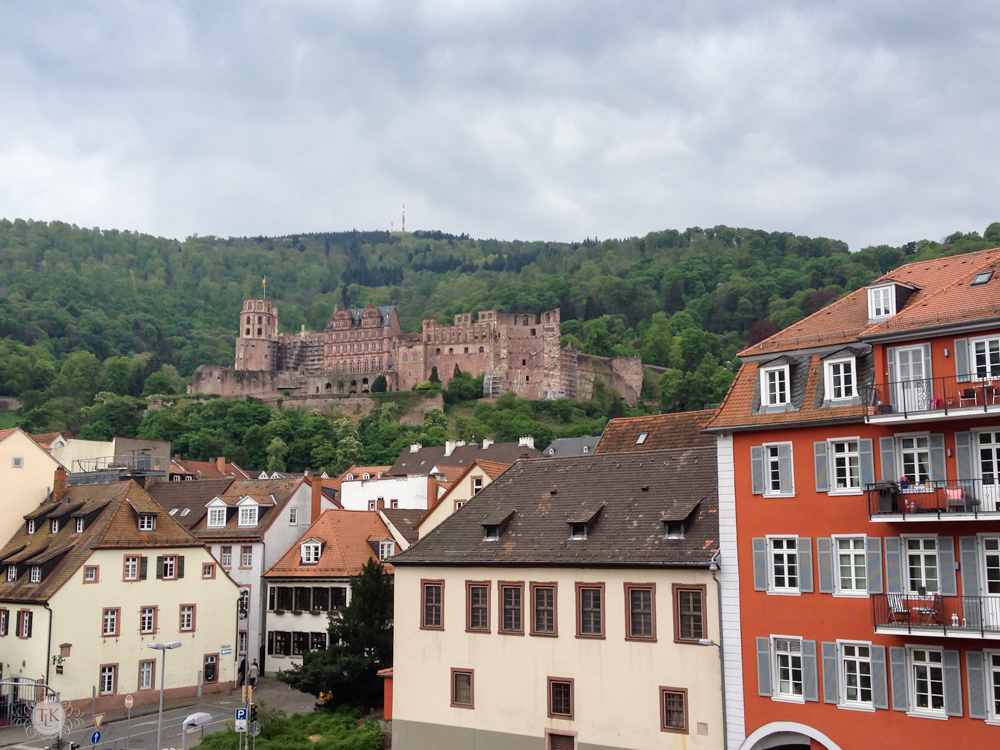 There was a great view of the Castle from the Old Bridge, too.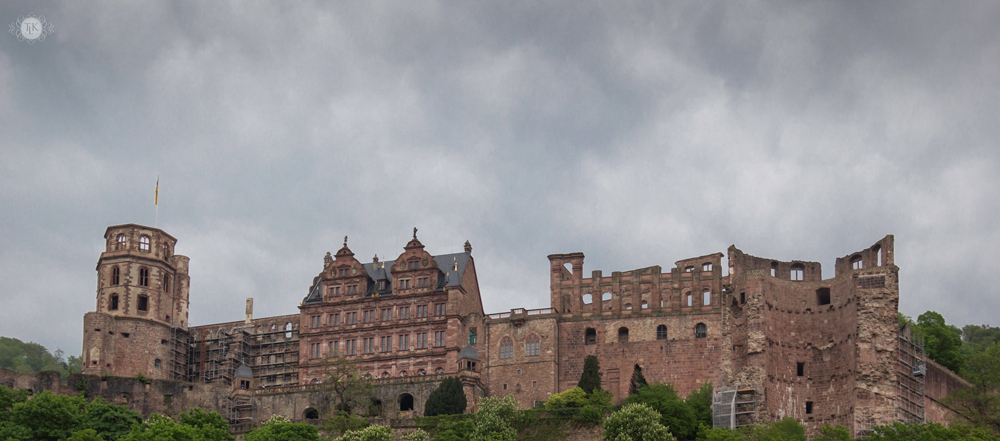 Hard to believe we were up there just a few short hours before, looking down at the bridge where we were standing now.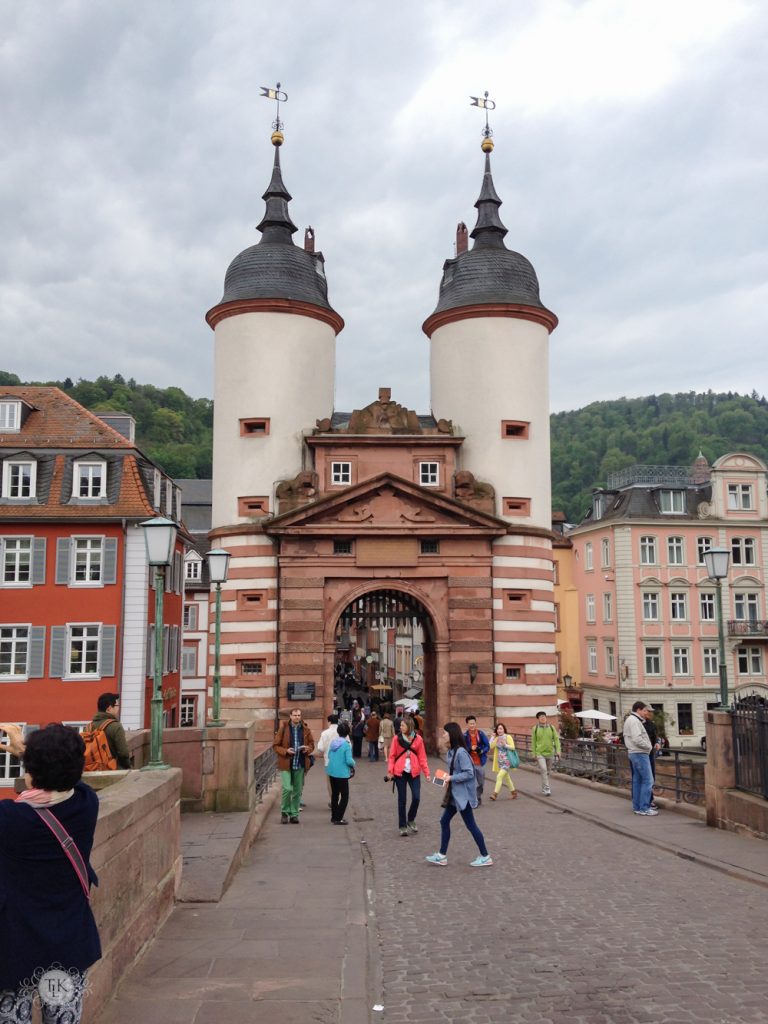 And this is where Evelyn left us and bid us farewell.  Our guided tour was over and we were free to explore on our own.  We walked out a bit on the bridge along with lots of others from our group and tourists from all over.  Heidelberg is famous as a tourist destination when visiting Germany.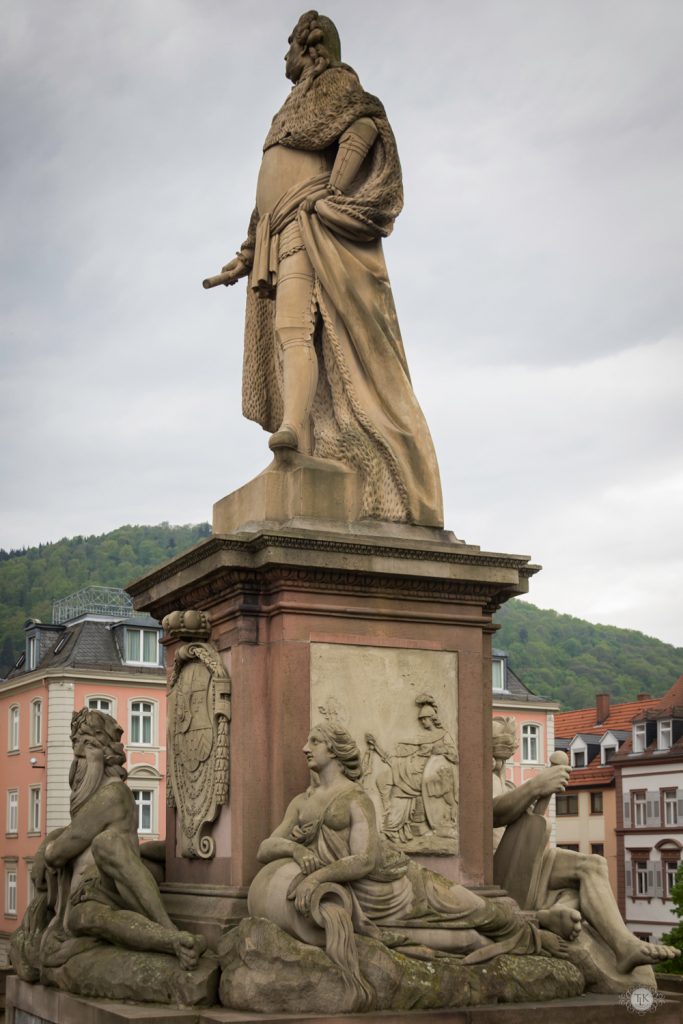 On the bridge are two statues.  The one closest to Altstadt is of the Palatine Elector Prince Karl Theodor.  He is the Elector Prince that commissioned the current bridge to be built so it is only fitting there is a grand statue of him.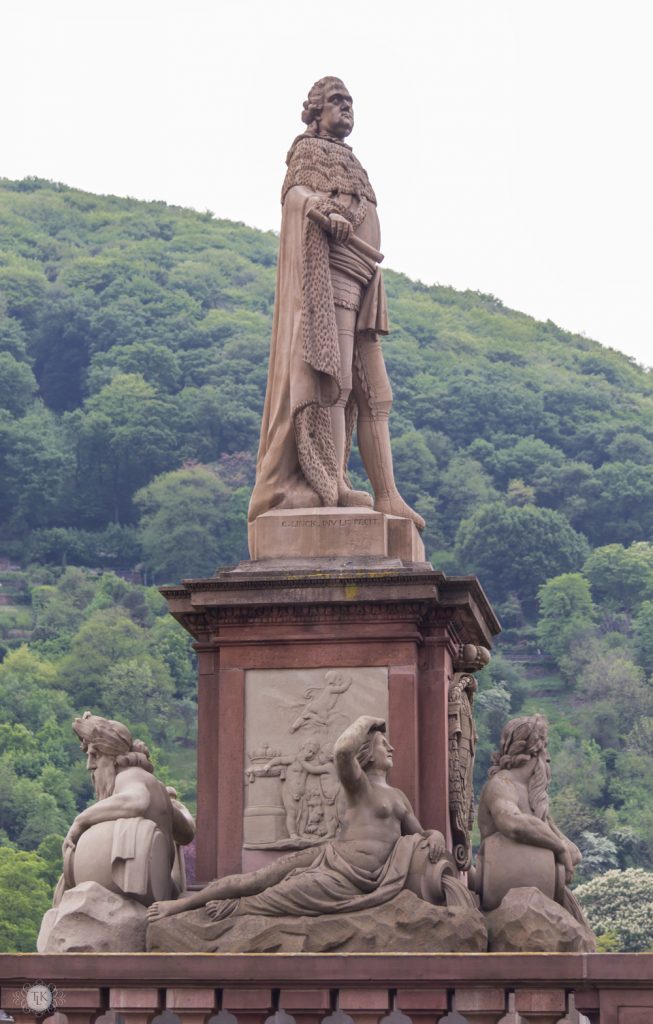 He is surrounded by symbols of the four main rivers that he governed during his rule – the Rhine, Mosel, Danube and Isar.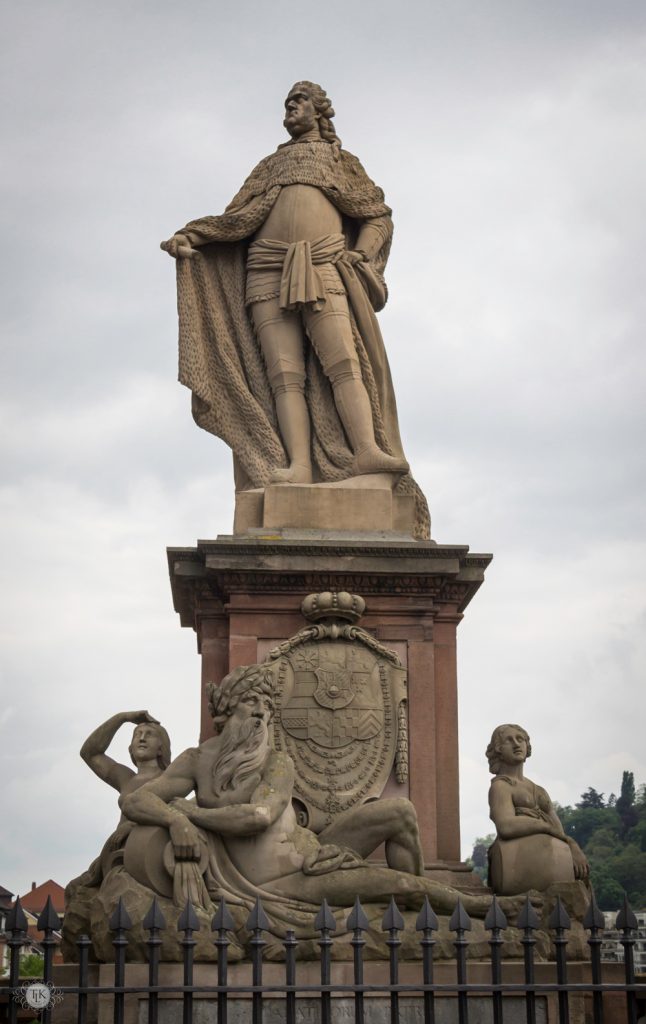 The statue on the other end was of Minerva, the Greek Goddess of Wisdom.  Prince Karl was a passionate supporter of the sciences and it was also fitting that the other statue on his bridge would represent that field.  We did not walk across, we headed back to see if we could find something to eat or drink.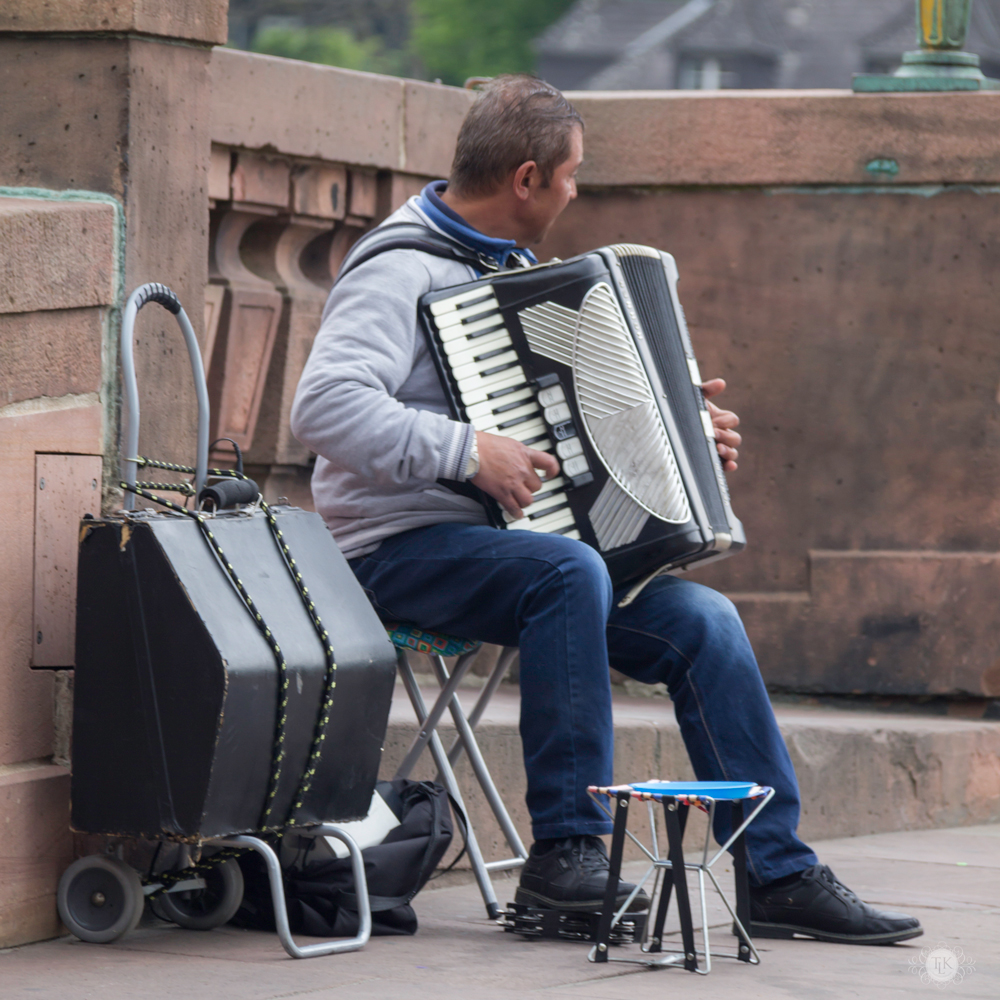 Just like in Cologne, there were street musicians to be found, like this accordion player on the bridge.  He was good, but not nearly as good as the group at the Dom.
And here are some of the beautiful summer homes and private residences on the other side of the Neckar.
They were amazing.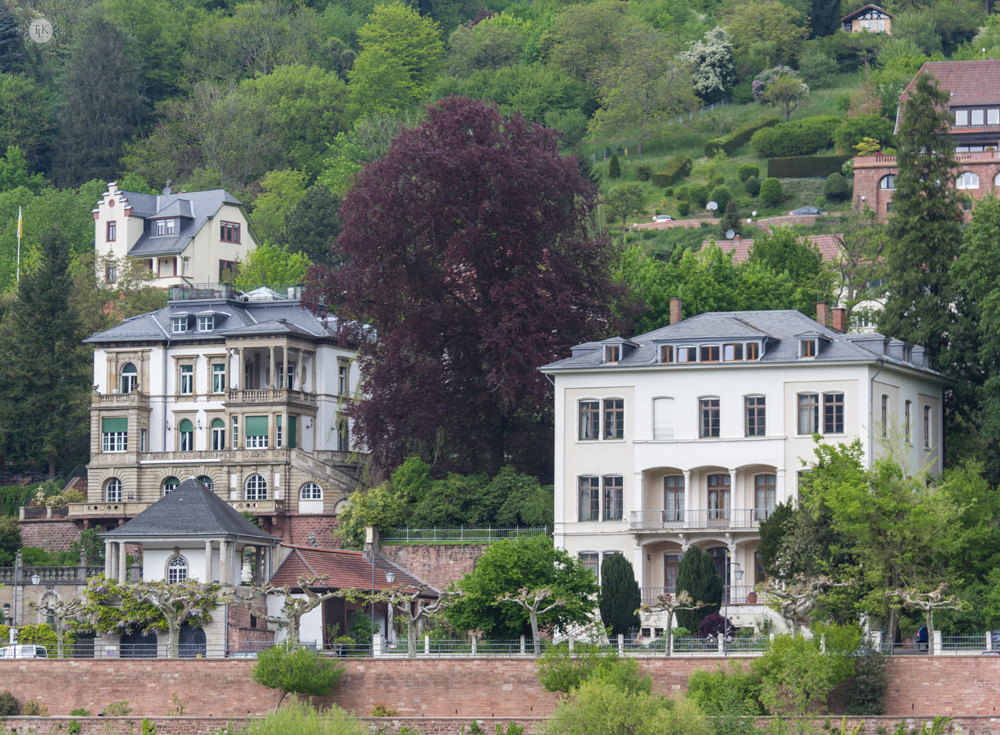 There is a walk across the river called the Phliospher's Walk.  I am not sure if this was part of it or not.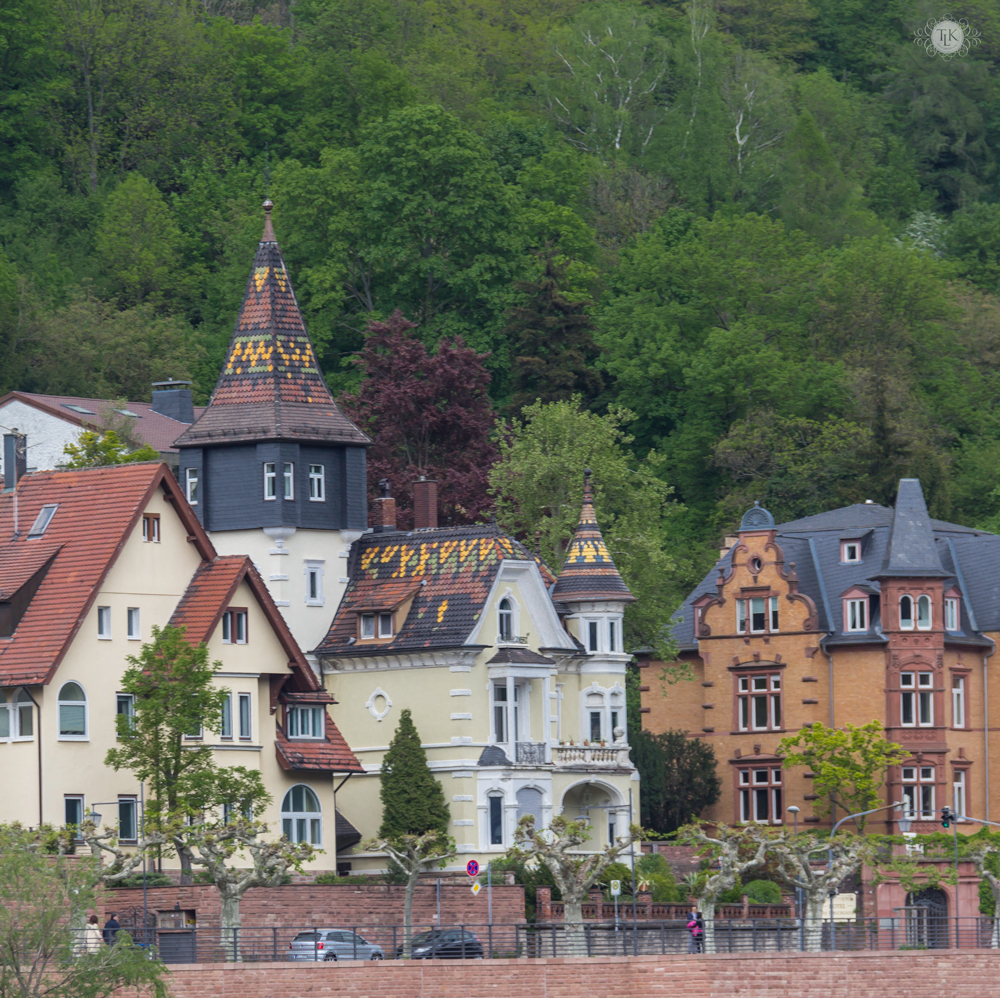 Look at the different colored tiles on the roof of this house. I love the patterns they make.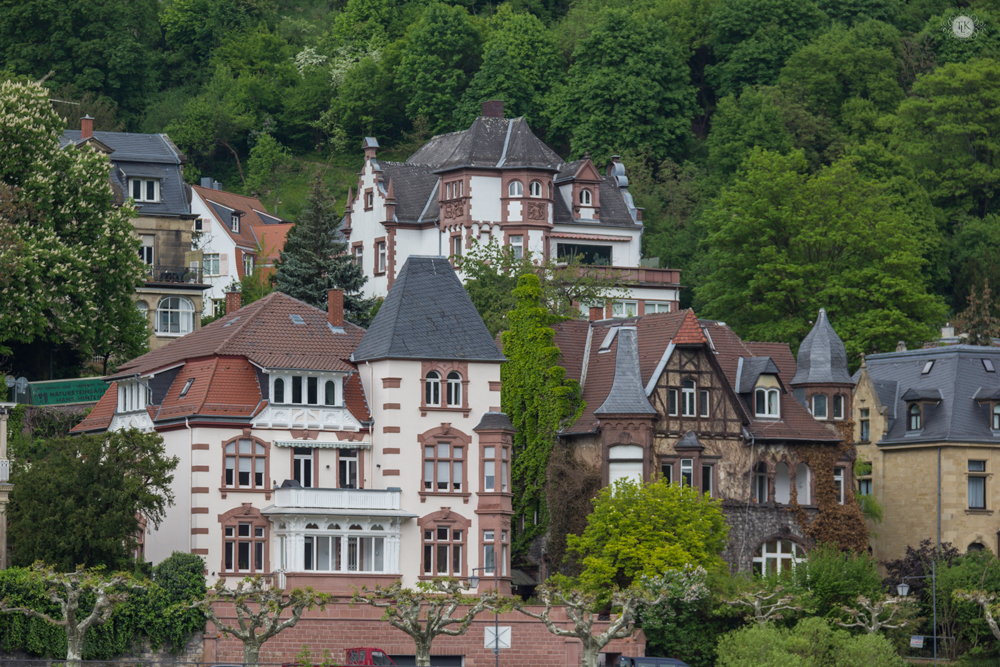 I bet it would be wonderful to spend a vacation in one of these places.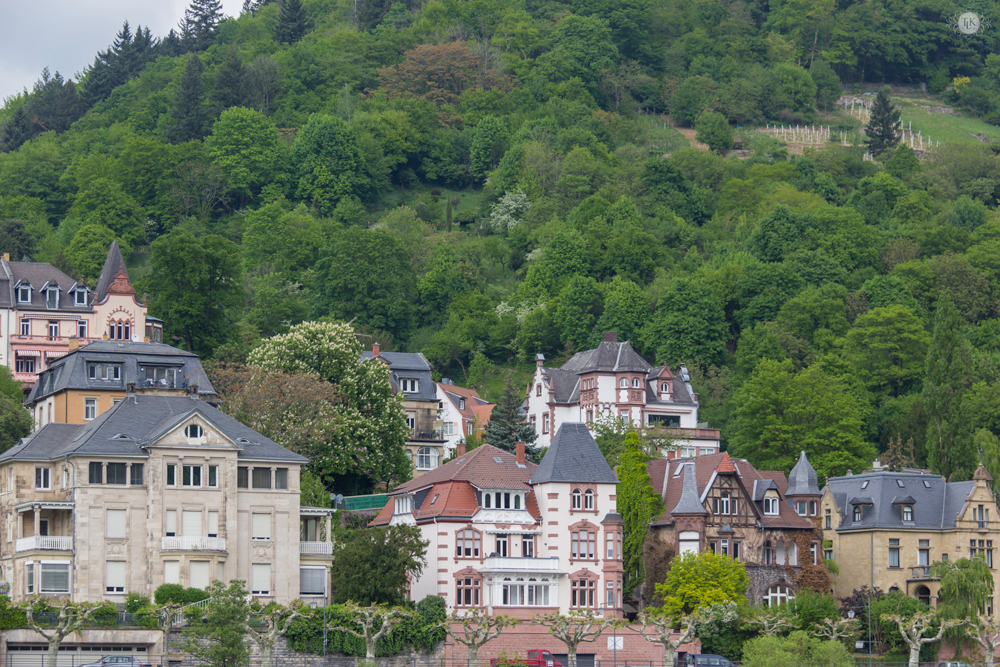 There is even a vineyard on the hillside above the houses.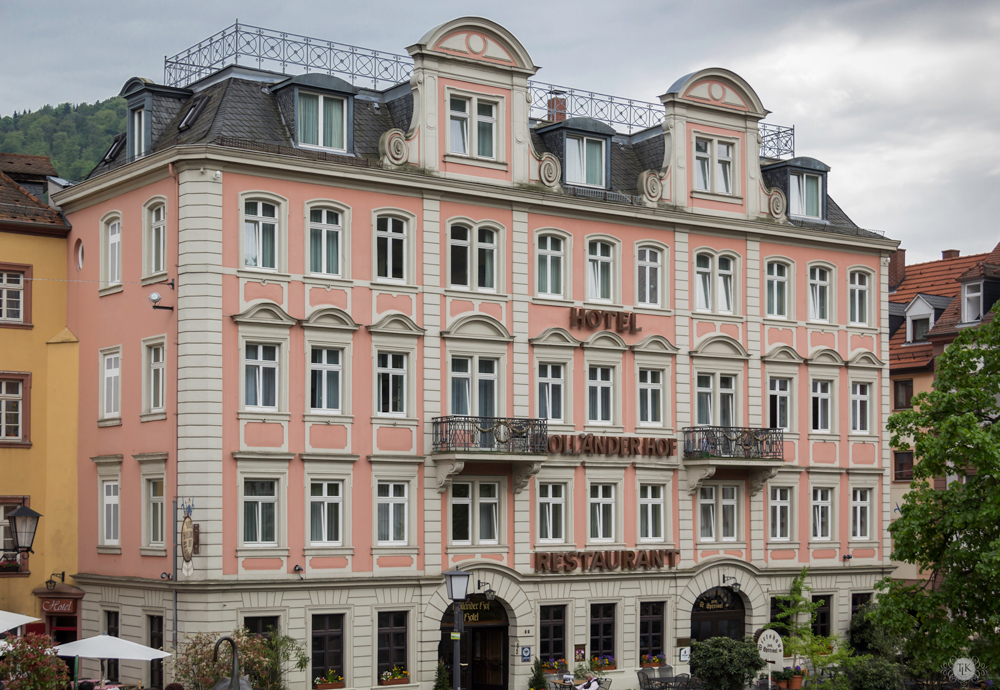 But we were headed back into Altstadt.  There are two large hotels and restaurants that flank the entrance of the Old Bridge Gate.  Tax records indicate a hotel was on this site since the 1600's.  This one is the Hotel Hollander Hof.  It is named for the Dutch sailors and travelers that would stay here centuries ago. It has also been a hostel and for ten years after World War II American Soldiers were housed here.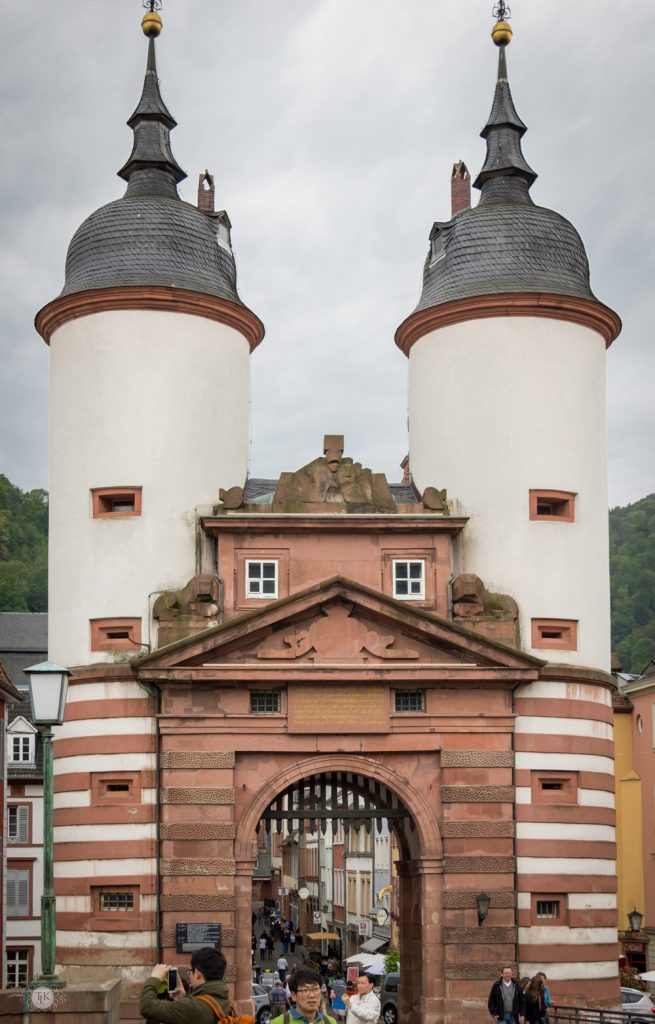 In fact, the Germans attempted to destroy the bridge at the end of the war.  Luckily it was quickly rebuilt.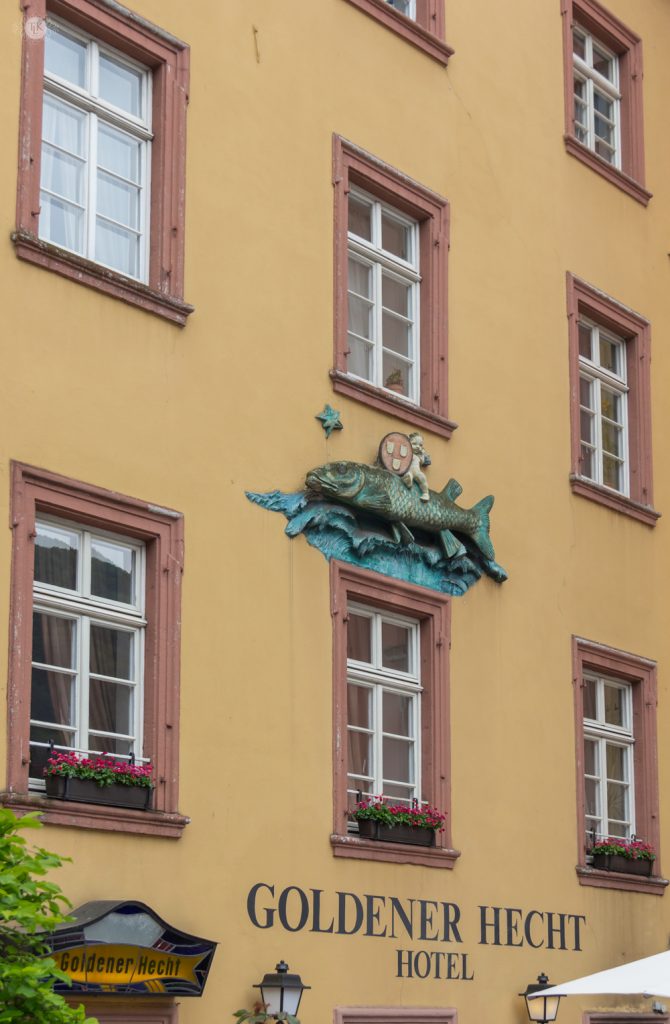 The other Hotel is the Golden Pike or Goldener Hecht.  It was a bright and cheery yellow.  On one side there was a carving of a pike in a river.  This hotel has also been on record of being in this spot for centuries as well.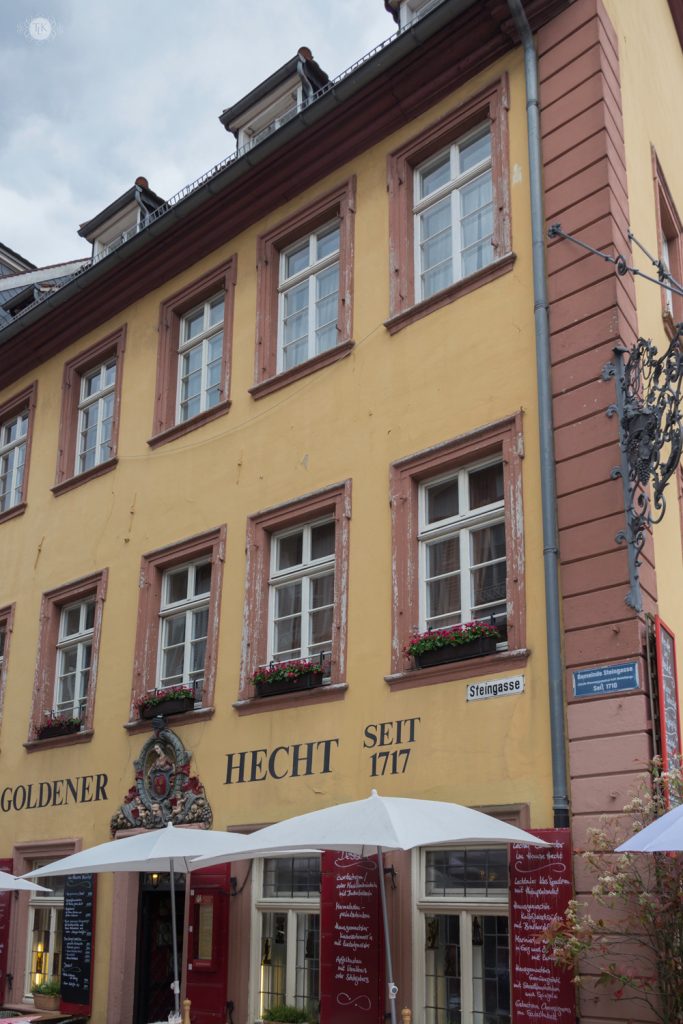 It also has a beer garden or biergarten along with the restaurant.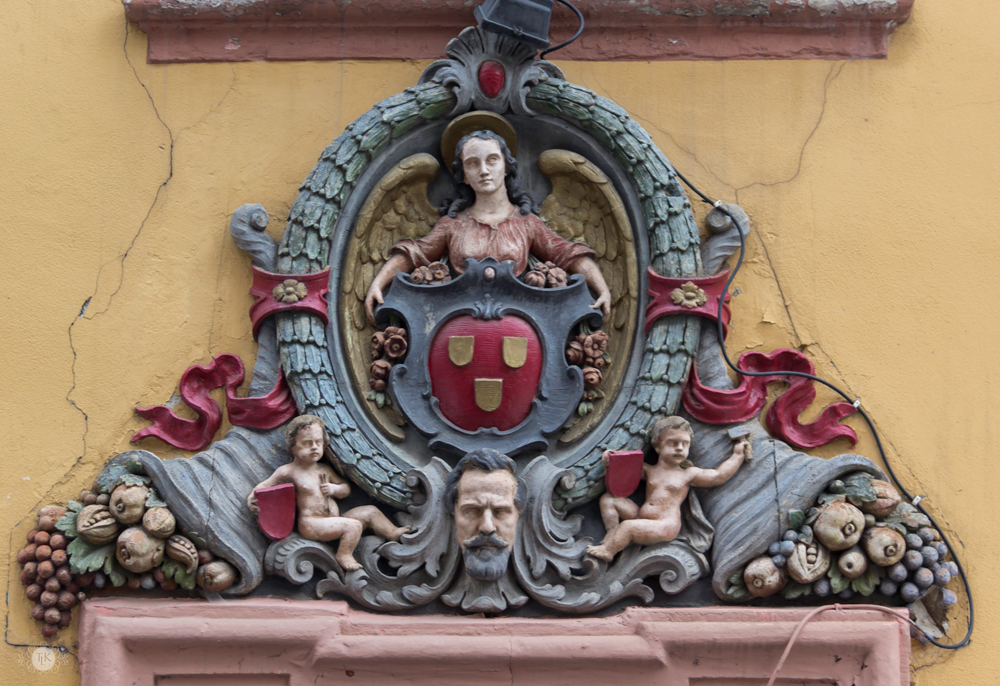 And a beautifully carved coat of arms above the door to the restaurant.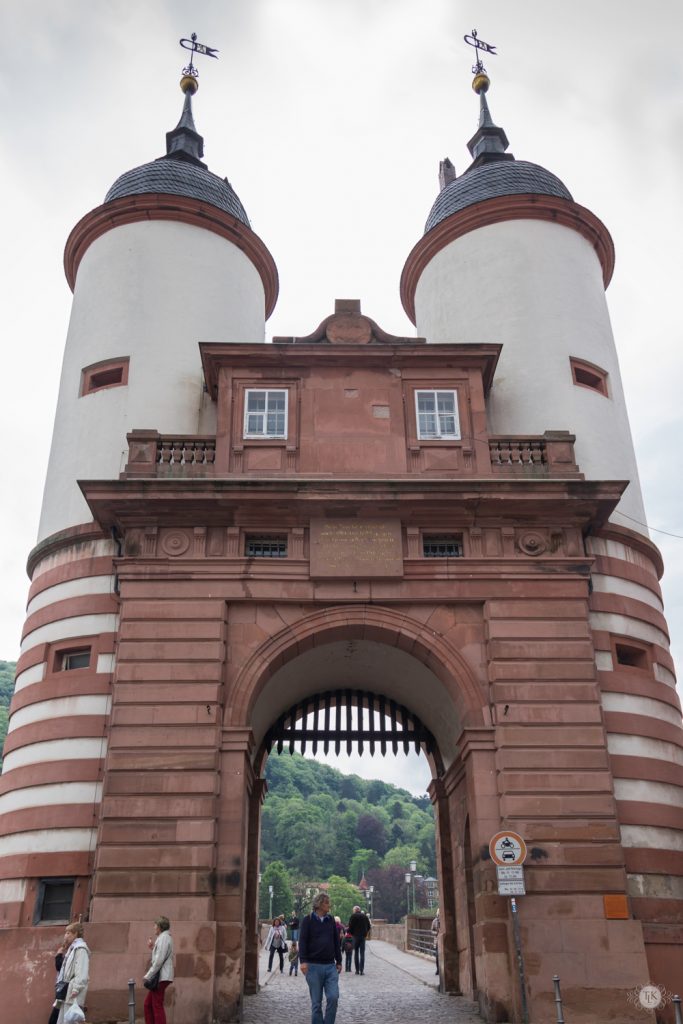 I took one last picture of the Bridge Gate and we were off to spend a little time looking around Heidelberg on our own.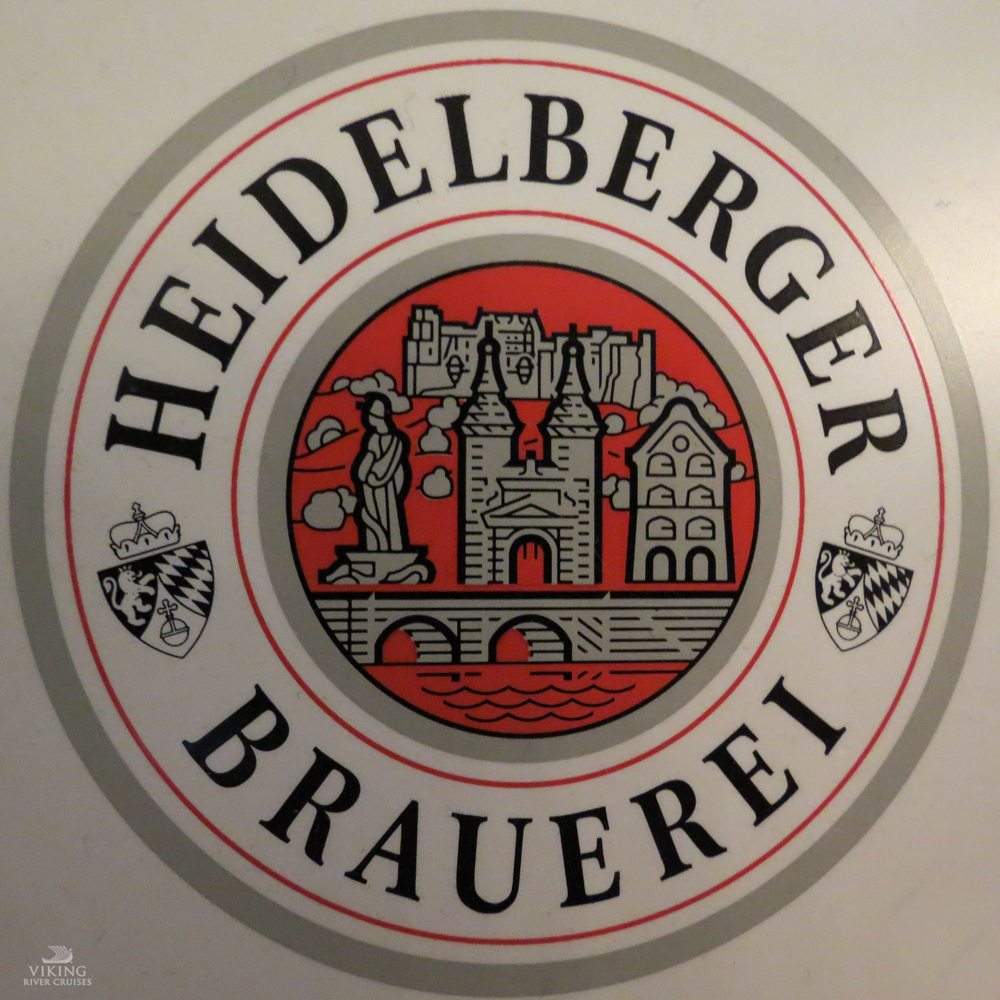 We did stop at a Biergarten for drinks.  We were thinking of getting a bite to eat but decided to continue exploring.
Lucky for us that we did not eat at the Biergarten because we found a little ice cream and gelato shop that tempted us.  Betsy and I had the best gelato and Jerry and June got ice cream.  It was really delicious.  I liked the sign on the table outside.  Of course, Jerry had set his "take away" ice cream down before reading the sign.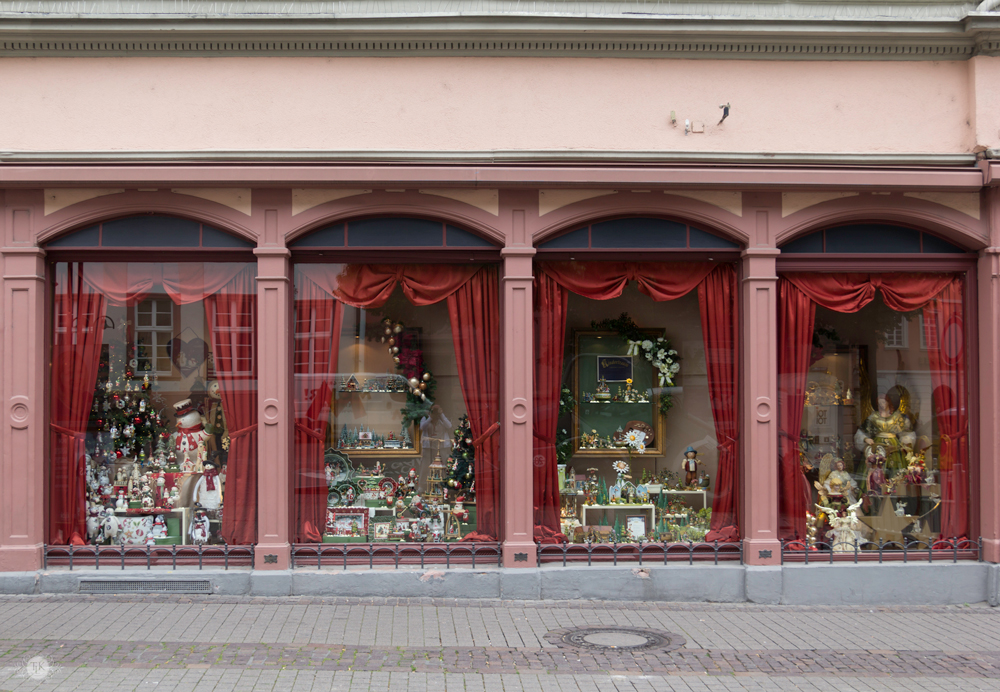 We also spent a lot of time in one of the Christmas Shops.  It was amazing. So many things to look at and quite different than Christmas stores here.  There were not any humorous or novelty items – everything was very traditional.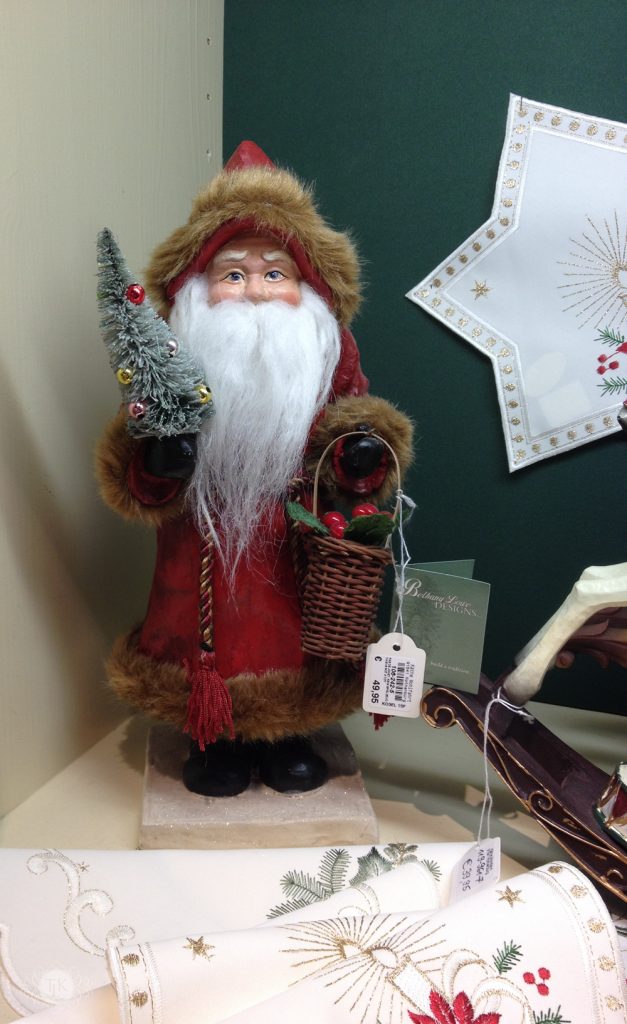 I thought it was funny to find a Bethany Lowe Father Christmas for sale and took a picture.  That's when all of these little German ladies descended on me and told me that photos were "Verboten" so I didn't get to take any more.  I don't know why they were not allowed but I did not want to risk losing my phone or camera so I heeded their warning.  And we left the shop without making a single purchase.  Not because we couldn't take any pictures; I think there was just too much to choose from.  Betsy wanted a Nutcracker and I wanted a Santa but there really was just no way to choose just one so we chose not to make a purchase.  Or maybe it was because we were tired and hungry that we could not decide.  It definitely is worth a visit though if you have time, lots of time. Just kidding.  But we decided it was time to take the bus back tot he ship, which was now docked in Speyer, about 25 minutes away.  We knew we could get lunch on the ship and rest for a bit since we had been walking all morning.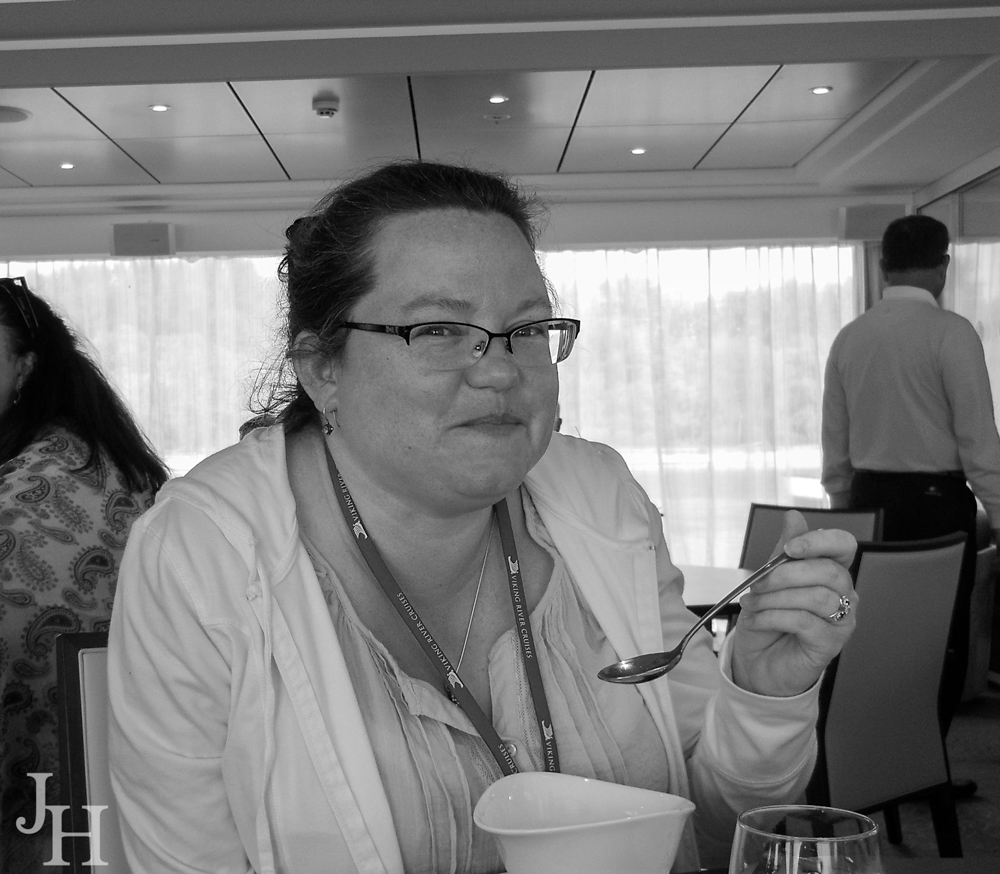 And we had another wonderful lunch.  I had soup and quiche.  It really hit the spot.  And boy, did we realize quickly how tired we were.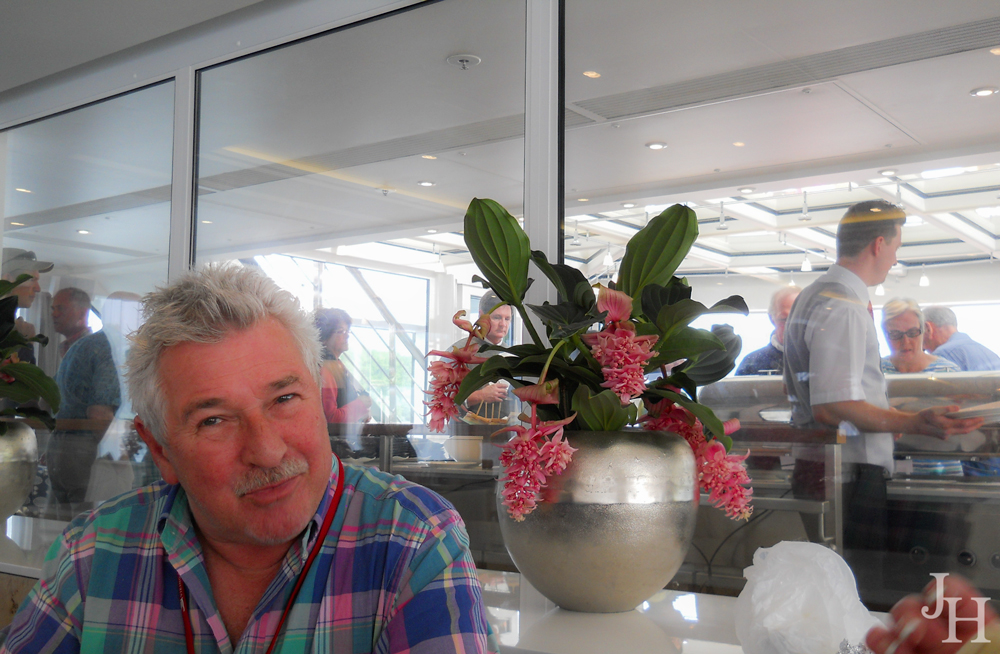 Here you can see Jerry and one of the floral arrangements on the ship.  June asked our server about the flowers and we were told that they were indeed real and that fresh flowers were brought on to the ship daily along with fresh fruits and vegetables at each port we stopped in.  While we were out exploring the staff would always be receiving fresh supplies and preparing for the upcoming meals.  Which tonight was going to be a traditional German dinner.
I told you that we had to take the bus to meet the ship in Speyer.  There was afternoon and evening free time to tour Speyer on our own if we wished.  But we were all exhausted so we chose to remain on board and take it easy.
Even if you don't go ashore and explore, there are always things to do on board the longship.  On this night there was a musical duo that played guitar and accordion and sang and entertained us before dinner.  Of course we always had our ship's pianist in the lounge but every evening there would be additional entertainment or lectures and even a cooking demonstration one afternoon.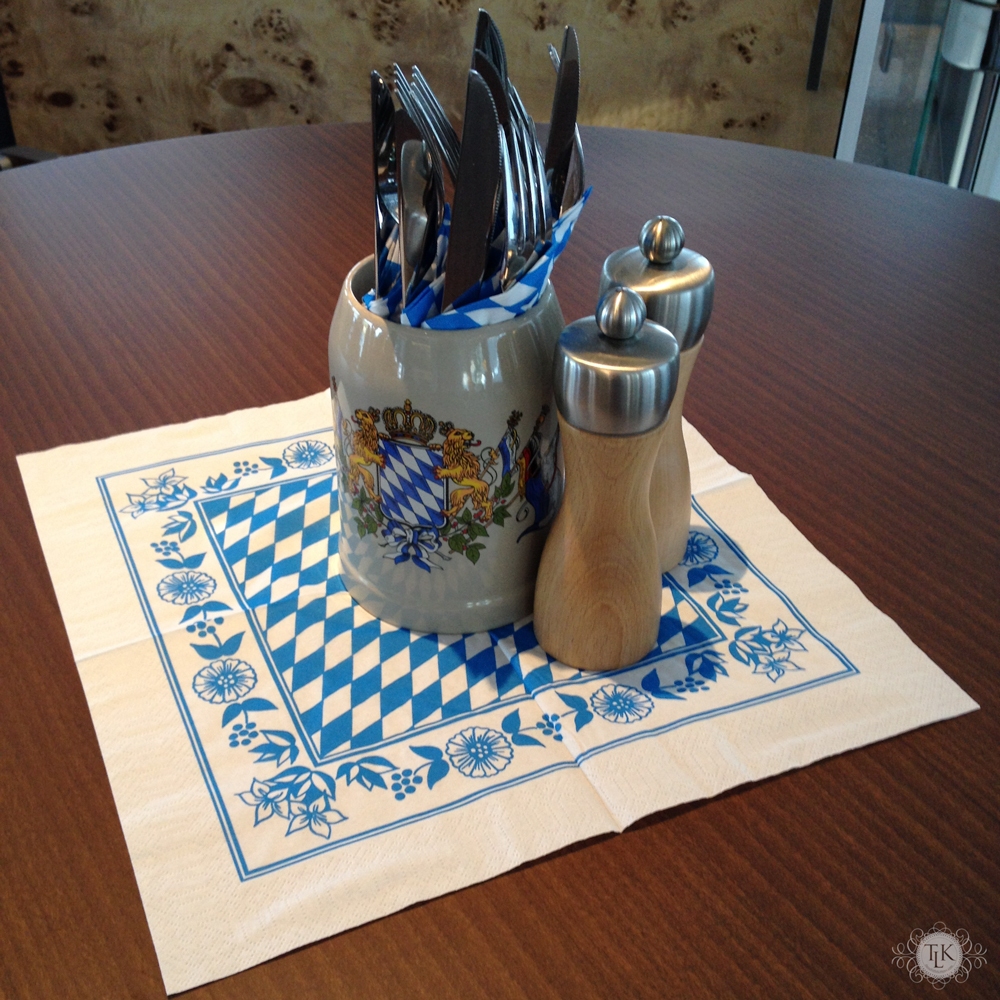 Tonight's dinner was also a buffet.  But not a normal buffet.  We were all taken in small groups to the galley below where we met the entire cook staff and loaded up our plates with traditional German fare.  It was fun to meet the cooks and Chef and also to see the kitchen that served our ship.  It was not as big as we would have guessed but it was efficient.  And the aroma of the different dishes was heavenly.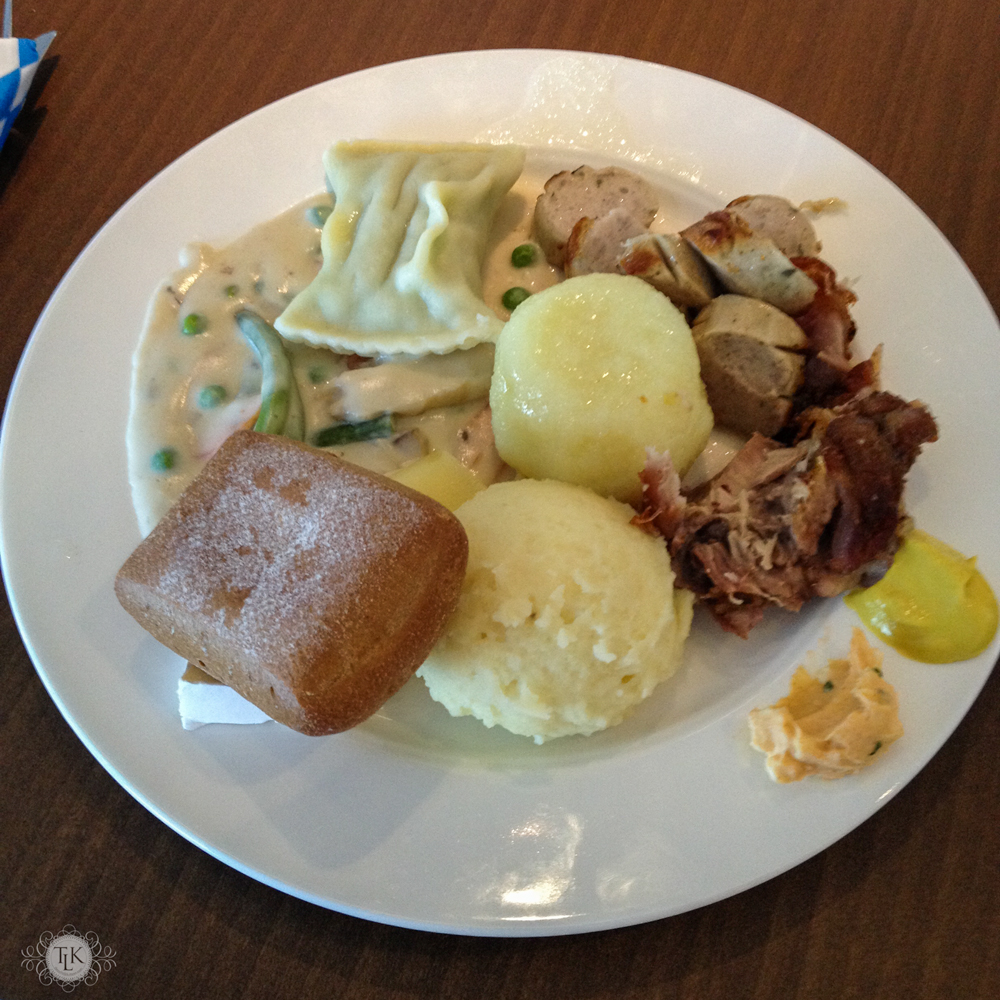 I filled up my plate with a sampling of so many different delicious foods: German Roast Beef, Brats, Potato Dumplings, some kind of Stuffed Noodles (kind of like a vegetable Ravioli), some kind of creamy vegetable side dish with Peas, Carrots, Green Beans and possibly White Asparagus.  And there were wonderful fresh breads and sauces and mustards for spreading and dipping.  For desert there was more Gelato (which was better than what we had earlier in Heidelberg) with fresh fruit toppings, Black Forest Cake and some kind of Sweet Bread.
The service while on board was really amazing.  Every morning the Chef would know what we wanted in our omelets, our servers would know our beverage of choice and our housekeeper would even worry to make sure we received our daily schedule updates.  Before Viking hires anyone they must have served at least two years on board a cruise ship so that they have experience in hospitality and then they are put through Viking's training.  They are expected to provide THE BEST service.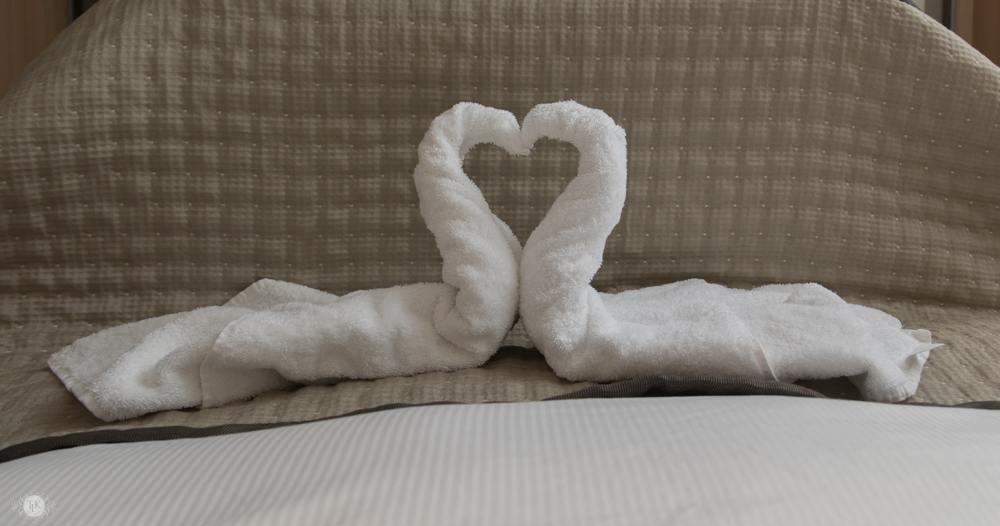 Our housekeepers serviced our cabins 3-4 times a day.  There were fresh linens each day, our beds were turned down each night and the appropriate blankets were provided depending on the weather.  And there was always a carafe of fresh still water in our cabin along with all the bottled still water we needed each day.  We even had decorative towel arrangements.  Betsy and Jerry had swans.  Oh, and we quickly learned that if you wanted water without carbonation you needed to ask for Still Water.  Good to know!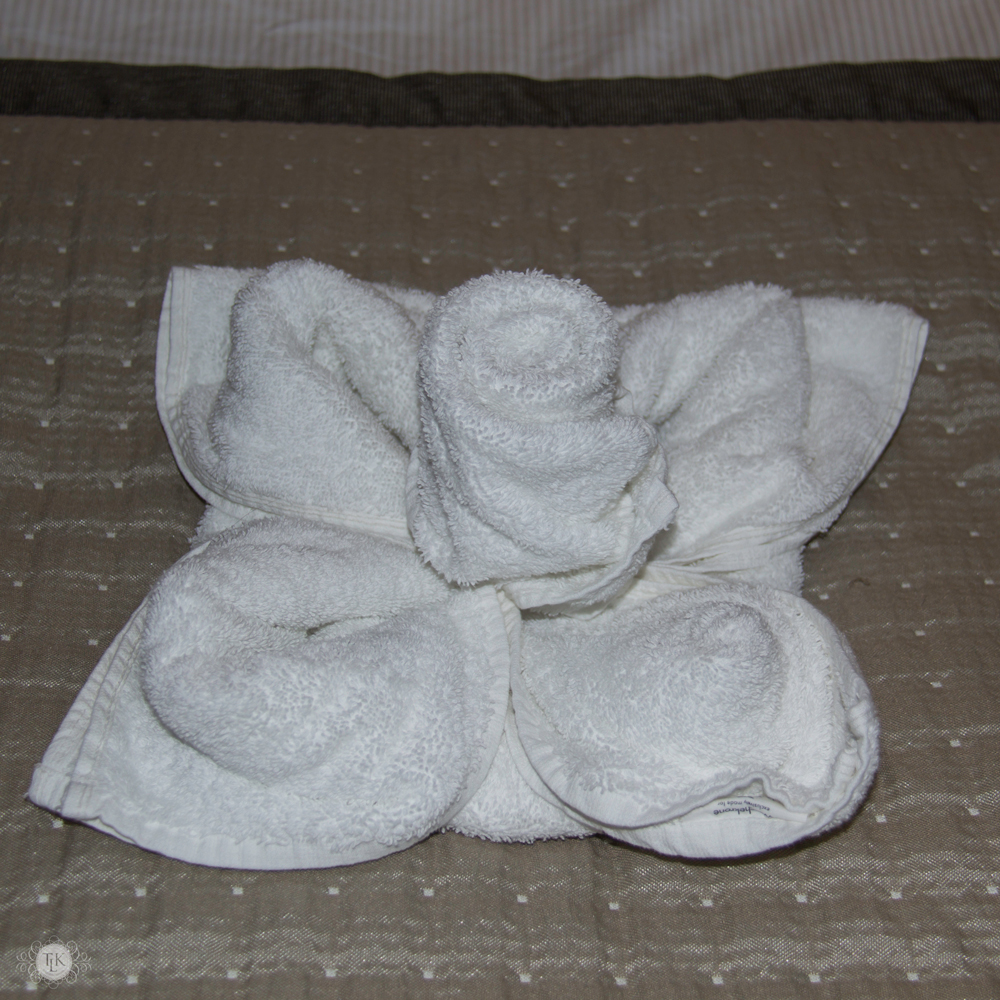 June and I had rosettes.  And after a full day of activities, it was so refreshing to come back to a room that was immaculately clean and ready to help us have a good night's rest.  And we knew we would need that sleep that night because the next day we would head to Strasbourg, France to spend the day.
And in case you were wondering about the title of this post – Alte Brücke und eine feine Mahlzeit – it roughly translates to Old Bridge and a Fine Meal.
---
This is not a sponsored post.  
This is my experience from my trip with Viking River Cruises. 

Email me to find out how you can save $100 when you book your
first cruise with Viking through their referral program.