Happy Monday and welcome back to another post about my Viking River Cruise in Europe.  My last post showed you one of the wings of Heidelberg Castle in Germany.  Today I want to show you a little bit of another of the wings from the castle – the Glaserner Saalbau.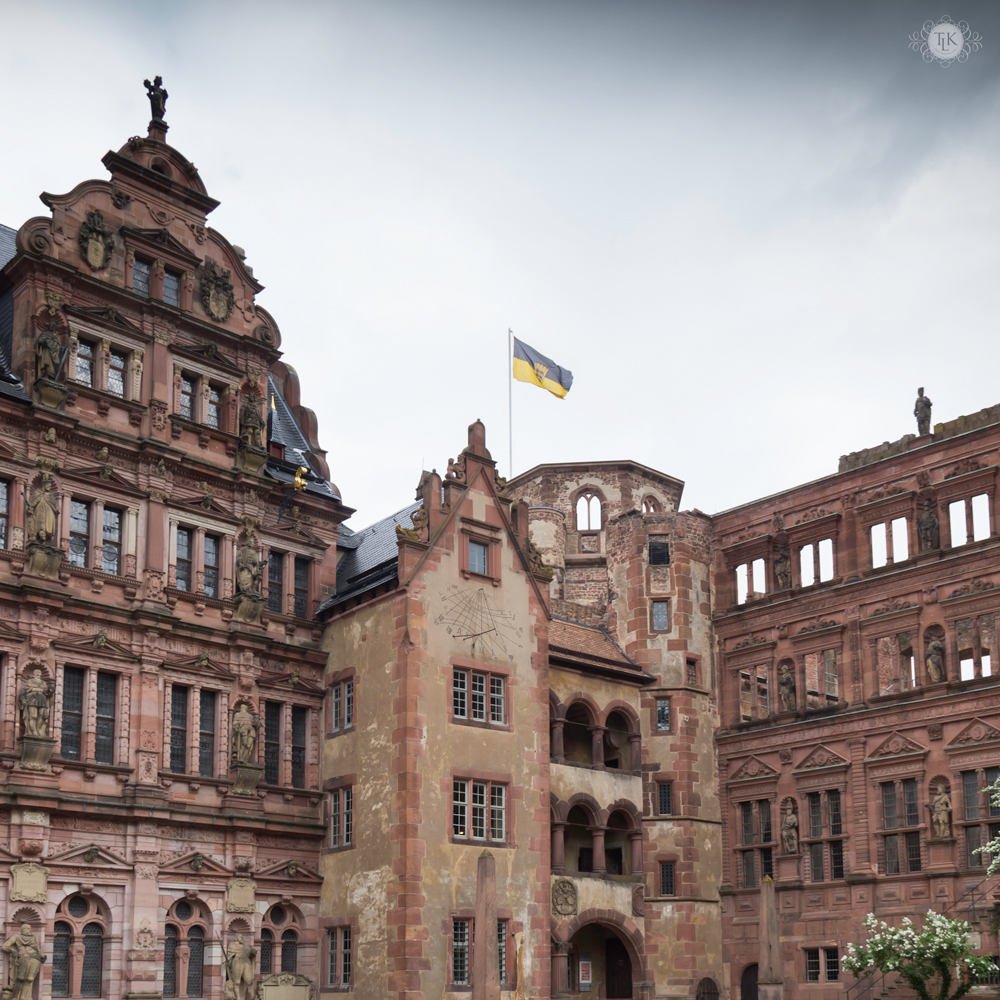 Its the little building in the middle above.  The one with the arches and the sundial.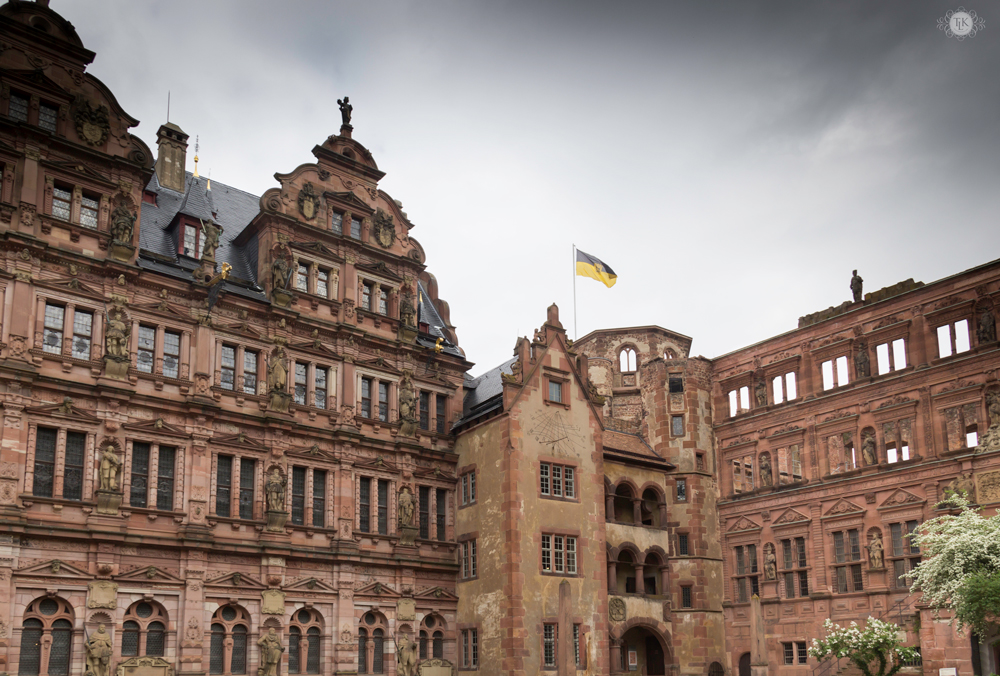 When you look at it next to the Friedrichsbau on the left and the Ottheinrichsbau on the right, you can see how small it is.  Behind it is the Bell Tower with the flag.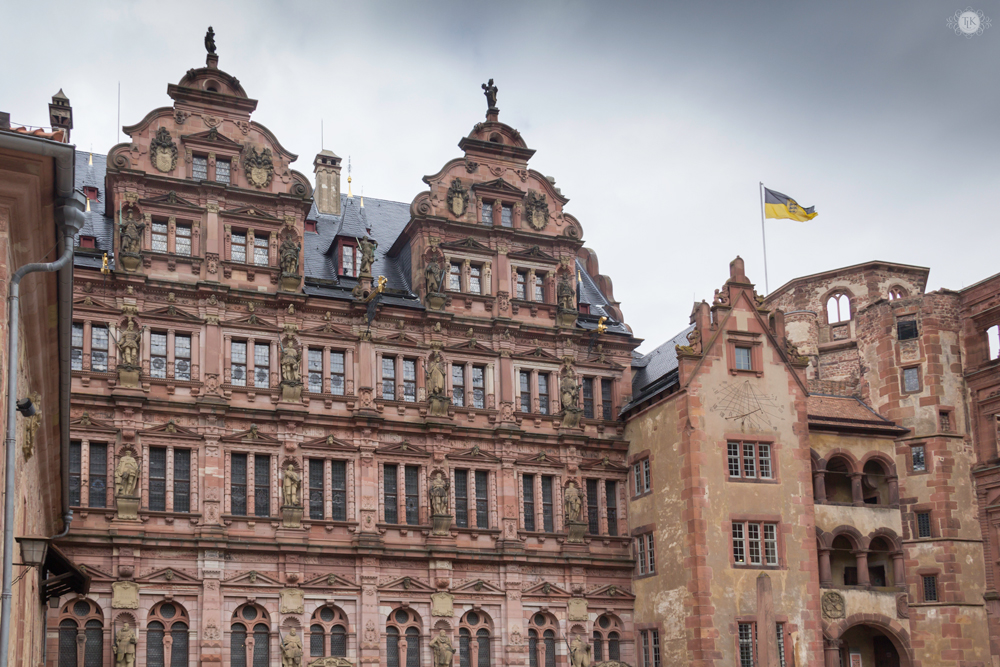 And all of the wings were built at different times by different Electors and have very different architectural styles.  The Glaserner Saalbau, or Glass Hall, was built by Friedrich II.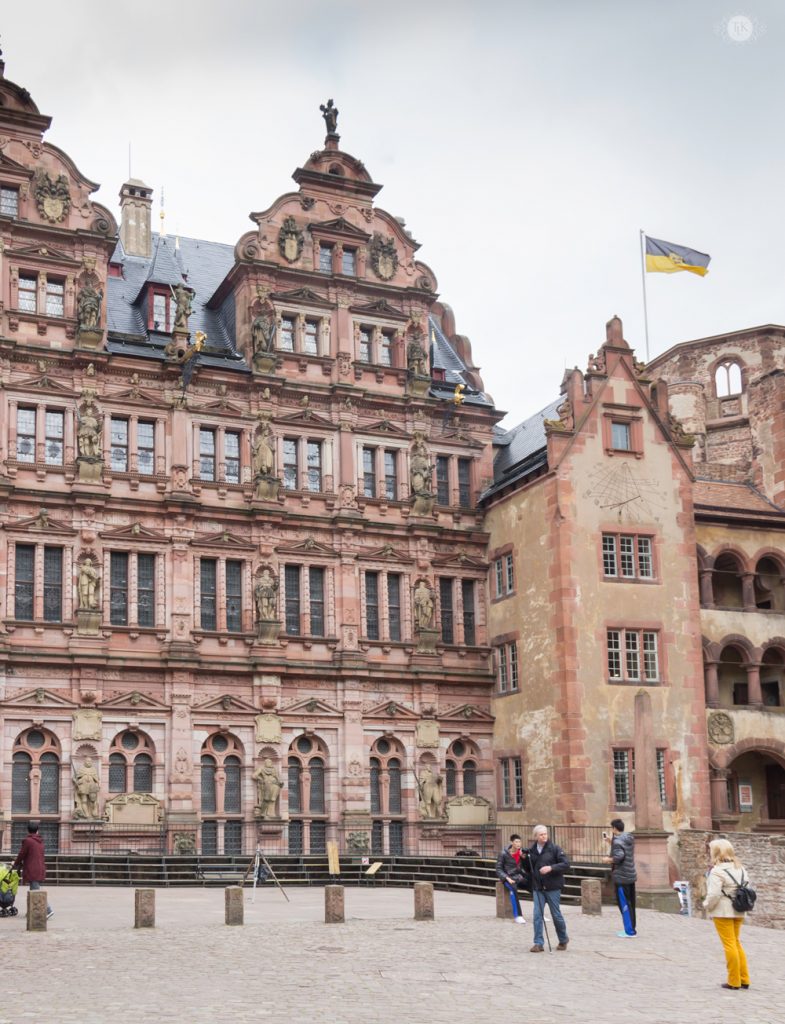 It is called the Glass Hall because it had a mirrored room of Venetian Glass mirrors.  The side facing the courtyard is the only side with ornamentation and it is like night and day when you look at it compared to the Friedrichsbau.  And unlike the Friedrichsbau, the back side facing Heidelberg does not have any ornamentation, it is very plain, even plainer than this side.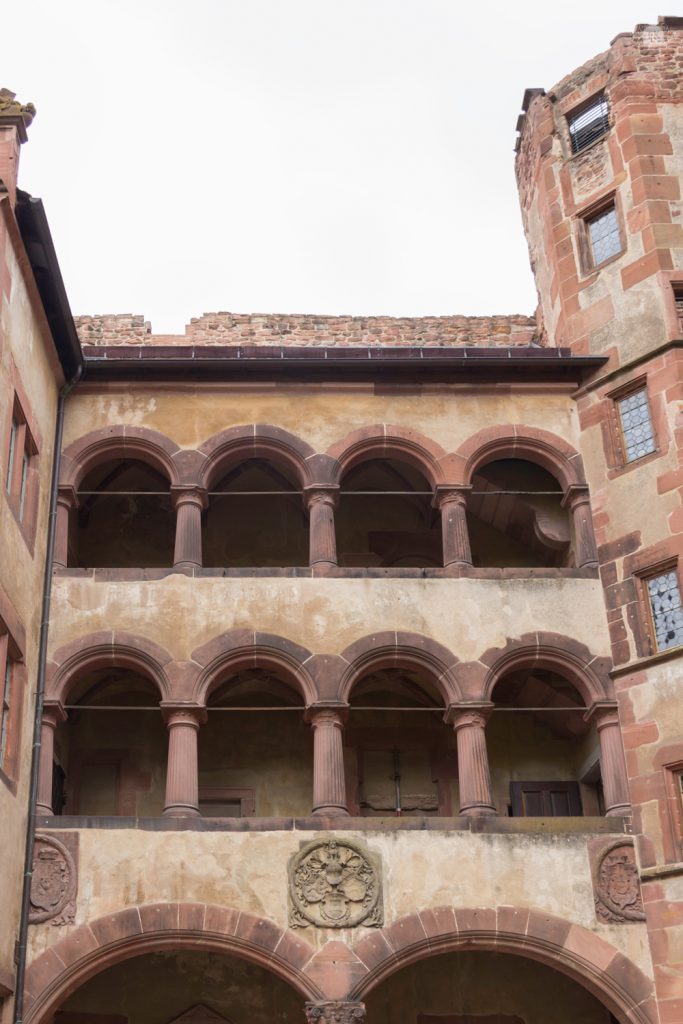 It does however have these cute little Gothic Renaissance arched columns over the balconies.  And oh, this wing was destroyed by fire when lightening struck the Bell Tower in 1764.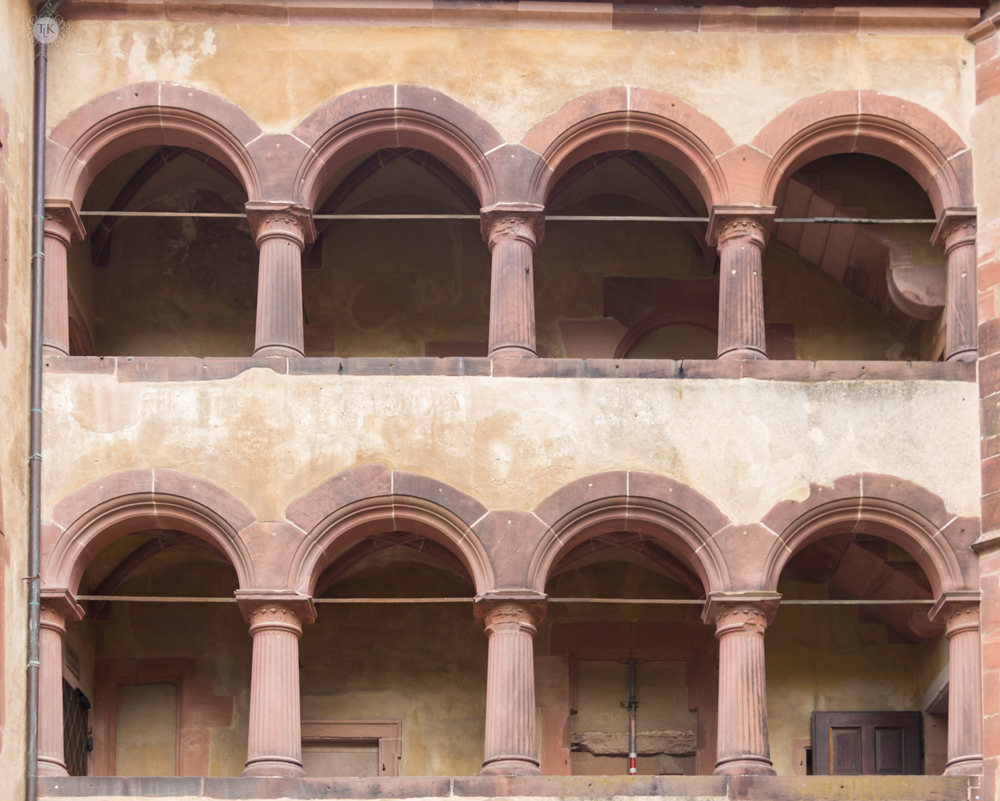 I love arches, even if they are plain like these.  The columns do not have much detail but they are very pretty in the Neckar Sandstone.  I would have loved to explored them and seen where those stairs led.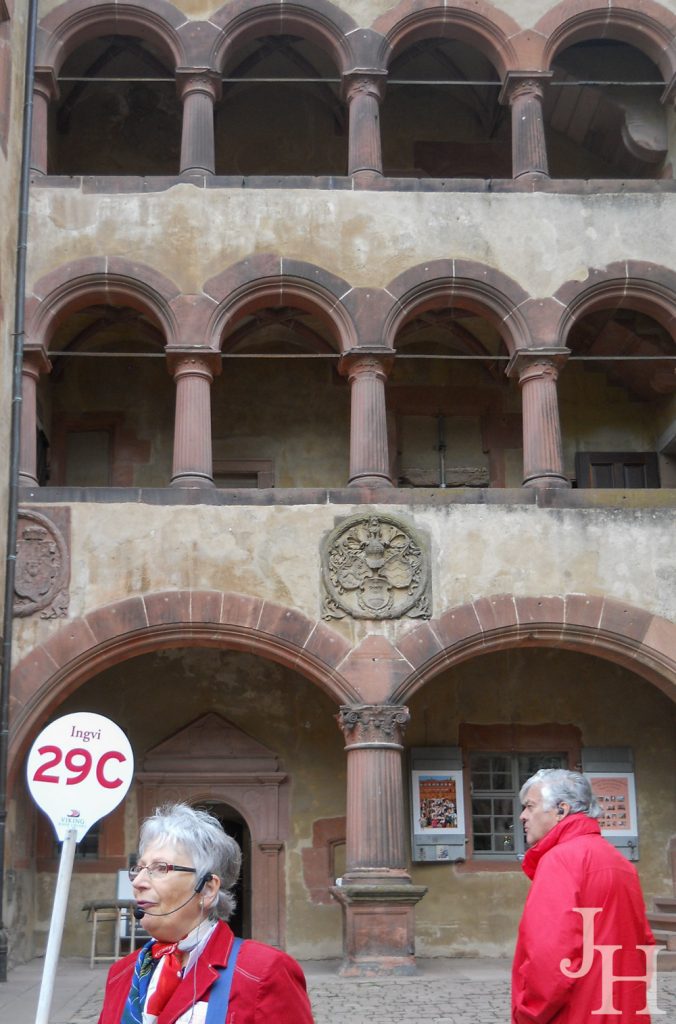 And here is our guide Evelyn with our Group ID.  Each time we go ashore for an excursion, we are broken into smaller groups and each group tours starting at t different point so we are not all on top of each other.  On average there can be 150-180 on each cruise, so breaking us into small groups helps us all get to enjoy the excursion and get a better experience from each of our tour guides. And like I mentioned in earlier posts, the guides for the most part are local and live in or near the towns we visited.  We did have one American tour guide, but he was actually living in the town we were exploring and had been living in Germany for quite some time.  Each of our guides were excellent at their jobs.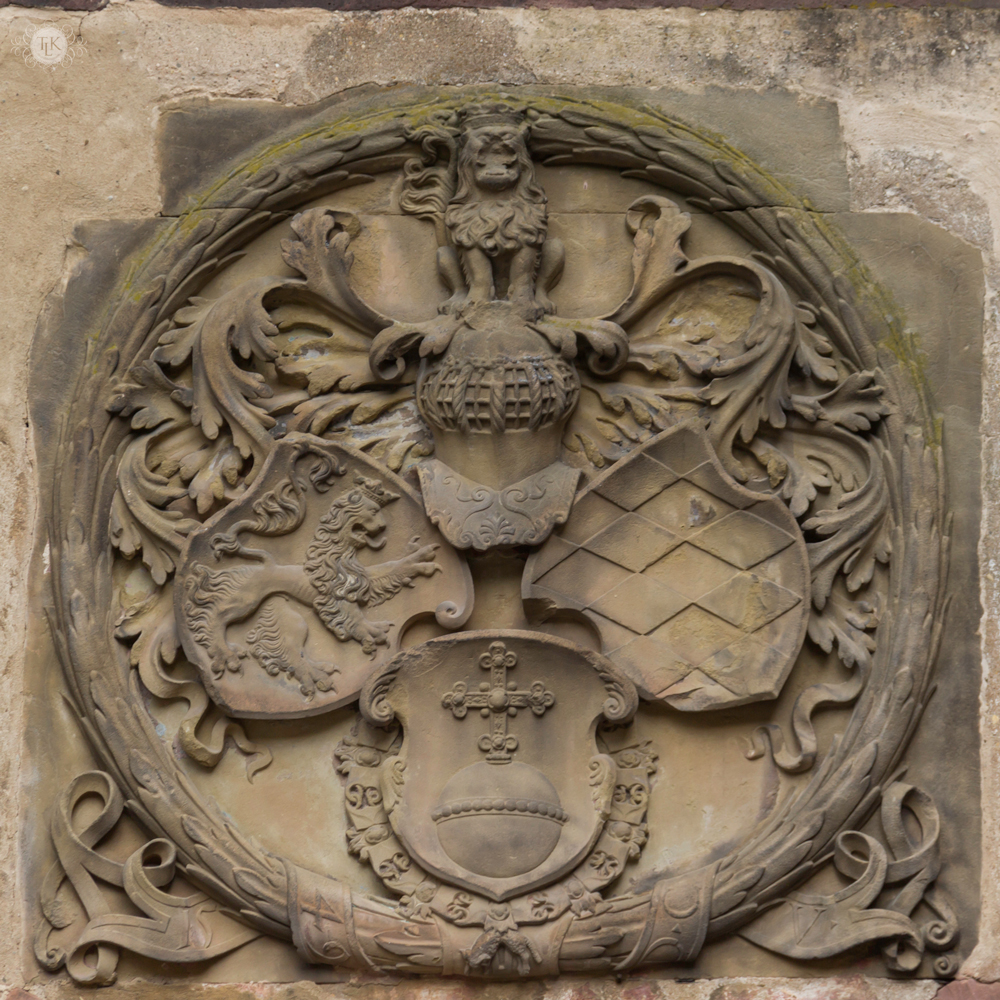 There was a beautifully carved crest below the arches.  It has two more lions, a knights mask and shield and the bottom area has a ball with a cross on it that was seen on the Ancestors Statues on the Friedrichsbau.  I am sure it is some kind of royal or religious symbol.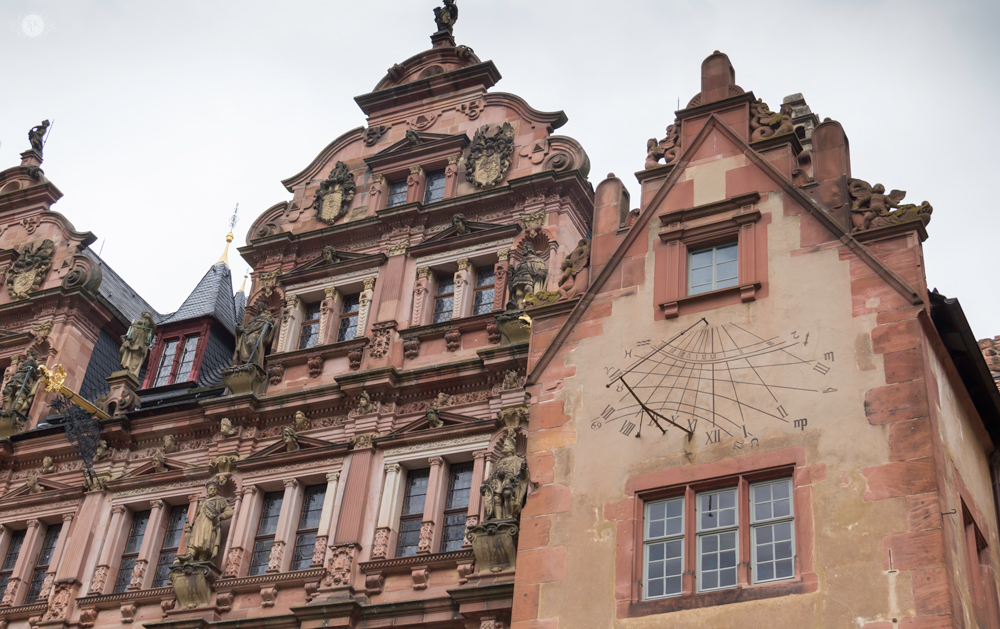 And then there was the famous Heidelberg Castle Sundial.  It is on top of the Glass Hall and would be how time was told before the large clock on the clock tower was installed.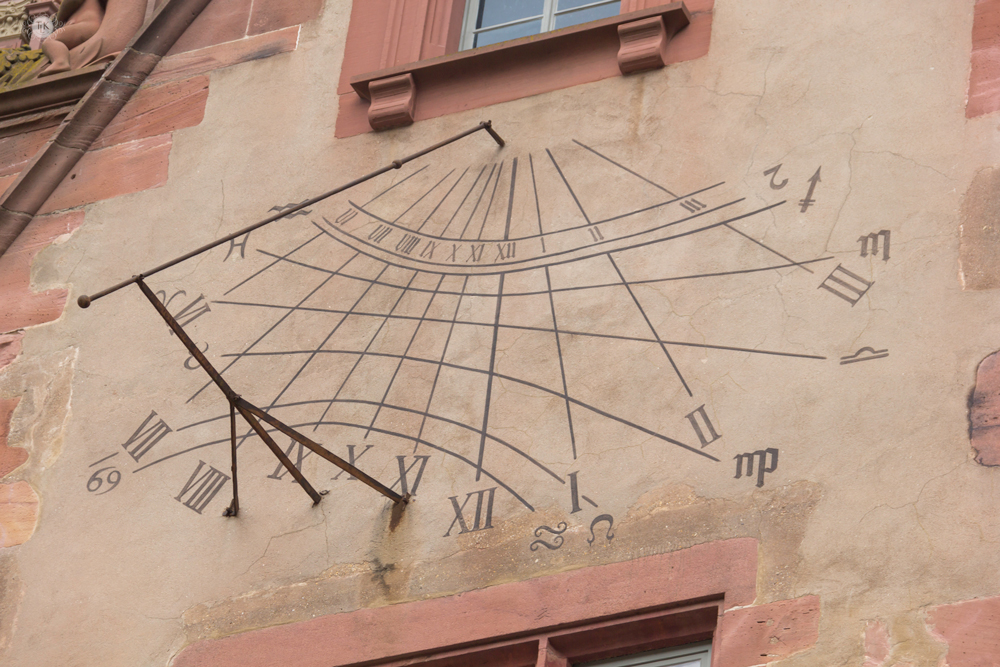 But what we wanted to know was what time it was?  How do you tell time on a sundial on an overcast day? I sure am thankful that we don't have to rely on these to tell time in this day and age.  But I am sure it was pretty advanced for its time when it was installed.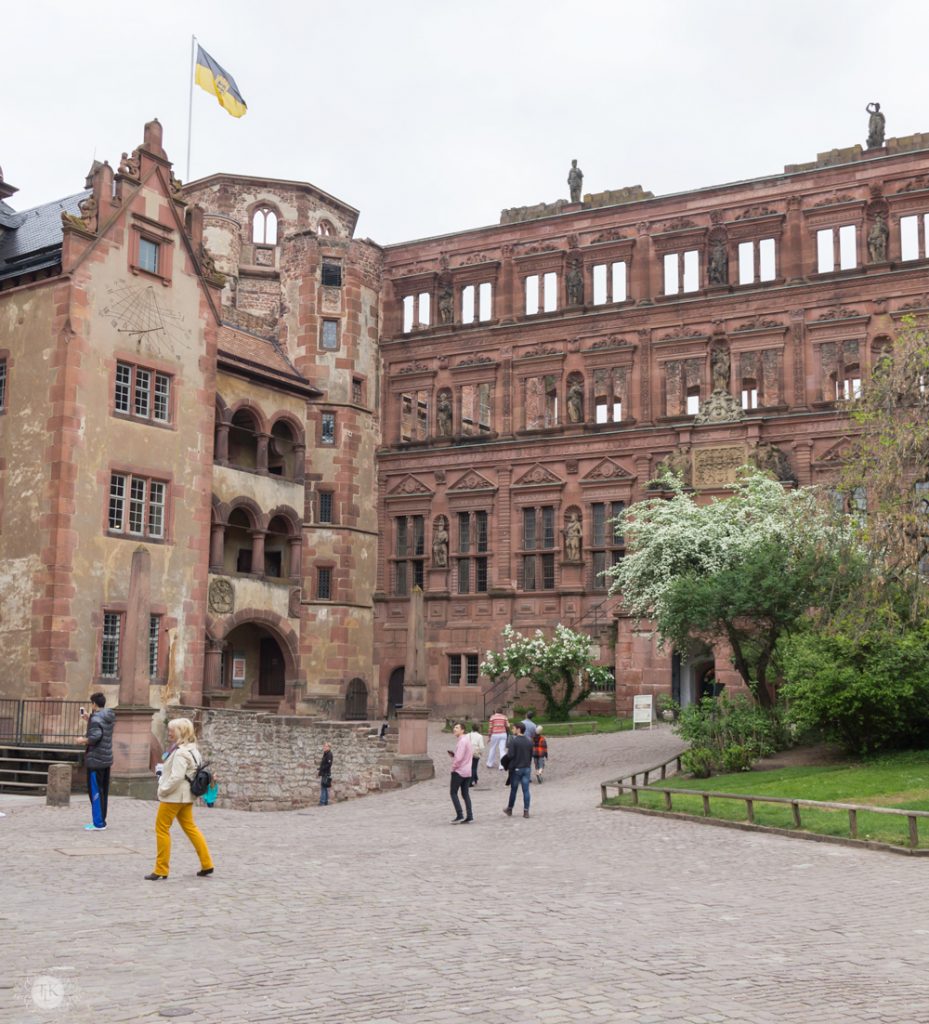 So, that is it for the Glass Hall.  Next I will tell you about the Ottheinrichsbau on the right with you.  It is another building with a lot of statues and ornate details.
Until next time…
---
This is not a sponsored post.  
This is my experience from my trip with Viking River Cruises. 

Email me to find out how you can save $100 when you book your
first cruise with Viking through their referral program.